28 states: How to make Gujarat's special Khandvi
Last updated on: January 30, 2014 17:43 IST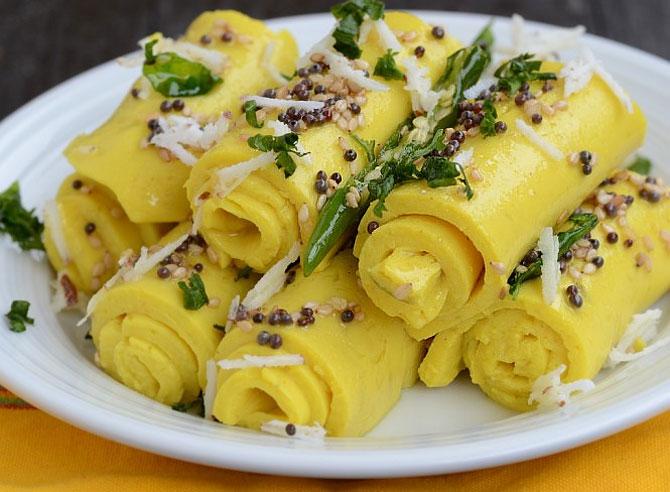 We had asked you, dear reader, to share with us recipes and photographs of any of these wonderful dishes from the 28 states of India. Today we bring you the recipe of Khandvi from Gujarat.
Nothing can possibly prepare you for the diversity of India and its cuisines.
Following up on a list by Storypick, we invited you, our readers, to share recipes from select dishes from India's 28 states.
Also see:
Maharashtra's Thalipeeth
Andhra special Gongura Pachadi
Masor Tenga, Assam's fish curry recipe
We have, as always, been inundated with your responses. Today we bring you this recipe of Gujarat's popular savoury, Khandvi sent to us by our reader Seema Chudasama.
---
Ingredients
1 1/4 cups Gram flour (besan)
One-inch piece Ginger
2 Green chillies
4 tbsp oil
1 cup Yogurt
1/2 tsp Turmeric powder
1 tbsp Lemon juice
1 pinch Asafoetida
1 tsp Mustard seeds
2 tbsp coconut, scraped
Few sprigs of fresh coriander leaves
Salt to taste
Method
Sieve besan and keep in a bowl.
Grind ginger and green chillies.
Grease the reverse side of a few thalis or marble table top with a little oil.
Make buttermilk with yogurt and half a cup of water.
Mix the besan with ginger-green chilli paste, salt, turmeric powder, lemon juice and buttermilk, taking care that no lumps remain.
Cook this mixture, stirring continuously, in a thick bottomed pan till it becomes a smooth thick batter.
It takes a little time to get ready.
Quickly spread portions of the mixture over the greased inverted thalis or marble table top as thinly as possible while the batter is still hot.
When cool, cut into strips two inches wide and roll them tightly.
Heat two tablespoons of oil and add a pinch of asafoetida and mustard seeds.
When they splutter, pour over the pieces.
Serve garnished with scraped coconut and chopped coriander leaves.
Click here for more recipes and food features!
---
Love to cook? Care to share?
Here are the other recipes we are looking for along with photographs
Arunachal Pradesh: Smoked Pork In Sengmora Xaak
Bihar: Litti Chokha
Chhattisgarh: Dehrori
Goa: Bebinca
Haryana: Bajra Khichdi
Himachal Pradesh: Madra
Jammu and Kashmir: Kalaadi Cheese
Jharkhand: Rugda
Karnataka: Pandi Curry
Kerala: Irachi Ishtu
Madhya Pradesh: Bhutte Ka Kees
Manipur: Khaman Asinba Kangshoi
Meghalaya: Jadoh With Pork
Mizoram: Sawhchiar
Nagaland: Nagaland Pork With Dry Bamboo Shoot
Odisha: Chhena Poda
Punjab: Makki-roti And Sarson-saag
Rajasthan: Malaai Ghewar
Sikkim: Phagshapa
Tamil Nadu: Kambu Koozh
Tripura: Awan Bangwi with Wahan Mosdeng and Khundrupui leaf
Uttar Pradesh: Baingan Ki Lonje
Uttarakhand: Bal Mithai
West Bengal: Daab Chingri
***
We are inviting you, our dear readers, to share with us your special recipes of these dishes.
Tell us how you make any of the dishes listed above.
Simply mail your recipes along with a photograph of the dish to getahead@rediff.co.in with the subject line 'Indian Recipes'.
We will publish the most lip-smacking, mouth-watering and yummiest recipes right here in Rediff.com and India Abroad.