Chiki Sarkar: On the write path
Last updated on: July 9, 2009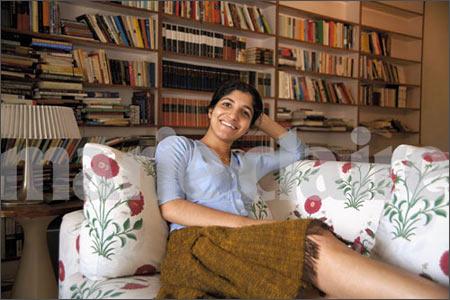 Kohl made in Pakistan in her vanity kit, a stylishly dishevelled wrap to ignore the AC blast, successful debut novels on her desk, an obsession with weekend routines and a disdain for combing her hair -- Chiki makes for a truly bookish character.
Bookish is such an imaginative word in the life of a books editor, cramped as it is with the thesaurus, ideas, titles, jacket designs, manuscripts and publishing judgement. But I resist hunting for a synonym to describe her. She is so fiction. Passionate, blunt, intelligent and sexy. "I am hungry, I will go for the buffet," she tells me at the coffee shop of Radisson MBD, where we first meet. I sit back, eyeing this pretty, petite woman in a black shift dress, flat shoes and jet-black, unmade hair.
"Oh, now at least I comb my hair. I never did that earlier. It's so boring and time-consuming," says 30-year-old Rudrani Sarkar. She was scolded as Chiki (pronounce Cheeky) when she was a little girl and chose to be called that for the rest of her life. Today, as editor-in-chief of Random House Publications, she isn't about to fit the bill of a severe woman wearing a formal chignon and sizing up writers from behind spectacles. "I wear one fashionable or quirky item every day and don't care about the rest of my look," she says, showing me her orange glass bangles. So if she is in blue jeans, you may see her with a luxury bag, but if she is dressed in a Sabyasachi, then even the dupatta is too much to add on.
Describing her as minimalist would be unfair to her. She is intense and driven, thriving on frenzied excitement. I envision her in a heavy Sabsayachi gara sari, photographed as a black-and-white portrait by legendary photographer Dayanita Singh. I am already framing the picture in my head and I haven't even asked her if she'd be willing to be profiled for Marie Claire. Unlike her charecterstic knack for quick responses, she dithers on this, when I do ask.
I'm tough, can be short and moody'
Last updated on: July 9, 2009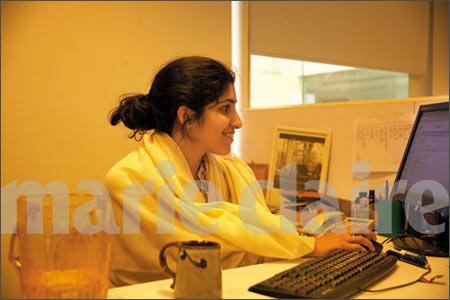 Many exchanges on men, movies and the fickleness of fashion later, Chiki agrees to officially gossip with me about herself and pose for Manasa, our photographer. This includes a special shoot with all her new authors in Jaipur during the Literary Festival earlier this year. Later, I visit her office and find her sitting with her legs folded up, jabbing away at her keyboard. "I am obsessed by e-mails. I need quick responses. I also make decisions quickly," she says. I ask her to pick one word to describe herself and she says 'focused', without blinking an eye. "Literary judgement. That's me. I am tough, can be short and moody, but I am not political or bitchy. I like having equals in my life," she adds.
At Random House India, since she took over, bestsellers have become a habit. Jhumpa Lahiri's Unaccustomed Earth apart, Chiki talks animatedly about Namita Devidayal, Basharat Peer, Mohammed Hanif and Daniyal Muenuddin, who published their debut novels with her. In 10 minutes of meeting Rujuta Diwekar, Kareena Kapoor's diet mentor, Chiki says she knew she wanted a book called Don't Lose Your Mind, Lose Your Weight. Till today, the book still sits prettily on the bestseller list. So how do you locate bestsellers, I ask her. "By being smart," she answers simply.
Unabashedly romantic about her job, this graduate was always interested in books and serious writing. Challenges leave her intoxicated, she confesses. The white wine she loves isn't half as bamboozling (her word) as a new book is. No, she doesn't have a boyfriend and shrugs about being single. "How many marriages work in any case?" she asks rhetorically, adding she isn't lonely. This way, she can follow her weekday-weekend quirks, stay in bed, read as long as she likes and socialise at least three times a week. "I have tea from Monday to Friday and coffee on Saturday and Sunday!" she says.
'I just like to go into worlds that are not mine'
Last updated on: July 9, 2009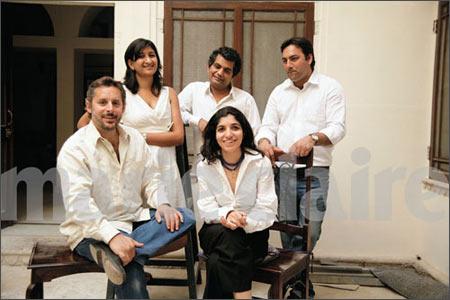 What about female vanities then, with gamchas and dishevelled Fab India accessorising her office? "I allow myself to drink but I watch what I eat. I am not high-maintenance. I spend on shoes, bags and clothes but I am not crazy. Manicures and pedicures are fine and I am learning to use good products on my skin," she says completing her vanity profiling. Then what's that kajal doing in her bag, I ask? We are both laughing now. She pulls out her pouch, full of this and that. A cream, a brooch, a blush, brushes and a broken bangle! "What more does a girl want?" asks Chiki, assuring me she keeps the kajal for its red packaging. Freudian debates salt our chats, as does Anurag Kashyap's Dev D. Between our first and third meeting, she has managed to watch the film and over wine, we pop-analyse the loser that Dev is. Chiki loved the scene where he throws Paro out of his room, inflicting pain and disrespect on her despite her kindness. "Wow, such a pulsating scene: I can imagine why women want this from men!" We continue to punch Loser Dev and women's fatal attraction for bad boys.
Before dessert arrives, she surprises me by her funny observations about the fashion fraternity. She's already been on one list of '50 most stylish' but isn't biting the bait. "I just like to go into worlds that are not mine," she says. That's where the territory of a bestseller begins.