'Quality of IITians leaves much to be desired': Do you agree?
Last updated on: October 5, 2011 18:52 IST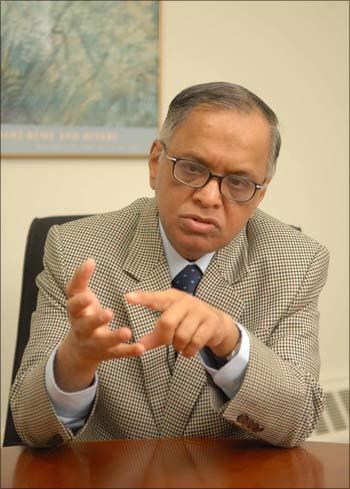 Infosys chairman emeritus N R Narayana Murthy had some caustic comments regarding the academic standards of IITs across the country, following which IITian and celebrated author Chetan Bhagat hit back with his own opinion. Whose side are YOU on?
Infosys Technologies founder Narayana Murthy recently passed judgement on the academic superiority of students at IITs across the country, suggesting that the quality of those who enter IIT has dropped largely due to coaching classes.
In his keynote address at the Pan IIT Summit in New York on October 3, Murthy said, "Save the top 20 per cent who crack the tough IIT entrance exam and can stand among the best anywhere in the world, the quality of the remaining 80 per cent of students leaves much to be desired."
This comes close on the heels of comments by environment minister Jairam Ramesh, an IITian himself, who said that the faculty at IITs and IIMs is far from being world class.
Needless to say, the Infosys head honcho is now on the receiving end of tirades from IIT supporters. And most prominent among them is writer Chetan Bhagat, an IITian himelf, who shared via his Twitter feed that "It is ironic when someone who runs a body shopping company and calls it hi-tech, makes sweeping comments on the quality of IIT students".
Tell us what you make of this controversy. Do you believe Murthy's comments were uncalled for, or that perhaps there is some truth to them that IITians like Bhagat are reluctant to face?
Share your views on the messageboard below!
CLICK HERE! Pick a side and voice your opinion on the matter!