How to get a job at Cognizant!
Last updated on: July 16, 2012 18:06 IST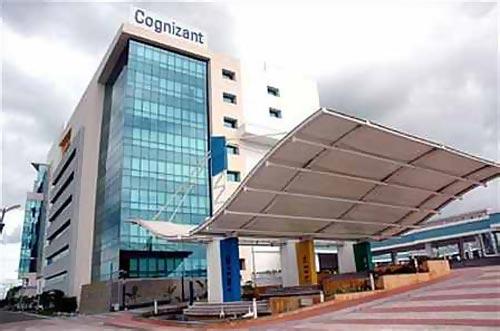 This global workforce reshapes how companies around the world operate, innovate and compete, informs Shankar Srinivasan, Chief People Officer, Cognizant
FAST FACTS
Company profile: A leading provider of IT, consulting and BPO services
Revenue: $6.12 billion (up 33 per cent YoY 2011); 2012 Revenues guidance: At least $7.34 billion
Employee strength: Approx 140,500 employees as on March 31, 2012
Branch offices: Over 50 development centres and over 25 regional sales and client relationship offices worldwide
India offices: Development centres in Chennai, Coimbatore, Kolkata, Bangalore, Hyderabad, Pune, Mumbai, New Delhi, Cochin
Website: www.cognizant.com
Twitter: Cognizant
Facebook: JoinCognizant
Today, IT careers are about much more than coding skills.
Companies like Cognizant play a huge role in enabling the success of other companies. They do this by leveraging technology to provide business solutions.
Their customers hail from diverse sectors and domains -- retail, travel and hospitality to banking, biotech and life sciences, to name a few.
"Employees are required to marry domain knowledge with technological excellence and expected to specialise early," shares Shankar Srinivasan, Chief People Officer, Cognizant.
The perks of working here are many -- professional but informal work culture, multi-cultural atmosphere, competitive remuneration besides, having fun at work, too.
Most importantly, Cognizant does not enforce any kind of service agreements or bonds with its associates.
"Our practice comes from the belief that retention is the by-product of commitment and motivation that individuals have in an organisation, bonds do not increase commitment or motivation," shares Shankar.
Please click NEXT to continue reading
Recruitments happen through the year
Last updated on: July 16, 2012 18:06 IST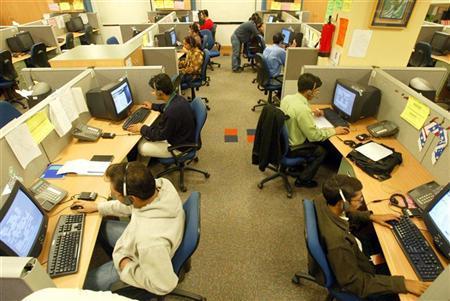 What does it take to join here?
Though Cognizant did not reveal a forecast for 2012, the company shares that it visits 120 top technology and business schools across the country, besides some arts and science institutions.
Recruitments happen through the year but from T-schools (technical schools), the hiring happens between June and August and from IITs and b-schools it is between December and February.
Mixed bag of job profiles
"Cognizant has different career tracks to absorb talented people from various domains. Fresh engineers and science graduates from varied disciplines are hired for our IT services," shares Shankar.
Though bulk of hiring happens from t-schools, Cognizant hires b-school graduates for their consulting arm, business development and client-facing services.
Fresh graduates are hired in disciplines like designing and information architecture for Cognizant Interactive (content and design services group), and deploys them in units that offer services like e-learning, instructional and interactive design, and web technologies.
"Fresh graduates in human resource and social work are recruited for our people functions, while graduates from humanities, finance, commerce, and arts disciplines are deployed for both client-facing roles as well as for our business-enabling functions," informs Shankar.

Communication skills, both verbal and written are crucial
Last updated on: July 16, 2012 18:06 IST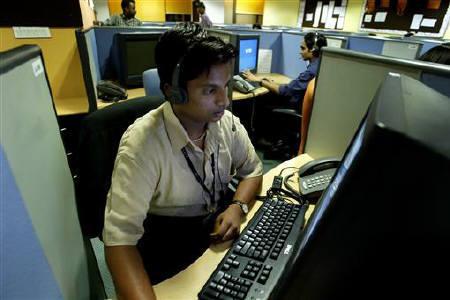 Selection at t-schools
There are two stages:
Written Aptitude Test that assesses students in logical reasoning, quantitative ability, basic mathematical skills and English language communication capability.
Personal interview for those who clear written test.
The company lays a lot of emphasis on communication skills -- both verbal and written.
You will have an edge if you can clearly articulate thoughts and if your comprehension skills are good.
Some key criteria that will help you crack the selection process include flexibility in attitude and your approach to work across technologies, disciplines and locations.
Beyond campus recruitment
If Cognizant does not come to your campus, you can visit Cognizant through multiple online channels.
"We have a large off-campus recruitment programme," shares Shankar.
According to him, Cognizant's career portal, one of the most visited web pages, invites over 2,00,000 fresher registrations every year for the off-campus programme.
Freshers in India can visit the local "Freshers Recruitment" section to register and seek out existing job profiles.
"As mentioned earlier, we leverage this model to ensure that our supply pipeline remains strong at any point of time," Shankar elaborates.
Stay connected through social networking
Last updated on: July 16, 2012 18:06 IST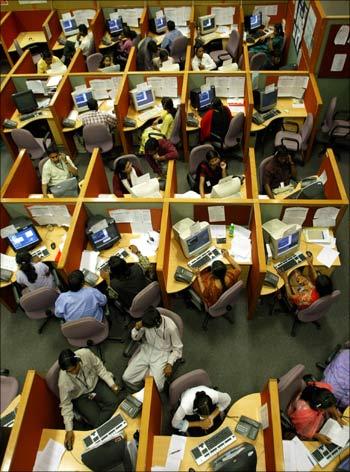 Induction process
Fresh recruits are put through the Campus Associate Trainees (CAT) programme, which includes technology and domain training modules.
Special emphasis is laid on exposure to the innovation process through the "Cognovation" programme.
Young trainees get to understand how ideas are generated, evaluated, screened, and executed.

Connect through social media
"We use social media not so much for direct hiring, as for engaging with the student community, helping them understand the organisation and industry better," explains Shankar.
Cognizant's LinkedIn page features job postings, for which a candidate can directly apply.
On the other hand, the JoinCognizant Facebook page is a vibrant burst of updates through photographs and text.
It also seems to have evolved into a bustling space where job aspirants post any problems they face while using the career portal.
Learn and grow at work and beyond
Last updated on: July 16, 2012 18:06 IST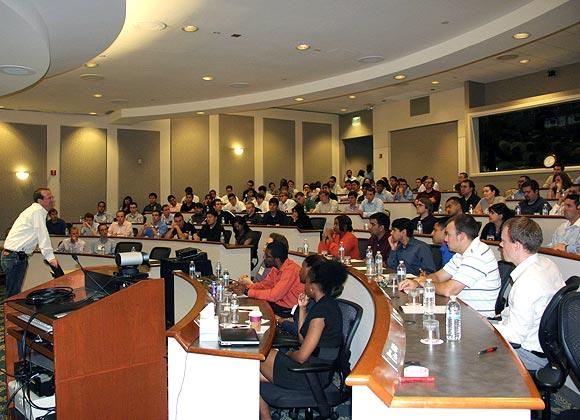 Career growth tracks at Cognizant
Employees are expected to gain domain experience and pursue one of these clear-defined paths:
Associates graduates from being individual contributors on project delivery teams to leading small teams themselves, eventually becoming delivery managers.
This focuses on client-facing roles comprising the following roles:
Business Development Managers based at offshore locations, supporting  delivery team in acquiring relationships; 
Account Managers/Client Partners based at a client site, responsible for delivering services to clients as well as managing client expectations and relationships
Business Consulting Track
This track allows you the opportunity to specialise in roles that involve executing high-value business consulting engagements
Technology track enables growth opportunities for associates who wish to specialise in technology.
Learning at work
Employees can pursue higher education during their stint at Cognizant.
The company has tie-ups with institutes like BITS Pilani and Symbiosis Institute of Business Management to pursue MS, MBA and PhD.
A two-year MTech in Software Development and Management at VIT University has been specially developed to help Cognizant associates remain relevant to the company's customers and solve their critical business problems leveraging technology.
Cognizant Academy, the in-house learning centre also offers a bunch of resources to enable interactive self-learning, including training conducted internally by Cognizant's Subject Matter Experts for everyone from freshers and technologists to project delivery and relationship management teams.
Young, multi-cultural, transparent work culture
Last updated on: July 16, 2012 18:06 IST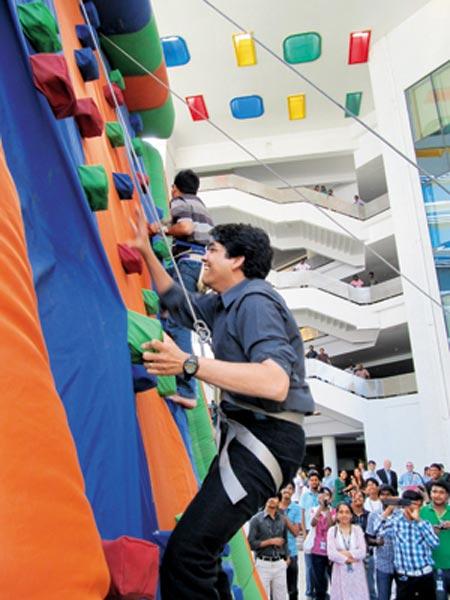 Multi-cultural, transparent, opportunity-filled, flexible and collaborative.
These are some of the buzzwords used by Cognizant to describe its work culture.
A few more include informal, young, first-name basis, non-hierarchical and team-based.
If you view the JoinCognizant Facebook page, it's evident that fun activities ranging from arts and dance to quizzing and sports are a regular occurrence.
Prizes are enticing too -- from laptops and iPhones to digital cameras and other goodies.
The way ahead
Shankar offers some parting advice to youth on career building. Potential recruits, irrespective of their academic background, must constantly seek an answer to this question, "How can I become employable?"
Yes, it's important to be skilled. But what's equally important is to be "employable".
A sound knowledge of subject fundamentals as well as good communication and interpersonal skills, all pave the way.
However, equally important are behavioural skills, team dynamics, business etiquette, cross-cultural adaptability, and so on.
Continuous learning, flexibility and a can-do attitude are plus points, and when you are working in a global marketplace, a global mindset is indispensable. Think of diversity as an asset not a setback.

'We are doing away with outdated
Last updated on: July 16, 2012 18:06 IST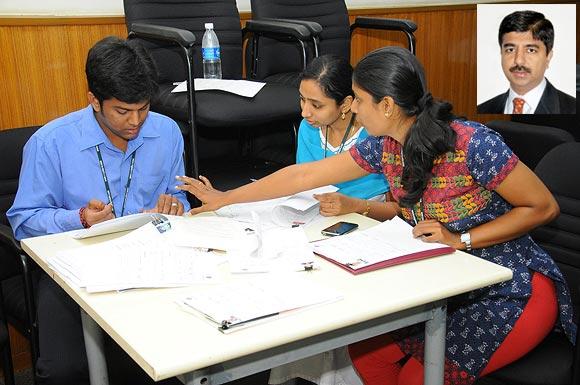 In this interview, Shankar Srinivasan, Chief People Officer, Cognizant discusses the surging opportunities for young graduates at Cognizant, how they train employees differently in the organisation and more...
What are the upcoming areas where Cognizant will recruit in large numbers in the future?
We see continued demand in business consulting and domain-intensive roles, apart from niche and new technologies.
Also skills in IT infrastructure management and BPO/KPO, and emerging technology architectures like social computing, mobility, analytics, and cloud computing foresee growth.

Opportunities for non-techies?
Cognizant, as part of its KPO practice, works on a wide range of higher-end activities like alternative fund accounting, clinical data management, credentialing, pharmacovigilance and business analytics in healthcare.
This has necessitated us to recruit doctors, pharmacists, pharmacologists, lawyers, CAs, statisticians, supply chain specialists and management graduates who bring in the required subject matter expertise.

Today's youth tend to change jobs every two-three years. Cognizant's approach to buck this trend...
While this tendency cannot be wished away, organisations can motivate and retain them better by providing flexibility to choose alternative career paths, through accelerated career progression, providing an open, youthful, non-hierarchical environment, offering performance-based compensation, and continuous learning opportunities at work.

The average age of Cognizant employees is 25. Has this affected your work culture?
Millennials are driving the consumerisation of technology. To facilitate this new way of working, we are doing away with outdated "command-and-control" structures in favour of "co-ordinate and cultivate" methods of operation.
We understand the need to give them the right tools to replicate their digital lives in the workplace.

Can you cite an example?
Cognizant 2.0 (C2), our own Web 2.0-based platform that serves as a virtual "town square" for more than 140,000 Cognizant associates and over 100,000 active users who share knowledge, such as best practices, process guidance and technological artifacts across our global delivery network, and collaborate on hundreds of projects worldwide.

What is Cognizant's take on innovation, considered a core value here?
It's not just about ideas, it's about converting them into tangible benefits. Most organisations equate innovation with the dollar-spends in R&D, we believe it is important to create a culture of innovation within the system.
Two key aspects deserve mention here -- one, create an ecosystem that's not fail-safe but where it's safe to fail. Two, have a different set of reward and recognition mechanisms for innovation -- it's critical to focus on motivating right-brained people from diverse backgrounds to innovate within a left-brained environment