The next HOT career: Mobile content developer!
Last updated on: November 18, 2011 15:55 IST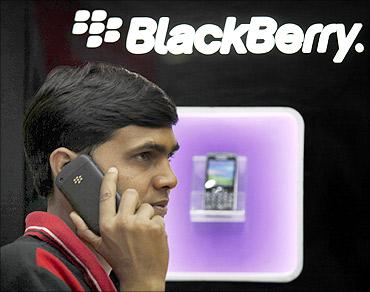 Over 80 crore mobile phone users are in India, offering a world of opportunities in mobile content space. This industry needs a lot more than just technical skills.
Courses: No regular courses. But institutes like Ageon offer short-term training courses. Some SW training institutes also offer courses.
Skill sets: J2EE, J2SE, JeME, creativity, cryptic writing skills and brevity.
Opportunities in: Mobile companies, software development organisations, educational institutions, Content providers, web platforms, amongst others.
The 'special and very clever' men in dark suits are indeed making way for boys and girls next door -- people like us -- as has been affirmed through song and dance by that famous Blackberry advertisement. The other day even a friend of mine showed me his newly acquired smartphone and some of the things he does on it.
"I Gtalk, gmail, use Facebook, play Angry Birds, watch videos, read books, newspapers," he told me excitedly. I thought I was as impressed by the prodigious functionality of that gizmo as I felt curious about the scores of people who made a mere handset perform all those interesting activities. Aren't they the people who should be called 'special and very clever'?
The world of mobile content
Last updated on: November 18, 2011 15:55 IST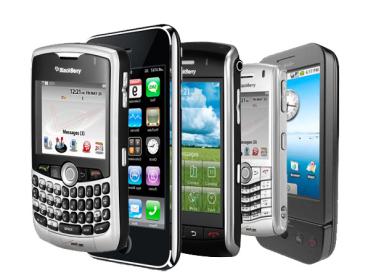 Today, a suitable mobile phone device allows us to do an ever-widening range of things. Collectively known as mobile content, such things could be games, wallpapers, ringtones, video, mobishows, news, maps, Live TV, Radio, music, and SMS-based services and applications or apps.
Indeed, mobile content is increasingly matching anything that a laptop computer can do. The experts like to classify mobile content into three main categories: Mobile entertainment, Mobile apps, and Mobile games.
Just like various applications that we run on personal computers, use of mobile content also depends on the operating system (OS) of the cell phone.
Broadly, there are eight operating systems used in the cell phones: iOS, Blackberry OS, Android, J2ME (Java 2 Platform, Micro Edition), Brew (Binary Runtime Environment for Wireless), Windows Mobile, HP webOS and Symbian OS.
Their superior user interface (UI) has made Android OS and iOS the most popular these days. While an Android OS, for instance, will allow you to change the default web browser on your mobile handset with the touch of a few buttons, a Symbian OS will not.
Business and brand of mobiles
Last updated on: November 18, 2011 15:55 IST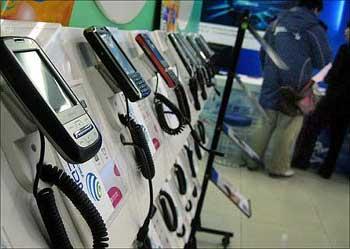 India's mobile phone subscriptions have grown phenomenally in the last decade to reach over 80 crore, a huge market for phone service providers as well as other companies to tap by investing in mobile content, such as games and videos.
Often referred to as Value Added Services (VAS), such services help companies increase their revenues and improve their brand awareness.
"Growing penetration of smartphones has made it imperative for companies to invest in the content space. It is also financially attractive because consumers are willing to pay for good content," says Rajasekar Raju KS, Director - Social Media Marketing, Impiger Technologies. The company has been providing text and video-based multimedia content to both Indian and foreign mobile subscribers for the last seven years.
It is quite a challenge for the companies to be able to make rich but memory-guzzling applications available on a small piece of hardware that a handset contains.
A subscriber will not like to use an application that will take up the entire battery capacity in downloading just one page. And they may also like to have as many applications to run on their devices as possible. So companies now have dedicated R&D teams to create or adapt applications that will run smoothly on mobile devices.
At Adobe Systems India, for example, a team has been working on making a mobile phone-compliant version of Photoshop.
"There are sub-teams working on moving Photoshop features online, design and development of licensing technologies, building user interface, and the look and feel of the website, etc," says Sourabh, a computer scientist working with the company. Sourabh developed interest in the cell phone world while doing his B.Tech and then M.Tech in Information & Communication Technology at IIT-Delhi.
Creativity is the mantra
Last updated on: November 18, 2011 15:55 IST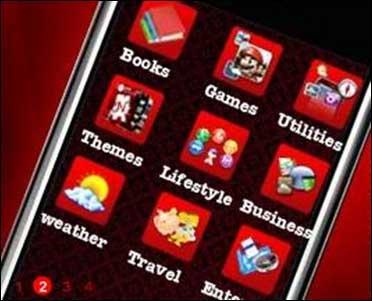 Mobile content is your field, if you like to create and experiment. For any job here, you require a great attitude and the ability to conceptualise.
You should know, for instance, why the Superman had to be a strong, tall and handsome man and Pinoccio a lean boy. You would do well to be a good learner of emerging technologies in order to remain competitive.
Also valued is your ability to understand the medium and users and some general knowledge. If you have seen games having characters resembling a film star or a politician as the protagonist, you will know they are there because of their relevance to the present scenario.
Education-wise, some technical competence is the first step. An engineering degree in computer science or Bachelor's and Master's in computer applications are good.
Following that, short- term courses in graphics development, designing, visual arts, to name a few, will help you excel in this field. A regular student can do a course on the side or work as an intern in a company to learn the domain-specific skills.
"I did a course in J2SE (a platform of the Java programming language) from NIT-Silchar under AX LABS. I also learnt J2EE (a Java-centric environment for developing Web-based applications) and gained hands-on knowledge by working as an intern at 2ergo, a company providing mobile-phone marketing and messaging services," says Devansh Mohan Kaushik, a third year student of Electronics and Communication Engineering at NIT- Agartala.
Job opportunities in mobile content space
Last updated on: November 18, 2011 15:55 IST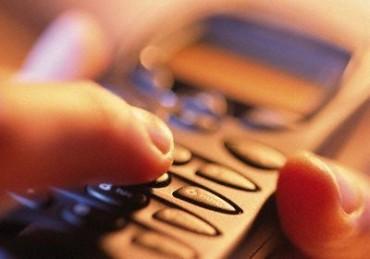 The mobile content industry has a place both for a programmer and a person with primarily artistic skills. An application begins with someone thinking about a concept which is then converted into a design.
Features like movement of characters and sound are added to the design which is brought into action by a programmer. Before it reaches its final destination, a test run is conducted.
There is a wide variety of areas to work in. You can become a content writer, copywriter, scriptwriter, designer, audio and video production professional, voice rendition technician or programmer.
The industry sees video and 3D content as its future and requires skills like radio jockeying, anchoring and videography. One can also start on one's own by turning into an application owner, developer or distributor.
Manish, a contractual game designer, says he is happy being a freelancer than tie down with a single company. He has developed several games for the J2ME platform, including 'Castle of Clouds' and 'Dilaer aur Dilrooba' and is working on a game for iPhone.
"I am enjoying it. As and when I am given an idea, I work on the game mechanics, that is, the rules of play and the user interface design (UI). At times, I try my hands on the look and feel of the game also," he says.
A gadget industry needs engineering skills at every stage. An engineer has responsibilities from knowing the raw material until it is converted into a smart phone. Simple things which may go unnoticed by a user involve much research and development.
"For a gamer there are plenty of issues to plug -- issues like signal should not break down while driving, no interference from adjacent and core channels and proper signal in idle mode also," says Saurabh Nangia who has worked as an R&D Engineer with Nokia. He did his B.Tech (Electronics & Telecommunication) from Guru Gobind Singh Indraprastha University before doing a six-month course in Telecom Engineering and Management at IIT-Delhi.
'Getting noticed in this industry is a challenge'
Last updated on: November 18, 2011 15:55 IST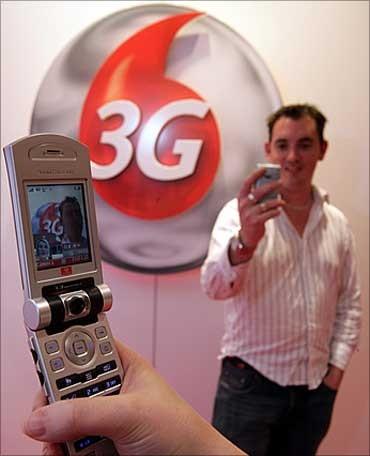 Currently, it's difficult to find specialised courses in mobile content in India. Spotting a job opportunity is also not easy. Content providers are generally dependent on the telecom service providers.
"But with a bit of Google search and attending mobile application and VAS conferences, a career is not far away also," says Rajasekar.
One needs a lot of patience, such as when browsers do not work right or a code will not validate. Application development goes through many processes. It takes days together to achieve that 'little' finishing.
Meeting expectations of the client is tough. You need to develop the end product with whatever story-board or assets he provides. Getting noticed in this industry is a challenge too; you have to prove the quality and competitiveness of your product.
Then there are technical barriers, like deciding important elements of your application according to different sizes and types of mobile screens. You also take time to even understand the mobile browsers. When Manish entered the gaming industry, he was asked to fit graphics for the entire mobile game in less than 35 kb. "I had just come from the PC game industry that does not suffer from such enormous size constraints. Thankfully, things are really changing now," he says.
Career progression
Last updated on: November 18, 2011 15:55 IST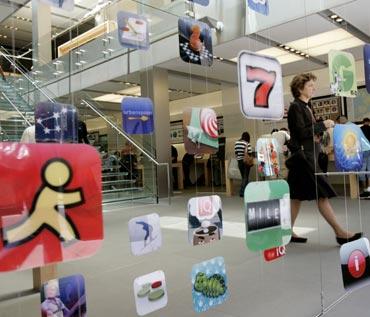 Remuneration depends on your performance. An entrant could kick off with Rs. 2.5-3.5 lakh per annum depending on the skill required. In three years, you could command Rs. 5-7 lakh per annum.
An engineering graduate with programming knowledge can start at Rs. 4 lakh per annum reaching till Rs. 15 lakhs with experience. Most of the successful professionals have been found to own their own content development company or become an aggregator.
Satisfaction from the job is the key to rising higher. For a mobile content professional, success comes more in terms of enjoyment while working. You learn new technologies. You get to play with different types of graphics and also media elements.
Mobile content also offers Indians opportunities to work in other countries. However, foreign companies have been outsourcing their work to developing countries like India. So the opportunities are improving all the time. If you have the skills and the confidence, the whole world is there for you to work in. 

'Outsourced business is growing in India'
Last updated on: November 18, 2011 15:55 IST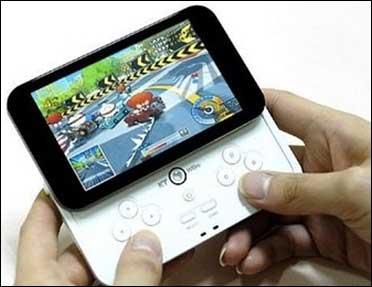 Q&A with Ram Warrier, Business Head, MAAC (Maya Entertainment of Advanced Cinematics)
What are the qualities a gamer should possess?
A gamer must be a self-starter, setting goals for himself and does not need to be prompted what to do, but find solutions himself. He should be a good learner and understand upcoming technologies.

Is making games for mobile different from other interface?
Yes. Games developed for mobile phones are optimised and not heavily programmed. They are art-intensive. It is a challenge in terms of looks, graphics, effects and navigation. This is why, the games on mobiles are developed for a mass market and they fall in the category of casual games.

Is the Indian market looking up?
The Indian Gaming Industry is expected to reach 830 million by 2012. India is fast emerging as an important destination for outsourcing because of low-cost and high-quality advantage.
Games developed in India have been successful internationally, enhancing India's reputation for technical and infrastructure capabilities to provide services that meet international standards.
What coursed do MAAC offer?
MAAC has a dedicated career programme in Game design and Integration (DGDI). It covers all nuances of game art, design and the integration of game asset elements including Digital Asset Creation and their integration in the game engine.
What are the career opportunities?
A person can go for 3D Game Designs, Game Testing jobs, 3D Game Modeler, Web 3D graphics, game production, Interactive product demos and walkthroughs.

And the pay scales?  
A gaming artist or game tester draws a salary of around Rs. 10,000-12,000 per month. A programmer draws a salary up to Rs. 30,000 per month.