Just what is wrong with India's engineering graduates?
Last updated on: September 12, 2012 18:32 IST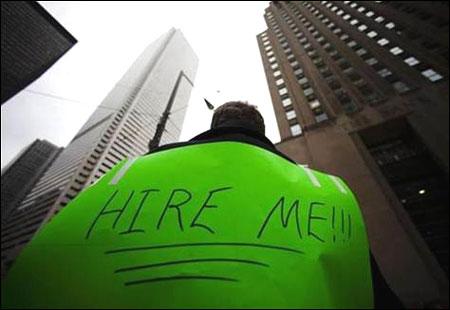 Why is the majority of fresh graduates in the field deemed unemployable? Divya Nair speaks to industry leaders, recruiters and academia who analyse the crisis and explain why there is a demand in institutes for trained faculty, as well as a mechanism to test and upgrade job-relevant skills.
In 2008, when textile engineering student Lakshmi Priya did not get a job through campus placements, she was convinced by her peers and parents to blame it on the recession. They told her not to lose heart and focus on pursuing her master's degree. But after repeated rejections and lack of response from head hunters, the 21-year-old from Mumbai sensed that there must be more to her situation than the economic downturn.
After conducting her own research on textile engineers and interacting with seniors and career consultants, Priya was convinced that her engineering degree was a mere rubber stamp. What she really lacked was the skills required for the job.
"One company wanted to know if I knew how to mix dyes and had enough designer and garment manufacturer contacts. Since I had never worked in a garment firm before and did not even have internship experience, I was at a loss," says Priya, who after switching four jobs in the last three years is now preparing for her MBA entrance exam this year.
While Priya's may sound like the classic case of a career decision gone wrong, it is not unique in the least. At least not to the 83 per cent of engineering graduates in our country who, as per the 2012 National Employability Report, are unfit for employment.
The report, released by employee assessment service provider Aspiring Minds, revealed that among the five lakh technical engineers who graduated in 2011, only 17.45 per cent are fit for employment.
The NASSCOM (National Association of Software and Services Companies) survey of 2011 first brought the situation to light, claiming that over 75 per cent of technical graduates are not ready for jobs. It also explained how India's $60 billion outsourcing industry is spending almost $1 billion a year training these graduates for jobs.
Other surveys have alarming findings too. An IRIX (Industry Readiness Index) survey conducted in 2012 by Purple Leap, an organisation that trains students to be job-ready, revealed that one third of graduates from the Tier 2, 3 and 4 engineering colleges are not employable even after interventional training.
It reported that students across the country fall short of desirable levels in generic abilities, including communication skills and problem-solving capabilities in particular.
Before you draw conclusions about the academic profiles of these graduates, however, Amit Bansal, CEO of Purple Leap, explains that the survey was conducted among students who scored above 60 per cent.
Earlier this year TeamLease, a private staffing company, published a report stating that although it claimed to hire somebody every five minutes for the last five years, only five per cent of its recruits were fresh graduates who applied for a job.
In its India Labour Report for the year 2012, TeamLease clearly stated that unemployability is a bigger issue than unemployment.
What ails Indian graduates? Why are they rejected by employers during interviews? What can we do to make Indian graduates more employable? Express your views...
Please click NEXT to continue reading...
'Most of them struggle to communicate even in their mother tongue'
Last updated on: September 12, 2012 18:32 IST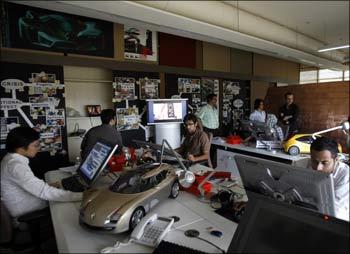 A
cademic proficiency vs job skills
"We are using the wrong word," insists Sangeeta Gupta, Senior Vice President, NASSCOM. "Our engineers are not unemployable, they just don't have industry-ready talent. In other words, they lack the skills required for the jobs that are available to them."
Amit Bansal, CEO, PurpleLeap cannot agree more. "Most graduates display excellent theoretical knowledge. However, when it comes to problem-solving, they lack basic analytical skills."
"I have interviewed over 2,000 candidates in the last three years and most of them struggle to communicate even in their mother tongue. I have realised that it's not about the language. If they don't know the answer, how will they respond?" quips Bansal.
Shankar Srinivasan, Chief People Officer, Cognizant Technology Services says that fresh graduates often have the desire to learn and need the right training to get them job-ready.
"The students coming out of Indian institutions are technically proficient, but sometimes need additional traits such as communication, presentation, confidence and similar soft skills," he adds.
'The engineering curriculum in our country emphasises rote learning'
Last updated on: September 12, 2012 18:32 IST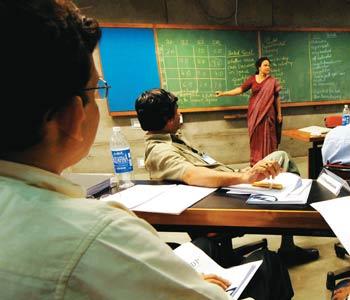 Loopholes in engineering education
Both Gupta and Bansal point out the loopholes in the current system, explaining why it has failed in its purpose of honing raw talent over four years of education.
"The approach to the engineering curriculum in our country emphasises rote learning," feels Gupta. She believes that it is important to impart practical and job-relevant knowledge to students. Moreover, the engineering syllabus is also not updated, which adds to their woes.
"The same set of questions is asked year after year. If your memorisation skills are good, you may cram and score well. But that doesn't mean that you have the skills the industry is looking for," explains Bansal, who points out how final year students replicate projects from seniors or buy them ready-made from the market, thus defying their purpose.
These projects are meant to test students' design skills and application of knowledge. However, due to lack of proper guidance and supervision, the impact is counter-productive.
Himanshu Agarwal, CEO, Aspiring Minds reveals that during the survey, they realised how students from Tier 2 and 3 colleges scored poorly in basic skills like mathematics and communication.
"The four years of education will take them nowhere if they are not able to apply them in real life," he rues.
Prof Ramamoorthy Iyer, a visiting faculty member who teaches mechanical engineering to students in Mumbai, Hyderabad and Chennai, explains that several youngsters are unable to think beyond their textbooks.
"You ask them about the technology involved in the making of an automobile, and they'll be ready with the details. If you ask them to design an automobile on their own, only a handful will be able to attempt it with success. Students who don't take up internship roles during their course of engineering often struggle with placements after completion of the course. Even institutes do little about training their students. What's the purpose of such an education? There is no value addition," remarks Iyer.
'Most professors in Tier 2 institutes have graduated from the same college'
Last updated on: September 12, 2012 18:32 IST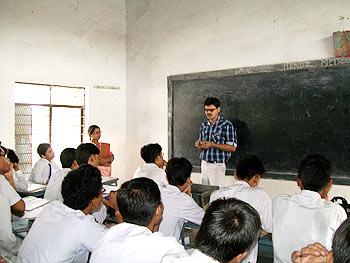 Tier 1 vs Tier 2
According to the Annual Employment Survey, there was a consistent drop in employability across all sectors, based on the city in which each college was located.
For instance, the drop in employability for IT products and the KPO sector from Tier 1 and Tier 2 cities is the steepest.
Srinivasan attributes new engineering colleges as the reason for this deterioration.
"In the last decade or so, several hundred new engineering colleges have sprung up, which have difficulty in attracting top notch faculty, retaining them, and enhancing their skills. Many of them therefore do not have the ability to attract the best students. It is the increasing number of students coming out of the neo and non-academic managed colleges that contribute to non-employability or under-employability," he reasons.
The lack of experienced faculty is a major hurdle and Bansal explains how it aggravates the situation.
"Tier 2 and 3 colleges are at least 70 to 80 kilometres away from cities. Getting good faculty is definitely a challenge. What's alarming is that most professors in these institutes are students from the same college. Hence, the average experience of these professors is not more than two to three years. If institutes cannot attract trained professors, or industry leaders to intervene, students will have no exposure to the outside world," observes Bansal.
In comparison, the basic intake of students in Tier 1 colleges is better.
"Their raw mental power is good, so training them takes less time. They are easily moldable and just need the right stimulus," he says.
'Even small enterprises are looking for candidates with multi-specialty skills'
Last updated on: September 12, 2012 18:32 IST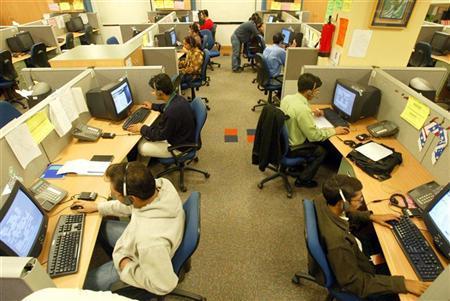 Lack of soft skills
Anshul Mukherjee, a senior consultant from Manpower Recruitment, Mumbai explains how the demand for special skills in technical jobs has increased over the years, which has affected the quality of hiring.
"Gone are the days when companies spent precious time and money training employees for basic job skills. Today, IT careers demand more than coding and programming skills. Not just MNCs, even small enterprises are looking for candidates with multi-specialty skills."
Besides the lack of technical skills, Aspiring Minds also revealed in their survey how over 50 per cent graduates fall short when it comes to language and grammar.
In fact, several companies like Cognizant, Infosys and Tata Consultancy Services that have a global presence, expect their graduates to be proficient in English communication.
"Cognizant conducts a written aptitude test that assesses a student for logical reasoning, quantitative ability, basic mathematical skills and English language communication capability. Those who clear the test are called for a personal interview with professional recruiters. Our hiring process looks at all competencies, and language capability is very important. As part of the hiring process, we assess the ability of the candidate in oral and written communication. The ability to clearly articulate thoughts, fluency and comprehension skills are important factors that are assessed," explained Srinivasan.
However, Bansal who has himself been a panelist when it comes to recruiting engineers, is quick to explain why the lack of communication skills can still be treated as a secondary problem.
"Most recruiters are interested in your core competencies. Command over communication skills is required only in a multi-lingual environment, where you are in a role that demands interaction with clients and managerial staff on an everyday level. As a rule, several companies don't let you interact with clients directly for the first two-three years," he reasons.
While the right combination of consistent academic scores, sound knowledge of subject fundamentals and good communication and interpersonal skills can pave the path to a rewarding IT career, it is important that graduates develop behavioural skills, communication and presentation skills, team dynamics, business etiquette and cross-cultural adaptability.
How Wipro is reaching out
Last updated on: September 12, 2012 18:32 IST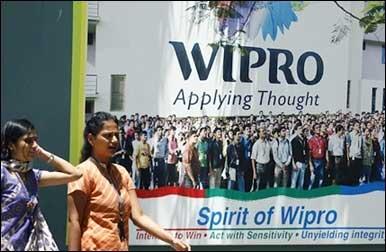 Corporate initiatives offer respite
On September 5, 2007, Azim Premji, Chairman of leading technology services provider Wipro, launched Mission10x -- a unique not-for-profit initiative to enhance the employability skills of engineering graduates.
Over the last few years, the programme has reached hundreds of engineering colleges across the country, addressing faculties' need to improve their teaching practices.
Wipro also conducted a nationwide survey among over 300 placement officers in the country to identify the methods they use to select candidates with potential.
PB Kotur, Head, Mission10x, Wipro Technologies tells us that the impact of these workshops has been tremendous.
"Over 23,000 engineering college teachers from 25 states in India (covering 1,229 colleges) who have been trained in pedagogical aspects have shown a remarkable transformation in their teaching capabilities and influenced students positively -- both shortage of attendance and faculty attrition ratio have come down drastically," reveals Kotur who shares the 3A's principle (Awareness, Acquire, Apply) that can be employed by other institutes to bring about this change in engineering education.
Awareness: Engineering students should be curious to know what is needed to move up the value chain. They should know what they need to learn and must learn.
Acquire: They must be enthusiastic and open-minded to acquire new skills relevant to the work place (beyond their academic knowledge) through various sources. Evaluate the right skills for the right job.
Apply: They must practice what they are aware of and what they have acquired. Practical knowledge to solve problems and also explain how they were solved will see students much better off.
Timely interventions crucial to development
Last updated on: September 12, 2012 18:32 IST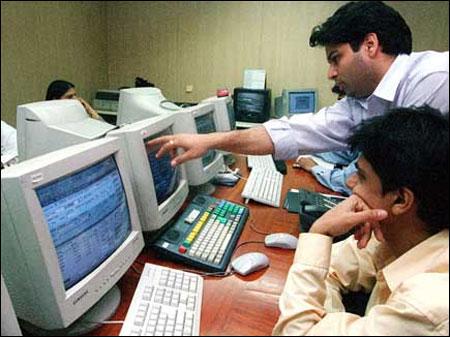 Identifying the need to address gaps in the education system, NASSCOM has also developed a few initiatives, which include training and development of faculty in technology schools.
Under its BPO initiative, which trains fresh graduates over six to 12 weeks, NASSCOM aims to enhance graduate employability through appropriate skill enrichment. The BPO intervention, which is part of the engineering curriculum, is operating in several colleges affiliated to Delhi University.
Himanshu Aggarwal recalls his engineering days and tells us that IIT-Delhi had a similar intervention to train vernacular medium students and polish their English language skills.
"In the late '90s, the month-long programme was optional and helped students comprehend the language better, because English was the only medium of communication."
He feels that such interventions help upgrade skills as students advance up the career ladder.
"If the Tier 2 and 3 institutes can help devise a curriculum in collaboration with corporates, which will ensure training and development of aspiring professionals, we will have better graduates and improve the quality of employment."
However, we must concentrate in identifying gaps early on, Aggarwal insists.
"If we can address the issue in the first year, we can try and bridge the gap in the next two to three years," he says.
Instead of creating new courses and establishing new colleges, we must focus on the weaknesses in the existing ones and address them so that we can build our core competencies.
Meanwhile, Sangeeta Gupta explains that unless we have a mechanism to track performance, these efforts will bear no fruit.
"Students are either influenced in their career decisions or they are unaware of what the industry demands from them. One cannot dismiss the lack of aptitude in these graduates," says Gupta. She believes that it is important to create a framework to define job skills, so that students are clear about the jobs awaiting them at the end of their education.
The need of the hour is to produce graduates with specialisation and focus on higher education.
However, as we await amendments in the education system, graduates can introspect and overcome the challenges by enrolling themselves in skill development activities outside the classroom and engaging themselves with technology to power their knowledge.
In Aggarwal's words, "If we cannot change the current system, we can definitely intervene and alter it to produce a better quality of engineers and graduates. After you've identified the gaps, the challenge is to address the issue and not find excuses."