3 MBAs on what their B-Schools taught them
Last updated on: January 20, 2011 19:00 IST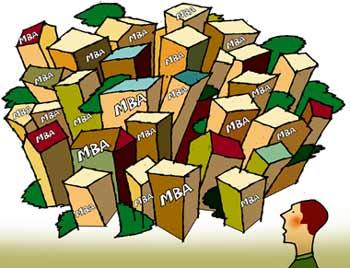 While some claim the classes did the trick, a few swear by the canteens and the hang-outs. But even the biggest cynic of the campus turns nostalgic when speaking about the alma mater.
The two years one spends in a B-School could be the best or the worst years of your life, depending on the nature of the school, the kind of friends you make and the general direction the school sets for its alumni. But even the worst school leaves a set of  cherished memories. As an alumni of a private school informed us, his school left him high and dry as he could not convert any of the interviews on the campus.
So when he left the campus he was very bitter. Five years on, he has a great job, and some close friends from his school. When he looks back he has only fond feelings about his B-School. That in a way sets the tone for this story. Three former B-School students shared with us what they like or dislike about their school.
All three of them had very good things to say about the respective schools, though pet peeves like the bureaucratic admin, bad hostel food also came into the picture. When quizzed on the relevance of ranking and the level of transparency in schools, the opinions were candid. All of them felt that ranks were biased and one of them even suggested  a way to get them right. The alumni seems to be at ease with what is on offer and are happy about what they got.
Ujjwal Sangal passed out from MDI, Gurgaon. He works as Manager HR at Tata Steel
Last updated on: January 20, 2011 19:00 IST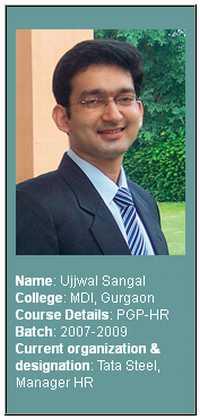 Take on college
Faculty is highly qualified and experienced, involved in a number of consulting projects. Indirectly these projects seep into the classroom and case discussions, which expose the students to real life industry business cases. Infrastructure is adequate. Residential facilities are decent.
Areas in which the college can brace up
The auditorium's capacity needs to be enhanced. Administration is bureaucratic. The best companies need to come for campus placement. There is less exposure to the real India, rural India.
Grade you would give to your college
A+
Your advice to current students
Enjoy, grab and compete in all opportunities and challenges that come your way.
 
Your take on B-School rankings
I believe that the ranking of B-Schools do not reflect the true and correct picture. How can different publications mark a particular school 'very good' and 'poor' using the same parameter?
I believe that it is a marketing gimmick of institutes who maintain a good PR with these publications. Almost all publications have a common set of 'top-15' B-schools through which one can infer that institutes can better be classified into grades (like A+, A, B, C) rather than absolute ranks.
On disclosure norms
No B-school provides a full and honest disclosure on their respective websites. Like any company which competes in the market, only favourable things are put on the website. Come to think of it, most institutes have not published the placement reports of the batch which passed out in the recession year.
Poli Das passed out from Indus World School of Business, Greater Noida. She works as Area Manager at
Last updated on: January 20, 2011 19:00 IST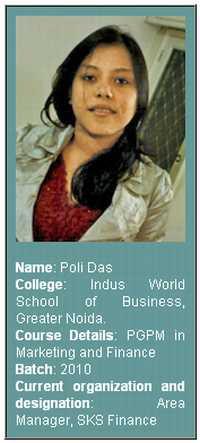 Take on college
What I have learnt in two years I can practically apply it in my current job. The faculty is well experienced and most of them were industry practitioners, so they had real life experiences to share with us. The curriculum and the assessment were mostly project based instead of regular lectures. We presented around 17-18 case studies every three months.
Every Friday we had open forums wherein the industry experts came and shared their experience. We had plenty of choices for placements too with some big names like Educomp, Redbull, SKS Finance visiting us.
Areas in which the college can brace up
In developing the residential facilities and offering increased number of programmes.
Your grade for your college
A
Your advice to current students
Take your learning to the ground level. Stay focused in your pursuit.
Your take on the B-schools rankings
I think it is mostly biased. The parameters on which they are judged should be disclosed and all the institutes must participate in it. Such practices are the part of marketing gimmicks adopted by the institutes.
On disclosure norms
A student should have a clear idea in terms of what he or she is exactly looking for and then make a choice based on own judgment. I chose IWSB as I was very impressed by the interaction that I had with the faculty members at the time of admission.
Siddharth Sreekumar passed out from IIM-Calcutta. He works as Consultant at Wipro
Last updated on: January 20, 2011 19:00 IST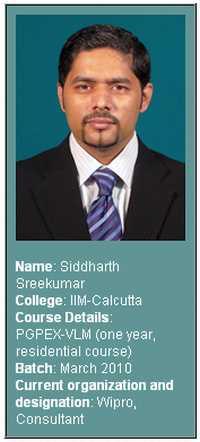 Take on college
The curriculum was expansive and market relevant. The faculty comprised academicians with corporate/ professional exposure and were able to identify with our backgrounds. The residential facilities could have been better, but now a new campus is under construction.
Placements for the one year courses are constrained by the companies' outlook and so the chances for changes in domain are few. Overall it was a great experience.
Areas in which the college can brace up
The residential facilities could have been better.
Your grade for your college
A+
Your advice to current students
Evaluate a school based on your choice of career. Look at the past students and see where they go. Do not fall for marketing gimmicks of numbers, there are many ways they can be played with. Do your own analysis.
Your take on B-school rankings
Numbers can be played with. Many factors may not be included in the surveys. How many surveys capture the extra-curricular activities? After all MBA courses cannot be evaluated on the same basis as engineering or degree courses. May be colleges need to be looked at from the point of view of specific branches. Besides, average salary, used in many surveys, is not a good-enough indication; medians may be better.
On disclosure norms
In my opinion most Grade A colleges are true in their disclosures. But I feel, stricter standards can be developed to ensure overall adherence and increased transparency.