Heading to college? Tips to survive hostel life
Last updated on: July 28, 2010 17:50 IST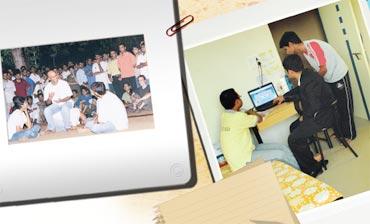 After completing Class 10 or 12, it may be time for you to move out of the comfortable confines of home into a hostel, if you are attending a college located far away from your hometown. Hostel life is almost a parallel culture, an  experience that takes you out of your comfort zone and exposes you to several experiences. Living by some stringent rules is one of them. Getting to know a host of students from diverse backgrounds at very close quarters, is another. Read on for an insight into this parallel life.
Hostel life is a very memorable period in one's life, but due to lack of knowledge or a casual attitude or irresponsible behaviour, you may have problems of adjustment to the hostel environment, which can affect your studies and career. This is the stage where you have to take care of yourself. From childhood, parents take care of children in every possible way, but while staying away from home and parents, you have to own up for your actions and their consequences, and become responsible for making the most of the opportunity available to enhance your knowledge as well as take the initiative for your personality development.
At Management Development Institute (MDI), these are the two crucial years of student life before entering the workforce and one needs to consider it as an investment in one's future. So, acquaint yourself with the rules, regulations and norms of the institute and seek guidance from the faculty.
The 3 Ds of hostel life
Your hostel is a place where you can learn a lot of things including how to conduct yourself. Students are expected
to follow these rules when they join the hostel:
1. First and foremost, all students are expected to acquaint themselves with the hostel rules and regulations. Lack of awareness about the rules will not be seen as a reason for not following them.
2. You will need to share your room with another student and you have to adjust with each other.
3. Following hostel rules and timings is a must. Any violation can result in strict action being taken by the wardens.
4. Students are not allowed to leave the hostel after a certain time, and this is to be followed very strictly.
By Dr Daisy Chauhan, warden (Girls Hostel) & assistant professor (Organisational Behaviour), MDI, Gurgaon
You need to look out for yourself
Last updated on: July 28, 2010 17:50 IST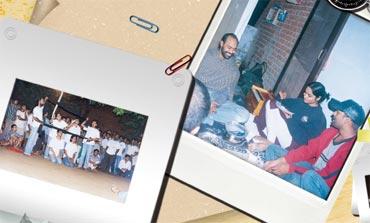 5. Keeping in touch with your parents will ensure that you don't feel homesick.
6. Give the phone numbers of your roommates and some other friends to your parents along with the hostel contact
number, so that your parents can get information about you in case your number is not reachable.
7. If your roommates intentionally disturb you while studying, try and make them understand this. If this does not work, bring it to the notice of the hostel warden at the earliest.
8. Be friendly and helpful to other hostel members.
9. Participate in functions or programmes organised in the hostel. You will develop your friend circle and extra-curricular activities.
10. If your seniors ask you to introduce yourself to them, cooperate if it is in the spirit of fun and not harassment. If they try to trouble you physically or mentally, immediately speak to the warden.
11. Give priority to your studies. Remember your parents have let you to study outside because they trust you.
12. Try to maintain a healthy relationship with other students. Never interfere in others' personal matters.
13. Bring along these things: mattress, towels, soap and shampoo. They are usually not offered by the hostels.
14. Learning cultures: One feature of hostel life is you must learn to share your room with a person from another state or region. This can be a real learning experience. There may be initial adjustment problems, but gradually you learn about other cultures.
15. Last but not the least -- avoid carrying valuable things as you alone will be responsible for their safety.
Straight from the horse's mouth
Last updated on: July 28, 2010 17:50 IST
Nimisha Jaiswal, a journalism student at LSR College hostel in New Delhi, shares her hostel experiences.
Having lived in a school hostel for eight years of my student life, I swaggered into my new college hostel with a trolley full of luggage and a shameful amount of confidence, ready for my own two-seater, after my eight-people dormitory in school.
I passed by what seemed like several storage rooms and arrived at Room 4 -- wait a minute, this was another storage room! Since my roommate was already there, I got the lower bed, which could be pulled out when in use and tucked away neatly below the other.
My first year was spent coping with a difficult roommate, but then all hostellers suffer tiffs with new roommates. The trick is to give a little as well as hold a bit of your own. A change in set routines has to be made from all sides, and however oceanic the differences, the least expected points of civility are never too hard to achieve. Many a time, your new roommate and neighbours may very well go on to become your best friends in college, much closer, I feel, than school day scholar friends could ever be.
A small but constantly expanding hostel library, a computer and internet centre, laundry room, two television sets, our very own games cupboard and movie screenings on every weekend, are just a few of the luxuries that have become an integral part of life in the Residence Hall. Farewells, freshers, 'hostel nights', though few and far between, are essential outlets for many of the boarders. And, of course, the degree of freedom in a college hostel is much more than was ever possible (or even advisable!) in a residential school. Weekends, a set number of night outs, and permission for daily outings never let us feel bound and chained.
Special provisions for 'day-scholar leave' (where if your parents are in town for a few days, you can stay with them during the week), special leave and study leave are also provided. And the occasional ice-cream treats by the mess staff always made my day! And though you might not find yourself being pampered with the luxuries of continental and Italian, the hostel mess definitely goes the distance in its Indian culinary efforts.
The four-meal menu we are provided with every day as opposed to our PG friends' constant struggle against expenses (and starvation) definitely has us counting our blessings.
I had continually heard about the latest, stringent DU regulations against ragging. But since, I have never been trusting of rules, many a new batchmate was received with the utmost respect just in case she was a senior. But I was never ragged. In fact, as a second year we were so threatened by the possibility of expulsion, we were advised not to talk to our juniors at all! And we didn't.