Land a job with the WORLD's top recruiter 2012!
Last updated on: September 27, 2012 13:39 IST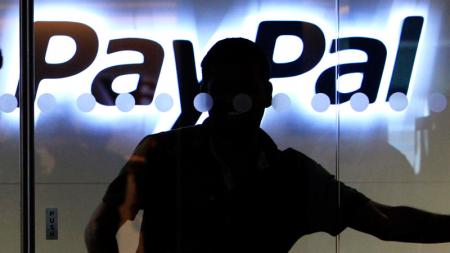 In the next three years, PayPal, believed to be the world's most successful online payment service provider will absorb engineering freshers in product development. Do you have what it takes?
FAST FACTS

Company profile: E-commerce business enabling safe payments and money transfers, acquired by eBay in 2002
Active registered accounts: 106 million in approx 190 markets in 25 currencies
Turnover: Net total payment volume for transactions using mobile devices reached $4 billion in 2011, up from $750 million in 2010
Headquarters: San Jose, California
Development centres: San Jose, Austin, Scottsdale, Boston, Timonium, Omaha, Chennai, Bangalore, Shanghai, Singapore and Dublin
India employee strength: 2300 technologists
Hiring forecast: 1000 technologists in next three years for Bangalore and adding staff to the Chennai centre

Today, many don't think twice before purchasing a product or service online, be it a gizmo, airline ticket or apparel.
However, in the late 1990s, online shopping was viewed with suspicion, safety of online transactions and fraud were major concerns.
Then in October 1999, an engineer in a company called Confinity developed an online demo that allowed people to make payments through email.
And the product PayPal was born (later Confinity merged with X.com, which eventually was rechristened as Paypal, the company).
Please click NEXT to continue reading...
In 2012, 40 per cent of eBay's revenues were from PayPal
Last updated on: September 27, 2012 13:39 IST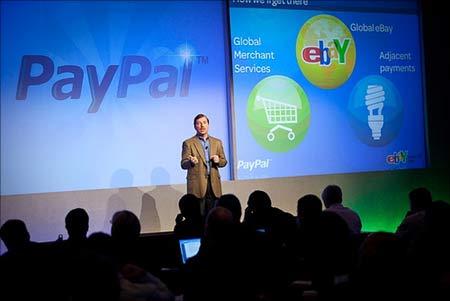 Gaining trust
In November 1999, first-time PayPal users received $10 on signing up for the service.
By Jan 2000, eBay users were posting PayPal's logos on their auction pages. So, PayPal changed its business to enable eBay payments.
The number of users grew to 1,00,000 accounts.
By March 2000, PayPal hit one million users.
Obviously by then, consumers had developed a whole new attitude towards online shopping -- that of trust. 
Growth curve
PayPal was acquired by eBay in 2002, it was meant to serve as the payment engine for all eBay transactions. Instead, due to the simplicity and convenience of usage, PayPal grew beyond this expectation.
It became a successful financial instrument for a large magnitude of consumers, who used it everyday. 
In 2012, 40 per cent of eBay's revenues were from PayPal. And today, with 106 million active registered accounts in approximately 190 markets and in 25 currencies, it's evident that e-commerce has come a long way since the 1990s.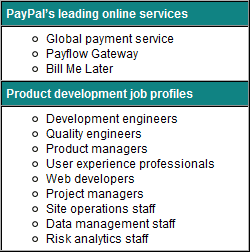 PayPal's Bangalore centre aims to hire 1000 technologists in 3 years
Last updated on: September 27, 2012 13:39 IST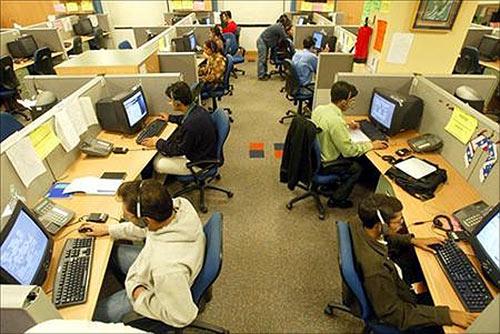 Top recruiter of 2012
In India, PayPal was recently in the news for absorbing 80 engineers from nine IITs, through campus placements, one of the largest number of campus hires by an MNC product company in 2012.
The company hired at least one candidate from Mumbai, Madras, Roorkee, Kharagpur, Delhi, Guwahati, Ropar, Hyderabad, Kanpur, from the computer science engineering, IT, electronics and communication engineering branches.
Positions included Product Developers who will be working on projects to develop PayPal products and Quality Engineers who will work on quality testing and analysis of the products developed by the developer engineers.
PayPal's India centres
Located at Sholinaganallur on the IT Highway, the Chennai Global Development centre is one of PayPal's largest technology sites in the world and is involved in all of the company's major technology and product development initiatives to improve its global payment platform.
It grew its strength from a staff of 50 to 2,300, and aims to add on to this number.
PayPal's Bangalore centre aims to hire 1000 technologists in the coming three years.
"The new Bangalore facility will feature several Centers of Excellence and house technologists supporting both eBay marketplaces and PayPal businesses," shares Anupam Pahuja, who heads PayPal India.
So, what does it take to be picked up by one of the top technology companies in the world?
'Our focus is to identify people who can learn, unlearn and then relearn'
Last updated on: September 27, 2012 13:39 IST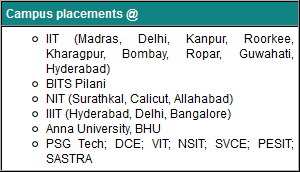 Campus placements
In the next three years, PayPal will head to the IITs, BITS Pilani, NITs, IIITs and other top engineering institutes.
Candidates will go through written tests, a mix of MCQ and subjective-type questions of one to one-and-a-half hour durations, with 50 per cent cut-off marks.
Components cover computer fundamentals, C++, Java, analytics and Mathematics. On qualifying, students undergo four rounds of interviews including technical and HR. Currently, students will get posted in Chennai or Bangalore, but come 2013, students will have the opportunity to be posted at overseas centres.
In this interview, Anupam Pahuja, General Manager & Head of Paypal India shares interesting insights about the recruitment process. Read on...
What would be the Bangalore centre's focus area?
Bangalore will be the Centre of Excellence for our Java infrastructure and services-oriented architecture.
What do technologists do?
They dream. And that's what we want them to do here. In a technology organisation like ours, it takes different kinds to build a product.
Product engineers write code, architects design how a product is set up, user interface engineers design the touch and feel of the product.
Quality engineers ensure that the product meets customers' needs. Product managers decide the roadmap. The list goes on.
Is product development a lucrative career path?
Yes, very lucrative. A knowledge worker can make a lot of money! It's just the imagination that's limiting. When hiring, we look at people's competencies more than skills.
For example, if you're a thoughtful person and a logical thinker then you can learn C++ or any other language on the fly. Our focus is to identify people who can learn, unlearn and then relearn.
How do you gauge competencies?
We give freshers multiple tasks designed to test things like pattern recognition, logical thinking, ability to think through nebulous situations.
Your impression of freshers...
They are shackled by their own knowledge. Hence, we spend the first three months of their career (in bootcamp) teaching them that what you have internally is more important than learnt skills. It's tough, because education in India doesn't cherish that kind of learning.
We seek out people at the intersection of humanities and sciences.
Communication skills are important
Last updated on: September 27, 2012 13:39 IST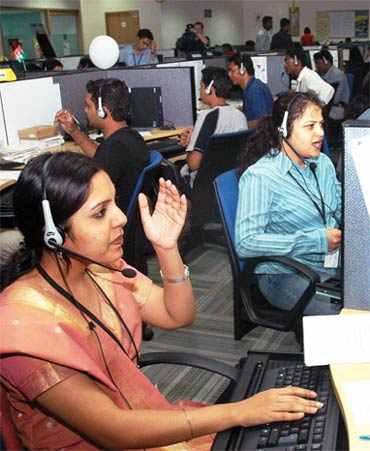 Soft skills also important
Competencies like analytical skills and soft skills like communication are important for any PayPal recruit.
"Knowledge needs to be institutionalised through communication. Hence, we must be able to share our ideas and thought processes with people through multiple formats, be it vocal conversations or writing professional and concise e-mails," advises Anupam.
English language ability is considered important because employees have to constantly coordinate with counterparts at PayPal's overseas development centres.
 
Beyond campus placements
If PayPal does not visit your campus, you can visit their career portal to see available positions or write to indiajobs@paypal.com with resumes.
The talent acquisition team will get in touch with the aspirants.
"We also have an excellent and very effective employee referral programme. Therefore, if aspirants have friends already working in PayPal, the best way for them is to get referred by them. That works better for us as our existing employees know the best about what we need," advises Anupam.

Perks and work culture
Last updated on: September 27, 2012 13:39 IST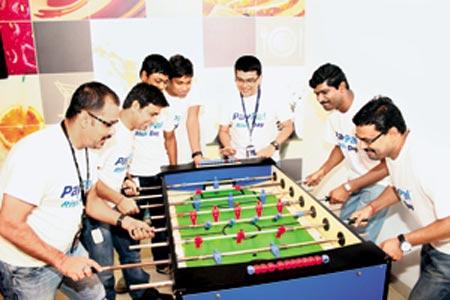 In 2012, PayPal was ranked 17th by 'Great Places to Work', which surveys the top companies in India. Besides competitive pay packages and facilities such as gyms and training modules, techies can rejoice at PayPal's state-of-the-art research laboratory aimed to promote end-to-end product innovation.
The idea is to give them a chance to explore, experiment and experience the world of technology.
"Traditionally it takes product companies, three to four years to develop something realistic and send it to the market. We release our product every two weeks. So every two weeks, you get a new way of doing things," shares Anupam.
Hence, product developers need to be on their toes to stay ahead of the technology curve. "PayPal is a place for all sorts. There are many people with physical disabilities working here," shares Anupam.
Facilities include ramps, elevators and seating requirements, adapted to meet the needs of the differently-abled.
Welcome to bootcamp
Last updated on: September 27, 2012 13:39 IST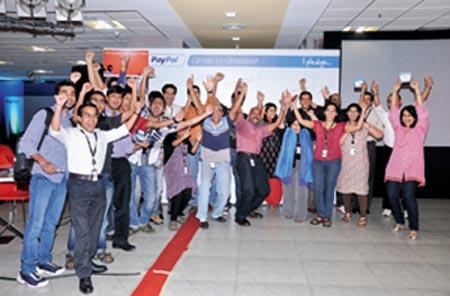 New joinees are put through a rigorous three-month residential training programme.
Freshers spend 12-14 hours a day, six days a week, working with their instructors and each other.
"In the beginning, students may feel that the instructors are out to get them but by the end of the programme you see them totally changed, creating amazing bonds with each other," shares Anupam, explaining the logic behind this practice.
"In large organisations, it's easy to get lost. And you want to build linkages across functions."
By the end of three months, some people don't make it. "But you also see the diamonds that they are truly, emerging," shares Anupam.