How the one-year MBA is different from an Exec MBA
Last updated on: January 14, 2013 14:37 IST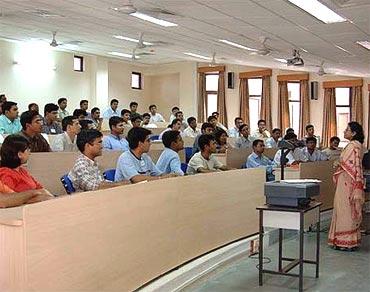 Contrary to popular belief, the one year full time MBA programme offered by the IIMs is a 'regular' full time MBA and not an Executive MBA programme as perceived by many. Read on
The one-year full time MBA was introduced in India by ISB in 2001.
The IIMs followed suit, and over the years they started to offer a one-year full time MBA in addition to the two year one that they already offered.
While this course has become very popular, a lot of confusion regarding the course contents and value plagues students, the media and recruiters. Each article will demystify a particular area of confusion.
The first of an eight-part series examines the blurring of lines between a one year full time MBA and an Executive MBA.
The first point to note is that the IIMs' one-year full time MBA is a 'regular' full time MBA and not an Executive MBA. People mistake a one year full time MBA for an Executive MBA because of three reasons:
The one-year full time MBA in India, on an average, stipulates five years of work experience as a requirement for admission (so people view it as an MBA for 'executives')
The course is shorter than the two-year course
Nomenclature -- the formal name of the programme often includes the word 'executive'
Let us tackle the first point by quoting the authority on the MBA course, The Association of MBAs ( AMBA) that accredits and governs MBA institutes worldwide.
AMBA says, "The MBA is defined as a career development generalist programme for those who have significant post-graduation work experience on which the learning process should explicitly build".
It goes on to say "Students are expected to have a minimum of three years appropriate and relevant postgraduate work experience upon entry and the student body as a whole should average at least five years of such experience."
Further, the aim of an MBA is defined as to "(i) enhance and develop previous relevant experience in business and management" and "(ii) prepare students for leadership and transformational roles in business"
Please click NEXT to continue reading...
IIM-A's one-year full time MBA is ranked 11th in the world
Last updated on: January 14, 2013 14:37 IST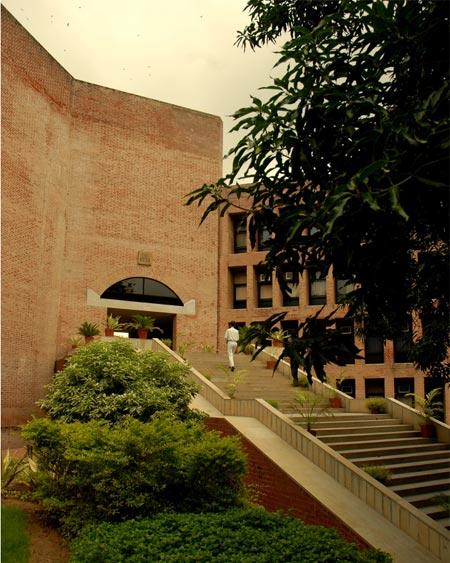 The One Year Full Time MBA is the only course to meet these criteria and qualify as an MBA.
Candidates admitted to this course at IIMs have between 6-13 years of work experience and typically are working as managers, AGMs, and Zonal Heads at the time of admission. Upon graduation, they join companies in roles such as CEO, Vice President, GM and Senior Manager.
This closely resembles the intake and placements pattern of both the two-year MBA courses at Harvard and Wharton and the one-year courses at INSEAD and Oxford. In contrast, the majority of candidates pursuing a Two Year Full Time MBA at IIMs and other Indian b-schools has less than one year's work experience and join companies as management trainees.
It is for this reason that IIM A's One Year Full Time MBA (PGPX) is ranked No.11 in the world in the 2012 Ranking of Global MBAs while its two-year programme is ranked separately as a 'Masters in Management' (not equivalent to an MBA)2,5 by Financial Times, London.
It is important to note that the 2012 Ranking of Global MBAs includes the flagship two-year programmes of Harvard and Wharton and the flagship one-year MBA of INSEAD and Oxford. All these programmes, are, therefore, considered on par.
Financial Times, in line with AMBA's definition of an MBA, only considers courses that recruit candidates with substantial work experience.
Across the world, substantial work experience is a must for enrolling for an MBA. Those without work experience are guided to a Masters in Management –-- a stepping stone to an MBA. You can read more about the masters in management ranking here and the MBA ranking here.
Coming to the second point -- of the one-year course being shorter -- it's interesting to know that the one-year avatar originated in the University of Pittsburgh, way back in 1963, and became the primary format of an MBA in Europe. INSEAD, France, IE Business School, Spain, IMD, Switzerland, Oxford and Cambridge offer only a one-year MBA. Schools in the USA, however, primarily offer a two-year MBA . Both formats are considered a 'Regular MBA'/ 'Full Time MBA' internationally.
A recent report by QS Top MBA.com reveals that the one-year course has overtaken the two-year model as the preferred choice of applicants.
It says, "48 per cent of prospective MBAs now want to pursue a one-year program, with only 38 per cent considering taking the qualification over two years"17.
Regarding the third aspect, the nomenclature, I am of the view that the IIMs could have branded the course sharply. The two-year MBA of IIMs is called Post Graduate Programme (PGP). When the One Year Full Time MBA was launched, the institutes simply added the word 'executive' to the course name.
So you began to hear of Post Graduate Programme for Executives (PGPX) and Executive Post Graduate Programme in Management ( EPGP) -- different names for the One Year Full Time MBA at IIMs. The layman next made quick shorthand and labeled the course an Executive MBA.
Taking a cue from ISB, IIMs should have retained the core name PGP to describe the One Year Full Time MBA. To underscore the different durations of its one-year and two-year MBAs, the former course could have been called a One Year PGP.
Surprisingly, even ISB, despite naming its flagship One Year MBA the 'PGP', faces the same problem. The FAQs section on its admission portal lists a question asking whether the PGP is similar to the Executive MBA programme offered by business schools. The crisp answer -- "No. The Post Graduate Programme is similar in rigor and content to a regular two-year full-time MBA programme offered by global business schools."6
So what then is an Executive MBA? It is a course for candidates who work full time while pursuing an MBA, and are hence 'working executives' while they pursue an MBA. It is a part time, evening, distance learning or online programme.
Its admission process is comparatively less rigorous than that of full time MBAs. The placements that accrue are, therefore, usually not on par. ISB's PGPMAX with classes conducted on campus every six weeks and FMS's three year part time MBA with classes conducted after work hours – are examples of Executive MBAs.
The media and education websites are doing their bit in topping the confusion. A recent report in the Hindustan Times referred to the one-year course with the stunner label -- Full Time Executive MBA .
A respected student website topmba.com recently released a report titled 'Understanding emerging markets -- A focus on the Executive MBA in India' and then focused largely on the One Year Full Time MBA. The most devastating blow comes from, ironically, the most important stakeholder in the scenario, the IIM! IIM Lucknow's website refers to the IPMX, a One Year Full Time MBA, as an Executive MBA!
Some are slowly getting the story right. Outlook's recent ranking of the 'Top One Year MBAs' in India22 showed a clear understanding of the various courses. The programmes page of Aegis business school lists the One Year MBA, the Two Year MBA and the Executive MBA as separate offerings. Thankfully so, because things will get more confusing as new programmes are launched. For instance, IIM Indore recently launched PGPMX -- an actual living and breathing Executive MBA (alternate weekends), which sounds similar to the PGPX (full time MBA) at IIM A.
To wrap up, a 'Full Time Executive MBA', as the one-year programme is often referred to, is a contradiction in terms. Like Mamta Banerjee with a sense of humour -- it doesn't exist. This term is misleading to prospective students and irksome to alumni of the course.
As a brand management professional, my humble advice to the IIMs is to follow one brand name for the one-year programme, just like the name PGP is used by every IIM to describe the two-year programme.
Different names for the same course, such as PGPX, EPGP, and IPMX, do injustice to the course. A Mercedes S Class isn't branded as a 'Car for people with substantial bank accounts' -- the eligibility criterion need not be a part of a brand name.


Source: