Coming Soon: India's first 'skills university'
Last updated on: January 17, 2013 16:45 IST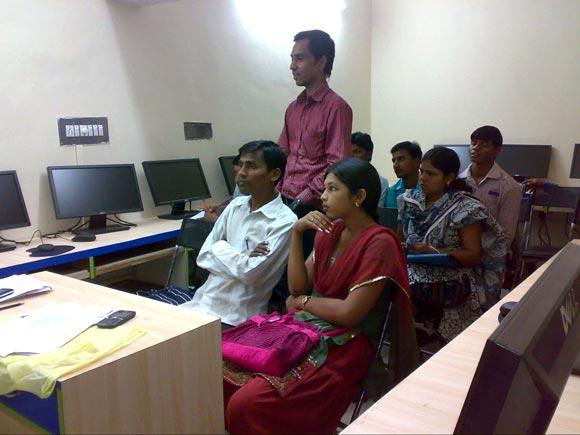 The TeamLease Skills University which will be the first-of-its-kind will open in Gujarat and be operational in July 2014.
If all goes well, India may have its first skills university operational by July 2014.
TeamLease Services Private, a people supply chain and HR Services Company will set up the university in either Ahmedabad or Vadodara in Gujarat and would shortly begin acquiring land for the same. The university will be christened Teamlease Skills University.
"We would be setting up our own campus and are acquiring land. We are still finalising the details and would begin procuring the land soon. It is a self-financed university and the government will not be giving funding nor land," said Paresh Vora, president, TeamLease Skills University Project.
TeamLease and the Gujarat government, in January 2011, had signed a memorandum of understanding (MoU) to set up a private university under the provisions of the Gujarat Private Universities Act, 2009.

Though the TeamLease management zeroed in on Teamlease University as the name, the Gujarat government insisted on the term skills or vocational to be added to the same.
"We are a vocational university but we did not want the term to be part of the university's name. But after the state education department insisted we include the term 'skills/ vocational', we have agreed. Ultimately, the university will stand on its merit," added Vora.
The university would begin operations with 300-500 students in four streams: mechatronics, hospitality, IT infrastructure, finance and accounts.
Mechatronics is a combination of mechanical engineering, electronic engineering, computer engineering, software engineering, control engineering, and systems design engineering in order to design and manufacture useful products.
The university plans to expand its capacity to around 4,000 students later.
"There are lower level engineering colleges with poor standards. Even after spending four years here, students gain nothing. Many of them remains unemployed after completing the courses.
We aim to attract students after Class XII and provide them with a much better education. We would be running our curriculum for two years which will focus on employability as well as scope for future education," added Vora.
Please click NEXT to continue reading...
One million young Indians will enter the workforce every month for the next 12 years
Last updated on: January 17, 2013 16:45 IST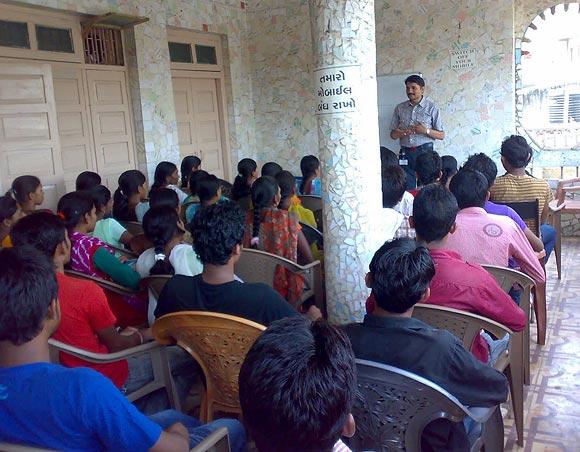 A two-year programme in a vocational stream would come at Rs 70,000-80,000 per student, leading to an associate degree.
Though experts say the fee is on the higher side, TeamLease says the cost of a self-financed university with good faculty and facilities require this fee structure.
Given students who take up courses in vocational education largely come from underprivileged backgrounds, TeamLease said it would work proactively for scholarships from various sources like government schemes, financial institutions, private trusts, etc.
"We believe students and their parents want quality education oriented to employment and will go the extra mile for this," said Vora.
TeamLease is also in talks with global universities in Singapore and the UK for a possible academic collaboration.
After two years, the students would be provided with an exit point where they can join the industry and work to gain experience.
After two years, students would have the option of going for a third year or a bachelors degree in vocational education. Students would also be given an option to return to the campus for further studies or opt for a distance education programme.
"We intend to make the curriculum such that we cover the domain part in a way that the practical part is emphasised. We will include life skills also which would entail learning in language, communication, personality development and community knowledge," said Vora.
The university plans to have campuses in other states, too.
The market size for vocational education is promising and can be gauged from the fact that about one million young Indians will enter the workforce every month for the next 12 years.
A predominantly large proportion of this will be into skilled jobs in manufacturing and services and would require training, together with job skills.
Vocational training in India has largely been successfully delivered (full-time) in India through industrial training institutes or ITIs, which come under the Union Ministry of Labour.
However, engineering trades are the ones which find more takers. Besides, close to two-third students who pursue vocational education are not employed in the trade they sought training in due to a probable mismatch between skills attained and those actually in demand or the skills taught and the student's own objectives.
"We see a need for a holistic curriculum, which not only prepare students for specific skills, but also equip them with basic domain knowledge and life skills. So, we see a need for forming a university dedicated to this task, to bring up the level of skills education from mere training in a trade to a much more sustaining level," says Vora.
Additional inputs from Vinay Umarji in Ahmedabad
Source: