For the love of dogs
Last updated on: February 23, 2013 17:13 IST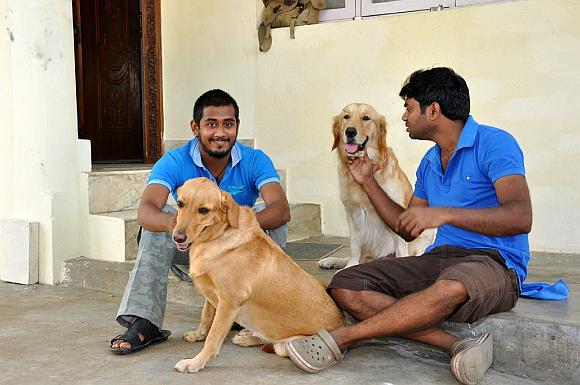 Love for pets helped these Chennai youths become entrepreneurs
"Most of the boarding kennels in our city are absolutely deplorab#8804 they totally lack hygiene and safety."
"I would never leave my dog in such a place, in fact I have not travelled out of Chennai for the last two years for this reason.
"Hundreds of other dog lovers in the city face the same problem, every time we plan a vacation; we are in a dilemma about where to leave our beloved dog.
"We need a place with certain standards, a place where you can leave your dog without fear, a place where they can be happy. And since there is no such place in Chennai, I decided to start my own," says Arunodaya Reddy, co-founder of Pets 101 -- Hotel for Dogs.
Since it opened its doors just a few months ago, Pets 101 has had many happy customers. Like Banu from K.K. Nagar in Chennai.
"I rarely take a vacation; I am too scared to leave my dog anywhere," she said. "But last week en route to Pondicherry, I left my pug, Fawn, at Pets 101 for a couple of days and I am totally satisfied and happy with their services."
Co-founder of Pets 101, Shravan Krishnan says he expected the response to be slow in the beginning, "but the response we got was amazing. Everyone had only positive things to say about the project."
He says the doggie hotel gets 20 calls a day inquiring about the facilities. It's just a few weeks since the inauguration and already there are a number of guests, especially over the weekends.
"We hope to reach our maximum capacity during the summer months of April and May, as most families take their vacation during that time."
Gokul, who left his dachshund, Casper, at the hotel during the Pongal holidays, is a satisfied customer. "A friend referred it to me and I am very pleased. The rates are reasonable and they maintain a high standard of hygiene."
For the love of dogs
Last updated on: February 23, 2013 17:13 IST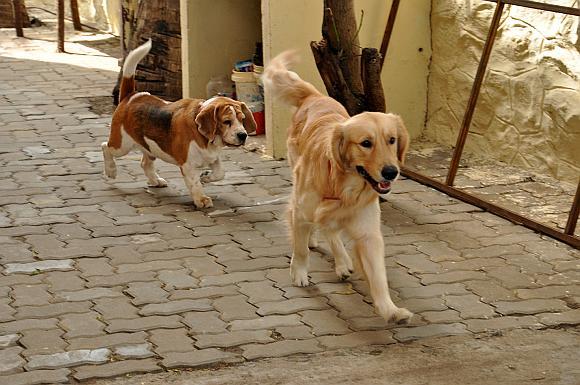 Located in one of the bylanes off the scenic East Coast Road, Pets 101 is actually a huge independent bungalow with a built-up area of almost 5000 sq feet. It is dedicated exclusively to the care, grooming and pampering of dogs and can take in 25 dogs at a time.
Like any hotel proprietor showcasing the amenities of his hotel, Shravan Krishnan says there is enough open space for the dogs to play and exercise in.
"There is a large indoor exercise area and the beach is less than 500 metres away. We also rented the adjacent empty plot of almost 3000 sq feet. We let our dogs roam free in this enclosed area for two hours every morning and evening. No other boarding kennel in Chennai can boast of this facility."
Shravan, incidentally, is a full time cricketer. He plays in the TNCA first-division league for India Pistons, Chennai.
Arunodaya Reddy has an MBA in Finance and worked for the United States government for nine years before he gave up his lucrative career to pursue his love and passion for dogs.
"My dog Harley changed my life," he says. "A year ago last December I founded the Dog Lovers Chennai Group. We have more than 200 members in this group now and we meet every month to discuss dog care and management."
He also volunteers at the Blue Cross and is actively involved in the Chennai Adoption Drive (CAD), one of the city's most popular animal welfare groups.
When he decided to devote all his time to the welfare of dogs six months ago, he quit his job and started a pet store called Pets 101, on the Besant Nagar Beach Road. It deals exclusively in high quality pet products and provides services such as pet training, management and grooming.
More such stores are planned across the city to help pet owners, who, he says, are ignorant about what food or toys to buy for their pets, and invariably end up with substandard varieties that contain lead and other toxins.
For the love of dogs
Last updated on: February 23, 2013 17:13 IST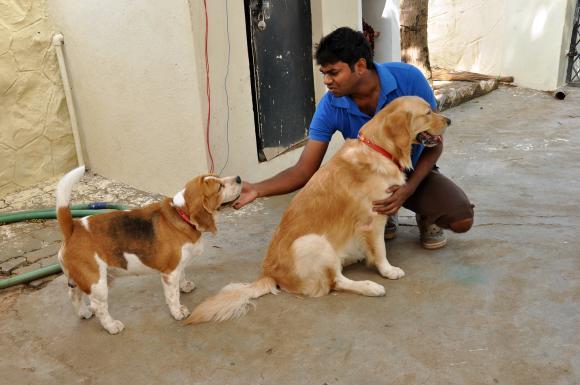 So what does this luxury accommodation for pooches offer?
All kennels are fully air-conditioned and are fitted with CCTV cameras so that "we can monitor them even when we are not in the premises, through our mobile phones," Shravan says.
The standard size of a kennel in most boarding centres is eight square feet, but the minimum size of the kennel here is a generous 15 sq feet.
And, should owners want absolutely the best, there is the deluxe suite at 30 sq feet.
The inmates are allowed to play, taken for a walk on the beach, and allowed to socialise with other dogs. Two full-time employees take care of the dogs and their grooming. There is a manager and a doctor on call.
And, here's the icing on the cake: "Very soon dog owners will be able to interact with their dogs through Skype," Shravan says proudly.
Arun considers the rates they charge "very reasonable, starting from as low Rs 500 per day for an ordinary suite and going up to Rs 1000 for the deluxe suite."
Most kennels charge between Rs 350-500 per day for rooms half the size and with none of the facilities that he provides, he says.
Arun has no regrets about leaving his high flying job. "Dogs are the most amazing creatures, there is nothing greater than the unconditional love and devotion of a dog, it is incomparable. Only a true dog lover can understand it," he says.
The hotel may be a labour of love, but it also makes good business sense, according to Shravan.
"When Arun first thought of this idea of a hotel for dogs, it was not motivated by money, but now we have realised its potential.
"What is great about it is that we are doing something we love. Arun and I both enjoy being around dogs, so all the success that we achieve will be an added bonus."
Gratified customers -- human and canine -- can only agree.