An 18-year old rowing champ's tale of success
Last updated on: March 22, 2011 16:39 IST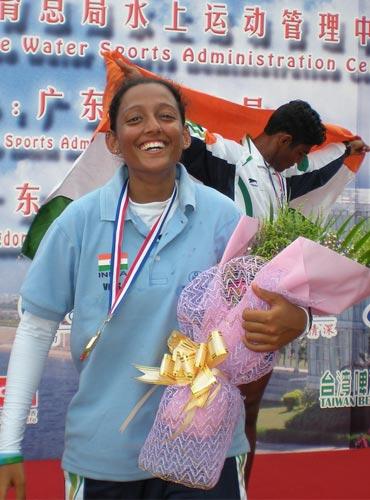 Shruti Kamath has been rowing since she was 10 years old, and now at the age of young age of 18, has won gold at the Asian Junior Championships in China.
I meet her on a balmy evening by the Adyar River, within the hallowed precincts of the Madras Boat Club. The vast verandas are polished and welcoming; the Madras Boat Club's blue and gold logo is emblazoned on the brick walls, the last relics of the British Raj. Fairy lights are strung around the trees to give the place a festive air. Green lawns reach right up to the water, which reflects a golden glow in the setting sun.
My guest Shruti Kamath is as self-assured as a youngster as they come. Not very surprising, considering the 18-year-old has just won gold as part of the Indian coxless four team at the Asian Junior Championships in Guangzhou, China. She is considered one of the shining lights of rowing, among the next generation of stalwarts in the field.
I catch up with her on behalf of Rediff.com at the "rowing corner" of the MBC (because coaches discuss their strategies with pupils here) for an impromptu chat about her life, ambitions, and all the medals she looks forward to.
How did you get into rowing?
"I didn't plan it at all (grins). I'm kind of an outdoor girl; I've always been into athletics. I've played tennis, played for a team. I've always been fascinated by sports. But my father, who used to work in Mumbai, was transferred to Chennai when I was ten. My parents and I were looking around Chennai to see if I could get training in sailing. We were told that the Madras Boat Club taught sailing, and I stumbled in here. That's when I saw that they were actually rowing here! (guffaws) And I thought: this looks interesting too. So I gave up on the idea of sailing, and took up rowing instead.
'Winning the gold medal felt surreal'
Last updated on: March 22, 2011 16:39 IST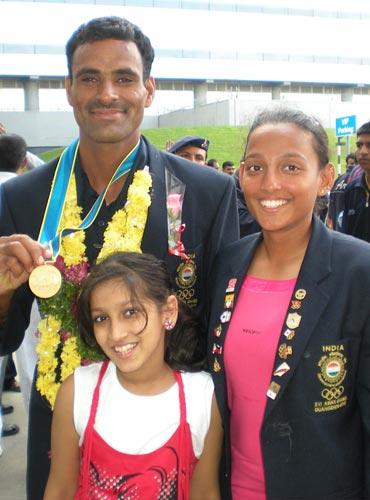 How did you find rowing -- considering you hadn't intended to initally take it up?
It might have been an accidental entry, but once I got into it, I was seriously interested. I was studying in the Class 5 when I first started rowing, and I had plenty of time on my hands. I practiced all I could; I got selected into a team. The rest just happened. Of course, my parents were with me at every step.
What did it feel like to win the gold medal at the Asian Juniors?
Incredible! We had to race against Hong Kong, Korea, and Taiwan. All of them were there to win; we couldn't afford a moment's respite. It was an amazing race -- the last two minutes was just a blur. I was almost on auto-pilot. There was a lot of screaming and cheering. We won by just one second. I was in a happy haze. It's a bit strange that I don't even have a gold medal at the national level, but winning this event was almost surreal.
'Rowing, eating, sleeping, and more rowing'
Last updated on: March 22, 2011 16:39 IST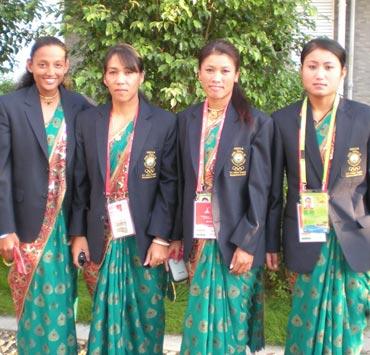 You were among the probables for the November Asian Games. Tell us about that experience.
The men's four won silver, but our women team was placed fifth. The competition was pretty tough, which was only expected. We did our best. We beat the Indonesians once, they beat us back in return. I remember being really surprised at their height and weight. The Chinese and Kazaks were all over six feet! Seriously, we felt puny in comparison to them.
Your regimen must be taxing. What does it involve?
I have two to three hours of practice in the morning, and about three hours in the evening. That involves rowing in the Adyar River -- yes, we got used to the smell [laughs]. And physical exercises like running, jogging and everything else at the MBC premises. My coaches help me at every step of the way. There's James and Joseph; and then there's Gajendran, who has been my coach from November 2009. Ismail Baig has four coaches under him. And they made sure that I attended rowing camp in Hyderabad, and stayed in shape [laughs]. The camp was a lot of fun, actually. I was just doing all the things I love most. Rowing, then eating, sleeping, more rowing. It was just living out a dream. But rowing camp is something that's absolutely necessary, because of the differences in water quality, climactic changes and wind. The water in Chennai is thick, and the conditions change when you get out out of the city. But it worked.
What about your diet?
I need to have potato in every meal. It doesn't matter what form it's in. But it has to be there for the carbohydrate.
'I have no time for anything else'
Last updated on: March 22, 2011 16:39 IST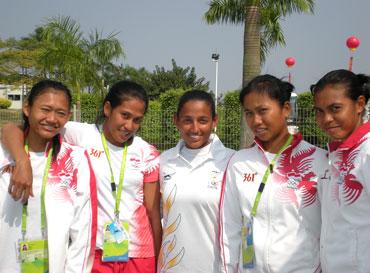 How difficult is it rowing with complete strangers?
We have to sync with each other, of course. It's not an easy process. The four members of my team weren't acquainted, but it wasn't difficult working out the kinks: we did that early on. We started rowing during the practice sessions and the rhythm sort of came together.
All the hours that you put into rowing can't leave you with much time for socialising, right?
I have no time to hang out with friends, go to the theatre, or the beach. I haven't been on an excursion since Class 9! It's been five years since I last visited Mumbai, and I'm itching be home (looks wistful).
'Managing studies is a tough game right now'
Last updated on: March 22, 2011 16:39 IST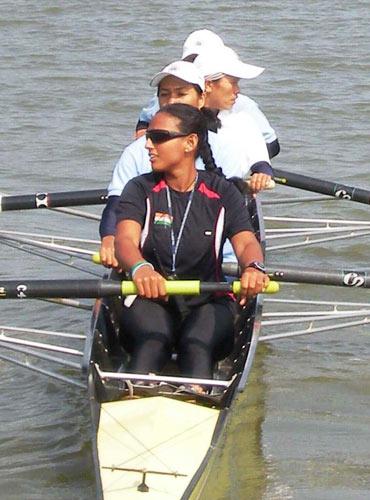 What about school?
I barely have time for even that. I have to keep running to tuition classes whenever rowing practice is over. I missed 10 months of school this year. I'm a Chettinad Vidhyashram student and I'm in Class 12, so you know what that means. Work, work, and more work. I have to make up for everything in 2 months and have at least 75 per cent attendance. But my teachers are simply great. They work with me and schedule classes, even on Sundays. We sometimes work things out online.
How have you been doing with the Class 12 exams?
It's been tough, no doubt. My tuition classes are all in different parts of the city, so half my time is spent in running around. I have to cram everything I can within the 10 days of study holidays we're given. So I've had to forget rowing for the time being. Until the exams are over, of course. I've taken the science group, so I need to put in all I can. So far, I've managed to do well in my exams.
'A full time career in rowing can be iffy'
Last updated on: March 22, 2011 16:39 IST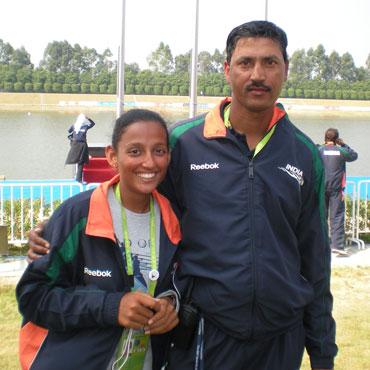 What about future plans? Do you think you can have a career in rowing?
I'm thinking of genetic engineering. Or aeronautics, maybe. That's because I love the cockpit. Going to Oxford or Cambridge for higher studies would be ideal, because they have very strong rowing teams there (pauses, and then gives a mischievous grin). I'd like to be a pilot too. Because you don't need to have a degree to be one. So that'd be great. (laughs). Ideally, I'd love to balance both studies and rowing.
Having a career in rowing can be a bit iffy. The truth is, one of the few viable options if you take rowing as a career is to be a coach. You can make a name for yourself only after you're 25 or 26.It gets better as you grow older and gain experience. And even then, you stand a better chance if you're abroad, rather than here.
'Rowing has taught me many things about life'
Last updated on: March 22, 2011 16:39 IST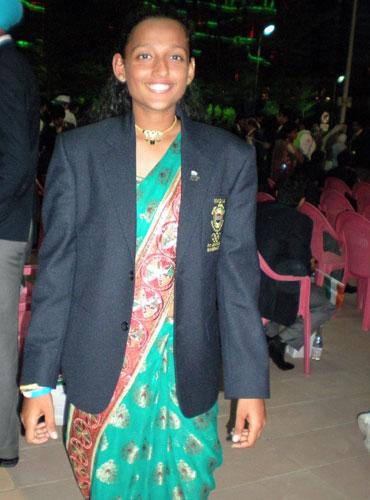 What are the lessons you've learnt while rowing?
So many things. I've learnt to balance things in my life. I learnt so much in the camp, like rowing techniques; learning from your own mistakes while watching the videos of our practice sessions, and I got so many tips from our seniors. And I learnt about humility, and that you need to do whatever it takes to win. To work as hard as you can, because there's no substitute for that.
What is your dream right now?
To win in the Olympics.