She quit a cushy IT job to become a foodie
Last updated on: February 2, 2012 12:28 IST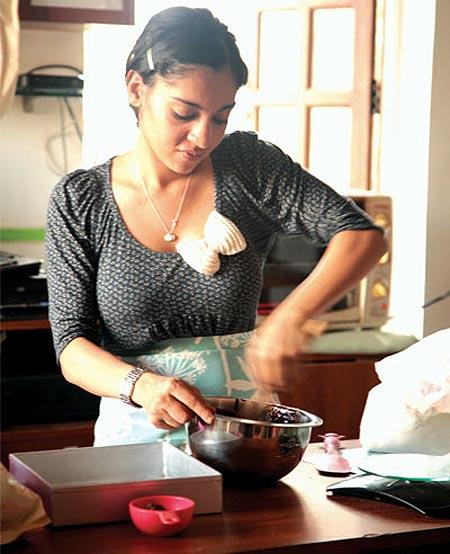 Shaheen Peerbhai aka The Purple Foodie, talks about how she kicked up a cushy job for the love of baking, the most prestigious culinary scholarships that she has been awarded and the blog that changed her life.
Ever since I was 18 and learned of Le Cordon Bleu, I dreamed of studying there.
"That's not a job!" everyone said. So I finished college, and took on a regular marketing job, just like the other kids at school. But I did not give up on something I really love. Baking.
I started blogging in September 2007. It's a place to chronicle my kitchen escapades, and to document new discoveries in food and travel.
With so many cookbooks, recipes written on pieces of paper and newspaper and magazine cuttings piling up, I needed to put my favourites in one place.
When it came to give the blog its own identity, I needed something that I could identify with, something that I would (hopefully) never get bored of, and something that was still available as a .com!
After much thinking, I stuck my favourite colour with 'foodie' and that's how The Purple Foodie was christened.
Soon I was engrossed in thinking of different flavour combinations and the availability of ingredients, to create dishes that would make the readers of the blog salivate just with my post and pictures.
I did it simultaneously with working full time. I liked working in IT, because that's where I learned about the world of blogs and started to document my recipes.
In a while, however, I realised I'd rather do something I truly love and enjoy. The love for baking (as cliched as it may sound) prompted me to give up the cushy IT job and pursue my passion more seriously.
Courtesy
:
YouthIncMag.com

'Food is probably the only thing I'm so passionate about'
Last updated on: February 2, 2012 12:28 IST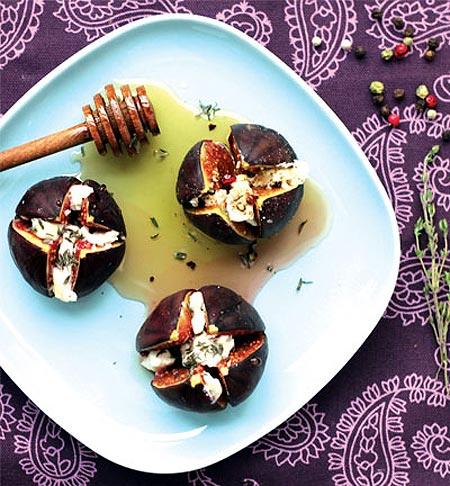 I went on to catering, though that was something of an accident.
I got a call from friends who run a city website about all the fun things happening around town.
They asked me if I'd cater to a party of about eight to ten people. Sure, I thought, since I had some time at hand then.
The next day, I was listed in their newsletter and my phone wouldn't stop ringing. "What's on the menu?" people would ask. My answer: Everything that you see on the blog.
I didn't have anything ready -- no bulk ingredients, no packaging, no delivery service figured out! It got hugely popular in a short period of time. I did that for about six months because I planned on travelling and studying after that.
Food is probably the only thing I'm so passionate about.
Almost obsessed. I can't really nail a single source for my passion -- it comes from everywhere -- cookbooks, magazines, food blogs, heritage restaurants, recipes distributed at the farm, food stalls, travels across the world, talking to locals at the supermarket, or simply making something to satiate a craving at that point.
'I loved baking for people'
Last updated on: February 2, 2012 12:28 IST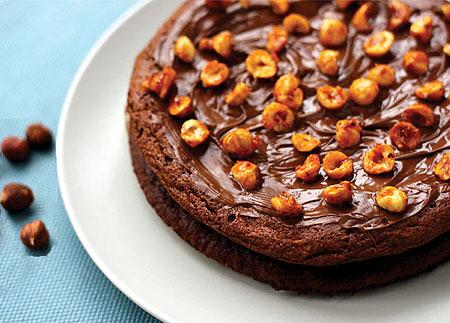 I was always interested in being in the kitchen.
I'd hang out with my grand mom helping her clean herbs or chop vegetables.
I think that's where I get my cooking gene. I loved to watch people make food -- be it the girls at Magnolia Bakery icing cupcakes, or the road side vendor making a perfectly crisp buttery dosa.
The Purple Foodie became the space where I shared this passion with others, those who loved cooking, or even simply eating!
My posts on the blog are not always planned, or unplanned, as a pattern. It works both ways. Sometimes I'm craving something so I make it, and then blog about it.
And at other times, I feel like I haven't blogged about something or used a certain ingredient for a while, so I plan my posts based on that.
Sometimes, it's even crockery. Just the other day, I bought the cutest cups and made hot chocolate just so I could photograph them.
I loved baking for people and see their eyes light up when they opened the box of Belgian chocolate mud cake. That mud cake, Nutella cookies and chocolate cinnamon Babka were the bestsellers of my fledgling of a catering business in Mumbai.
'I am so excited about wearing whites and getting my hands on the knife set'
Last updated on: February 2, 2012 12:28 IST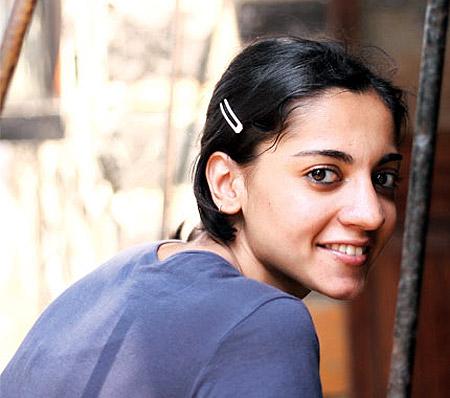 Fast forward to 2011, all of 24 years, I applied for two scholarships from The James Beard Foundation and The Culinary Trust, and was overwhelmed when I received them both to study at the school I've always dreamed of attending -- Le Cordon Bleu.
One is for studying cuisine in Paris and the other is for studying pastry in London. I will start in March 2012. So now, I'm going to be studying both pastry and cuisine in London and Paris, respectively. Both these scholarships are awarded to just one candidate each year.
As a part of my five-year goal for my scholarship essays, I wrote that I see myself as an editor of the country's top food magazine.
A few weeks later, I get an email from BBC Good Food India to be the food editor. Unreal. I couldn't take it up because of my move to Paris (bittersweet), but I did work on the launch issue for two big features -- one on ten stunning desserts and the other on no-fuss Mediterranean.
Now, I am really looking forward to starting at the Le Cordon Bleu.
Every time the thought of actually being able to sit in that classroom in a few weeks hits me, I'm overjoyed. I can't wait to get in there. I'm so excited about wearing whites and getting my hands on the knife set.