Layoffs: Don't take your job for granted
September 13, 2013 12:03 IST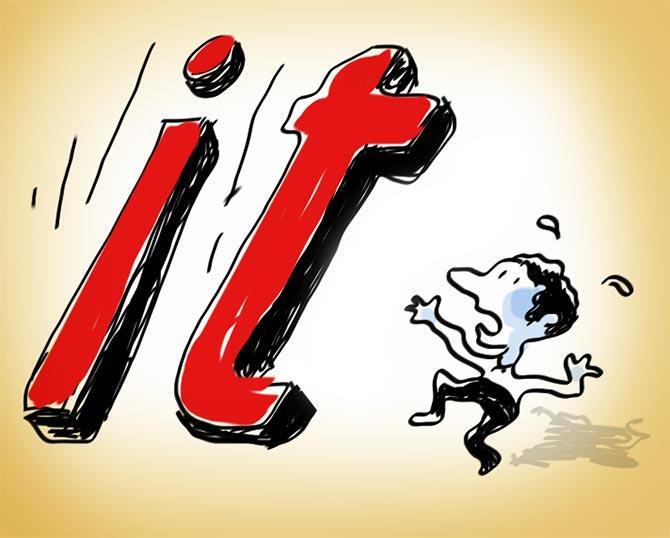 We asked Readers to share their layoff experiences and the lessons they learnt from it.
Here, a former employee from the IT industry rants about what's wrong with the sector and offers his lessons to cope with layoffs. Illustration: Dominic Xavier
---
I was working for an IT company that at least claims to put its employees' priorities even ahead of its customer. When the sun is shining, we take things for granted (100% growth, 50% bonus, 25% salary hike etc) and become complacent.
All of a sudden, I was invited by my HR for a meeting. I was in 'bench'. It is a term used in IT when you are not placed in a project. I was told to find a project within a month's time, failing which I would be sent home. At last I was not able to find a project within the company and I was sent home.
I am sure I was not alone when this happened to me. But I want the outside world to know few important facts before they take the leap into the IT industry...
You can never take your job for granted. Once you are given appointment, it is your responsibility to search for a project within your company.
At the end of every project, it is your responsibility to find a new project.
You will have to forward your resume and attend lot of interviews before you are signed up in the new project 'within' your company.
In an IT company, every employee is a freelancer, who will be constantly searching for projects (job).
At the end of every project, if you are not able to find a new project within a week, you will have to handover your system to somebody else and move to library or canteen, irrespective of your rank. It is technique that is used in all the IT companies to silently insult people who are temporarily out of job (read bench).
If you are not able to find a project within the stipulated time, you will be sent home. So it is not one time job search or interview.
Some company will hire you and will outsource you to another company (client). And you might be laid off by the client company.
Your ratings, bonus and salary will depend on the profits that the company makes for that year. If the company 's earnings is poor, you will be downgraded irrespective of the quality of work that you put in.
Some companies have more than one-lakh employees and for them layoffs is a part of life.
All the companies follow hire and fire policy. They don't care much about you as a person.
When you are employed you will be called 'resource'. Then 'bench'. And at last 'cost'.
My lessons...
Most of the IT companies' revenues come from US. So the success of the entire sector is depended on Uncle Sam's health. If he sneezes, India will catch cold. So please pray for the US economy.
Never go for huge housing loans based on the above growth assumptions. They will simply vanish into thin air at mere utterance of the word 'recession'.
Don't take your job for granted. The industry is extremely recession prone.
Don't take your salary and bonus for granted. They may dry up anytime.
Always think what would happen if you lose your current job.
Don't be depended on single source of income.
You must save to survive for at least one year.
Be in touch with as many friends as possible. They will help you in your bad times.
Use sites like LinkedIn and other social media to keep in touch with outside world.
Please remember! The world's greatest investor Warren Buffet does not own a single IT stock in his portfolio despite the remarkable growth rates. He still feels that he hasn't fully understood how this industry works. Everybody should take a leaf out of his wisdom.
Also Read:
Don't let Layoffs affect your career!
Layoff tales: They can happen anytime; be prepared
---
Do you have a layoff experience to share?
Have you lost your job? Do you know someone who has lost her/his job recently and is trying to come to terms with the situation?
If you, your friends or relatives have a layoff story to tell, to inform readers about the lessons that you have learnt, please write to us at getahead@rediff.co.in. Your name and identity will not be disclosed.
Please click NEXT to continue reading...