Jobs: 7 questions with Infosys' Srikantan Moorthy
Last updated on: December 31, 2010 12:23 IST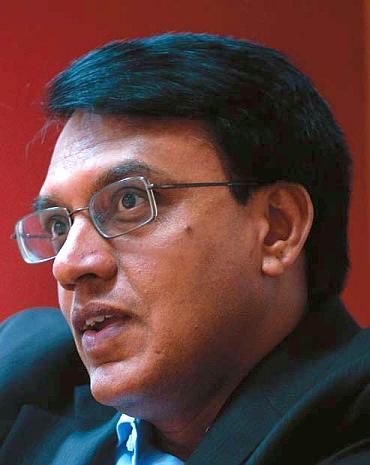 It is no secret that employability skills of engineering graduates produced by India's myriad colleges don't quite match IT industry's expectations.
While how wide is this gap between what these students learn in colleges and what is expected of them when they join an IT company is a debatable point, IT companies are doing their own bit to narrow this gap by imparting new skill sets to fresh grads before they start working for their respective clients.
Infosys Technologies, India's second biggest software exporter, too is doing its bit to improve competencies and skill sets of its employees at their 23-week programme at Infosys Global Training Centre in Mysore.
Srikantan Moorthy, vice president and head, education and research, Infosys, spoke to Prasanna D Zore among other things about this 23-week programme, the reasons why colleges in India don't churn out employable graduates, the competencies that Infosys looks out for in freshers and how young students can make themselves employable right from their college days.
Click NEXT to read more
7 questions with Infosys' Srikantan Moorthy
Last updated on: December 31, 2010 12:23 IST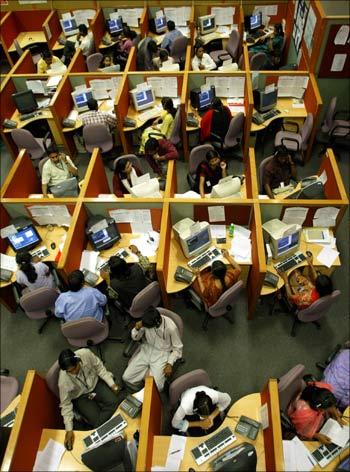 What kind of shortage of qualified or well-trained people is India looking at in the next five years?
The only metric that is out there is the number that came from Nasscom-McKinsey survey several years ago. It said that only 25 per cent of the graduates that come out of engineering colleges are employable in the IT industry.
This is because of the gaps that exist and according to me they come from three large areas.
The first one is the ability of our students to apply concepts to applications. Engineering students might have learned a lot of computer science or other concepts in their colleges but their ability to apply those concepts to solve real life problems require problem-solving and critical-thinking skills.
The second gap is in communication skills. It's not enough that one has content but one should also have the ability to communicate the same effectively.
The third gap is the inability of these freshers to work in a team as a team.
These are largely the three most important gaps that exist in freshers today and lead to a large section of them being unemployable.
What are the reasons why these gaps exist?
If you take a close look at how our education happens today one can easily find out the reasons for these gaps.
One is that our education system encourages memorisation instead of teaching application of concepts to real life situations. Second, there are not many avenues available for honing the communication skills of our students.
Third is that engineering students are exposed to project work only in the last semester or the last year of their courses. That's the only time when these students get to work in teams and as a team.
These are just the ways that we grow up in our system that leads to these gaps and they become visible when one comes out of the system into the job field.
7 questions with Infosys' Srikantan Moorthy
Last updated on: December 31, 2010 12:23 IST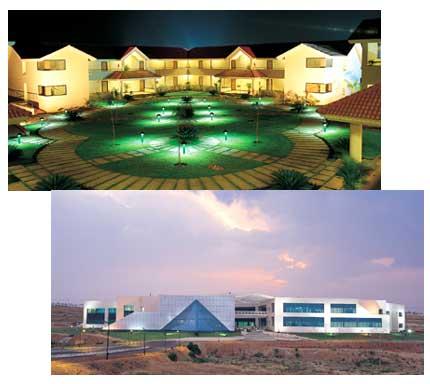 Infosys does hire a large number of people every year. What challenges do you face when you hire fresh graduates and how do you overcome them?
To begin with we look at learnability as one of the criteria for bringing people on board. And we have defined learnability to be the ability to make generic conclusions from specific instances and apply them to new problems, new situations.
Having done that when freshers join us we put them through a 23-week residential programme where it is all about learning to apply concepts to applications. There is lot of hands-on work they do that helps them to bridge the gap I mentioned earlier.
In addition, we also provide them with intervention related to soft skills so that they can improve on their soft skills competence. Third, we get them to do team projects so that they learn to work as part of a cohesive team.
All of this is part of their curriculum during the residential 23-week programme and helps in many ways to bridge that gap.
How do you measure the improvements that these fresh graduates show after undergoing this 23-week programme?
Our ability to work well with our clients, our ability to get our clients continuously delighted is a function of capability of our people. Delivering quality engagements to our clients every single time requires that we have competent people.
The programme has been very successful and the improvement in the overall competency of our people measures the success of this residential programme.
While it is not so much about the change it is more about the fact that the programmes we implement at this 23-week course is relevant to the work that we do for our clients.
7 questions with Infosys' Srikantan Moorthy
Last updated on: December 31, 2010 12:23 IST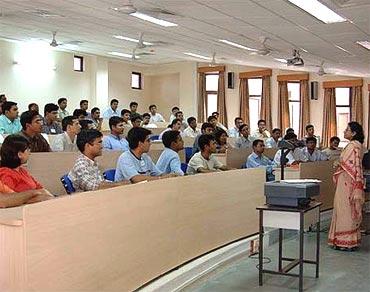 What kind of competencies, skill sets does Infosys look out for while hiring fresh graduates?
Apart from learnability we check if potential employees are able to think and come out with a solution given a problem. The structured, critical-thinking ability is also what we look out for, their communication ability are some of the things that get assessed as part of the recruitment process.
What would be your advice to fresh graduates on making themselves employable?
The first is engineering students should focus on solving more problems than they have solved in the last five years' question papers. Whatever subjects they are studying they should take their textbooks and solve more problems. This will help them to learn the concepts and start applying them.
Engage in debating contest, elocution contest, organise cultural and educational programmes to enhance communication and team-building skills.
They should work on projects unrelated to education within or outside their area for the community, which will help them to understand team dynamics. This will also help them to contribute to the community as well as learn valuable lessons in team building.
Finally, can you tell us about education and research programme at Infosys?
The focus of our education and research group is on building competencies of our people. While the foundation programme is one large programme that we conduct, we also conduct the campus connect programmes where in we engage with engineering colleges in India.
Third is our continuous education programme which is about making sure the competencies of our experienced people is current and relevant to the work that we do for our clients.
In addition, we provide the infrastructure for knowledge sharing or knowledge management.
We conduct outreach programme like 'Spark', which is about igniting young minds, that we started two years ago. This initiative is about raising the aspirations of every student in the country. What we do here is to give students a one-day experience of visiting our campus -- we have ten development centres in India -- and in the last two years 1,40,000 students have visited our campus as part of Spark and learnt what is possible. Volunteers within the organisation run this programme.