Don't miss the chance to work hard: Prof Banik
Last updated on: June 9, 2012 08:40 IST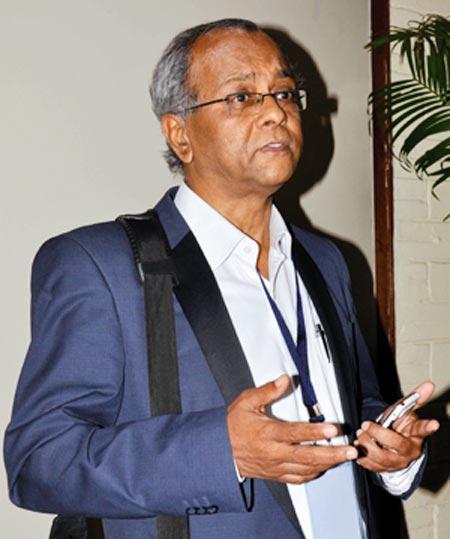 Director General at Pandit Deendayal Petroleum University (PDPU), Prof. Paritosh K Banik, could barely speak English as a child. But nothing could dampen his spirits!
Hailing from a tea garden village in Assam, Prof. Banik blossomed out to integrate with the wider world.
His father Umesh Chander Banik, a tea garden clerk, strived hard to raise seven children. But these hardships didn't dampen his desire to study.
After completing higher education from Moscow, at the age of 31 he came back to join Indian School of Mines, Dhanbad as a lecturer.
Read on to find how a village boy who could barely speak English adjusted in Russia.
Where did you do your schooling?
I studied in Tougana Gaon School, a village school in Guwahati. At the tea garden, students were deprived of proper access to education. My father said -- I can bear your expenses till Class 5. He took me to my uncle (a railway employee) in Guwahati for further schooling.
From village school to city school. Any striking change?
I excelled well at my village school. But my score chart slipped when I moved to Netaji Vidyapeeth, a railway school in Guwahati. I could never stand first in the class. Thankfully, I was in peak after school days -- I never failed a test or interview. I joined Cotton College to pursue BSc Physics.
How was your further educational journey?
The Government of India Scholarship was a saving grace. It used to select 20 meritorious students to be sent abroad for higher studies. I went to Moscow to pursue Masters in Mining Engineering from People's Friendship University and later PhD in Mining Engineering from Moscow Mining Institute.
Were there any hardships in Moscow?
During my college days, I could only write good English, speaking was tough. With that situation, I landed up in Moscow where I experienced a cultural shock. My university comprised students from 110 countries. There, I had to adjust with students from different walks of life.
When I entered my hostel room, I found that my three roommates were from Africa, France and Russia. We interacted through sign language! I took 7 to 8 months to get comfortable in an alien land. Gradually I picked up Russian language.
Any student transformation which is close to you.
Dushyant Jhamb, from ISM's first batch, had a background like mine. Graduating in 1987 in ISM's first batch, he was the epitome of hard work, determination. He had a terrific grasping power and was a quick learner. He would percieve what I was expecting him to understand. Today, he's in a top position at Wipro.
Your message to those who encountered failures in life.
Failure is a temporary phenomenon. Be sincere and don't miss the chance to work hard.
ALSO READ IN THIS SERIES
Extraordinary lessons from an ordinary life
Actors who inspire: Take a cue from their careers!
DON'T MISS: The weaver who became a member of Parliament!
Shiv Khera on how YOU can be successful too!
Inspiring cricket comebacks: Yuvraj, Dravid and more!
This Dalit lawyer wants to educate and empower women
The inspiring story of a polio victim's quest for mobility
He ran away from home to become a successful doctor
The Indian hockey player who was rejected 13 times
From stage fright to rejection, this VC has seen it all
IITian rejected by IIM A: What he learned
14-hour power cuts didn't dim his IAS dream
The cowherd who learnt to read and operate computers