Top 10 interview blunders that could cost you the job
Last updated on: December 11, 2012 19:58 IST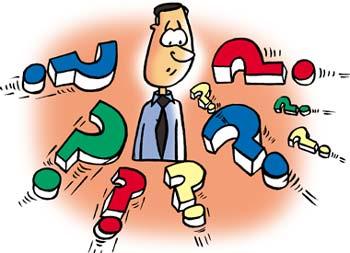 You'll be surprised to learn that not showing up for interviews and being rude to potential collagues are among several common blunders that youngsters make in the job-hunt process. Read on to learn what behaviour to avoid, as it can lead to your immediate rejection.
Today's youngsters have the perfect CVs and dream big -- but that's all they have going for them, say experts who deal with them everyday.
While large numbers fail to explain what's written on their own resumes at the interview stage, there are others who are more interested in knowing whether an organisation will send them on assignment to international locations.
And we are talking of graduates with little or no work experience here.
Why and how do these things matter and how do they ultimately result in your rejection?
Without being cynical, we list the common mistakes young job-hunters are committing without even realising the impact on their careers.
Illustration: Uttam Ghosh
Please click NEXT to continue reading...
1. Not carrying a copy of your CV
Last updated on: December 11, 2012 19:58 IST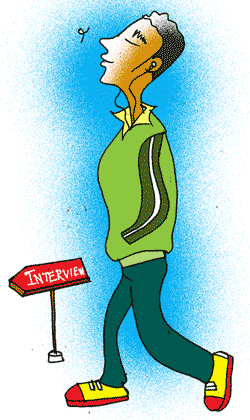 Expecting the employer to have a copy of your CV is probably the worst excuse a fresh graduate can give at a job interview.
Any candidate who thinks it's not important to carry the vital document naturally comes under the scanner says Jaspal Shakya, CEO, OpportuneJobs.com
"A recruiter goes through numerous profiles every day. It is impossible for him/her to recollect your achievements during personal interviews," reasons Shakya, advising youngsters to carry at least two printed copies of their CV.
He says a printed copy helps the recruiter assess you better.
Meanwhile, career consultant Meenal Punjabi from Mumbai tells us how one candidate she came across was brazen enough to print his CV on the letterhead of another company.
"This candidate told me that since his printer at home had stopped functioning, he'd asked his father to get a printout of his CV from his office, which turned out to be on the letterhead of a leading pharmaceutical company. Since he was an aspiring professional, one of our consultants later explained to him why it is a criminal offence to use office stationary for commercial and personal benefits," shares Punjabi. She cautions youngsters to be extra careful about how they present themselves in an interview.
Illustration: Dominic Xavier
2. Turning up late
Last updated on: December 11, 2012 19:58 IST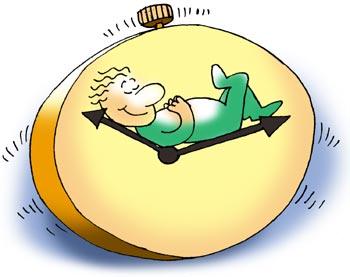 It may work at college, but in the corporate world, time is money.
And it seems the young crop is far from responsible regarding punctuality, nevermind that they are not even apologetic for their tardiness.
According to ARKS Srinivas, CEO, Vista Mind Education, a large number of job-seeking freshers have no qualms about turning up late for a job interview.
"It is not unusual to get late, but when you know you have an appointment at 10 am and you are nowhere close to the venue, you are expected to at least send a text informing the prospective employer. I have had youngsters turning up over an hour late and not even apologising for it," he shares. "Turning up late is a sign of how irresponsible and unprofessional the candidate is."
Illustration: Uttam Ghosh
2. Skipping the appointment entirely
Last updated on: December 11, 2012 19:58 IST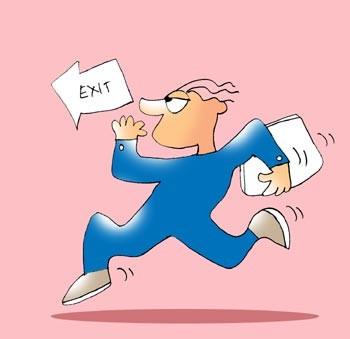 If you thought turning up late is unprofessional, what would you say about a candidate who doesn't show up at all?
"There are fresh graduates who have the audacity to commit to an interview and conveniently forget about it," points out Jaspal Shakya.
And some of the excuses they give are downright flippant.
"When we call to check, a few who fail to turn up say they did not like the job profile, or that they had to attend another important event and a few even expect that somebody will remind them," says Shakya. "Take interview appointments a little more seriously."
Illustration: Uttam Ghosh
4. Lack of focus
Last updated on: December 11, 2012 19:58 IST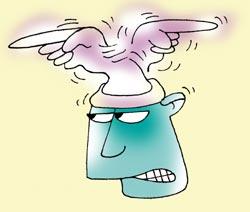 Interviews with human resource personnel can be the trickiest for some candidates.
When the employer poses questions like 'Where do you see yourself five or ten years down the line?', what they really want to know is how goal-oriented you are.
However, when youngsters start blabbering about how they are not sure about which career path they want to take, employers have already made up their minds why they won't be hiring this candidate.
While discussing how lack of passion and focus are oft-observed traits, consultant Meenal Punjabi shares another experience. "When we asked this one engineer why he pursued an MBA after engineering, he said he wasn't sure about his career and thought that having an MBA would provide him better opportunities. He'd obviously scored over 60 per cent in his engineering and had good grades through school. But he was also uncertain about how he intended to make his management degree count," says Punjabi, who has rejected several candidates who are unclear about their own career choices and future plans.
Illustration: Uttam Ghosh
5. Not doing your homework
Last updated on: December 11, 2012 19:58 IST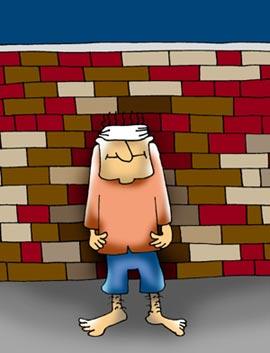 Kailash Shahani, Managing Director at Morpheus Human Consulting Pvt Ltd says that most job-seeking freshers do not have the slightest clue about the organisation they have applied to or their role with the prospective employer.
Interestingly, in most organisations, the most commonly asked question at a job interview is: Tell us what you know about our company.
And according to experts, employers are surprised when candidates are unable to address the question appropriately.
"If a candidate does not gain information about the company or the applied-for position at the interview stage, s/he will not be able to participate in the interview stage competently, because s/he will not be asking or addressing the right questions," observes ARKS Srinivas. "A good number of candidates skip the research part before appearing for the interview and find themselves at a loss."
"Lack of interest and seriousness among candidates can be a major reason for rejection," reflects Jaspal Shakya.
Illustration: Uttam Ghosh
6. Not speaking up
Last updated on: December 11, 2012 19:58 IST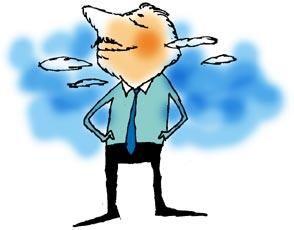 The purpose of a personal interview is for an employer to gauge your communication skills and get to know more about you as a person.
However, in an interview, after the employer has asked you a question, "the biggest crime is to keep him/her guessing whether you are dumb or not." At least that's what Mumbai-based HR consultant Smita Tikekar thinks of candidates who fail to speak up during an interview or participate in a group discussion. "You need not be politically or grammatically correct, but unless you speak up, how will we know what's going on inside your head?" asks Tikekar.
She adds that candidates must be vocal about their thoughts and actively participate in group discussions.
Illustration: Dominic Xavier
7. Being rude
Last updated on: December 11, 2012 19:58 IST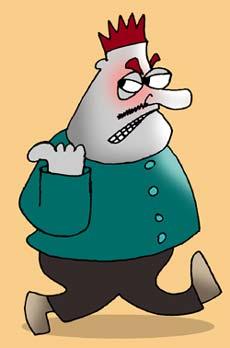 Apparently, the first impression of a candidate is registered when s/he approaches the reception.
While some of us may dismiss the front desk staff or the doorman as the least influential in the selection process, there are times when your behaviour towards the office personnel can be held against you.
Kailash Shahani tells us how a prospective candidate he knew of lost a 50 per cent chance of landing the job because she gave a piece of her mind to the receptionist. "She was in touch with the receptionist, but was unable to locate the office easily and ended up arriving late for the interview. When she arrived, she was very rude at the front desk and claimed her valuable time had been wasted because she was not given proper directions," he says.
Instead of appreciating the fact that someone had tried to help her, Kailash says that the candidate's outburst created an immediate negative impression, thus reducing her prospects of being hired.
Illustration: Uttam Ghosh
8. Negativity
Last updated on: December 11, 2012 19:58 IST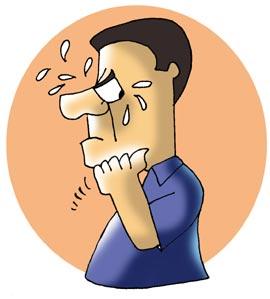 The right attitude is perhaps the most debatable attribute on this list -- who decides what it is, exactly?
"We are not asking you to be agreeable," says Smita Tikekar. "But, pessimism, hatred towards a certain group of people or organisation and high-handedness are some traits you must keep a check on."
But why is that so important, you may ask.
"Many young candidates, some of whom have interned at other organisations, tell us that they have turned down various job offers before appearing for an interview with us. But we are more interested in knowing why an individual has refused an earlier offer or wants to join this particular organisation. And if s/he tells me that s/he had a tiff with the upper management or found it difficult to cope with a particular colleague, I'll definitely hold it against him/her," says Tikekar. "Candidates should be careful about what they say in an interview."
While interacting with a prospective employer, "becoming angry or defensive" can also ruin your chances, adds Kailash Shahani.
Illustration: Uttam Ghosh
9. Discussing perks early on
Last updated on: December 11, 2012 19:58 IST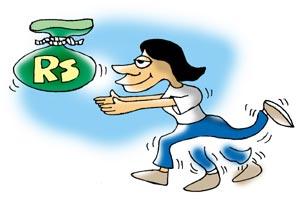 While a fresh graduate has the right to ask about his/her job profile, remuneration and other perks, it's not going to impress an employer if you seem more interested in the peripherals.
Kailash Shahani tells us how a prospective candidate who had nearly secured a position managed to tick him off.
"After each question I put to her, she would ask me about the salary, benefits, perks, and even discuss holidays that she wanted to take in the next few months. I understand that all these factors are important when you are looking for new employment, but discussing your benefits without even getting a confirmation is really premature."
Meenal Punjabi says she doubts whether freshers even realise the importance of discussing certain things at the right time. Apparently, one candidate who landed an interview through her consultancy asked her whether the prospective organisation had an in-house canteen and whether it reimbursed food bills. And this was a fresh graduate whose ultimate dream was to work with Google because, according to her, it had an "awesome work place".
Punjabi explains, "It's okay to have aspirations, but no employer will appreciate you asking about the remuneration, travel and food allowances before having discussed the job profile. It gives a negative first impression." You can reserve these questions for later, when you've been short-listed for the job, she suggests.
Illustration: Uttam Ghosh
10. Dressing inappropriately
Last updated on: December 11, 2012 19:58 IST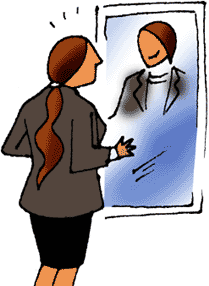 The faded jeans or sequined dress may have won you a beauty pageant on campus, but when you enter the professional world, you have to pay special attention to your attire.
ARKS Srinivas says he rejects eight out of ten candidates because they aren't dressed appropriately for an interview.
"Go formal, avoid heavy makeup and accessories and wear a smile," suggests Smita Tikekar.
Also make sure that your hair and nails are neat and clean -- you don't want to come across as having a poor sense of hygiene.
And on that note, we conclude with just one last piece of advice -- keep in mind all the tips you've read through. They take very little effort, but will go a long way in helping you land your dream job.
Illustration: Dominic Xavier