How Moscow transformed this IFS officer into a poet-artist
Last updated on: November 17, 2011 10:21 IST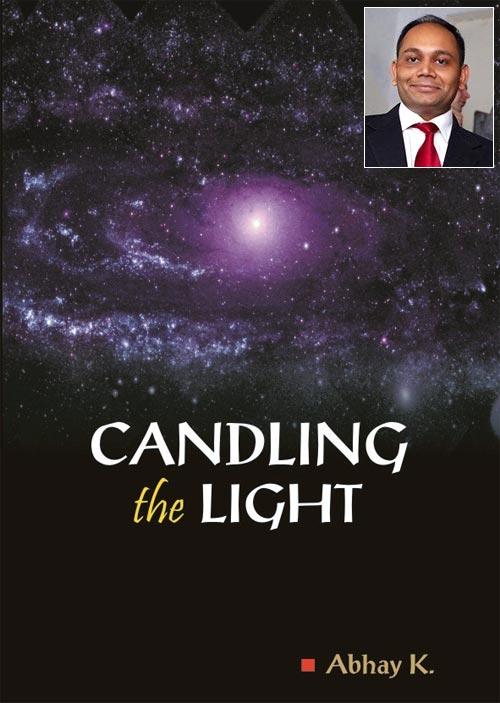 Poet, artist and award-winning diplomat Abhay K whose sixth book Candling the Light was released recently at the Sahitya Akademi in New Delhi tells rediff.com about his life in the Indian Foreign Service, how he maintains a balance between his career and creative life and how Moscow brought out his creative rushes to the fore.
I joined Indian Foreign Service in 2003 when I was just 23. I left Delhi for the foundation course of all civil-services probationers at the Lal Bahadur Shastri National Academy of Administration (LBSNAA), Mussorie on 1st September 2003. For the next three months I was trekking in the high Himalayas, visiting villages, learning horse-riding, learning French, listening to a lot of lectures from eminent people and getting to know my colleagues from other civil services. All this were part of the foundation course at the academy.
In January 2004, I was undergoing training at the Foreign Service Institute (FSI) in New Delhi. Training included learning typing, international relations theories, IFS Pay, Leave, and Compensatory Allowances (IFS-PLCA) Rules at the Akbar Bhawan in Chanakyapuri where FSI was located earlier. Besides classroom lessons, training also included visiting neighbouring countries such as Nepal, Sri Lanka and Bangladesh, visiting different parts of India for a week long training with the Army, Navy and the Air Force, a month long stay in a district of Andhra Pradesh and two-weeks training with a private enterprise in New Delhi.
How Moscow transformed this IFS officer into a poet-artist
Last updated on: November 17, 2011 10:21 IST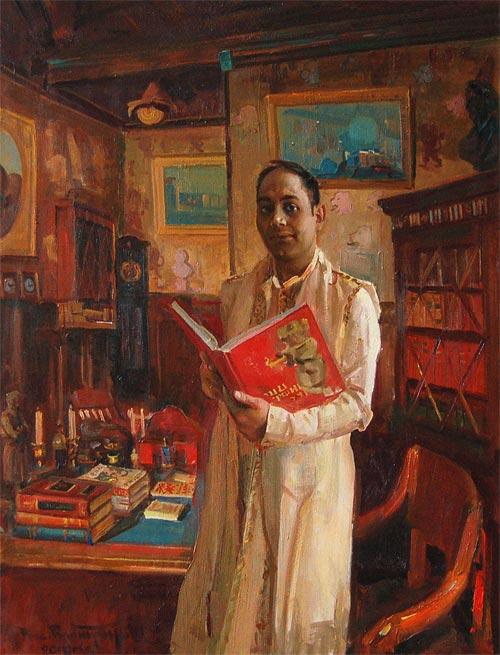 As an IFS probationer I used to stay at the old MEA Hostel at the Kasturba Gandhi Marg, a very central place in New Delhi. I just had a room for myself but these were some of the sweetest days of my life. I started my morning with a jog in the Lodhi Garden and ended with a cup of cappuccino at either Khan market or at Connaught place. Cultural hub of the city, Mandi House was at a walking distance from my residence at the K G Marg and I often visited the National School of Drama and Rabindra Bhawan where National Academies of Art, Literature and Music are located.
After a year at the FSI I got the first hand experience working as a desk officer for six months at East & South Africa (E&SA) Division of the Ministry of External Affairs (MEA) in the South Block before being sent to Moscow in August 2005 to learn Russian. I had a lovely hundred square meter apartment on the 15th floor upon my arrival in Moscow. I could see the St Basil's Cathedral on the Red Square from my window on a clear sky day.
How Moscow transformed this IFS officer into a poet-artist
Last updated on: November 17, 2011 10:21 IST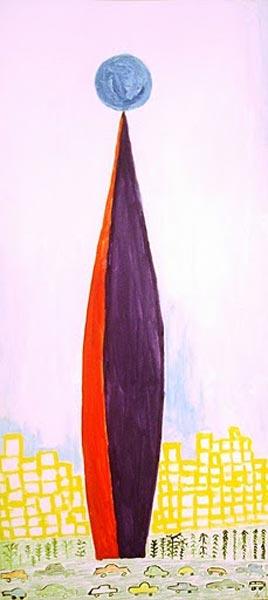 In Moscow I learnt the Russian language, literature and history at the Moscow State University for a year. Afterwards I worked at the economic and commercial wing of the Embassy of India, Moscow till July 2007. It was during this time I wrote my first book River Valley to Silicon Valley and about 200 poems which were subsequently published into three books -- Enigmatic Love, Fallen Leaves of Autumn and Candling the Light.
It took me almost a year to learn how to read and write in Russian. During those days I had plenty of time after the Russian classes and over the weekends so I used to visit museums, art galleries and cafes. I bought canvas, oil colours and brushes at the Central House of Artists in Moscow and plunged headlong in painting. I made my first painting on a used chocolate box. I paint spontaneously just letting my imagination flow.
How Moscow transformed this IFS officer into a poet-artist
Last updated on: November 17, 2011 10:21 IST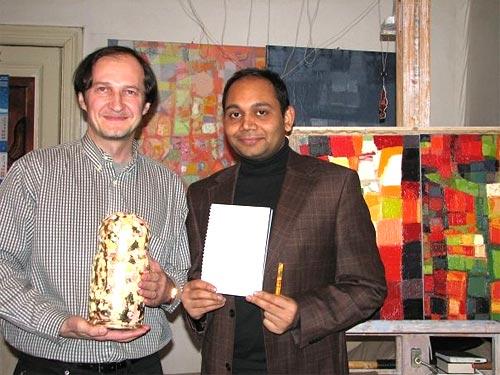 After my Russian classes got over at the Moscow State University in mid 2006, I sat for a language test conducted by the School of Foreign Languages, Ministry of Defence, India and only after successfully passing the test I was confirmed in the Indian Foreign Service. I was assigned the job of Second Secretary (Commerce) at the Embassy of India, Moscow. My job involved answering queries of the businessmen from both India and Russia, organising buyer-seller meets, taking up trade issues with the Russian side, organising the visits of the trade delegations from India, preparing monthly economic and commercial reports etc.
I had consciously not bought a car because of the impossible traffic on Moscow roads. I travelled in the magnificent Moscow Metro and I liked it very much. I was so inspired by the beauty of the fellow travellers that poems automatically flowed and I noted them on my mobile phone. Later I used to transfer them from my mobile to my computer and to refine them further. Thus I wrote close to two hundred poems during my stay in Moscow from 2005 to 2007.
How Moscow transformed this IFS officer into a poet-artist
Last updated on: November 17, 2011 10:21 IST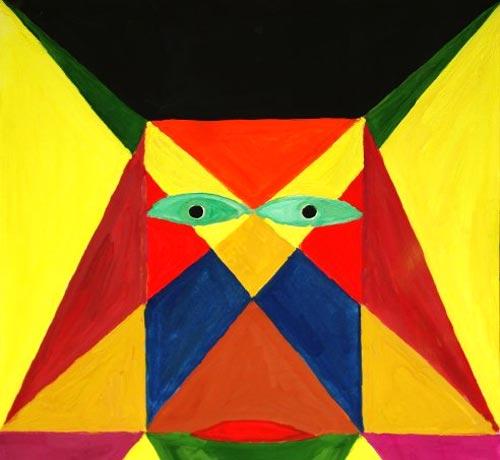 I put together all the love poems from this period in my first poetry book Enigmatic Love. Fallen Leaves of Autumn was collection of my poems on beauty of the nature from the same period. Rest of the poems were recently published in Candling the Light.
Candling the Light is the unbridled impulse of the human heart. The book is divided into three parts -- Meditations, Reflections and Reminiscences. Meditations include poems on such as Hero, Drugs and Drug Addicts, In Defence of Lies etc. which offer deep insights on these themes, generally not available at the first glance.
Reflections include poems such as Shadow, Enmeshed, Time-Travel among others which are based on experiences from my own life so far. Reminiscences include poems on my family, Moscow and Delhi.
How Moscow transformed this IFS officer into a poet-artist
Last updated on: November 17, 2011 10:21 IST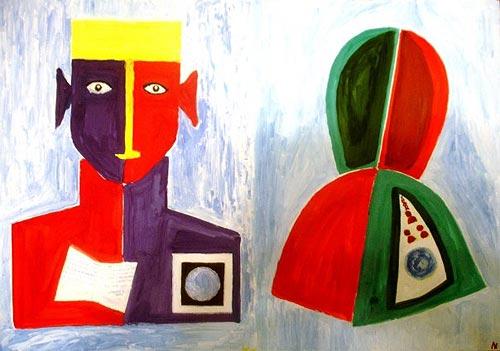 The book carries comments by Prof Irina Burova of St Petersburg State University, Asst Prof Gusel Strelkova of Moscow State University, eminent poet and literary critic K Satchidanandan and editor of several books of poetry Jehanara Wasi, to explain the hidden meanings and symbols to the readers.
I was posted as Consul to the Consulate General of India in St Petersburg in August 2007 and I spent three years in this beautiful city. St Petersburg, located on the banks of the river Neva used to be the capital of the Russian Tsars before the Bolshevik Revolution, and is still known as the cultural capital of Russia. St Petersburg is also called the city of the white nights because in the months of June-July museums are open the whole night during the white night and the whole city actively takes part in white-night festivities.
How Moscow transformed this IFS officer into a poet-artist
Last updated on: November 17, 2011 10:21 IST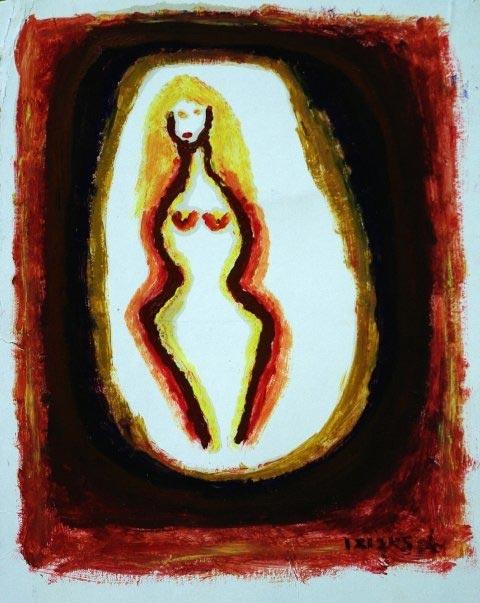 The three years I spent in St Petersburg from 2007-2010 were some of the most memorable days in my professional and personal life. I was acting head of the Indian Consulate in St Petersburg for eight months and had the opportunity to take several new initiatives during this period; connecting India with the younger generation of Russians by organising film shows every second Friday was most significant of these.
At a personal level, I became part of the art life of St Petersburg. I met over a hundred artists during this period, visited their studios, learnt their art techniques and artistic vision and collected their art-works.
I had started painting while I was in Moscow. In St Petersburg I refined my painting techniques. I painted more than sixty paintings and exhibited my art works in St Petersburg and Paris. Stieglits Academy of Art, St Petersburg presented me a first class diploma for the exhibition 'We are different, We are together' in 2010.
How Moscow transformed this IFS officer into a poet-artist
Last updated on: November 17, 2011 10:21 IST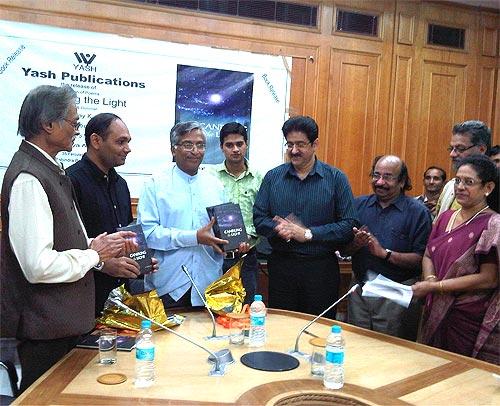 During my stay in St Petersburg, I wrote a book on art life of St Petersburg titled 'Colours of the Soul' which was published in Russian. I also published a bilingual book titled '10 Questions of the Soul' during this period. While in St Peterbsurg I wrote about 50 poems which have not been published yet. I plan to publish these poems next year.
I came back to India in July 2010 and have already spent over a year in New Delhi. I have been working in the new area of Digital Diplomacy during this period which involves the use of social media for public outreach and diplomacy. The Public Diplomacy Division of the Ministry of External Affairs has received two prestigious awards in the field of e-governance during this period.
I am in love with Delhi. I studied at Kirorimal College, Delhi University from 1997-2000 and then at JNU from 2000-2003. I am so happy to be back here. I wish I could write a poetry book dedicated to my beloved city in the coming years.