How HR managers are helping make workplaces better
Last updated on: September 11, 2012 07:28 IST
As more companies acknowledge that employees are their top asset, the role of HR will expand and become increasingly important.
FAST FACTS
Job functions: Recruitment, training, industrial relations, employee welfare
Hierarchy: Executive, Assistant Manager, AVP, Director, Vice President
Best institutes: XLRI (Jamshedpur), TISS (Mumbai), SIBM and SCMHRD (Pune), MDI Gurgaon and IMT Ghaziabad
Recruiters: IT, FMCG, banking, hospitality, media sector companies and consultant agencies
Senior HR professional L Prabhakar recalls having to perform an inevitable task -- firing an employee.
Never a simple act, Prabhakar sat down with the employee and gave him valuable, honest feedback. Ten years later, he ran into the employee at a public forum. Surprisingly, the ex-employee said with gratitude, "The dialogue exchanged between us changed my perspective."
More than the substance of communication, it was the empathetic manner in which the HR communicated that made the difference.
L Prabhakar, today Vice President-HR, ITC (Agri-Business) maintains a broader vision of HR's role, "I am happy when I can make a difference to an individual."
Dawn of HR in India
Initially, it was restricted to administrative tasks, personal functions and industrial relations, which comprised paying employees, welfare amenities and keeping track of sick, personal days. But post liberalisation, hiring and retaining high performing employees prompted companies to adopt sound HR practices.
Concepts like Organisation Development (OD) and Organisation Behaviour (OB) became popular. Many companies even rechristened the Personnel Department to HR department! TATA, Godrej and Reliance were pioneers in this initiative.
Shifting the focus to people
Who helps build your business?
"It is always people who take an organisation towards growth and success," says Shampi Venkatesh, Chief People Officer, NIIT Limited.
"Young Gen X and Gen Y professionals behave differently, have divergent needs, and it is no longer possible to manage them without specialised people-management skills," she adds. This has led companies to revamp their processes and systems.
According to Ruchika Puri, Senior HR Executive, Hindustan Times, the ultimate goal is to develop and lead a sustainable productive workforce.
"I'm responsible for the entire work life-cycle of 350 employees, right from hiring to exit," she shares.
Please click NEXT to continue reading...
Scope of human resource managers
Last updated on: September 11, 2012 07:28 IST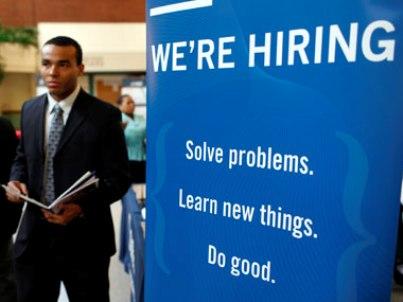 Recruitment: Hiring professionals at various levels across various departments. Resume shortlisting, aptitude tests, technical tests, psychometric tests, group discussions and interviews are all part of the process.
Compensation/Benefits: Job analysis, designing pay grades/pay bands alongside designing the bouquet of benefits and perks for the employees including basic salary, merit pay, cost of living/inflation allowances, incentives, stock options, EVA linked plans and stock appreciation rights.
Industrial Relations/Employee Relations: Generally associated with the manufacturing industry, you will engage with labour unions and blue-collar workers. You must be well-versed in labour psychology and the prevalent union culture in the region.
Training and Development/ Organisational Behaviour: Nalini Maurya, HR Specialist at Accenture looks at aspects like the induction process for fresh recruits as well as skill-based training for employees.
On the other hand, Joy Charles, HR Manager, CBN conducts behavioural training for employees and develops material for the same. It includes everything from etiquette to explaining which behaviour is inappropriate. Both T&D and OB are important aspects in the HR process.
Employee Welfare and Administration: Focuses on welfare activities, administration of payroll, time-sheets, attendance, leaves, leave travel allowance (LTA), employee trips, benefit programmes for employees, retirement/resignation and pension processing activities and plethora of similar deliverables. 
Employment opportunities to choose from
Last updated on: September 11, 2012 07:28 IST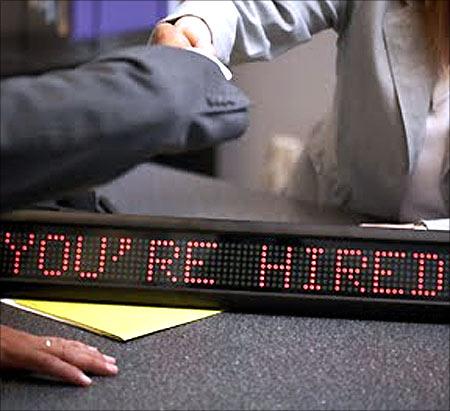 You can work in the HR department of a company or at consultant firms which offer a bevy of services including hiring, taxation, audit, pension and insurance; training needs assessment and health benefit programmes.
Prominent firms include Randstad, Teamlease, ABC Consultants, Ernst & Young and Mercer.
Here are some routes to success:
A Generalist wears different hats. Ramneek Sahmbi, HR Manager (Generalist) at American Express shares her schedule, "My day starts with taking stock of hiring, discussions with employees and business partners on policy matters, engaging with varied HR initiatives."
On the other hand, Suchita Shukla's role varies by the season. From October to March, this HR Manager at HCL Technologies, visits campuses to hire management trainees. Post March, she is seen busy doing relationship management, talent deployment, training programmes. In two years she has hired over 800 trainees.
A specialist focuses on one role. Parul Chichra, Team Leader (Specialist) at Bank of America is solely involved in end-to-end recruitment. She hires people from various sources -- right from middle level to senior level. Her job involves screening, shortlisting, preparing salaries, documentation for the chosen employees. So, specialists are company experts in a specific area. HR consultants assist clients in various activities based on requirements.
Meenakshi Khandari, Branch Head, Delhi at Ace Executive Search (consultancy firm) focuses on recruiting for media, FMCG, hotel and banking industry. Kapil Sharma, Principal Consultant at Square Solutions does more than recruit.
He is often called by clients to conduct training programmes for their workforce. He recently put together a group of experts to train employees of an auto company in communication skills.
Institutes for training and development
Last updated on: September 11, 2012 07:28 IST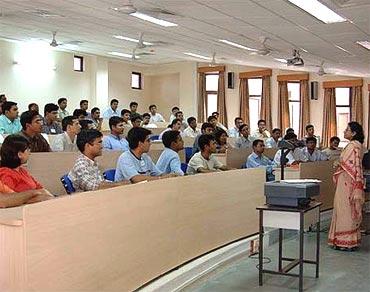 Cecy Kuruvilla, Global Director, Leadership Development/Diversity at Sodexo Remote Sites and Asia- Australia (AMECAA) elaborates on the importance of training future managers.
"We adopt different training methods -- provide self-learning through our intranet training portal where employees get the chance to meet other like-minded individuals as part of their ongoing development.
We conduct specific training for high potential talents to make them understand what we expect from India-driven and delivered by international resources. Just recently, a programme was conducted by senior leader from Paris on client engagement for senior operators and managers"
If you aim for a managerial role, then it's advisable to pursue either a sectoral or general MBA.
Students from any discipline can apply. Some institutes select on the basis of score obtained in MAT/CAT/XAT or conduct internal exam. XLRI, Jamshedpur and Tata Institute of Social Science (TISS) top the list as they offer specialised courses like PGDHRM and HRM respectively.
TISS being a social science institute offers a welfare-oriented programme. Here students learn about labour laws, compliances and retirement benefits.
"Though I teach HR-Operations & Strategy paper my primary focus is on social entrepreneurship. When my HR students start social ventures, it becomes easy for them to apply HR policies," says Professor Satyajit Majumdar, School of Management and Labour Studies, TISS, Mumbai. Fieldwork, which is an important component of the course helps students to apply and develop discipline knowledge in a big way.
Top 5 Institutes to study Human Resource Management
Tata Institute of Social Sciences (TISS), Mumbai
Symbiosis Institute of Business Management (SIBM)
MDI Gurgaon
Symbiosis Centre for Management Human Resource Development (SCMHRD)
IMT Ghaziabad 
'Internships prepared me for real world HR practices'
Last updated on: September 11, 2012 07:28 IST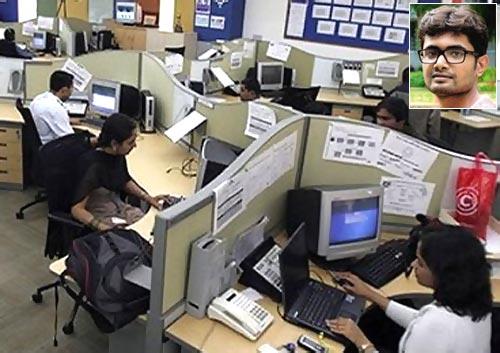 Student Speak: Anusheel Srivastava
Second year student, PGDHRM XLRI, Jamshedpur
A Mechanical engineer by qualification, it was while working for an onsite project of Engineers India, that I grew inclined towards HR practices.
I used to purchase equipment and hire labourers for construction work, and discovered how HR consultancies work. I felt I had a knack to be a people manager.
Unlike other institutes where students choose HR as an elective in second year, XLRI prepares its students from first year. The pedagogy is highly interactive and participation-based. All subjects have a high group project component. This is supplemented by a large number of case studies and presentations.
We learn various dimensions of HR -- Industrial relations, performance management, compensation and benefits, training  and development, organisational behaviour, labour and employment laws, recruitment and selection, collective bargaining and negotiation.
The summer internship is a college facilitated programme. I did two-month stint at Amazon India. It gave me cross-functional exposure to understand the company's strategy and overall operations. By the end of internship, I presented a project.
Since Amazon is new in India, it still needs ideas for effective processes. I studied and compared the processes of different Indian companies and made recommendations on how Amazon can alter its own processes.
'Networking is the key for knowledge and success'
Last updated on: September 11, 2012 07:28 IST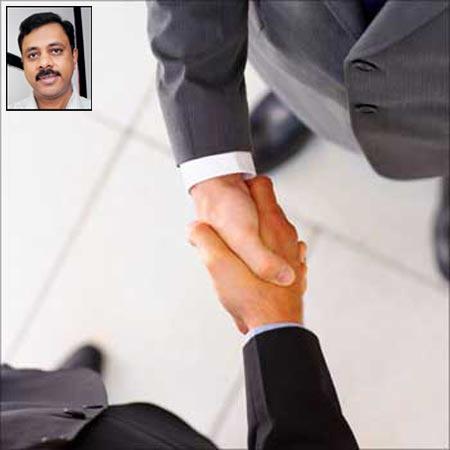 Expert Speak: L Prabhakar
Vice President -- HR, Agri-Business Division, ITC, National HRD Network
Prabhakar shares insights about the fruits of engaging with National HRD Network and how an HR professional can rise up the ladder.
Tell us about the NHRD network and how it is relevant to the HR field and students?
Formed by an association of HR professionals, NHRD is like a movement to attract professionals and students to strengthen HR practices in India. The entire network is done in the spirit of voluntaryism. So we all take time from our job schedules and work enthusiastically for NHRD's activities.
We have around 2,500 active members who network from 30 chapters (regions) across the country.
NHRD organises a host of activities -- seminars, workshops, webinars and more. Becoming a member is like an investment for your own professional knowledge growth. And the networking adds to self development and being visible in the market.

Do you have any academic tie-ups?
We are partnering with institutes like MDI and IIM Ranchi to revamp and design HR education. We are also identifying meritorious HRM students, professionals to provide them an opportunity to get mentored by senior HR professionals. NHRD is also collaborating with institutes like Wharton and University of Michigan.
How can one join these institutes?
It has student membership, institutional, individual membership. The life membership is for Rs 10,000 -- you get free journals and updates through newsletters and other means about recent activities in the HR space. For details, one can log on to www.nationalhrd.org.
According to you, what is the need of the hour in an HR manager's job?
I don't find people doing adequate networking -- personally, it gave me tremendous value, visibility and opportunities. Besides, you must remain contemporary. Show your managers that instead of six days, I can do the entire work in less than a day. And those five days can be used to stay relevant.
Also, an HR person must understand the business and you don't need to be a head to do it. Demonstrate your knowledge to internal employees. They will respect and adhere to the functional agenda brought by you.
How can Human Resource Managers recruit effectively?
I wonder how many HR persons will go out to the market and engage with future talents. One must keep peeling the layers to get to the root or core of an issue.
If you are entrusted with campus recruitment, one approach could be restricting to campus interviews, but the other effective approach is to understand the campus dynamics and start engaging with students to know their aspirations.
What are the parameters used for recruiting HR managers?
It differs from company to company. Some may recruit diploma holders, graduates or some may only focus on candidates from reputed colleges.
We expect a lot from the HR brand institutes. The Tier 1 institutes will fetch an entry salary of Rs 8 to Rs 18 lakhs annually whereas for Tier 4 institutes -- the pay cheque may slip to Rs 2 lakhs. So a diploma/ degree won't have a direct impact on recruitment.
What are the qualities in an HR manager that impress you?
What counts is a good grasp over HR concepts, energy and passion with a good life experience. Your learning, intellectual and emotional quotient, all matter.
Your advice to HR aspirants...
You must have hunger for learning, a long-term view of career, active engagement with the larger profession, and enjoy what you are doing. Keep pushing the limits and strive to leave a legacy that one would be proud of!

'Ability to control resources and expenditures is important'
Last updated on: September 11, 2012 07:28 IST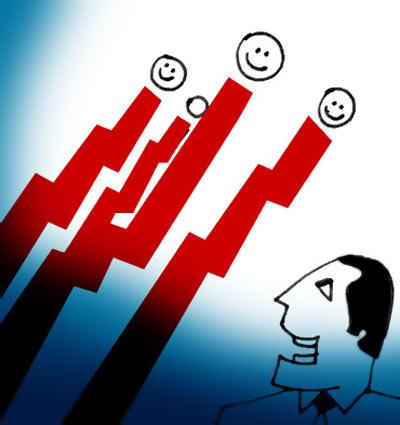 A smart manager is always business savvy, a person who possess an ability to control resources and expenditures of the company.
"One must align HR practices with business goals. In order to equip students with every aspect of a company, we have core subjects on finance, accounts, marketing and operation," shares Fr Tony Uvary SJ, Associate Professor, HR Management/Organisational Behaviour, XLRI, Jamshedpur.

Multiple issues pop up in workplace. HR personnels have to be simple and approachable to everybody. They have to cooperate and coach them along the transition period. Sunaina feels a change in her over all personality.
"I have grown as an individual," says the professor.
It makes a difference when you deal a diverse crowd with varied thought processes, capabilities and skill set. It is not for people with huge egos and a strong urge to grab centre stage.
"In the organisational behaviour class, I tell students to develop a positive attitude. The energy you expel plays a major role for people to obey and follow you as a leader," adds Prof Tony.
Illustration: Dominic Xavier

'Hiring the right employee is like seeking the right partner in marriage'
Last updated on: September 11, 2012 07:28 IST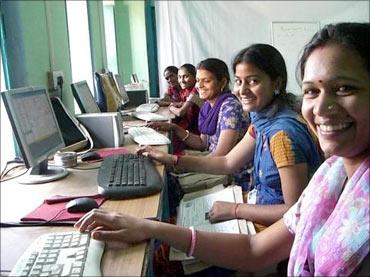 New recruits are concerned about the work environment.
"I try to be transparent and think through how to communicate. I don't want them to feel de-motivated because of the false promises," says Sunaina. Another challenge is finding right people for specific jobs.
Prof BD Singh, Dean, Asia Pacific Institute, relates hiring process with an analogy, "It is just like seeking a right partner in marriage. You have to see whether potential partner shares your values and preferences."
An HR manager has to remain competitive in market -- a tab on HR trends, industry knowledge. He advises, "You must be aware of basic laws like income tax law is a basic component of salary."
An HR manager can play a major role in service sectors like banking, hospitality, retail and manufacturing. To keep pace, companies make constant adjustments, such as organisational restructuring and outsourcing. In such times, HR people will continue to be an asset for any business, however, big or small.