How Facebook and Twitter can cost you your job!
Last updated on: October 12, 2011 18:02 IST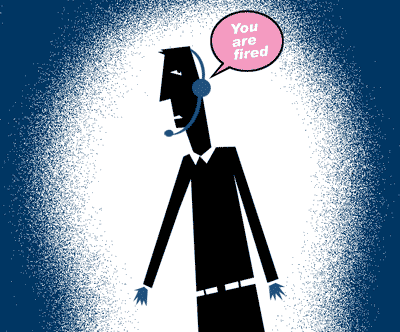 On October 3, 2011, Pierre Sormany of Radio-Canada faced suspension after he reportedly posted false statements on Facebook implicating another broadcaster. Read on to know how your cyberspace activities could cost you your job and more. Illustrations: Uttam Ghosh
.
When Amole Dave appeared before a panel of interviewers during his campus placements, he was rather taken aback when one of the interviewers grilled him about a stray remark he'd made on Facebook.
A few months before he faced the men who would decide whether he deserved the first job of his career in their company, Dave vented out on the social networking website:
"Nothing can happen about this country!" He wrote exasperatedly in response to something one of his friends had written.
It seemed like a pretty harmless thing to say -- everyone says it at some point in their lives -- but as the company execs stared down at Dave, the 23-year-old realised he'd probably made the biggest mistake of his life.
"I did not have the slightest hint that my recruiter would be checking it (my profile on Facebook). The recruiter thought I was being disrespectful to my country and held it against me during placements," he confessed to me and requesting not to reveal his real name.
This is not the first time someone has faced charges over a social networking activity and this certainly will not be the last.
Surprisingly, it isn't just the young 20-somethings straight-out-of-college kids that land themselves in a soup because of an off-hand remark on Facebook or Twitter.
Earlier this month -- on October 3 -- Pierre Sormany, head of investigative journalism at Radio-Canada faced suspension after he reportedly posted false statements on Facebook implicating another broadcaster in an investigation into organised crime.
If it could happen to a journalist of 30 years experience, why can't it happen to you?
As a matter fact, a 2011 survey conducted by leading job site Career Enlightenment revealed that about 79 per cent hiring managers reviewed applicants' online information and that 1 of 3 candidates were denied jobs based on 'something' that they found about them online.
We spoke to recruiters and human resource consultants to find out if they have encountered similar cases where a cyberspace activity had affected someone's career. Read on.
Racist or discriminatory remarks
Last updated on: October 12, 2011 18:02 IST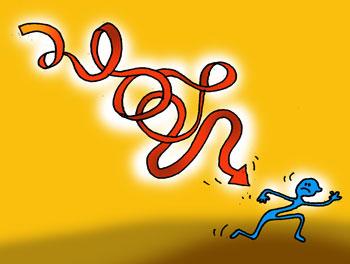 Racist remarks are random outbursts that are independent opinions of a certain individual or group. These remarks never present you in good light.
Kailash Shahani, MD of Morpheus Consulting tells me about a leading company denied a promising candidate a job when they stumbled upon some racist comments he'd made during the 2011 cricket world cup.
"The candidate probably wasn't even aware that his activities were being screened. But a third party organisation that was involved with background checks scanned his profile and made a note of these remarks. That worked against him," he recollects, "And to think that it wasn't even a very senior position!"
Exercising caution, Shahani says, is crucial, adding that it is pertinent to avoid being an 'extremist by opinion'. "You should be extremely careful about what you say or post on a public forum. Try to maintain objectivity of thought, while you are online."
"Do not post comments or messages about a person, group or community unless you are attributing it to a source (like a newspaper or website). In dire cases, a defamation suit could be filed against you."
"In extreme cases, when you are provoked to voice an independent opinion, use personal messaging or chats to convey your message."
Negative comments about work-life
Last updated on: October 12, 2011 18:02 IST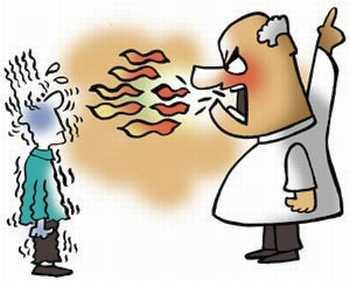 This is the most commonly observed activity among employees. Bad mouthing previous employers, existing co-workers, immediate bosses or managers on your profile immediately attracts attention.
While it may seem healthy and all fun among friends, talking about it on a public forum sends out a wrong message to your prospective employers. By venting out your work woes in public comes across as being unprofessional.
Loknath Swain, founder of PR Jankari, a Mumbai-based integrated online public relations service, shares an instance of this employee who posted displeasure over his current salary not on Facebook but on a forum that had similar posts by other employees.
"As it turned out, the company spotted the comment and traced it to the person who posted it. Last heard, he was negotiating with the employer (to let him keep his job)," he remembers.
"Comments expressing displeasure about work is common among employees, because everyone needs a platform to vent out their frustration and anger but taking it online will be of no help to you or your career. If you have a problem or face an issue with your boss or manager, it is better to talk to him/her about it rather than posting a comment online. It serves no good anyway."
Kailash Shahani tells me that cases where an employee has been asked to resign following negative comments about his/her team or project are aplenty.
"You never know who your boss' common friends are or how trustworthy your online friends are. So it's better to avoid making any such statements," he advises.
Inappropriate content
Last updated on: October 12, 2011 18:02 IST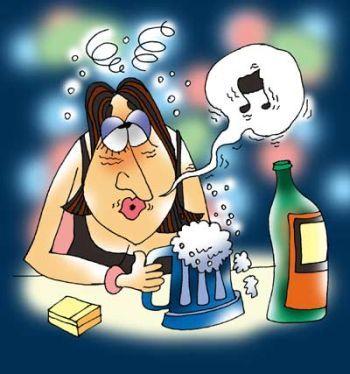 Many young professionals post pictures and updates of their elaborate social life.
While an occasional mention of an active and healthy social life is great, there are people who frequently post pictures of them drinking and smoking with their friends.
Vikas Mehta of Vistas Consulting points out that it is all part of a growing trend.
"Some people think it is 'cool' to do that. What they fail to realise is that it presents a very sorry picture of them. Who would want to hire a person who seems like s/he is partying all the time?" he asks.
"Perhaps when you know a person better, these things may not matter to you. But that's specific to your friend's circle. A recruiter will definitely weigh these factors against you."
Defamation
Last updated on: October 12, 2011 18:02 IST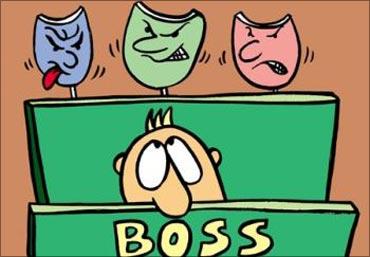 In June last year, a BMW dealer Karl Knauz Motors Inc fired its salesperson
Robert Becker
from his job for the comments he posted on Facebook.
Becker had reportedly made fun of the fact that the luxury car dealership had organised a barbeque serving merely hot dogs and bottled water and little else for its customers.
"I was happy to see that Knauz went 'All Out' for the most important launch of a new BMW in years," he is said to have written.
This didn't, unfortunately, end here. Becker later also posted pictures of an accident at a Land Rover dealership that Knauz owns.
The accident occurred when a salesperson let a customer's 13-year-old son sit in the driver's seat and watched in horror as the vehicle rolled straight into a pond nearby!
Becker reportedly posted pictures on his Facebook page and wrote: "This is your car: This is your car on drugs."
Needless to say, the folks at Knauz asked him to delete the posts. Later, they fired him.
Becker filed a case with the National Labor Relations Board against his employer citing unfair labour practice but lost as the judge ruled the hearing in the favour of his employer.
Adequate personal information
Last updated on: October 12, 2011 18:02 IST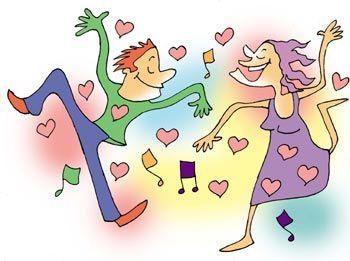 It is very common for employees to offer excuses of health and family problems to request or explain their absence from work.
If the excuse is genuine, there is no reason to worry, but there could well be a possibility where the employer may demand an explanation.
As it happened in the case of Mira Joshi, a 25­-year-old media executive who was on 'sick leave' for a week.
Unfortunately, some of her friends posted an invite on her Facebook wall about a college reunion around the same time. To add to the situation, a friend shared an album with images of a reunion which took place a few months ago and which the executive had also attended.
Joshi's recruiter who was also on her Facebook list of friends, saw these notifications and connected the two dots. She was asked to immediately report to office the next day and produce a medical certificate of her illness. Having been caught unawares, Joshi explained that the pictures posted on Facebook were not recent and were taken months ago. While she didn't lose her job, she did lose face.
"Very often friends who come to attend reunions and late night parties request us not to share their pictures or tag them on Facebook. This is because either s/he might have left office early or may have cancelled an incomplete assignment/meeting that day or there is a possibility that one of their colleagues may report the activity to their manager. Either way, it is safe to keep your personal lives discreet," says Vikas Mehta.
Seek help of online reputation managers
Last updated on: October 12, 2011 18:02 IST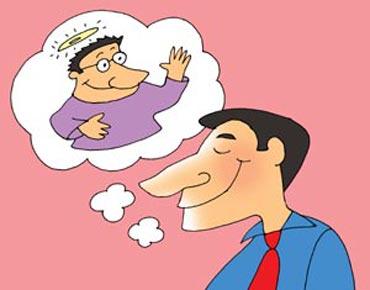 Loknath Swain says that online reputation management and search engine optimisation are two great ways to augment your profile.
"One of my clients was a doctor of Ayurveda. He told me how someone had published defamatory messages against him on a discussion forum saying his medicines were bad and ineffective. He wanted those comments to be reviewed because that would affect his reputation as a doctor. So, we wrote an email letter to the concerned authority of the website that had hosted the defamatory content requesting them to have it deleted, which they did."
"In fact, some of my clients have told me how the Government of India is disciplined about doing background checks about individuals and corporate firms before committing to any partnerships or professional tie-ups."
"Online reputation managers essentially work towards positive optimisation of links and it is our job to ensure that the public image of our client will not attract negative attention," he says.
Develop a positive attitude
Last updated on: October 12, 2011 18:02 IST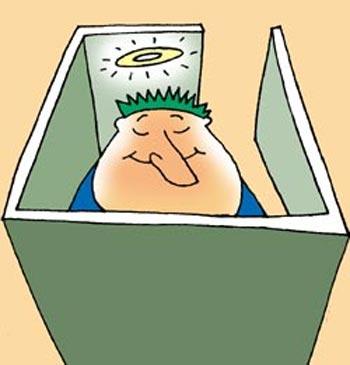 All of us love to start our day with a motivating thought.
Similarly, posting and sharing information and messages that are positive and productive to one's profile and network will definitely work in favour of your profile.
"Motivational thoughts that come from any source are always welcome. The simplest way to start is by reviewing the 'About me' section of your profile."
"Ensure that you have said positive things about yourself. Do not forget to add your achievements and learn to talk about your accomplishments in public without sounding boastful."
You can also mention reading habits and leadership traits in your profile," adds Vikas Mehta.
Add social causes
Last updated on: October 12, 2011 18:02 IST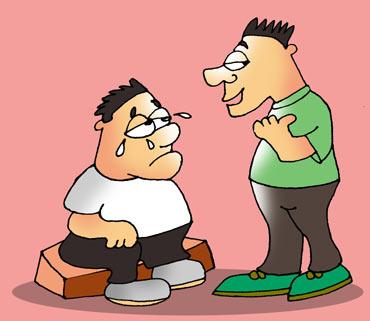 Adding activity links about social causes and projects add impetus to your profile. Even if you do not participate in these activities, even a gesture expressing interest could work wonders for you.
Kailash Shahani shares a personal example. "A friend had applied for a position at a prominent private. The bank had hired a third party to do a background check of the candidates."
"At that point, the friend was unaware that the bank strongly believed in corporate social responsibility and did not highlight the social causes he was actively involved in."
"Since my friend was also part of an NGO, he had posted some links and images about their activities, which added value to his profile and left a positive impression. He learnt about this advantage only after he got the job. So, little things like these could also count as it portrays your socially responsible side as well."
Maintain two profiles
Last updated on: October 12, 2011 18:02 IST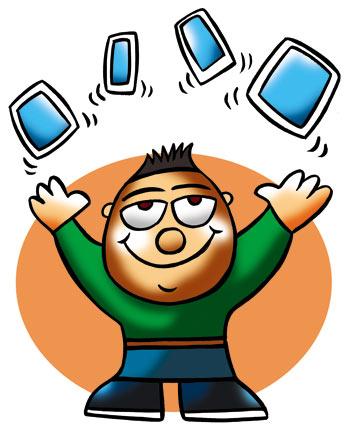 Not everyone is successful at balancing an active social profile and a discreet professional profile. So the best way out would be to maintain two separate profiles -- for personal and professional use, respectively.
"What happens most often is you post something related to your work and as usual your group of friends would pass some snide comments about you or your work.
Once you have posted it, you may not be able to stop yourself from being a part of a discussion. While this may be totally uncalled for, you could avoid being part of an embarrassing situation. So, it advisable that you maintain separate accounts for personal and professional use," says Vikas Mehta.
When I ask Kailash Shahani if it is complicating things, he points out, "You can always be wise in choosing the people you trust or be careful to balance your social and professional life. Today, social networking sites also provide you various privacy options that you can use to your advantage. However, if you follow the basic rules, you won't even need to take so much trouble. A lot of individuals, particularly, those involved at senior management positions have been successfully doing it."
"The only pictures you see on their profile are those with family or attending meetings, conferences, office events, travel and the like. I guess that wisdom also comes with age and experience. Others can only learn along the way."