Interview: CAT 2011 topper Vidit scored 100 percentile
Last updated on: January 14, 2011 19:44 IST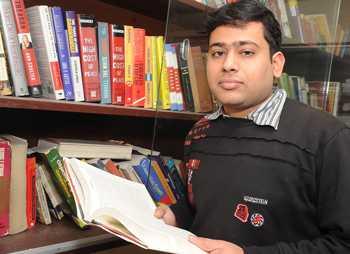 Name: Vidit Aggarwal
Rank: Topper (100 percentile)
Year: 2011

For Vidit, a civil engineer from BIT Mesra, it was his third try for CAT, an entrance exam for qualifying to IIMs and other top B-Schools. Two self-study attempts had not yielded the desired result, so the 24-year old took no chances for the final. He joined a coaching centre in a bid to get professional guidance, while keeping his full-time work.

A planned study strategy also helped. Vidit scored 100 percentile. However, the Agra-based boy isn't overwhelmed with the first phase of achievement.
"I should fare equally well in Group Discussion and Personal Interview," he says prudently, while aiming for IIM-Bangalore.

In a chat with Urmila Rao, he shares his first leg of journey. 

Congratulations on your success. How did friends and family react?
Many thanks! I didn't inform my parents intentionally. They are in Agra and found out about my accomplishment through newspapers, as I wanted them to. They were surprised and are very happy. As for friends, they are still wondering.

Of the three sections in CAT, which one came across as most challenging to you?
It was English. I selectively focused on it. The other two, Quantitative Aptitude (Maths) and Data Interpretation were relatively easy. My faculty at Career Launcher, Soumya, helped me a lot in English test preparation. She told me about simple rules and guided me on practicing. That reduced the burden of the vast syllabus to one, which I could manage.

How did coaching helped?
It helped me be regular. It trained me on how to approach and tackle questions. Regular coaching also means interacting with your class batch mates and getting their feedback; which is important. A lot of assumptions and self-notions get dismantled, which is good to keep you grounded and help you measure your preparation levels vis-a-vis others.
What other books did you refer to apart from the coaching centre's learning resources?
I mainly referred to the centre's course material. It covers almost everything. It may not offer new concepts but just the regular practice of those helps gain speed; time is a crucial factor in CAT.

How did you approach the test?
From each section, I first attempted all easy questions. That meant two things: a sure shot score and more significantly, a confidence warm-up. As confidence built up, I moved on to questions which I which I felt, could be sorted out immediately. The others, I attempted last. English takes least time; either you know the answer or you don't. I took 45 minutes for Data Interpretation section. The total paper is of 2 hours and 15 minutes.

Did you face any hassles moving from pen and paper to a computer-based test?
No. These days all youngsters are computer savvy. It wasn't an issue at all. Besides, the test series familiarises you with the whole software and dynamics beforehand.