Want to study in the US? Get used to learning by doing
Last updated on: October 16, 2012 07:17 IST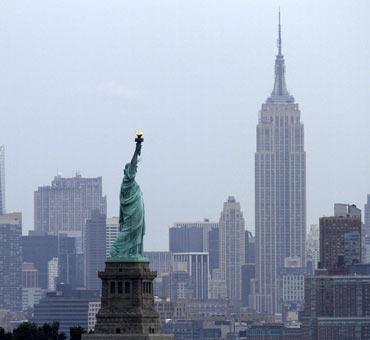 In the second part of an ongoing series to educate aspiring students about studying abroad, Rajiv Gupta, CEO, EGE Global explains everything you need to know about taking up a course in the United States of America.
A compelling mix of advantages has established the United States of America as the Mecca of higher education for students worldwide and in India -- academic excellence, range of well-developed study programmes, cutting-edge technology, infrastructure and a strong student-support network being some of the influencing factors.
The total number of international students in the USA in 2010-11 was 723,277, of which 14.4 per cent i.e 103,895 were Indians, second to China.
Of the 185,000 Indian students enrolled in higher education institutions abroad, the US leads with a share of nearly 55 per cent of all Indian students followed by the UK and Australia, according to the UNESCO.
Please click NEXT to continue reading...
The study experience
Last updated on: October 16, 2012 07:17 IST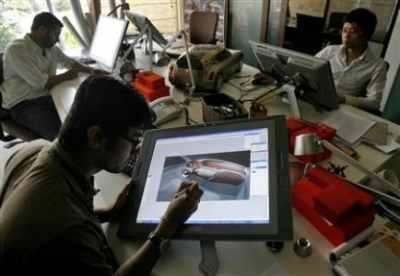 Academic Cycle
Application: Begins 12 to 18 months before you plan to begin studying in the US. Fill out the application form between August to October.
Last date for submission: End of February
Admission Results: Between March to May. Universities notify whether you have been selected or not.
Visa cycle: Students can apply within 120 days from the start date of I-20 and can travel within 30 days from the start date of I-20.
Academic sessions: Commence September/ October onwards (Fall Semester)
US universities are generally well-equipped with facilities, infrastructure and world class faculty who are involved in active research which is often done with the industry or government enterprises.
The education system emphasises learning by doing, which helps one to be able to apply what one has learnt in the class to solve real-world problems. Assessments are continuous through the semester and based on several factors like class participation, projects, field work, and assignments and not based merely on exams.
The education system allows one to explore oneself by not only taking up courses from a wide range of fields, but also by taking part in several out of class activities like clubs, associations and communities.
This helps in a strong overall development and ability to mix with people from diverse cultures.
The American penchant for discovering life through enquiry and experimentation is well manifested in the education system.
Courses, institutes and funding
Last updated on: October 16, 2012 07:17 IST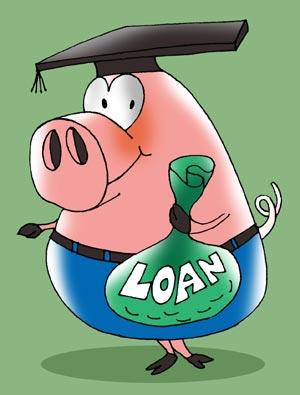 Institutes with large Indian population
University of Southern California, Los Angeles, California
University of Texas at Austin, Texas
New York University, Columbia, New York
University of Illinois at Urbana-Champaign, Illinois
University of Pennsylvania, Philadelphia, Pennsylvania
Ohio State University, Columbus, Ohio
Harvard University, Cambridge, Massachusetts
University of Michigan at Ann Arbor, Michigan
Rutgers, State of NJ-New Brunswick, New Jersey
Purdue University, West Lafayette, Indiana
Popular fields of study among Indian students
Business and Management
Engineering
Physical and Life Sciences
Social Sciences
Mathematics and Computer Sciences
Fine and Applied Arts
Health
Tuition fee and allied costs
Often Indian students are intimidated and overwhelmed by the costs involved.
Tuition fee will depend on the programme and university type.
For instance, the cost of an MBA can range from USD 50,000 to USD 120,000 depending on the university type (public versus private).
It is therefore very important to have a funding plan in place.
Personal funds along with education loans and scholarships can help Indian students meet the high and often intimidating costs involved in studying in the United States.
Needless to say, the earning potential of the student will be greatly determined by both, the university attended, and industry where employment is being sought.
Illustration: Uttam Ghosh
Be safe, not sorry
Last updated on: October 16, 2012 07:17 IST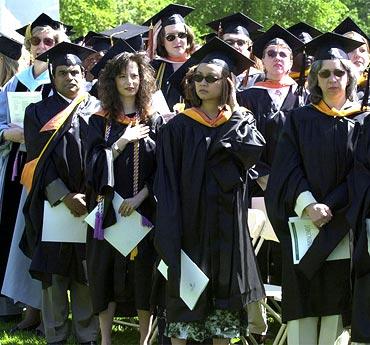 Being familiar with the legal restrictions and work culture in the United States can play a crucial role in making the most of the study abroad experience.
Unlike some countries like Australia, where students are allowed to work off campus, international students in the USA can work only on campus.
Another restriction is that an international student in the USA has to find a job within three months of graduation to maintain the visa status.
Gaining work experience
Last updated on: October 16, 2012 07:17 IST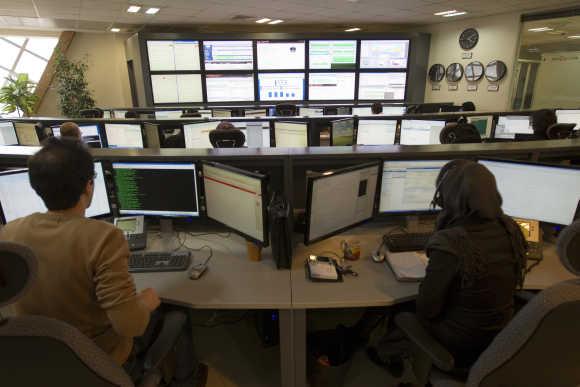 However, one needs to keep in mind that in spite of these regulations, US has policies to address aspirations of international students to gain valuable work experience.
An example of this is the 'Optional Practical Training' option that allows international students to gain valuable work experience, for a period of 12-29 months, in their chosen field of study.
Many Indian students avail of this option to gain valuable work experience with the final objective of getting absorbed as an employee in the same company.
The more prepared and persistent the student is while navigating the US job search system, the higher his chances of being spotted by potential employers.