11 things you must do to land a dream internship
Last updated on: April 10, 2012 07:04 IST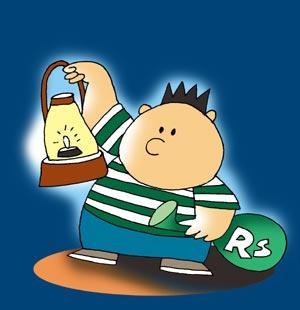 Sarvesh Agarwal, founder, Internshala.com tells us why aspirants must avoid mass mailing and not forget to follow up with the employer after sending the application
In today's competitive world, internships are becoming increasingly important for students to differentiate themselves from other students with similar 'academic' background.
An internship is now seen as a stepping stone to a dream career and it gives a student the much needed practical exposure that employers consider favourably while hiring for jobs.
Most times, students have been successful in converting their summer internships into full time job offers.
Here are 11 things that a student must do to land a dream internship
1. Start early
In India, the culture of internships is still in nascent stage and hence meaningful internship opportunities are limited and the demand is HUGE.
It is advisable to start planning for summer internships 4-6 months in advance as most of the good opportunities open and close between December to January period.
By starting early, you already have an edge over other students who leave their summer internship to the last moment.

2. Zero down on an area of interest quickly
Last updated on: April 10, 2012 07:04 IST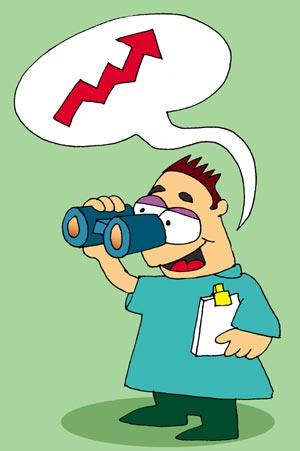 Given the amount of time it may take to find an internship, it makes sense to focus your energy and efforts into an area which interests you the most.
This way you can explore the depth and breadth of opportunities available in that particular area and ensure that you give your best to it.
Lots of students apply to ANY internship opportunity that they see without considering their long term career goals and how does that particular internship help them achieve that.
This not only reduces your chances of success as you cannot demonstrate a clear evidence of interest in your application but also leads to confusion and chaos at a later stage.

3. Research, leave no stone unturned
Last updated on: April 10, 2012 07:04 IST
There is no shortcut to success and finding an internship is no exception.
There are umpteen resources available for a student to seek help from if he/she is clear on what s/he wants.
Personal contacts, professors, and college seniors are good starting points. It may not only help you decide your area of interest better but may also provide you with initial pointers to the direction in which you should proceed.
Internship portals like Internshala.com are also a good place to keep you updated on the relevant internship opportunities.
Company websites, newspaper articles, and LinkedIn are great sources of information these days and you should not be afraid to write emails to or call up people whom you do not know asking for help.
Illustration: Uttam Ghosh

4. Avoid mass emailing
Last updated on: April 10, 2012 07:04 IST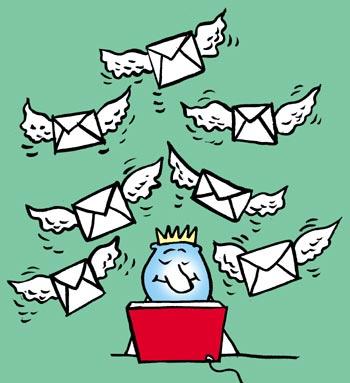 Every employer, HR manager hates to get emails which are so obviously copy pasted everywhere.
Sending a 1000 emails a day is not going to prove fruitful if your emails do not give an impression of your seriousness about the position.
Follow basic email etiquettes such as keeping it short and specific, avoiding use of SMS language or all small case words, proper salutation and thanking, appropriate and leading subject, and adding your details in your email signature.
A well drafted email goes a long way in ensuring that you get a timely response.
Illustration: Uttam Ghosh

5. Prepare specific, to the point, cover letter
Last updated on: April 10, 2012 07:04 IST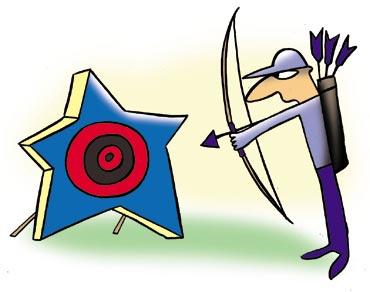 This is a place where even the best of the students flounder at times, it is NOT ok to have one cover letter and attaching it in every internship application by just changing the name of the company or person.
Your cover letter should be specific to the role that you are applying to and briefly explain why you are interested in that particular role and any relevant prior experience or skill set that you may have.
Also avoid general verbiage on how you are a hardworking, sincere, with team spirit, ambitious, intelligent, passionate, broad minded, detail oriented, knowledge seeking person (who isn't in absence of clear evidence?).
Also it does not help to write how you have been in love with Computer Science every since you were a kid and how you yearn to be a world class programmer one day -- if you truly believe that, let your academic and project record speak for that. In absence of facts supporting your claim, it's just poetry.
6. Customise your CV for the position that you are applying for
Last updated on: April 10, 2012 07:04 IST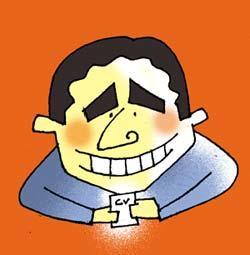 An internship is perhaps the first time a student gets to prepare a CV or a resume and it's understandable to feel overwhelmed by hundreds of different formats and advices available.
Keep it simple, relevant and to the extent possible limited to 1 page.
Avoid filling pages talking about how you were cricket team's captain in 5th standard (trust me, EVERYONE was) or how you feel passionate about preserving environment as hobby or interest when there are no concrete steps that you have taken in that direction
You also do not need to provide with your parents names and their occupation details (surprisingly some students do) and your DOB and gender (most of the employers are Equal Opportunity Employers and cannot discriminate basis age or gender)

7. Follow up
Last updated on: April 10, 2012 07:04 IST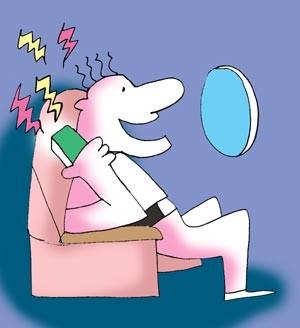 If I could offer only one mantra to an aspiring internship candidate, this would be it.
In Internshala's experience less than 1 per cent students ever bother to follow up with the employer on the status of their application and those are the ones who eventually make it.
Rest 99 per cent either are too afraid to write again or assume that the employer is not interested which may not be true.
An employer may have been busy, may have missed your email first time, may have been travelling or away sick etc. and a follow up email is a good way to get in touch again.
Generally, an email follow up after 4-7 days of first email and a follow up on the call after 4-7 days of 2nd email is an acceptable norm and many often appreciated.
Illustration: Dominic Xavier
8. Maintain a good online presence
Last updated on: April 10, 2012 07:04 IST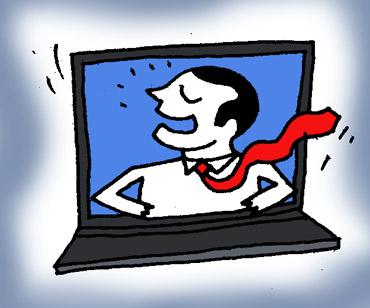 These days many employers look a candidate up on web before deciding to call him/her for the interview.
Make sure that what they see about you on the web is a good picture.
Maintaining a blog or a completed Linked In profile is a bonus.
If you do not want a prospective employer to get access to your Facebook wall, please ensure that you have enabled appropriate privacy controls on your account.
Illustration: Dominic Xavier
9. Prepare well for the interview
Last updated on: April 10, 2012 07:04 IST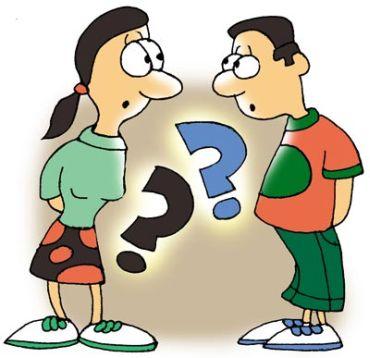 Think of an interview as a two-way conversation rather than one-way interrogation.
Obviously, research well about the company and the role (and if possible the interviewer) before hand.
If need be, organise couple of mock up interviews with friends and seniors to calm your nerves.
Use the interview to ask the interviewer more about the company and the role -- this is the easiest way to let a company know how serious you are about the internship and how much you have thought about it.
It also projects you as a confident and positive person.
Illustration: Uttam Ghosh
10. Maintain contact with the employer
Last updated on: April 10, 2012 07:04 IST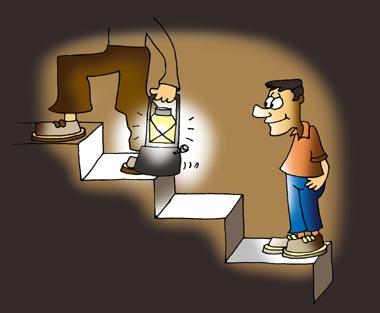 Once you land an internship, there may be a 1-2 months window before summer vacations begin when you actually join the company.
Use this period to stay in touch with your mentor / HR manager and build a bond that would help you hit the ground running.
You may also use this period to pick up or polish any new skills that may come handy during the internship.
Illustration: Uttam Ghosh
11. Once there, make the most of it!
Last updated on: April 10, 2012 07:04 IST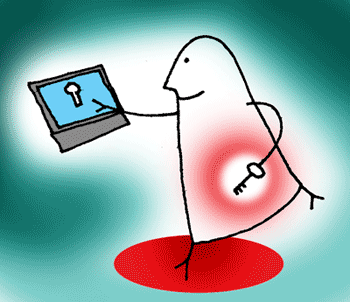 This is a bonus point. Finding a meaningful internship is a long and laborious process and when you get it, make sure you get maximum out of it.
Apart from doing assigned tasks well and maintaining a professional demeanour in the office, don't confine yourself only to the given project.
Use opportunities like team lunches, water cooler conversations to get to know other team members and other functions of the organisations better.
This will not only broaden your overall knowledge and skills but also the professional network that you forge here would come handy for a life time.
Remember internship is the first step of your professional career, liking dipping your toes into the pool before you take the plunge.
Hopefully, these pointers would help make that first step a right step. All the best!
Illustration: Dominic Xavier