Why Sachin Tendulkar fell at an old lady's feet
Last updated on: November 08, 2013 11:57 IST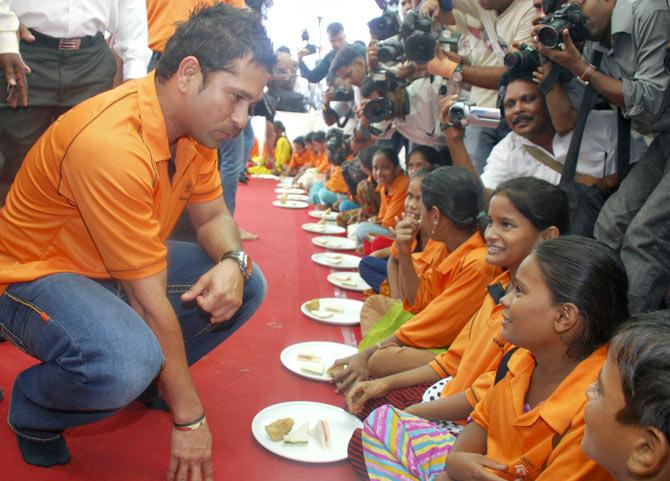 New book narrates fascinating stories from boardrooms to dressing rooms.
Written by Dev Prasad, Pitch It! Inspirational Stories From the Cricket Dressing Room to the Corporate Boardroom underlines similarities between the gentleman's game and corporate boardroom.
An excerpt follows:

We carry excerpts from the book that highlights the common trait of humility between Indian cricket legend Sachin Tendulkar and JRD Tata, a business titan beyond comparison.
Incidentally, Sachin who is playing his 199th test match at Eden Gardens, Kolkata, will be retiring from test cricket after he plays his 200th test match in Mumbai this month.
Excerpts:
Lives of great men all remind us we can make our lives sublime; and, departing, leave behind us, footprints on the sands of time: Henry Wadsworth Longfellow
When I began writing this book, I had a tough time deciding who should feature in the first chapter and what attribute of theirs should I describe first. Luckily, a management workshop that I conducted solved my quandary. During one of the sessions, I distributed a sheet of paper to all the participants with just two questions:
1. Which cricketer and corporate leader do you consider as the greatest of all times?
2. What is their most important attribute?
To my first question, more than 80% of the participants had written Sachin Tendulkar and JRD Tata. This was not surprising since Indians consider Tendulkar as the 'God of Indian cricket' and JRD Tata as one of the greatest visionaries of the Indian industry.
However, the answer to the second question stumped me!
I had expected the participants to pick from Tendulkar's and Tata's numerous enviable traits like competency, passion, dedication, people management skills, communication skills, and self-belief. Surprisingly, none of the participants chose any of these qualities. In fact, everyone had used the same attribute to describe the two great men -- 'humility'!
Later, while driving back home, I thought about the proceedings of the workshop. Tendulkar has excelled in cricket for more than two decades. He holds practically every cricket record. Similarly, JRD Tata's qualities and achievements can fill an entire book. However, none of the participants cared about the number of runs Tendulkar had scored, nor the centuries he had hit. Neither did they care about the numerous companies that JRD Tata had established and led successfully.
What mattered to everyone in the room was their humility.
After some retrospection, I asked myself, 'Why am I surprised?
If I too was a participant, wouldn't I have mentioned exactly the same characteristic of theirs?'
Of course I would!
When I think of Tendulkar or JRD Tata, the first word that comes to my mind is 'humility'.
Excerpted from Pitch It: Inspirational Stories from Cricket Dressing Room to Corporate Boardroom by Dev Prasad with kind permission from Random House India, Rs 299.
Purchase a copy of the book here.
Sachin carries hopes of a billion Indians on his shoulders
Last updated on: November 08, 2013 11:57 IST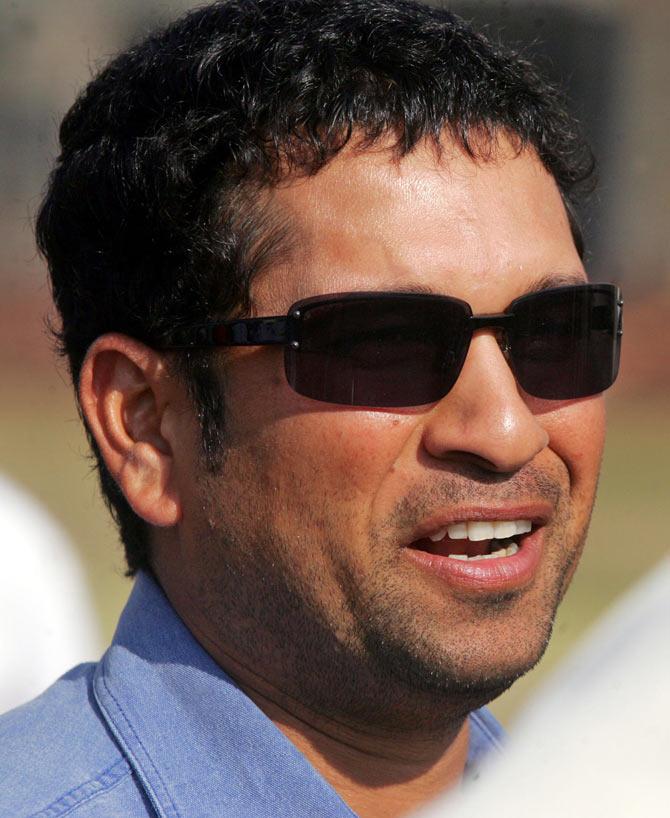 Sachin Tendulkar has been considered one of the greatest cricketers in the world and is often compared with the legendary Donald Bradman of Australia. The debate regarding who is the better of the two never ends. Tendulkar has broken almost every cricketing record, be it in Test or One Day matches.
It is a cliche to say that in a country where cricket is a religion, Sachin is considered a God, and is worshipped by over a billion Indian fans. In fact, it is a cliche to say that this is a cliche!
Every sports writer and cricket commentator says that each time Sachin goes out to bat, he carries the hopes of a billion Indians on his shoulders.
That differentiates this diminutive genius from other cricketing giants is his humility. He is known to have his feet firmly planted on the ground and head firmly on his shoulders.
Whether he is speaking at a post-match ceremony, as a chief guest at a social function, or playing with underprivileged children at an orphanage, his humility comes shining through.
Why Sachin Tendulkar fell at an old lady's feet
Last updated on: November 08, 2013 11:57 IST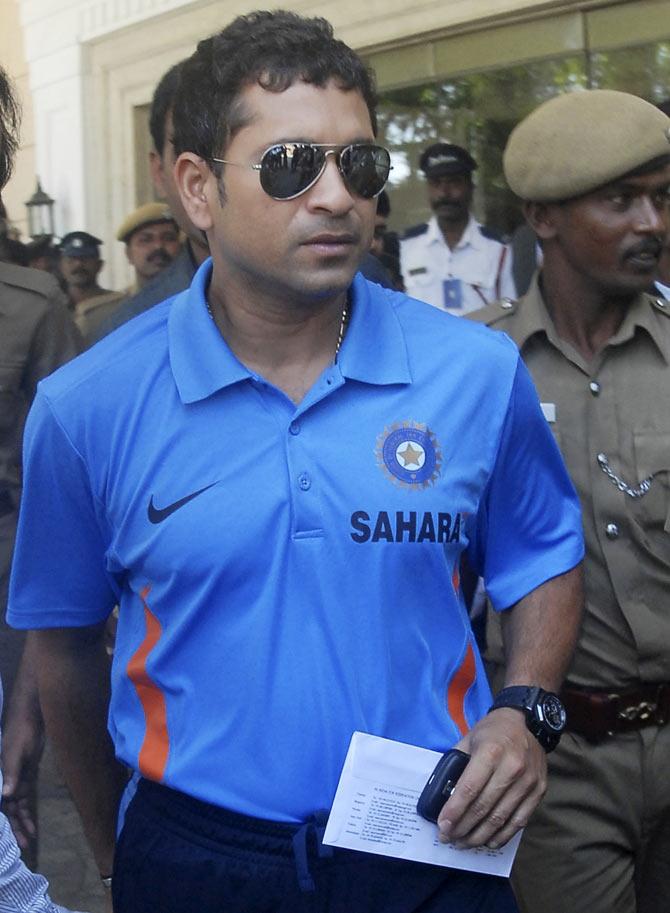 One of the oldest fans of Sachin is 87-year-old Saraswathi Vaidyanathan, a resident of Chennai. Despite her old age and failing health, she stays awake late at night and watches all his matches. She had also maintained all important statistics and records related to the Little Master. In 2010, she had the opportunity to meet the cricketing legend during one of his visits to Chennai. It was an emotional meeting for both of them. The old lady had difficulty in walking, so Sachin himself walked to her and seeked her blessings with folded hands.
His voice was choked with emotion when he said, 'I read that you have followed all my innings and know all my records. I need your wishes.'
Saraswathi too was overcome with emotions and said, 'I am so lucky to meet you.'
Sachin, in all his humility, was quick to reply, 'No, I am lucky to meet you.'
She affectionately called him her fourth grandson and gifted him an idol of Lord Ganesha. The batting genius touched her feet and once again sought her blessings.
Don't sledge; learn from the Master instead
Last updated on: November 08, 2013 11:57 IST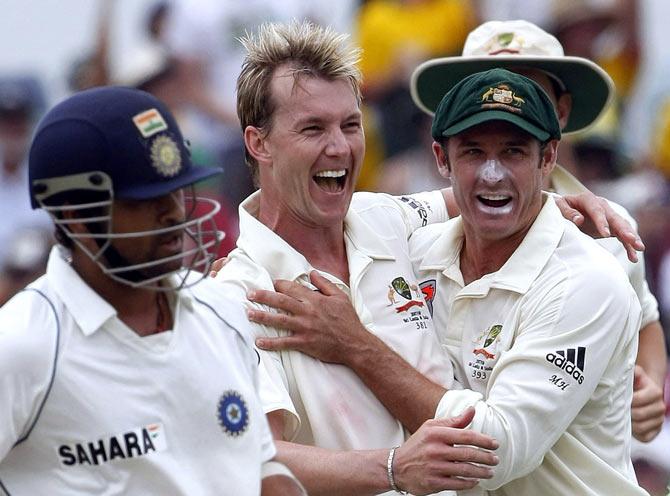 In his 22 long years of cricketing career, there has never been a single instance of Sachin getting involved in any kind of controversy -- be it throwing tantrums, sledging players, confronting umpires, or rebelling against the cricketing board.
There have been many other cricketers who have remarkable batting or bowling records but they do not evoke the kind of respect Sachin does probably because people respect the man and not just his records.
There was an instance when Sachin was batting and the Australian players tried to sledge him, hoping to make him lose his concentration. It is believed that Brett Lee, one of Australia's fastest bowlers, walked to his teammates, and asked them not to sledge the Indian batting genius. He told them that Sachin is the greatest cricketer ever and deserved to be shown respect worthy of his stature. It is also believed that Brett Lee told his teammates that they were better off watching and learning from his game.
'This entire airport is his... but still he stands in queue'
Last updated on: November 08, 2013 11:57 IST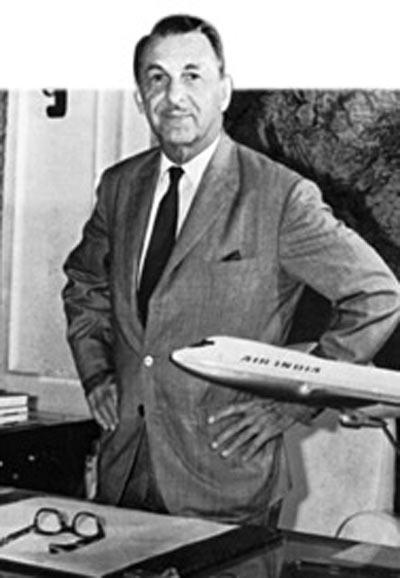 In the corporate world, Jehangir Ratanji Dadabhoy Tata, popularly known as JRD Tata, is the epitome of humility and humbleness. JRD Tata was the chairman of Tata Group of Companies which comprises over 100 operating companies in seven business sectors: communication and information technology, engineering, materials, services, energy, consumer products, and chemicals. The group has operations in more than 80 countries across six continents.
The total revenue of Tata companies, taken together, was approximately $100.09 billion in 2011–12. Founded by Jamsetji Tata in 1868, Tata's early years
were inspired by the spirit of nationalism. It pioneered several industries of national importance like steel, power, hospitality, and airlines. Later it made forays in the areas of automobiles (Tata Motors) and Information Technology (TCS). JRD, as he is popularly known, was one of the pioneers of Indian aviation industry and went on to become India's most famous businessman.
He won numerous awards, the most prestigious ones being Bharat Ratna, India's highest civilian award, and Legion of Honour from the French Government.
Under his leadership, the Tata Group grew from $100 million to over $5 billion. He increased the number of companies from 14 to 95. Tata became the most famous industrial house in India and a household name across the country. However, JRD was unaffected by all this. Till his death, he remained the most affable and humble celebrity of India. He had numerous great qualities worth emulating but the greatest of all was his humility.
In 1932, JRD founded India's first commercial airline 'Tata Airlines'. It started as a mail service between Bombay (Mumbai) and Karachi and later extended its operation to Madras (Chennai) and Trivandrum (Thiruvananthapuram). In 1946, it became a public limited company and was renamed 'Air India'. After independence it was acquired by the Government of India.
Despite JRD Tata being the founder of India's aviation industry and owner of the first airlines of the country, he travelled like a commoner. Pyarelal, of the music director-duo Lakshmikant–Pyarelal, fondly recollects an anecdote related to JRD.
Pyarelal was at the airport, catching a flight to Tirupati. He noticed JRD Tata standing in the security-check queue in front of him, holding a briefcase in his hand. Pyarelal turned towards his son, Gautam and gave him his first lesson in humility. He pointed towards JRD Tata and said, 'This entire airport is his. He can walk into any of his private jets if he wants. But he still stands in queue like everyone else.'
This was so refreshingly different from the way today's politicians and celebrites behave, assuming it is their birth right to flout all rules and procedures at the airport and be pampered as VIPs!
JRD's Tata Group also owns the world famous Taj Hotels Resorts and Palaces, a worldwide chain of hotels and resorts located in more than fifty destinations. They own hotels, palaces, private islands, and resorts around the world. However, JRD Tata's simplicity and humbleness made him behave like any normal traveller. He would personally walk to the reception and sign at the registration desk even while staying in his own hotels.
What a stark contrast if compared to the current day celebrities who come to the hotels with their coterie and announce their arrival by their rude, boorish, and loud behaviour!
Once, JRD Tata went to Wankhede Stadium in Mumbai to watch a cricket match. Since the stadium was under his ownership at that time, he walked up to the gate without a ticket. Seeing him dressed in simple attire, the guard failed to recognize him. He did not allow JRD to enter the stadium since he did not possess a ticket. The great man, without speaking a word, quietly went around the gate and stood near the fence to watch the match.
When one of the organizers noticed him, he rushed out and apologized to him. He wanted to fire the guard but JRD asked him not to do so since the guard was merely doing his duty.
I wonder how we would have reacted if we were in JRD's shoes!
Tendulkar had his share of detractors too but that has rarely affected his attitude and approach towards the game and his fans. Whenever India has lost a match, his critics have held him responsible, forgetting that cricket is a team game where everyone needs to contribute. Similarly, whenever he has played well, he has received lots of accolades from his fans. However, he remains unaffected by brickbats and accolades. Humility has always been his hallmark. Similarly, JRD Tata too is best remembered for his humility and values. He has instilled ethics and values in thousands of Indians who swear by him even today. On his death, the Indian Parliament was adjourned -- an honour not normally given to citizens.