Scooter wars: How Hero wants to kill Honda
March 24, 2014 13:08 IST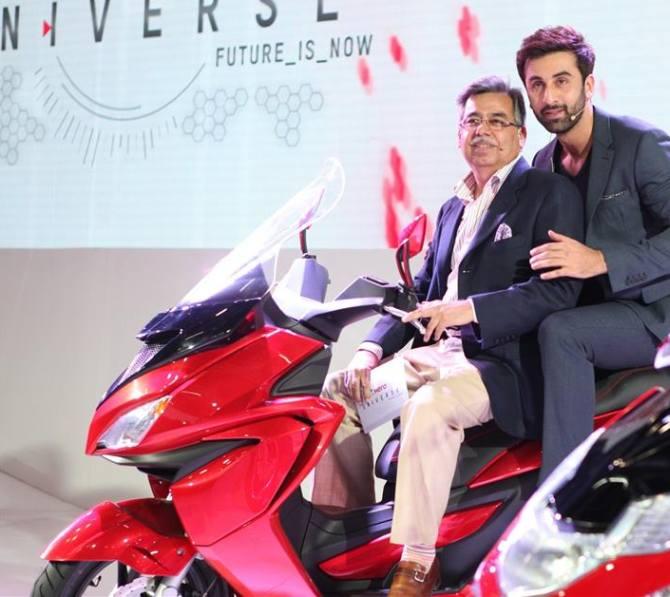 The Indian two-wheeler giant is looking to narrow the sizable gap with erstwhile partner with a line of new scooters set for launch from 2014-15
The battle for dominance in the world's largest motorcycle market between former partners Hero MotoCorp (Hero) and Honda Motorcycle and Scooter India (Honda) is set to spill over to scooters, with the Munjals-promoted firm working on introducing four new scooters over the next two years.
Unveiled at this year's Auto Expo in the capital, the 110-cc scooter Dash, 125-cc Dare and a commercial production-ready hybrid Leap are scheduled to hit the roads in 2014-15.
The 150-cc Zir would be launched in the first half of FY-16.
"When we launched Pleasure, scooters accounted for around 10 per cent of the two-wheeler market. It opened up a new market for scooters targeted specifically for women. The Maestro came in two years ago, aimed at men who preferred motorcycles, and considered scooters as not a very cool product. Since then we have gained traction. In the industry, nearly a quarter of two-wheeler sales comes from scooters. We have just touched the tip of the iceberg," says Anil Dua, senior vice-president (marketing & sales), Hero.
Scooter wars: How Hero wants to kill Honda
March 24, 2014 13:08 IST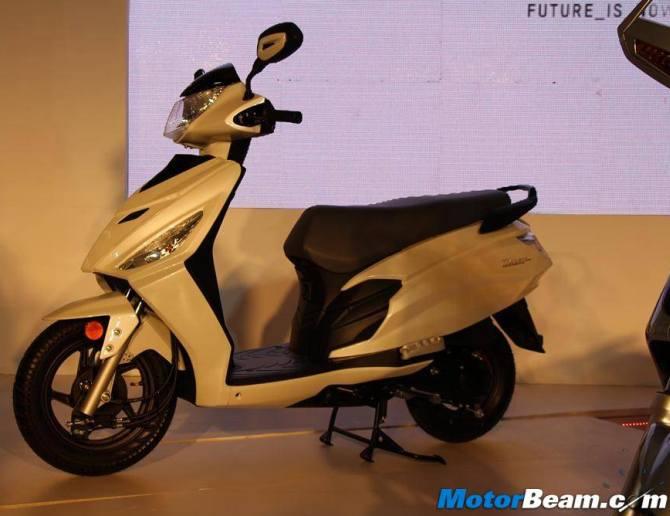 The Maestro, which Hero had positioned as a masculine and sturdy scooter, is now selling an average around 30,000 units since the past few months.
Together with the Pleasure, Hero's total monthly scooter sales were well over 55,000 units last year.
Hero is not about to let the momentum decrease.
The Dash will be first off the mark later this year, followed by the Dare.
Hybrid Leap would see a global launch in the second half of 2014-15 before entering India.
Scooter wars: How Hero wants to kill Honda
March 24, 2014 13:08 IST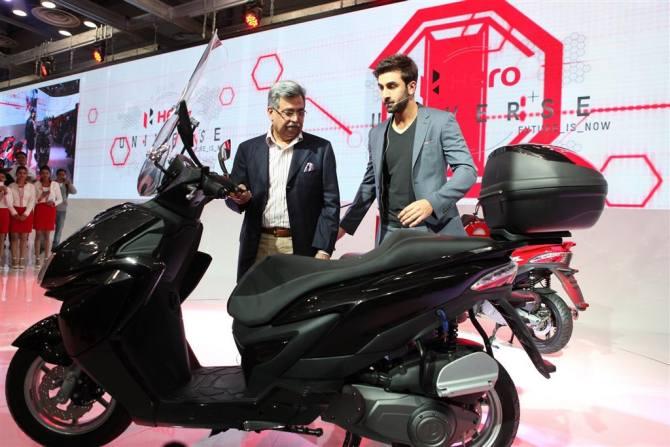 Dua says, "At least for the next two to three years, I see the scooters segment growing faster than motorcycles." Dua expects the segment to contribute as much as 30 per cent to total two-wheeler sales over the next few years from the current 24 per cent.
Hero is not the only one out to consolidate its presence in the scooter market. The demand for scooters, which has gone up by around 21 per cent till February, this financial year (compared to a meagre 2.88 per cent growth clocked by motorcycles), has prompted almost all two-wheeler makers (except Bajaj Auto) to aggressively display scooters at the biennial auto show, that was hosted in the National Capital Region in February, this year.
Market-leader Honda had unveiled the Activa 125, which would hit roads in the first quarter of 2014-15.
Scooter wars: How Hero wants to kill Honda
March 24, 2014 13:08 IST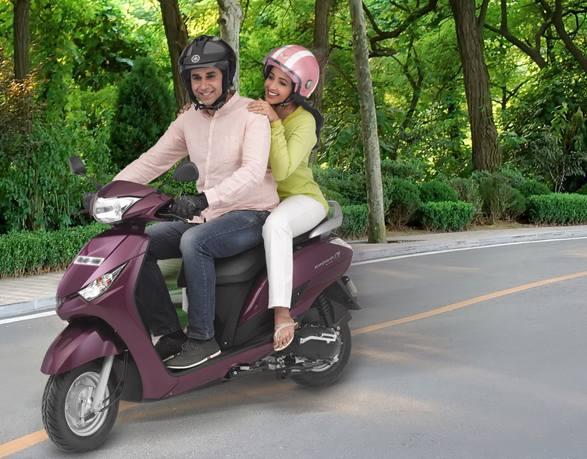 The Japanese rival Yamaha chose to launch a new scooter, Alpha, priced at Rs 49,518, rather than a motorcycle.
Suzuki unveiled 110-cc scooter Let's, which will go into production in May, 2014, while TVS showcased the Zest and Piaggio Vespa S.
Scooter wars: How Hero wants to kill Honda
March 24, 2014 13:08 IST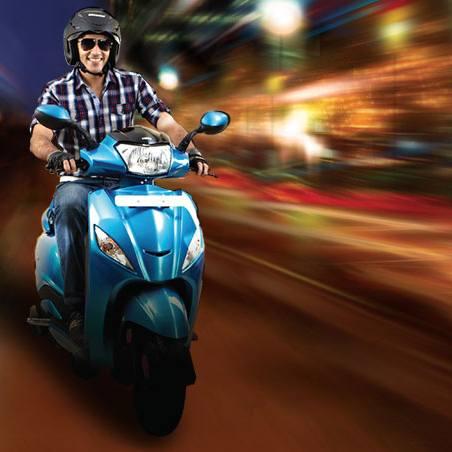 Dua says that amid increasing competition, Hero would introduce well-differentiated scooters that will also open up new markets. "We have products for men and women in scooters. But as in motorcycles, where each product is clearly positioned in what it offers and brings in substantial volumes, in scooters too, we will be talking to sharply-differentiated customer constituents," he says.
Hero currently occupies the second slot in the burgeoning scooters' market. It has scaled up production capacity by 25 per cent to churn out around 900,000 units per year from January, 2014.
Dua says, "We were selling between 55,000-60,000 units of the Pleasure and the Maestro every month. Demand was outstripping supply. Capacity would not be an issue any longer because we would have up and running two new manufacturing units in Rajasthan and Gujarat shortly."
Scooter wars: How Hero wants to kill Honda
March 24, 2014 13:08 IST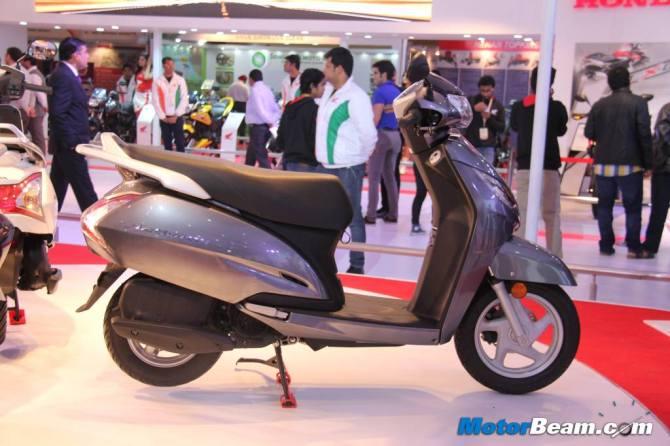 The units at Gurgaon, Dharuhera and Hardwar have total installed capacity of around 6.9 million units. The capacity expansion programme has enabled the Hero group to close the gap with Honda, which has already sold an average of 155,151 units of gearless scooters every month till February.
Honda with three scooters -- Activa, Aviator and Dio -- has sold 1,706,668 scooters between April and February. This is an increase of 32 per cent over the 1,291,055 units sold by it in the corresponding period, last year.
Scooter wars: How Hero wants to kill Honda
March 24, 2014 13:08 IST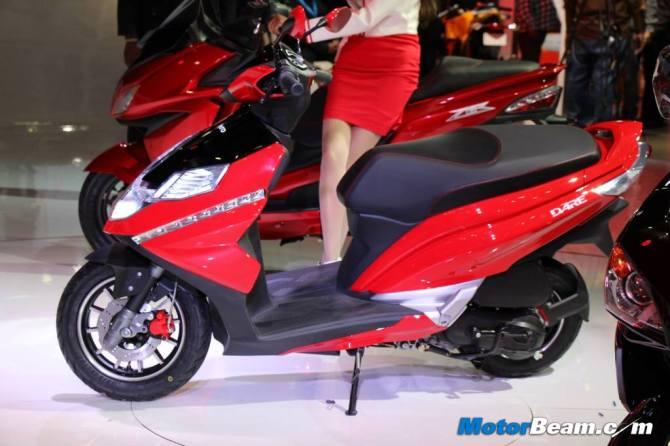 Honda has a market share of 52.6 per cent in scooters. Hero, with sales of 627,588 units in the same period has market share of 19.3 per cent.
Even though Hero's scooter sales have grown by around 26 per cent as compared to the growth of 21 per cent registered by the segment, it still has a long way to go, before effectively challenging its former partner in scooters.
Source: