How this World Cup start-up is making profits
Last updated on: April 1, 2011 19:44 IST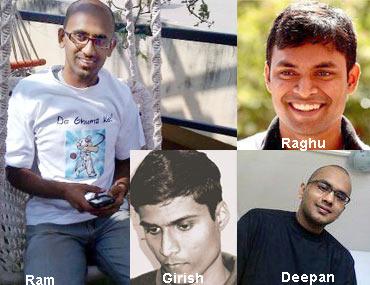 Can you imagine starting a profit-making business with just Rs 40,000 as your initial investment today?
Can you imagine thinking of an idea today and executing it in a little more than two weeks?
Can you imagine running a mundane business with numerous competitors and make profits out of it from day one?
Can you imagine starting a business just to encash upon a frenzy that's called the World Cup that lasts for not more than 45 days?
Can you imagine a start-up ambushing ICC's cricket anthem to ride the wave that is De Ghumake (See video: ICC's cricket anthem for 2011)?
Four engineers -- Girish Redekar, Deepan Chakravarthy, Raghuveer Kancherla and Ramprasad Rajendran, based out of Bangalore did just that two weeks before the first ball was bowled on February 19 in the inaugural match between India and Bangladesh.
Interestingly, they did this even while being engaged with their original start-ups Deepan and Ramprasad run hashcube.com that makes social games and Girish and Raghuveer and Girish run Recruiter Box (recruiterbox.com) that makes software that helps companies manage recruitment process. What's more none of them have a management background that would give them some advantage in running start-ups.
But when during a casual conversation they realised that they can sell T-shirts around the World Cup theme better and differently from others they put all their start-up experience together to execute profitable business post haste.
The idea was to use ICC's De Ghumake anthem to run a website deghumake.com that would sell T-shirts at an affordable cost and the rest, as start-up entrepreneurs would vouch for, is history.
One of these four engineers Girish Redekar, spoke to Prasanna D Zore about how they started deghumake.com, the challenges they faced and overcame and the lessons they learnt in the short window of 45 days.
'The basic idea was simple: of selling T-shirts'
Last updated on: April 1, 2011 19:44 IST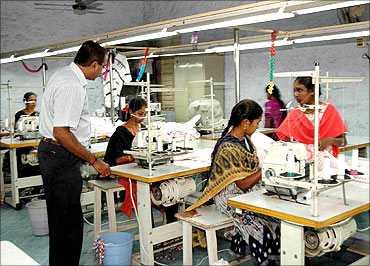 How did deghumake.com happen?
It happened quite organically. I mean it was not something that was planted in our heads. The World Cup was going on and all of us folks follow cricket quite a bit and we are all techies on the other hand.
We just happened to look around the ICC website to buy some merchandise. But we didn't like what was on display. Also, T-shirts were very expensive  at almost Rs 800 apiece. During a casual discussion we thought we could have bought the T-shirt for Rs 300.
This made us think about the opportunity that the World Cup would offer if somebody were to sell related merchandise at affordable rates. When we thought about this we realised it was doable. So that's how it started in a very casual way.
How did you come together? Do you all know each other from your college days?
Though our companies are now based out of Bangalore we first met at iAccelerator, an incubator based at IIM-Ahmedabad, in 2008. None of us have a management background; we all have engineering backgrounds. Raghu and I are engineers from IIT Madras but none of us have any formal management education. We are learning our management lessons as we go along running our businesses.
What challenges did you face to make deghumake a reality?
The basic idea was simple: of selling T-shirts. The funda was that in order to do that in a very scalable manner what one needs is an online presence. Also, since we were all from engineering backgrounds selling online would have been an obvious strength. Building a website for us was like a few hours' job. The only challenge was procuring merchandise on a large scale and a payment gateway to let people buy T-shirts.
The other important factor was to get the cost of T-shirts down to Rs 250 or Rs 300 and still have quality so that there are no customer complaints and this would help us generate adequate sales to sustain ourselves.
We started looking at somebody in Bangalore from whom we could procure T-shirts on a cost effective basis. We couldn't find anybody in Bangalore. Fortunately, Deepan's cousin from Tirupur told us that we could get what we need from Tirupur, a hub for making garments and printing T-shirts, in Tamil Nadu. We spoke to a couple of factories in Tirupur who assured us they could give us what we want at the price we want, provided we gave them bulk orders.
Then we were in business. Once we figured that out the only other problem was to get a sound payment gateway in place.
The tricky thing is this requires a good amount of credibility. Considering the payment systems in India we already knew this would be a challenge. It's very difficult in India to make a quick payment system and make people pay you online. We are losing a lot of customers because of this glitch: not having a good payment gateway. But we are happy with what we have for now and will continuously keep on improving it as we go along.
'As a small start up it was not possible for us to be able to pump in a huge amount of money'
Last updated on: April 1, 2011 19:44 IST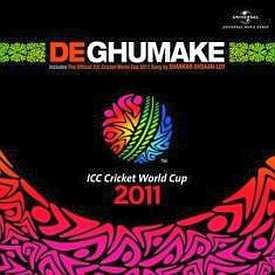 So how do you think are you different from others who are selling merchandise online?
There must be more than 100 people selling merchandise online around the World Cup. What we wanted to do was ride on the World Cup wave that was going to be marketed by somebody else. As a small start up, it was not possible for us to be able to pump in a huge amount of money marketing our website and business model.
And that's when we came to know about this popular official song around the ICC World Cup 2011, De Ghumake. They started this campaign a month before the World Cup started and we all knew they would be spending a huge sum to popularise this song.
We happened to be looking at Google trends one day and saw a huge spike in the number of queries (searches) of people looking out for this song. People were looking for the song, its lyrics or the video etc and then we asked an obvious question: Who owns deghumake.com? It was like a gold rush for us when we realised that nobody actually owned the domain name. It was a huge asset for us. Within a day we registered the domain name and started selling the merchandise through the portal.
So there is no copyright issue between deghumake.com and the organisers of the World Cup 2011, the ICC?
The point is that the ICC has not registered deghumake.com. We are not telling our customers that we are selling the official T-shirt for World Cup 2011. We are not using any of ICC's trademarks or pictures on our T-shirts. In fact, we are selling T-shirts that has nothing to do with the ICC.
We are also not using their song directly to market our website. The only fact is that the song is popularised by the ICC.
'Yes, we are profitable'
Last updated on: April 1, 2011 19:44 IST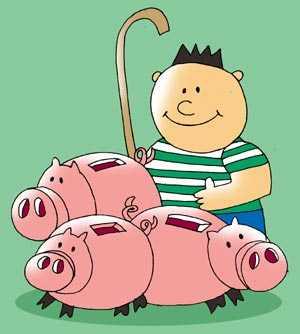 So when did you manage to sell your first T-shirt and how many T-shirts have you sold till now since your inception?
We sold our first T-shirt within two days of launching the website and that was just a couple of weeks before the World Cup started. This is a business that was ideated and executed just two weeks before the World Cup started.
Did you see a spike in your sales as soon as the World Cup started and how many T-shirts did you sell since then?
Yes. I wouldn't like to tell you about the number of T-shirts we sold since we started. But when we started we were banking on the fact that big teams in the tournament had longevity till the quarterfinals got over (There were no sudden exits from the first round). We were betting India to go the whole hog till the finals as this would keep the interest in our merchandise going.
We were convinced that our business would surely have a one-month run if India reaches the finals.
How much money and time did you invest in your start up?
The amount of time that we spent on getting the website up and running, procuring T-shirts, publicising it a bit on social networking sites could not have been more than one week between the four of us.
When we started each one of us chipped in with Rs 10,000 each in which we budgeted for all our start up costs and as we started selling T-shirts we rolled back our earnings back into the business. This model has worked well for us. The other bit of money we invested in marketing our website via Adwords (a Google tool that enhances search for ads), Facebook ads etc.
Have you made profits out of this venture?
Yes, we are profitable.
How do your buyers pay for your merchandise?
They have three options: People with Paypal account can use it to buy our T-shirts, they can use their credit cards and buy them via eBay as we are also listed on the website.
We sell our T-shirts for Rs 265 apiece. One thing we wanted to give our customers was complete transparency in pricing and so our price includes shipping charges.
'Having lesser resources makes you a lot more focused'
Last updated on: April 1, 2011 19:44 IST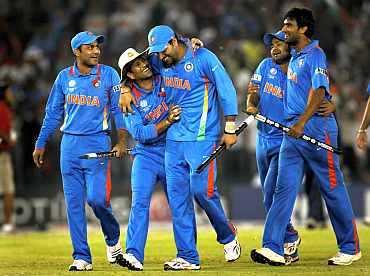 Tell us about your learning from setting up a business in about a week's time?
I probably will have to spend some more time as our business is still not over. But from the time we have spent running this business here is what we have learned:
Having lesser resources whether it is time or money makes you a lot more focused. It forces you to look at the things that are the most important rather than pay attention to the bells and whistles. That's one advantage you have when you plan to run a business on meagre resources.
The short shelf life of our business from the time the World Cup started till the finals on April 2 has helped us look at it on a day-to-day basis unlike our original start ups on which we have been working since the last two years and for which we have long-term plans. That is the other learning we had.
The other day we were discussing a very interesting analogy between the way cricket, as a game, has evolved and the way we are running our businesses. When cricket began it was only five-day matches, then one-days and now we have 20-20 matches. It's the same with businesses.
When people start businesses there is this expectation that you know that you really got to be in, dig your heels in for five days and then at the end of it there might be a result.
When 20-20 comes up purists are going to say that this is not cricket. In the similar vein a lot of entrepreneurs will say that this (our business model) is not what entrepreneurship is all about. But who knows with technology going the way it is maybe this kind of business models will emerge as the 20-20 of start-ups. You may have more people doing businesses like these with shorter life span, making good while the buzz lasts.