They bring hope to mentally ill homeless women
Last updated on: March 13, 2013 17:52 IST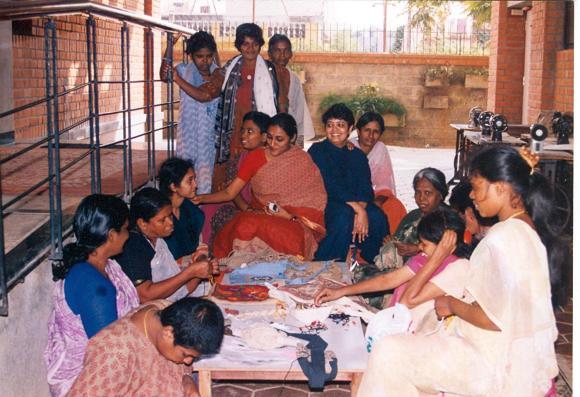 Vandana Gopikumar, founder of The Banyan, a shelter and transit home for homeless women with mental illness, spoke with Shobha Warrier about how she and Vaishnavi Jayakumar tackled challenges to achieve their goal.
Two decades have gone by. A Masters student of Social Work saw a half naked, mentally ill woman in distress running across the road but totally ignored by passers-by. She, Vandana Gopikumar, with the help of her close friend Vaishnavi Jayakumar, took the woman in an autorickshaw to a hospital. After that, they started noticing many such women wandering aimlessly on the roads. They soon found that mental health institutions and NGOs were reluctant to admit women who were in desperate need of medical and psychiatric attention.
That was how The Banyan got its roots, as a shelter and transit home for homeless women with mental illness who wandered from their homes across the country and ended up on the streets of Chennai.
When I first met Vandana and Vaishnavi in 1996, they were living in a small rented apartment with a few of the mentally ill destitute women. Today, after 20 years of the existence of The Banyan, it has grown so big with so many roots on the soil like Adaikalam, a transit-care centre for women rescued from the streets, Community Mental Health Project, for urban and rural mental health services, Community Living Project, a solution for patients requiring long term care and The Banyan Academy of Leadership in Mental Health (BALM), for education and training.
In this interview, Vandana speaks about her two decade long journey in aid of mentally ill women.
The beginning
I was going to visit my friend Vaishnavi and we were supposed to go out. That was when I saw this lady. The image of a person like us but from a different socio economic background and affected by an illness we weren't affected, running nude from one end of the road to the other, keeps coming back.
After that, every other day, we would see a lady like her. We tried doing things but nothing worked. But the images keep coming back.
We couldn't do much for that lady. We were 22, passionate, angry and wanted to do something but couldn't. That was how the seed of The Banyan was sown in our minds.
Psychiatric disorders contribute 12.5 per cent of all diseases all over the world but still people are awkward to talk about it and deal with it. At that time, there was more ignorance and greater amount of fear, very limited services and a tendency among people to think, "I am just one person and what can I do?" But we never felt we couldn't do anything.
I had finished my degree in medical and psychiatric social work. I had studied this, visited many centres and was trained to be a psychiatric social worker and a clinician. As I had sufficient orientation, I was not scared.
They bring hope to mentally ill homeless women
Last updated on: March 13, 2013 17:52 IST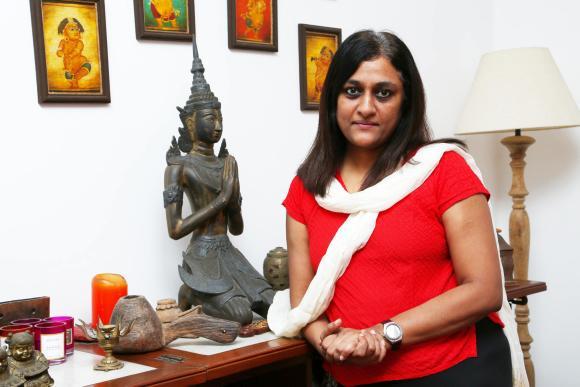 The Banyan takes its roots
The images disturbed us, scared us and angered us. Our personal goal at that time was not to engage in social work or set up an institution.
I tried taking up a job but quit after a day. Vaishnavi quit her MBA, joined me and we set up The Banyan.
The NGO where we took the first lady to took good care of her but they were taking care of many other people too. So, we felt there is a gap to take care of the mentally ill, homeless women. They could be raped and abused on the streets. We were also young and adventurous and God's hand and friendship came together. This combination of factors was behind starting of The Banyan.
We were too young to think of the next step. At that age, you think only of the first step and not beyond that. We responded only to that one moment and went on, not thinking about what we would do later on.
We thought we would run a centre and some of the people we know would help us with the money. And after treating them, we would rehabilitate then. That was the only plan we had.
Finding a house for the mentally ill
Vaishnavi's mother came up with the name The Banyan when we told her about our goal; to assist people find their roots.
We decided to rent out a house but finding a house was difficult as nobody wanted to give us a house as a home for the mentally ill. We were two young women taking care of "mad women". A retired army officer agreed to rent out a house to us after meeting my parents and Vaishnavi's parents.
There was both support and opposition from the neighbours! Some people also cast aspersions on us. We went through all that courageously.
Chellamma was our first inmate. She had matted hair, used to sit in front of temples, sing a bit and was roaming around. We went in search of her on my scooter and finally brought her home in an auto.
After Chellamma, many others also came in. We had decided to run The Banyan like a psychiatric nursing home and not like a mental hospital. There was nothing professional about it. We all stayed together, cooked food and ate together at the same table.
Thus we got an insider's point of view and came to know their insecurities, joys and fears. It changed us a lot. We lived the life of a person who was unwell. We lived through their manias and depressions and delusions. We saw everything at close quarters.
They bring hope to mentally ill homeless women
Last updated on: March 13, 2013 17:52 IST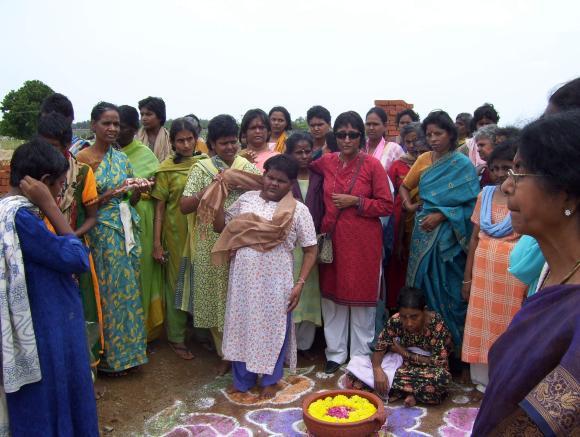 Two years pass by
The first few months, our finances were taken care of by our parents, friends, etc. But we were all middle class families and we didn't have endless money. We had 15-20 people under our care and we had no money. We didn't have money to even pay the rent.
After two years, we understood it was not going to be 30-35 people at the home, but many more. The problem was much larger.
Till then, we were doing our work quietly. We felt if we wanted to continue, we had to make people aware and bring in money.
The mission
We had a mission, conviction and utmost commitment in our work. We would have continued regardless of who supported us or didn't. We approached people fearlessly as we had no ulterior motives in what we were doing. We had no personal goals. We were not doing any business. Who would lose if people didn't support us? We would lose only an opportunity to make a difference. The real losers would be the society.
Jayalalitha gives land to The Banyan
In 1996-97, Jayalalitha, the then chief minister of Tamil Nadu read about us and called us to her office. We had an amazing meeting. We were only 26 or so but she took us so seriously and spent so much time with us. She told us, "You people are doing good work and I want to make a difference. Let's help you with a place."
She was so sharp, so cordial and knew everything about everything. The second time we met, she remembered the exact statistics we had mentioned. We were insignificant people but she took us so seriously.
We got land from the Tamil Nadu government. There was a fund raising event and in 2001, we moved to our new home.
They bring hope to mentally ill homeless women
Last updated on: March 13, 2013 17:52 IST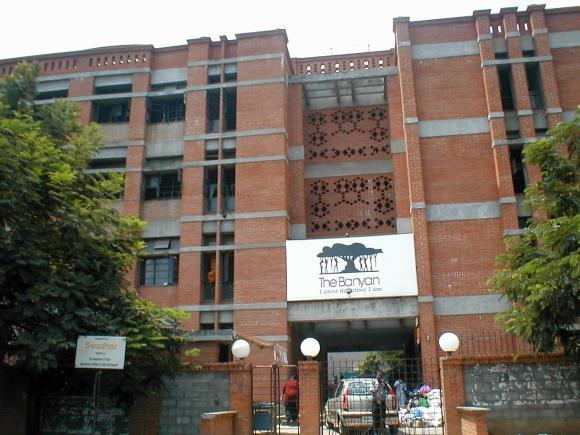 Involvement of Ratan Tata Trust
After that, we approached many corporates and the Rane group and TVS got involved. The big break for us was when the Ratan Tata Trust got involved. We applied and they came forward to help us. They have been our key collaborators for the last 14 to 15 years. They not only bring money but also build up our system. It is a fantastic relationship.
Then celebrities like Mani Ratnam, Revathy, Madhavan and Vivek Oberoi got involved. Actresses like Rohini, Shobhana, etc also support us.
The Banyan Academy of Leadership in Mental Health (BALM)
In 2007, we founded The Banyan Academy of Leadership in Mental Health (BALM) and we have many eminent personalities on the board. The idea of BALM is to use training, research and advocacy as tools. We have academic collaboration with VU University, Amsterdam, and Tata Institute of Social Sciences (TISS) and will run a Masters Programme in Social Work with focus on mental health. There will also be a PhD exchange programme.
I am also part of the mental health policy group constituted by the Government of India.
We have reached out to 1600 women who were homeless, and 5000 men and women in rural and urban areas as outpatients. Now, we have an open social shelter to look after men with psychological disabilities.
I am very hopeful about changes in the mental health sector.
They bring hope to mentally ill homeless women
Last updated on: March 13, 2013 17:52 IST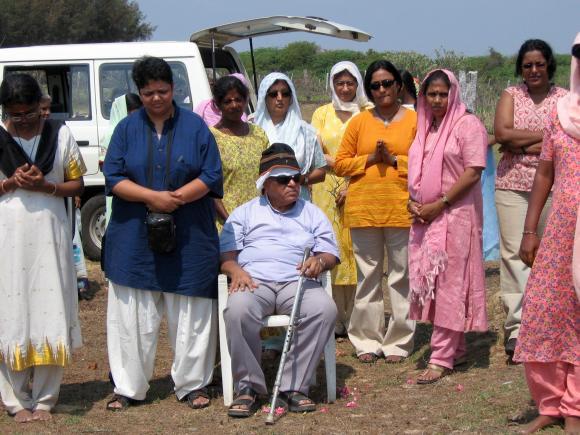 Going back to the families
We didn't know when we started that The Banyan would grow so big. We knew these women would go back and we would share those stories as inspiration.
There have been several amazing stories, and the most amazing is Ram Kumari's. She was from Pratapgarh in UP. She was found begging on the streets and was brought to The Banyan. After treatment, when she was better, she said she wanted to go home. She said she had small children back home and would stitch tiny dresses for them.
We reached Pratapgarh but couldn't locate her house. We were dejected and were starting on our way back when a man spotted us and asked her, "Are you not Bhela's mother?" Even as he was taking us to her home, the villagers gathered around us.
When we reached the place, we saw a decorated house and the first thing we noticed was a garlanded photo of hers. It was her daughter's wedding that day!
Years had passed and the children were no longer small. After several years, she was back home on the day her daughter was getting married. They hugged her and burst into tears.
This is one image that will never leave me.