The inspiring story of a BPO in Rajasthan
July 18, 2013 08:52 IST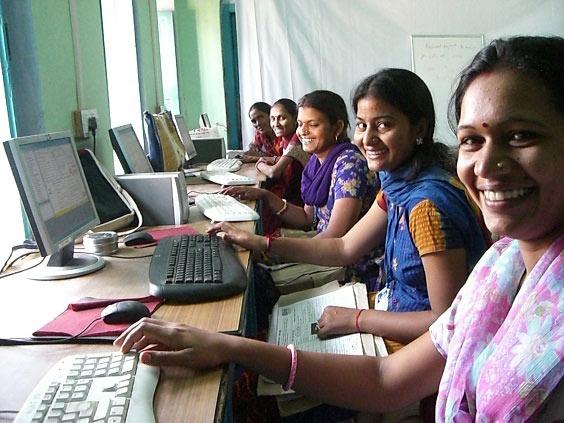 Biotechnology graduate Shrot Katewa from Jhunjhunu district of Rajasthan started Source for Change -- India's first all-women rural BPO in 2007. Through the initiative, he has been able to empower hundreds of women from his village and provide them better livelihoods. This is his story.
Let me tell you a story.
The story of a boy who was born and brought up in India's financial capital – Mumbai.
His family hailed from a village in the Jhunjhunu district of Rajasthan but he had never visited any village, not even his own, till high school.
He had always heard about the low standard of life, the social issues, the gender inequality, female infanticide, lack of education and many other such negative things about village life.
Today, he lives in one such village in Rajasthan and he enjoys staying there for almost three quarters of a year.
The first time he visited the village was by chance but today, he lives there by choice.
The same boy, Shrot Katewa, who was oblivious to rural India until a few years ago, went on to start up 'Source for Change' in 2007.
The rural BPO besides training and inducting rural women into the company also provides top-quality BPO services to global clients at competitive prices.

Please click NEXT to continue reading...
Katewa saw the hard working, smart people and their untapped potential
July 18, 2013 08:52 IST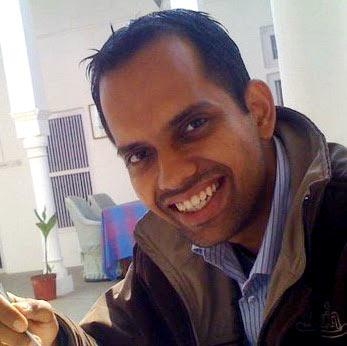 It all started when Katewa was travelling to Rajasthan with his family for a trip after high school.
His father suggested that they visit their ancestral village and Shrot agreed quickly as he was curious to witness the life he had just always heard about. Most of what he observed was aligned to what he had heard.
There was a lack of information, education and employment opportunities and gender inequality screamed loud behind the low voices of women.
But Katewa also saw the hard working, smart people and their untapped potential.
Shrot observed that women did not have a say in any matter. They were just confined to household work.
In markets, even in the district of Jhunjhunu, one would find 90 per cent men.
The quality of education in villages was low and even if someone put in the effort and finished graduation or post graduation, there were no employment opportunities available.
The only option was to move to cities for work but women did not have that option at all.
After getting married, one could not even think of working, let alone working in a city.
Katewa thought of bringing the jobs to rural India and employ women in those jobs.
Source For Change was started in October 2007 to train and employ women for a variety of outsourcing services like data entry, data standardisation and cleaning, billing and invoice processing, archival etc.
SFC started a BPO centre in the town of Bagar in Rajasthan and employs 300 women to date.
Making women financially independent and confident, SFC has impacted their social standing as well.
Men feared losing their status in the family
July 18, 2013 08:52 IST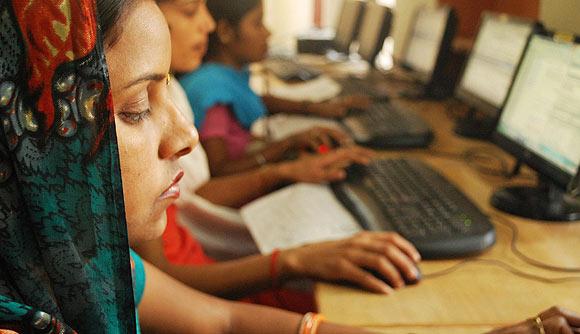 It all may seem like a fairytale now, with a boy from a city coming and changing the situations in a village and people running to grab the opportunity they have been deprived of for long. But it was not the case at all for SFC.
With a great support of Piramal foundation right from the beginning one may think that everything came easy for SFC but convincing rural women to work in a BPO was nothing less than a nightmare.
Women working in offices was frowned upon; working on computers was unbelievable for them.
Men had the concern of losing their status in the family if their wives started earning and they did not.
And another challenge was to explain what is a BPO to people. The word itself sounded very suspicious.
There were some women who wanted to take the opportunity and were eager to learn and work. Because their opinions were never heard, they did not express their wish to work.
After knocking almost all the doors in the area, Katewa managed to convince ten women to start working on the first project.
These were some brave and intelligent women who picked up the training fast and performed extremely well.
It was selected as the best provider of data entry services across India by Pratham
July 18, 2013 08:52 IST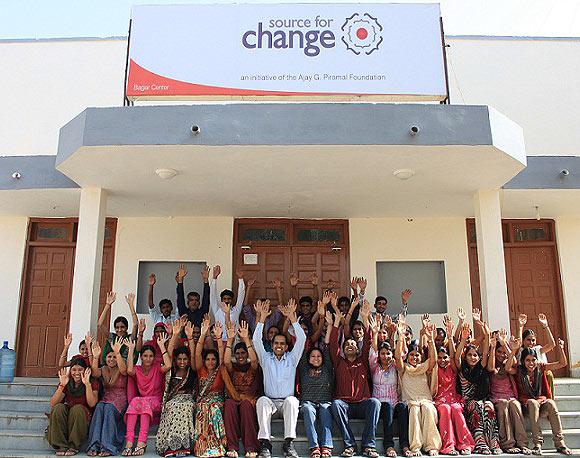 In 2008, SFC got a data entry project for Pratham India.
The project was spun across 22 Indian states and SFC was responsible for Rajasthan.
Katewa's confidence and faith in SFC and in the potential of rural women knew no bounds when it was selected as the best provider of data entry services across India by Pratham.
After a year when SFC started training and recruiting again, people started coming themselves as they had also gained faith in SFC efforts and have seen the results themselves.
In the last five years Katewa continued his efforts to get more projects and employ as many women as possible.
A boy who had never seen rural India, today, works and lives there not only for himself but for the people whom he could not even relate to six years ago.
There have been times when Katewa felt that he did not belong there and wondered if he was doing it right.
With SFC planning to set up BPOs in five more states' rural areas, looks like all the doubts are cleared today and he knows he is on the right path.