Meet Raj Chetty, the 'Baby Nobel' winner this year
Last updated on: April 17, 2013 17:22 IST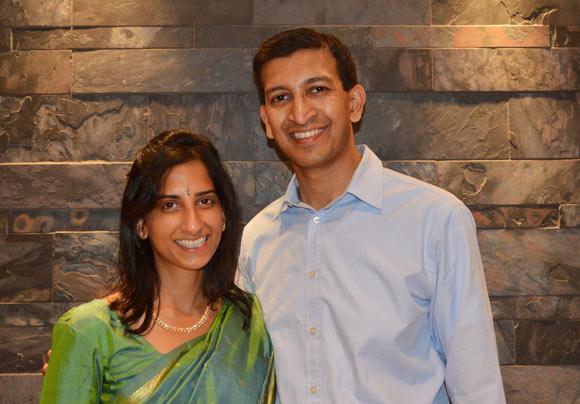 A 360-degree view of the man, his family and his pioneering work on education.
Indian American economist Raj Chetty won the prestigious John Bates Clark Medal for 2013, often referred to as the 'Baby Nobel' because one in every three economists who won this award went on to win a Nobel.
Notable among those who won the John Bates Clark Medal and later went on to win the Nobel include Milton Friedman, Joseph Stiglitz, Paul Krugman, Paul Samuelson and Chetty's mentor Martin Feldstein.
Awarded annually by the American Economic Association to US citizens under 40, it appreciates significant contribution to economic thought.
In his State of the Union speech, President Barack Obama cited a study led by Delhi-born Chetty, which argued that students who had talented and motivating teachers in elementary school -- mainly in kindergarten -- had significantly higher incomes as adults and better future life outcomes.
"I hope some of my research," Chetty, 33, told India Abroad soon after winning the MacArthur Foundation Fellowship, "will help lower income children in India and in this country too."
To celebrate Chetty's 'Baby Nobel' we post this four-part profile by Arthur J Pais first published in October 2012.
Part I: A professor at 23, he has won a $500,000 'genius grant'
Part II: 'I was amazed and disturbed by the poverty around the Taj'
Part III: A biologist wife on her 'genius' husband
Part IV: The heart of a genius: 'I somehow impressed her enough!'