Taking jobs to the doorstep of rural youth
Last updated on: April 12, 2013 20:18 IST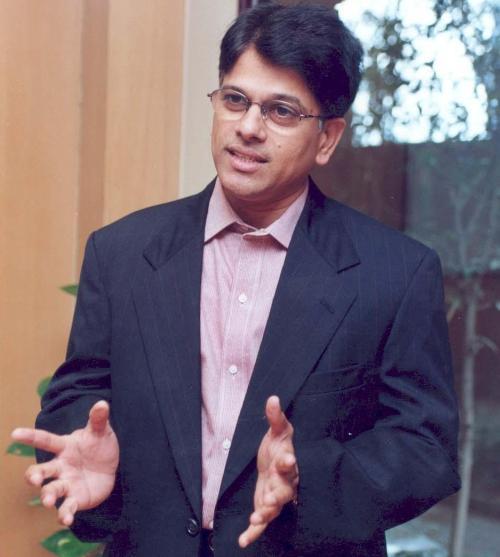 Five social entrepreneurs are changing the way employment is generated in rural India
Thengampudoor, Sonari, Chand Sausar, Pulla, Babrala, Jobner, Kanakpura... Have you ever heard of these places in India?
Well, while you and I may not have heard of these non-descript villages/towns in rural India, Murali Vullaganti and five other good samaritans have worked tirelessly to establish rural BPOs at these and many more such unheard of places and have plans to set up more in the next three years.
The sole motive that drove these entrepreneurs – most of them quit their cushy jobs to co-found Rural Shores, a rural BPO that currently employs 1,600 people, in eight states across India and plans to hire 2,400 more by March 2014 – was to create social good, offer employment and dignity to rural youth and stem their migration to the cities.
"Why bring people to the jobs? Why can't we take jobs to the people?" asks Murali who quit French company Xansa India (now Steria) in 2005 as its managing director to fulfill his passion.
The other distinguished co-founders of Rural Shores are C N Ram, ex CIO, HDFC Bank, V B Ranganathan, ex senior partner at E&Y, Sudhakar Ram, chairman and MD of Mastek, Sujatha Raju, a passionate entrepreneur who runs her own BPO in north Chennai and G Srinivasan, ex VP of Wipro Finance.
Murali, who began with a 100-seater call centre at Puttaparthi along with Sujatha in 2005, believes that such rural call centres not only generate employment at the doorsteps of rural youth but also makes them feel confident to ask for their just rights, especially girls, whose voices, he feels, are stifled in rural India.
Murali spoke with Prasanna D Zore about the challenges he faced in the initial phase, Rural Shores' hiring plans, how Indian corporates can make a huge impact in creating rural employment and his advice to India's youth who are looking out for employment.
'Providing for rural employment was always on my mind'
Last updated on: April 12, 2013 20:18 IST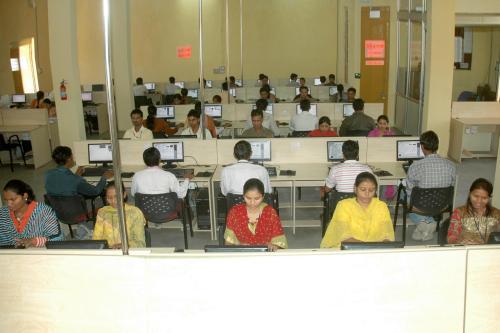 How was Rural Shores born?
Before starting Rural Shores I was heading a Europe-based IT/BPO Xansa's operations in India. I was the managing director of the Indian operations and we were setting up a huge campus in Chennai, Pune and Noida and recruiting about 500 people a month into the IT/BPO practices. This was almost about eight years ago. That was also the time when every other company was also recruiting thousands of people every month.
Since we were having problems finding talent in the cities my recruitment team started going to interior parts of Andhra Pradesh, Tamil Nadu, Bihar, Punjab etc and recruited talent from small towns and villages and brought them into cities.
Infosys, Wipro BPO and Genpact and WNS also had the same issue and they were also going to tier 1, 2 and 3 cities.
Bringing these people to cities and paying them a salary of Rs 10,000 to Rs 12,000 was not enough for them to bring their families to cities and lead a comfortable life. At the same time, these salaries weren't enough for them to save some money and send back home to support their families.
So these employees would work with a company for a year or so, get good experience, leave them and join other companies for Rs 500 or so more. We realised that this process of getting people to cities was not helping anybody.
While we successfully managed to bring a huge chunk of people from rural India into cities I found that it was really not beneficial to the companies who invested in training them as well as the people who were migrating.
That is when the thought struck me: If these people were given skills training in a professional manner then why bring people to the jobs; why not take jobs to the people. That is how the idea for Rural Shores evolved. I wanted to see how it would work and it would also deepen my passion for rural India, rural employment and education.
I was already running a school in a rural place where students from 26 adjoining villages come to study at Baghepalli, 100 km from Bangalore. I have been running this school for almost 12 years now.
Providing for rural employment was also on my mind but I was not sure how until this thought occurred to me. When I noticed this challenge faced by companies and people in rural areas I thought rural BPO may be a solution to rural employment, industry and urban migration.
However, setting up a 5,000-seat centre in Chennai or Pune is one thing and setting up such centres in rural areas and running them has its own challenges and issues. I was not sure what would that be so I wanted to test it out first. I also realised that I cannot go out and set up a rural BPO for a big company like Xansa because their operating and business model does not lend to having small and distributed centres in different parts of the country's rural areas.
So, I left Xansa after a year, in 2005, and started experimenting with this business model.
I set up a 100-seater concept centre in Puttaparthy and ran that for almost 18 months. We started catering to domestic clients like HDFC Bank. Actually a friend of mine who was also in the BPO industry had already set up a 20-seater centre in Puttaparthy. So when I came across this lady and told her we could set up a bigger centre together and get more work the idea clicked. I wanted to do something bigger and larger but I wanted to first test the concept so that we could get valuable learnings before we scaled up big time.
Even today the HDFC Bank work is run from the Puttaparthy centre. All the 100 people we hired were from villages around Puttaparthy. They are all village folks, rural youth who had completed 12th standard and above. The next 18 months taught me how to impart training, improve skills, what to expect from the people there, what kind of human resource policies were needed for the employees in this centre, the infrastructure issues and how to deal with them.
With this experience and learning we really wanted to launch this initiative in a formal way.
We launched in 2008.
'For all the promoters profit is not the motive right now'
Last updated on: April 12, 2013 20:18 IST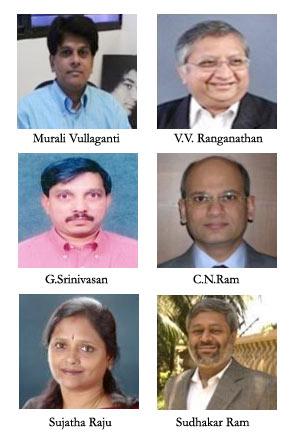 How big is Rural Shores now?
Today we have 15 centres in eight states spread across North, West and South India. We soon plan to start a centre in Shillong in the northeast. We have nearly 1,600 employees at these centres catering to Indian (75 per cent) and foreign clients (25 per cent).
Challenges and how did you overcome these...
Most of our challenges are infrastructure related. Take power, for instance. Getting service providers to offer high-speed connectivity to our rural centres is another challenge we faced. To overcome these we had to build lot of resilience, like back up diesel generators to supply power at every centre and invest in UPS (uninterrupted power supply). We have almost started experimenting with solar power. In Sonari village in UP's Sitapur district, we are working with a partner and have set up a captive solar power plant. The centre runs on solar powered electricity. We generate 60KV enough to run our operations.
We are planning to extend this model at other centres soon. Since we have our hands full setting up infrastructure of call centres we are partnering with established companies in solar or alternate energy field. We encourage them to invest and we pay them a monthly fee which is equivalent to what we spend paying to power companies and having diesel generator back ups. As far as costs are concerned, soon we will be able to justify our partnerships.
Financial challenges...
Though all our centres run on commercial principle, right now we are not focussed on making returns. Idea is to first establish enough scale so we can be taken as a serious player in the market and we can showcase to the market that this kind of rural BPO model works effectively for the benefit of clients as well as rural youth.
For all the promoters profit is not the motive right now. Once we successfully develop this model we can get big clients who can help us make profits as well as promote meaningful employment in rural India, give jobs to the youth at their doorstep. We are sure we will gradually make profits.
Investments...
Typically, for each centre we have invested Rs 70 to Rs 80 lakh (Rs 7 million to Rs 8 million).
We started with our own seed money. Later, HDFC Ltd came in as an investor. Then, Lok Capital, a social fund also came in.
'The girls feel very empowered...'
Last updated on: April 12, 2013 20:18 IST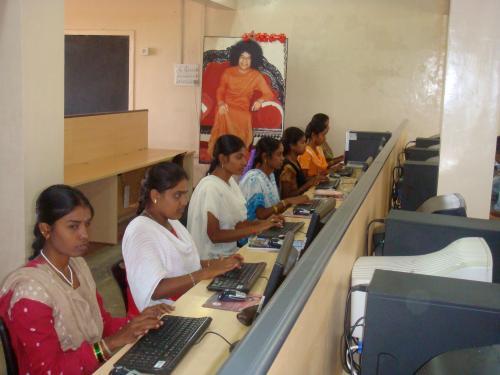 What are your learnings from setting up Rural Shores? What is your message to Indian corporates who can chip in and create a huge talent pool in rural areas and create employment on a large scale, which could eventually stop migration of rural youth to Indian cities?
On one side, it has already started happening (Indian corporates participating in creating rural employment). We have nearly two-dozen clients and three-dozen processes and corporate India has already started taking notice of this. They have started looking seriously at how they can participate in this initiative.
For instance, Indian corporates who have huge rural presence selling their services and products look at these rural markets as growth areas. They need to support their customers at these places and service them better than what they are doing today.
For instance, retail companies, banks where they are getting into financial inclusion, insurance offering products to rural clients and telecommunications companies all have a need to reach out to their market and customers using the language and dialect they understand.
Our centres have now become a catalyst for these companies to leverage our skilled employees to service their rural customers.
So, beyond the cost economics India's corporates have also started seeing the benefits of engaging with organisations like Rural Shores to grow their businesses in untapped markets in India's rural pockets.
The message primarily is that the 300 people from various rural parts of India who joined us in the first two years or even a year ago have had huge benefits in terms of their social and financial mobility. People working with us get a steady income month after month even while focusing on their primary occupation which could be farming and support their parents to supplement the income they generate because income from farming is unpredictable.
Companies like Rural Shores help this rural folk gain huge confidence in their abilities, particularly girls as our ratio is almost 50:50 at all our centres. The girls feel very empowered because they have had the least voice in making decisions in rural areas before they joined us. Now, with these girls earning a steady income have got a confidence boost; they have learnt how to be professional and manage their lives on their own terms. They can now stand up to the society about injustice meted out to them and raise their voice.
If you compare these girls' confidence now with six months before they joined us you will be surprised. When they came to us they wouldn't look into the eyes of the person they were talking to. With proper skills and language training their confidence has grown not only in dealing with customers but also with their own families.
Also, almost 200 employees earning incomes of tens of lakhs of rupees stimulates economic activity in their community. We also have examples where these girls with their newfound confidence have reformed their drunkard fathers.
This has a tremendous social impact. Today, we have prevented 1600 rural youth from migrating to cities. Though still a drop in the ocean the process has started and if all Indian corporates start embracing or encouraging these kinds of business models I think we can collectively stem rural migration and unclutter our cities.
'The youth need to open their eyes and look for opportunities and acquire skills accordingly'
Last updated on: April 12, 2013 20:18 IST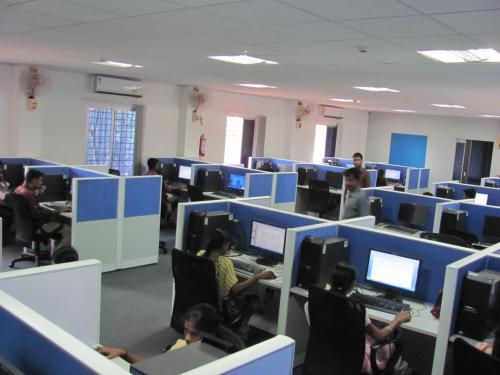 What educational qualifications do you look out for while hiring employees for Rural Shores?
Most of our employees are Class XII pass and above. The minimum educational qualification we require is 12th standard.
How do you train them to cater to your domestic and international clients?
We have two sets of training. One is foundation training where we train employees in using a computer because 90 per cent of them are seeing the computer for the first time. We teach them basics of computers, English and soft skills. This is completed in about three months.
Once they complete the foundation course and get certified we put them on for process training. This takes another three months depending on the complexity of the process.
What kind of hiring plans do you have for this year?
By March 2014 we see the number of centres doubling up. We may have almost 40 centres till then. We plan to ramp up our total workforce to about 3,500 to 4,000 by March next year because now we have a huge pipeline of business also. We have new clients coming to us after seeing our work and quality. Demand is building up because we have proved that rural BPO centres work efficiently for the benefit of our clients as well as employees and encourages social good.
In three years I want to see about 100 centres and nearly about 10,000 people working for Rural Shores.
Your message to India's rural youth who have passed class XII and are looking out for employment?
Not only Rural Shores but companies in the banking, insurance, retail sector are looking out for skilled people for different sets of jobs. The problem is companies don't find rural youth employable enough to recruit them. I would urge these youth to undergo training to develop skills in retail, sales, as business correspondents etc.
If these youth look at developing their skills based on their passion and interests and get certified they will get the jobs. They need to open their eyes and look for opportunities and acquire skills accordingly.