Meet Boy Wonder Tanishq Abraham
July 03, 2014 16:52 IST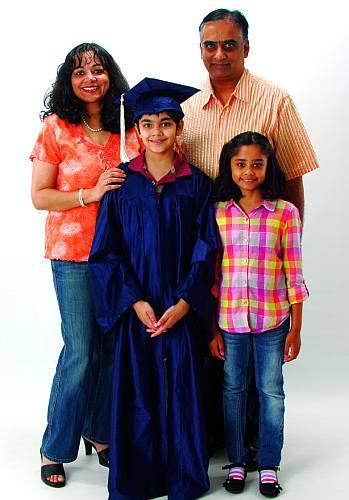 Admission to high-IQ Mensa society at 4, college at 7, high school diploma at 10, currently a medical correspondent for the CBS talk show The Doctors and if all goes well a PhD in the near future, Tanishq Abraham is all set for academic glory, reports George Joseph.
Tanishq Abraham, 10, from Sacramento, California, received his high school diploma at a private ceremony at the California Automobile Museum this June.
Tanishq -- who is working on obtaining his associate degree from the American River College before advancing next year to the University of California at Davis -- passed a state exam in March that certified that he had met the academic standards to receive his diploma.
'I often get messages from people, around the world, both young and old, who tell me how much I have inspired them,' he said at the graduation ceremony. 'I am extremely humbled by those who have been inspired by me. This is an additional motivation and an encouragement for me and I would like to thank all who have written encouraging words to me.'
Tanishq, who began home-schooling at age 7, said his parents were his greatest support and his younger sister was his best friend.
'My parents jokingly say that she is my biggest fan and that she is the president of the Tanishq fan club,' he added.
Tanishq was one of the youngest Americans to be admitted to the high-IQ society Mensa at age 4. He is also a medical correspondent for the CBS talk show The Doctors.
"I am going to finish my community college by almost next semester and then I will have my associate degree, after that I will transfer to university," he told India Abroad.
His mother Dr Taji Abraham is a veterinarian and his father Bijou Abraham is software professional. His younger sister Tiara too joined Mensa at age 4.
In college, Tanishq's mother sits behind him in class.
"Initially the students thought I was the student and Tanishq came with me. When they knew that he was the student, they were surprised and curious," Taji said. "After third grade, we pulled him out of the traditional public school since his school did not want to continue with the independent study programme. He skipped fourth grade and went to fifth and then skipped a few grades as he had already finished all the topics or requirements for the grades."
Tanishq started college classes at 7. So far he has maintained a perfect GPA in college. He plans to transfer to a university as a (junior) third year student and finish his bachelors, then move on to a PhD or medical programme.
"As parents, we worry how he handles such a tough load of studies at a young age, but he brushes off our concerns and is a happy child," Taji said. "We don't know how Tanishq does it. He always has to do something to keep him occupied, either research, read, play or watch movies."
Taji said the child prodigy had a tough last semester when he had four college courses, he was also preparing for the high school state exams and SAT.
Tanishq, a member of the San Francisco Boys Chorus, finished two subjects each semester in college. He topped the class in astronomy and geology.
At 9, after completing over half the unit requirements for an associate degree and with a perfect GPA of 4.0, Tanishq became the youngest member of Phi Theta Kappa, the international honour society for two-year colleges.