The medical student who received her degree in the ICU
Last updated on: May 23, 2013 06:29 IST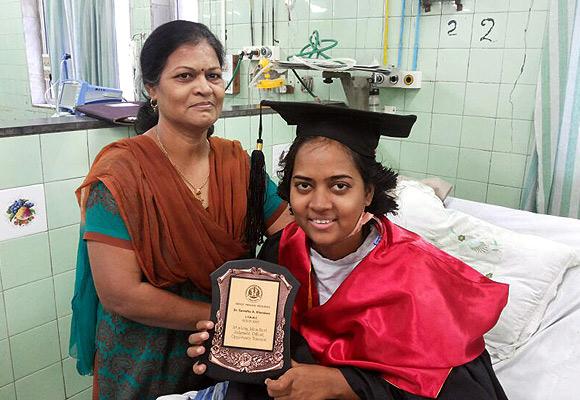 Sion Medical College graduate Samidha Khandare harboured the ambition of setting up a clinic and practicing medicine in Akola, Maharashtra. Instead, she is currently on ventilator support after having been diagnosed with a fatal form of tuberculosis that has affected her central nervous system. This is the story of a bright student who is fighting the battle of her life to fulfill her dreams.
In 2007, when Samidha Khandare left her home in Murtizapur, Akola, for Mumbai, the 18-year-old thought she was inching one step closer to her ultimate goal -- that of becoming a "good doctor".
A topper all through school and college, she realised the lack of proper medical facilities in her hometown early on and had always wanted to pursue medicine.
Hardworking and the go-getter that she was, Khandare told friends that she would complete her medical education and return to Akola, so that she could set up her practice there.
Friends and faculty at the Lokmanya Tilak Medical College in Sion, Mumbai, remember her as a "bright and cheerful student who never had a dull moment" in the five years that she spent there.
While pursuing a medical internship post her term-end exams in November 2012, however, Khandare fell victim to a fatal form of tuberculosis that doctors initially diagnosed as malaria and later dismissed as 'just another occupational hazard'.
Over the next two months, even as she suffered frequent headaches and bouts of fever, the plucky girl continued to work hard for her upcoming post-graduation entrance exam, unaware of the risk to her life that lurked around the corner.
Please click NEXT to continue reading...
---
Samidha Khandare's medical treatment is expected to cost between Rs 12 and 15 lakhs (please click here for a letter of verification regarding the same from hospital authorities).
If you wish to provide financial aid, please find the family's bank account details below:
Shekhar Khandare (Brother)
SBI A/c No: 30635109481
IFSC Code: SBIN0000528
MICR: 4440002759
Ph: +91 8550986969
Avadhoot M Khandare (Father)
SBI A/c No: 11576831041
Phone number: +91 9970389204
Against all odds
Last updated on: May 23, 2013 06:29 IST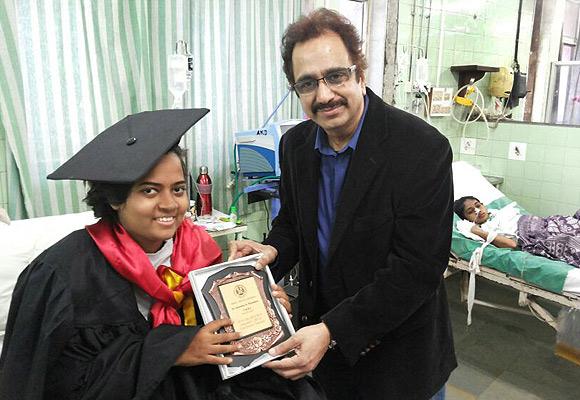 In January 2013, when her fever and coughing did not subside, Khandare was finally diagnosed with miliary tuberculosis, a fatal health condition that affected the functioning of her lungs and liver due to poor immunity.
She was immediately admitted to the medical intensive care unit of Lokmanya Tilak Municipal Hospital in Sion, Mumbai and her parents were called to attend to her.
Since this was the first time she'd ever been hospitalised, mother Jayashree, an Anganwadi teacher, broke into hysterics when she saw her girl in the medical ward. "Aunty was inconsolable and constantly worried about her daughter," recalls a friend and fellow student who was present at the time.
But Khandare emerged a true fighter. "She would smile and tell us to remain positive. My daughter was confident that she'd be cured and everything would be back to normal," recollects her father Avadhoot Khandare, also a teacher with Bhartiya Dnyanpeeth in Murtizapur.
On February 20, 2013, while the rest of her classmates received their convocation degrees in the college auditorium, Khandare sat listless in the medical ward, receiving her treatment and trying hard to hide her disappointment.
Much to her surprise and excitement however, Dr Suleiman Merchant, who was dean of the college at the time, came to visit her that day. Not only did he present her with her convocation degree in the medical ward, he also encouraged her to keep up the fight.
The day was special for both Khandare and her family, as it well may have been the first time that a medical student had received such an honour in a hospital ward.
"She was very happy and excited," shares her father. "She did not expect it at all."
When contacted, Dr Merchant was all praise for her. "It wasn't her fault that she was ill on the day of her convocation. She had worked hard through her graduation and cleared all her exams. She deserved to be appreciated," he said.
To Mr Khandare's recollection, the day of convocation was probably his daughter's last bright moment.
Today, she is comatose and undergoing expensive treatment in a bid to save her life at PD Hinduja National Hospital and Medical Research Centre in Mahim, Mumbai. The total cost of treatment, according to the hospital, is anything between Rs 12 to 15 lakhs.
Financial challenges
Last updated on: May 23, 2013 06:29 IST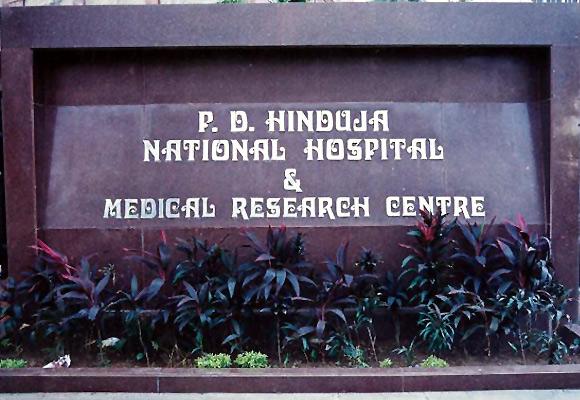 For Mr Khandare, whose monthly salary does not exceed Rs 25,000, meeting his children's yearly education expenses (Samidha's elder brother Shekhar is also a medical student) was no easy task, particularly since his wife doesn't receive a fixed income.
"I first took an education loan for my son, then for my daughter. All my savings are nearly over. I am the only earning member of my family and we have no other choice," says the distraught father.
Khandare is one of several Sion Hospital medical students and resident doctors who contracted TB in November last year, and although she received free medical treatment and continuous support from hospital staff, on March 10, 2013, she was found to be suffering from a Klebsiella infection, a bacterial condition that affects the lungs primarily due to poor immunity.
Although Sion Hospital authorities refused to comment on how she developed this condition while being treated, an official on condition of anonymity explained that it could be due to "substandard quality of treatment, and unhygienic practices and handling of equipment in the medical ward."
Had it not been for their concern that the infection might worsen, Khandare's parents would perhaps never have gotten their daughter admitted to a private hospital. She suffered an unexpected cardiac arrest on May 5 at Hinduja and has been on ventilator support since.
"Her daily medical expense is anything between Rs 60,000 and one lakh, which we are now finding difficult to arrange," says Mr Khandare. But he cannot hide his gratitude as he talks of the help he's received from his daughter's classmates -- they collected three lakhs through donations from fellow students, faculty members and resident doctors.
Folding his hands, he says, "If it had not been for these students, I don't know how I'd have managed so much money. God has been kind, He has sent us help in so many ways."
Twelve to fifteen lakhs is a big amount for the family, but Mr Khandare doesn't want to give up the fight for his daughter's life easily. Stumbling for the right words, the hopeful father looks upward and prays again. "Prayatna chalu aahe (Efforts are on)," he says. "God won't let us down. All the efforts put in by these students won't go waste. If somebody can come forward and help us, we'll accept it with both hands. I will be indebted to them for life."
'These students come to our institute expecting to get a degree, not TB'
Last updated on: May 23, 2013 06:29 IST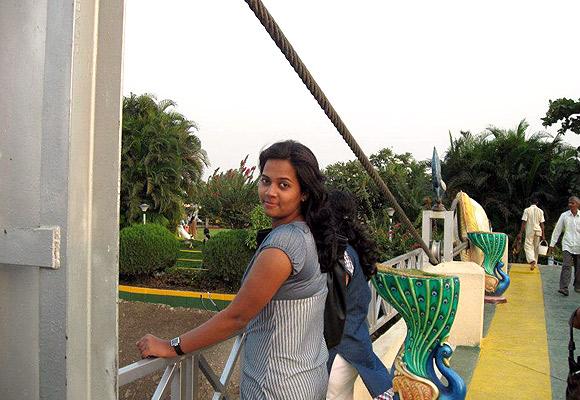 Despite her slim chances of survival and its possible repurcussions (if Khandare survives, she may suffer from partial paralysis), former dean Dr Suleiman Merchant lauds the braveheart's efforts and has a positive message to share.
"Miracles happen everyday. We are doctors, we should not play God. She may not be able to speak or react, but if she has fought it so far, she is a brave girl. The family is going through a challenging phase right now. If you cannot provide them financial support, the least you and I can do as human beings is to channelise our prayers and hopes in the girl's direction and pray for her speedy recovery."
Dr Merchant is now spearheading an effort to provide better facilities to resident doctors and interns at Sion Hospital.
He says, "Samidha's case should hopefully help the administration wake up and realise that we cannot treat our doctors the way we are treating them now. These students come to our institute expecting to get a degree, not TB. They need to have the best working environment and medical equipment. What has happened to this medical student is unfortunate and should not have happened in the first place. While we are doing everything to support Samidha, I positively hope none of our students have to go through a similar situation again."