She ran away from home and made it big in fashion
Last updated on: April 13, 2011 19:35 IST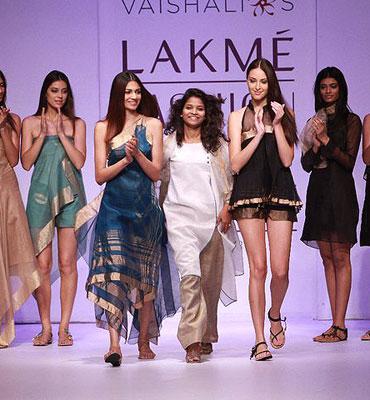 When she was 18, Vaishali Shadangule (nee Talankar) walked out of her parents' home in a small town in Madhya Pradesh with no money or belongings. Today, the designer runs a fashion brand in Mumbai that employs 65 people. This is her rags-to-riches tale.
It was little past 3 am when Vaishali walked out of her parents' home in Vidisha, a small town about 56 km northeast of Bhopal in Madhya Pradesh.
She walked furiously towards the local train station, with just the clothes she was wearing at that moment -- no baggage, no cash, nothing.
As she sat on the platform, ignoring the curious and unwelcome stares, she hoped for a train to arrive that would take her away from her hometown.
When she got into the first train that chugged up to the platform, she didn't know if it was going to Bhopal -- the largest town close to her home -- or away from it.
All she wanted to do was to get out of Vidisha. Forever.
A little over 12 years later she employs over 65 people at Vaishali S, a design house of some repute in Mumbai. Her flagship store is a sprawling 2,000 sq feet multi-level outlet in the upscale northern suburb of Juhu.
Vaishali just made her debut at the Lakme Fashion Week, her designs a pleasant departure from the heavily embroidered clothes that she usually retails.
The line -- Virus Free -- drew inspiration from pleasant childhood memories and used Chanderi, a delicate handwoven fabric from her home state, as its base fabric.
Click here to see Vaishali's designs on the ramp
Vaishali Shadangule's journey from that railway platform in a small town in Madhya Pradesh to the glittering runway in Mumbai is purely inspirational.
She told her story to Abhishek Mande in Hindi, the language she is most comfortable in.
'I left my home at 3 am not knowing where I'd go'
Last updated on: April 13, 2011 19:35 IST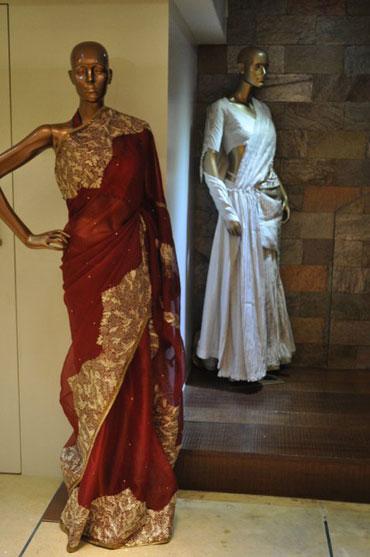 It was sometime in April 1997 when I left my parents' house in Vidisha.
Vidisha is a small town, 56 km away from Bhopal in Madhya Pradesh. It still retains a lot of its rawness and the small- town feel.
Even though it isn't very far away from Bhopal, it hasn't seen a lot of development.
People there aren't very broad-minded and about 12 years ago when I left home -- I am 30 now -- it wasn't very easy for a woman to stand on her own feet.
Even today, many people see only medicine and engineering as respectable professions. I suspect fashion designing would still be looked down upon there.
When I left my home though, I didn't know what I wanted to be. In fact, at the time I wasn't even aware that fashion designing existed! I left home because I wanted to be somebody and a small town wouldn't have let me be that person.
I was born into a fairly conservative family and, like most other families I'd known then, the idea of having a girl was to get her married, sooner rather than later.
By the time I was in my eighth grade, talks about my marriage had already begun. But I wanted to study. After arguing with my family I managed to get past my tenth grade and convinced them to let me study further.
Even though they relented, things weren't very easy.
Finally, one April morning at 3 am I decided to walk out. I left everything I had known -- my parents, my family, my friends, my hometown -- behind.
'My hometown wasn't the place for me'
Last updated on: April 13, 2011 19:35 IST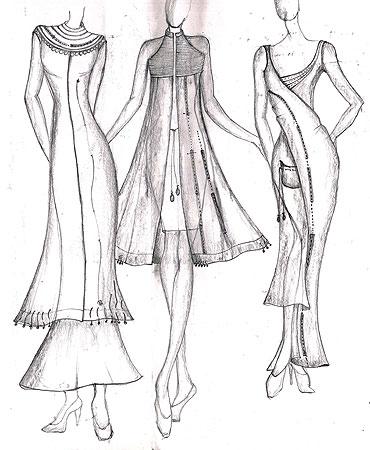 This was a big step for someone who wasn't allowed to stay out of her house after 7 pm, but I knew if I had to be independent and make a name for myself, Vidisha wasn't the place to be.
So I headed to the train station. I waited there for a train that would take me to Bhopal -- the largest town I had known and seen (and the state capital).
That day, sitting on the train platform, I was not sure what I would do next -- I had walked out with no money and no extra clothes.
I got into the first train that chugged upto the platform. I didn't have any money so I travelled without a ticket. The thought that I might be caught hadn't even occured to me then. It was a little past 4.30 am when I reached Bhopal. There again, I waited. It was too early to call up any of the few friends I had there. When it was a decent time to call, I headed to a PCO (public phone) and realised that I wasn't carrying any money! I requested the owner to let me make a few calls.
As I began dialling one friend after another, another realisation dawned on me. By walking out of my parents' house, I had become an outcast. No one wanted to have anything to do with me.
Finally, one of my friends -- Shefali -- agreed to help. She fed me lunch and we stepped out to look for hostel accommodation.
Pradeep Shadangule (who would later become my husband) was then just a friend. He and I had met at a youth festival and had been in touch. He helped me immensely to organise funds to pay as a deposit at the hostel.
That night I had a roof over my head, but I was alone. There were other things, howeve, that I was more concerned with -- surviving, for instance.
'My first job paid me Rs 500 per month'
Last updated on: April 13, 2011 19:35 IST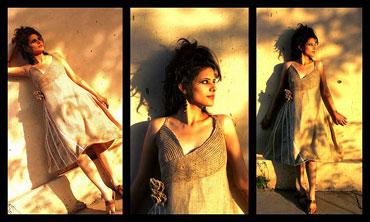 When you aren't even a graduate, jobs aren't easy to come by and money, even more difficult.
My first job was as an office assistant in a small company in Bhopal. I was being paid Rs 500. My hostel fees at the time were Rs 700.
I took up the offer simply because there was nothing else I could do. I borrowed from friends who were kind enough to lend me money to survive. Soon, I landed myself another job, also as an office assistant in yet another small company in Bhopal. But this one paid me Rs 1,500, so life became a little easier.
These jobs were clerical in nature and didn't really demand a lot from me.
I carried on this way for a few months. Meanwhile I completed my graduation in computer science. I had informed the college in Vidisha of my situation so they had me transferred to a centre in Bhopal at the Barkatullah University.
Things were starting to go smoothly and I was making ends meet.
I made new friends and met new people. I was always artistically inclined. Even though I was studying computers I knew my interest lay elsewhere.
People around me began to see that I had an eye for fashion. I would dress well and those around me started taking my advice. They would come to me with a salwar kameez material asking me how they should get it tailored or ask me what they should be wearing.
Unknown to me, I was becoming a designer!
'I was 19 when I first heard of fashion designing'
Last updated on: April 13, 2011 19:35 IST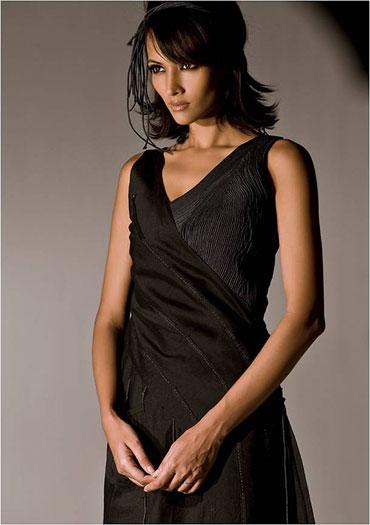 Meanwhile, as my horizons expanded, I began to realise that I could do a lot more with my life and there was no reason to be caught in a rut.
Someone mentioned fashion designing. That was the first time I even heard about the field -- and I was about 19 at the time. I was told that it was creative, something I would enjoy and be able to make a little more money than I was making then.
So I joined a small fashion technology institute. A few months later, I had to drop out because there wasn't enough money for the fees.
By then I had tasted blood. I had learnt the basics and I knew that this would be the field I would make a career in. My only dream was to complete a course from a reputed fashion institute. I knew it would be a while for that dream to come true, but I was prepared to work towards it.
What I wasn't prepared for was an incident that shook me up completely.
One evening, not having any choice and unaware of his intentions, I took up my boss' offer for a ride back to my hostel.
Soon I realised we were on an unknown road. I panicked, raised an alarm and got out of the car.
The next day, I didn't go back to work. Quitting abruptly like that also meant giving up my salary for that month.
It also meant that I didn't have any money to pay my hostel fees.
For two days, I lived out of a friend's place.
'Mumbai embraced me with open arms'
Last updated on: April 13, 2011 19:35 IST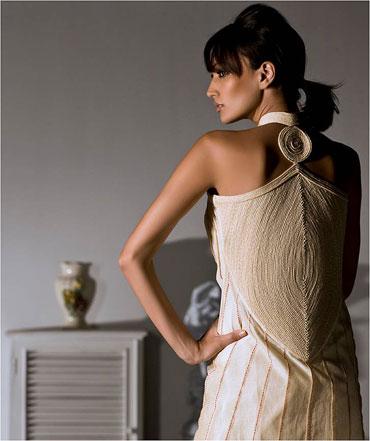 Around this time, I realised taking small jobs wasn't going to help me get to where I wanted. So while I continued working, I also started educating myself so I could better my prospects in the job market.
I had completed my graduation in computer engineering, but now I had begun to realise what I really wanted to be -- a fashion designer!
So with the help of a friend, I managed to get a copy of the syllabus for fashion designing they taught at SNDT University in Bhopal. I read all the prescribed books and made my portfolio.
I was always good at drawing and painting. The portfolio contained some of my work, designs I had created and a few samples of work that I succeeded in learning from books.
When I look back I realise it was very amateurish, but I knew if I wanted a job in the field of designing, I would need something to show. I hoped the portfolio would help me prove my worth.
Armed with that, I went for an interview at a small design institute in Baroda (Vadodara, Gujarat) which had advertised for a teaching position. I appeared for the interview and got the job. Surprisingly, they didn't even bother to see my work. It was a small organisation, so I suppose none of it mattered.
For about nine months I taught illustration -- I can't say I was professionaly qualified to teach it, but I think I can safely say that the institute was happy with what I was doing.
But it was a job I didn't really enjoy. I've always been an introvert and speaking in public wasn't something I would do out of choice.
Ironically, this was the very job that opened the doors to the glittering city of Mumbai.
During one of the seminars in which I was representing the institute, a garment export house based out of Bandra (a northern Mumbai suburb) offered me a position as a designer.
So in December 1999 I landed in Mumbai, the city that would become my home.
My salary was Rs 11,000. I was over the moon! I hadn't seen so much money.
I am often asked if I was treated any differently in Mumbai because of my small-town roots. The truth is I wasn't. The city offered me all the opportunities I wanted and embraced me with open arms.
'My savings came back to zero'
Last updated on: April 13, 2011 19:35 IST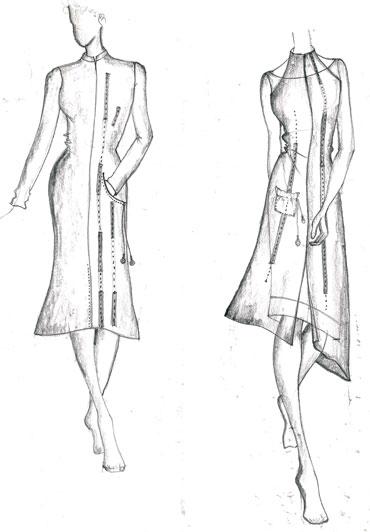 Over the year that I worked at the Bandra export house, I did little else other than go to work and return home. Home was a paying guest accommodation nearby that cost me Rs 2,500 per month.
The rest of the money would go straight into my savings account. I just couldn't think of what I would spend it on!
This held me in good stead. Sometime during that year, I developed a slip disc and that left me bed-ridden for over six months. I had to quit my job and my savings came to zero.
***
By 2001, I had fully recovered though. I had made up my mind that in the long run, I would not work for anyone. But for my immediate survival, I needed to do something.
A friend suggested I join a gym as a trainer. I had been an athlete all my school life and I knew a thing or two about workouts.
It was a small gym in (the northern Mumbai suburb of) Malad. I worked there for about a year and made my contacts. I would show my portfolio to the women who would visit the gym and I started designing clothes for them.
Work began to trickle in. As it increased, I employed two tailors full-time.
At one point, I knew I had to take the plunge. Fortunately, one of my clients was a banker's wife. She convinced her husband to put in a word at his workplace and get me a loan.
So with Rs 50,000, I set up a small boutique in Malad in 2001.
'After 10 years, I decided it was time to fulfill my dream'
Last updated on: April 13, 2011 19:35 IST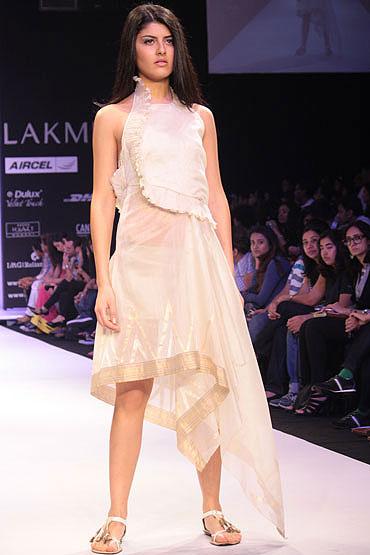 My life had taken me away from Bhopal and Pradeep and I had lost touch.
Years later, when our paths crossed -- he was in Mumbai looking for a foothold as a filmmaker -- we figured it was for a reason.
On May 4, 2004, we got married. Three years later, we were blessed with a baby girl -- Smiti.
My business grew. Although I couldn't boast of high-society clientele, I knew I had a loyal client base.
I had moved on from the small boutique in Malad to a three-store set-up in a suburban mall -- two of my stores sold casual Western and Indian clothes and one of them, the largest of the three, sold bridal collections.
One of my biggest learnings in the business is that people's idea of 'designer' dresses is a lot of embroidery. They believe that if they're paying a lot for an outfit, it should be seen.
So if you notice, the outfits that sell are usually those that have heavy embroidery and are jazzy.
My design sensibilities, on the other hand, are minimalist. I get a high when I discover a certain drape or how a simple fold reveals a new side to a garment.
The idea of participating at the Lakme Fashion Week was this -- to be able to showcase my personal design sensibilities and not play to the gallery.
A part of the credit to this newfound self-confidence goes to the formal training I have been undergoing.
About two years ago, almost ten years after the thought first crept into my head, I decided that it was finally time to fulfill my dream.
'Hubby took charge of the baby and the house'
Last updated on: April 13, 2011 19:35 IST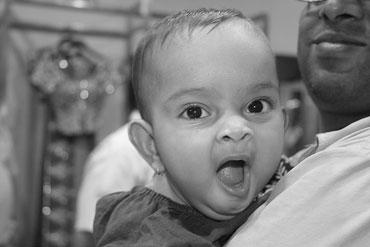 I enrolled in the Pearl Academy of Fashion in New Delhi.
My husband wondered why I was doing it, because the going was good. The business was doing great. I was moving from strength to strength but I, of all people, knew more than anyone else that I needed formal training in fashion designing.
So I decided to cut my profit margins, lost some business, but pursued my dream.
For two years, I shuttled between Mumbai and New Delhi -- during the weekends I would be in Mumbai and the weekdays would be spent in classes in Delhi.
My husband supported me whole-heartedly through this time. He took charge of the baby and the house and made sure nothing came in the way of my education.
Next month, I will complete my post graduation in fashion technology.
The formal education exposed me to a lot of new things, aspects of the art I was unaware of, works of designers I hadn't even heard about and the technicalities that I wouldn't have been able to figure out by myself.
It broadened my vision and this began to reflect in my designs.
At the academy I also met designer Rahul Mishra's sister-in-law -- Bhumika -- who introduced me to Rahul. (Rahul Mishra, who started off at Lakme Fashion Week and is now part of the Wills Lifestyle India Fashion Week, is a reputed name in the business of fashion. His work with Chanderi is well known.)
During the Wills Lifestyle India Fashion Week a few seasons ago, I got the opportunity to work at Rahul's stall.
'In many ways, this is just the beginning'
Last updated on: April 13, 2011 19:35 IST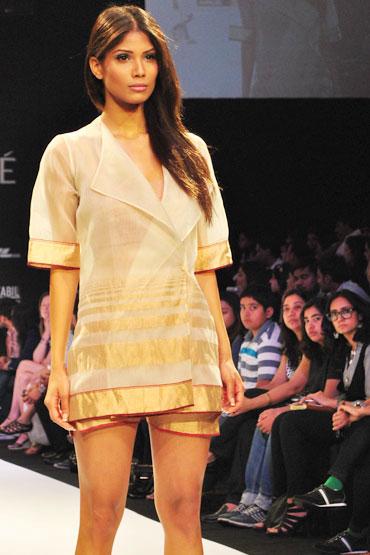 To watch Rahul at work was a learning experience in itself. He would be at the stall from the time it opened to the time it shut. Since that time, I have looked up to Rahul and consider him a mentor.
It was amazing to see how much energy he brought in as he interacted with clients. I was also surprised to see that just like my clients, buyers at the fashion weeks would also demand changes in designs.
Finally, I knew I was ready to showcase my line at the Lakme Fashion Week in Mumbai. I applied and I got through.
On March 14 this year I showed alongside Abhishek Byas and Sabah Khan at the LFW.
I drew upon childhood memories and used motifs of boats and paper planes among others and experimented with folds and drapes.
It was an amazing feeling to see my designs being showcased on such a huge platform.
In a way, it was the culmination of the journey I started 12 years ago. But in many more ways, this is just the beginning.
---
Vaishali Shadangule's flagship store Vaishali S is located on Juhu Road, Opp SNDT University, Santacruz West, Mumbai. She also retails out of Kimaya and Misake in Mumbai, Nautanky in Ahmedabad and Tamaara in Hyderabad.