Guess what? America's top teen scientist is INDIAN!
Last updated on: March 21, 2012 08:15 IST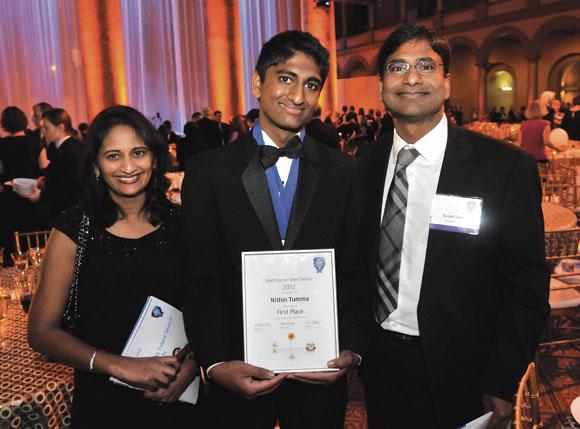 Indian American Nithin Tumma, 17, won the 2012 Intel Science Talent Search, the nation's oldest and most prestigious high school research competition.
Nithin Tumma acknowledges that he's still pretty much overwhelmed by his placing first in the nation's oldest and most prestigious--not to mention the most demanding--high school research competition, often dubbed the Junior Nobel Prize convention, and that the full impact of his victory is still to sink in.
In an interview with rediff.com, the 17-year-old from Fort Gratiot, a suburb of Detroit, Michigan, kept on reiterating, "It's pretty amazing," and that "I did not think I was going to win at all--I was pretty surprised when I heard my name."
But not only did he win but the head judge and director of the blood and marrow transplant program at the University of Arizona College of Medicine, Dr andy Yeager, predicted that Tumma's research that could lead to more direct, targeted, effective and less toxic breast cancer treatments, could have "tremendous implications for the understanding of interactions among molecular pathways in cancer development and for the development of targeted potentially less toxic cancer treatments."
Tumma, obviously totally humbled by Yeager's prediction, kept saying, "That was really nice of him to say that -- that was very nice."
Asked what prompted him to pursue this particular project, he said, "I've always been interested in doing research, and so I stepped into a lab, and then I proposed a project that is along the lines of what my mentor had been studying. And, I worked on this for about three years and as I worked the project grew and it became quite major with many research possibilities."
'Cancer is such a devastating disease'
Last updated on: March 21, 2012 08:15 IST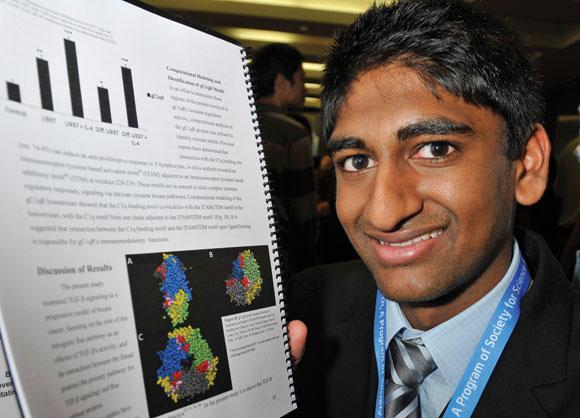 Tumma, son of Drs Suresh and Kavita Tumma, a cardiologist and a gastroenterologist respectively, who both hail from Hyderabad, who received a $100,000 award from the Intel Foundation for placing first for his research, noted with a chuckle that one of the hardest things was to find a mentor when he wanted to pursue his yen for research.
"I e-mailed like 60-70 people, and finally Dr Raymond Novak, who was then at Wayne State University and part of their pharmacology department, was the only one who said yes," he recalled. "I was actually just looking for a mentor and once he said yes, then I designed a project, based on what he had been studying."
Since then, Tumma said, "I worked with multiple people and the research project had grown into much larger dimensions over three years."
Although there were no members of his immediate family who had been afflicted with cancer, he said what inspired him to this particular project was because "everyone knows someone who has cancer and cancer is such a devastating disease and it's really in the forefront of research efforts right now."
Thus, he argued that "understanding cancer, developing new therapies, is essentially what we are trying to do in molecular biology. So, I just wanted to try and make an impact."
Tumma said he hoped that his research could "contribute to the fundamental understanding of how cancer evolves and hopefully identify things that can be, in the future, used in therapies."
'I want to do a dual-degree in computer science and molecular biology'
Last updated on: March 21, 2012 08:15 IST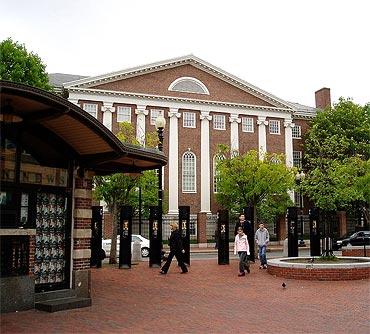 Asked where he hoped to go with his research now, buoyed by his success of placing first in this elite competition, and if he intended to coalesce with other cancer researchers and get his project institutionalised and funded, Tumma said, "Actually, we have gone pretty far since I submitted my project. I am actually working at different labs, where I am using computational methods to analyse the effects of cancer situations."
"But, in the respective labs that I studied, this work has been furthered by other members and so they are making very good progress," he said.
However, he asserted that there have been absolutely no efforts at this time to commercialise his project. "It's still very much in the basic research stage and it will be a while before any therapeutic targets can be achieved. But at the same time, you need to do this research before you do that."
"So, there is much more research that has to be done before we can have a cure in effect," he added.
Tumma said with regard to college, he hopes to go to Harvard, the Massachusetts Institute of Technology or Stanford. "I am going to attempt to do a dual-degree in computer science and molecular biology."
Explaining the viability of such a combination, he said, "Especially in the world that we live in now, where computers are taking over everything that we do, one of the areas where it's most striking is the area of biological research, and all of the emerging fields, with all of the computational models."
"So, I believe that really the future of the field and something that I really want to be part of," he added.
'President Obama was very inspirational'
Last updated on: March 21, 2012 08:15 IST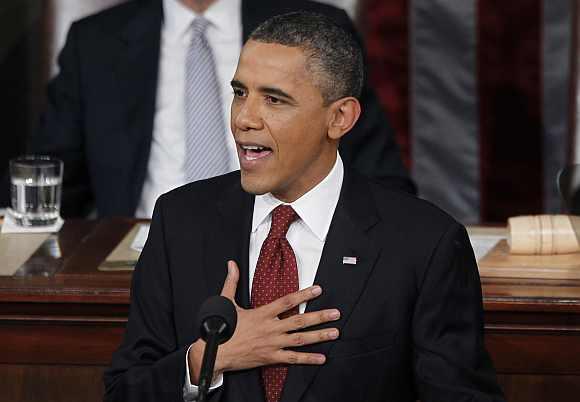 Tumma acknowledged that none of what he has achieved this far, could have occurred without the unstinted and sustained support and encouragement from his parents, who had played a catalytic role in his success.
"They always supported me in everything that I've done and there's no way, I could have done anything without their support."
He agreed, the fact that they were both specialty physicians also helped tremendously because they could empathise with his love for science and research and relate to the work he was pursuing.
Tumma was ecstatic over the all-inclusive weeklong stay in Washington, which included a meeting with President Obama at the White House.
"It was just amazing," he said. "He was very inspirational. He talked about how science is really the future, and plus the fact that he took time out of his busy schedule, you know with (British Prime Minister) David Cameron visiting, to meet us really showed how much he really does care and he does mean what he says."
"We didn't have any one-on-one chats, but we just got to shake his hand," he said, but continued to gush over the meeting and Obama's remarks.
"He told us about how what we are doing is extremely vital to the progress of our nation in the sense that we are advancing science and that we are becoming the future leaders since science is the new frontier and we are leading in this push in this country."
Tumma also said the whole experience, of exhibiting his project in the Academy of Science, interacting with his peers and developing friendships, and meeting some of the best scientific brains in the country doing cutting edge research, was "just phenomenal. It was the best week in my life that I've ever had."
"And the best part of it is not the winning or anything, it's meeting with these other kids -- the most amazing group of people I've ever had the chance to meet with and I hope I'll be able to be friends with them going into the future. Just phenomenal people and it was an amazing experience."
Tumma also said that meeting some of the top-notch scientists in the country was yet another unforgettable highlight in that "all of them tool the time off their schedule to work with high school students and promote research at our high schools. This is really amazing and it's really great of them, and it was such an honour to be part of all that."