'Discipline and self study key to sucess'
Last updated on: April 8, 2013 14:25 IST

Three toppers who cracked the CS professional level exam in the first attempt reveal their time management and stress relief mantras for sheer success. Read on
"Tackling a professional exam is both mental and physical exercise," admit Company Secretary 2013 professional level toppers -- Abdullah Fakih (first rank), Aditya Daga (second rank) and Annapurna Srikanth (third rank).

The continuous eight-day exam did not deter their energy levels -- Abdullah journeyed 30 kilometres by his bike through choc-o-bloc Pune roads to reach his exam centre while Aditya, a Kolkata-based student coped with the stress of his part-time job along with BCom and CS exams, both in the same month.
And Annapurna from Mysore, mother of 9-year old son just spent 25 days, sans any coaching!

Interestingly, all three, cracked it in the first attempt!

So what's the secret behind the high score?
It is only sheer systematic adherence to a strict time-table.
"What we present and how we present answers is all that matters in evaluator's eye," says Annapurna.
Want to know how their secret to success?
Please click NEXT to continue reading...

'My parent's selfless love during exams was my real driving force'
Last updated on: April 8, 2013 14:25 IST
So who inspired you to be on top?
Abdullah: My CS foundation level tutors at the Pune chapter of ICSI -- CS Manoj Soni and CS Kuldeep Ruuchandani. They were extremely helpful and cooperative. They made me realise the value of dedication and focus.
Aditya: My parent's selfless love, support during exams was my real driving force. The encouragement from parents and well wishers always reminded of my capabilities -- I worked hard towards their expectations. 
Annapurna: I am a CA. My husband inspired me to opt for a CS degree -- he bought me everything from application to materials. While I was flipping through the book content, I was thrilled and visualised how I could apply CS knowledge to my corporate clients. 

Did you approach coaching? How did it work for you?  
Abdullah: I did not take any coaching for professional level, as I felt it would be waste of time. However, for the foundation and executive levels, I had taken coaching at the Pune Chapter of ICSI -- I was blessed with good faculty!
Aditya: Yes. I took coaching for Law from Amit Bachhawat Coaching Centre and taxation from Mr Vivek Soni. I am thankful to their right guidance which always motivated to do better. Coaching builds an academic environment and constantly recharges your mind.
Annapurna: I never attended any coaching classes both for CA and CS! In both All India exams, I stood at third rank. I achieved this only through self study.
Illustration: Dominic Xavier
'Self-accountability always made me do better'
Last updated on: April 8, 2013 14:25 IST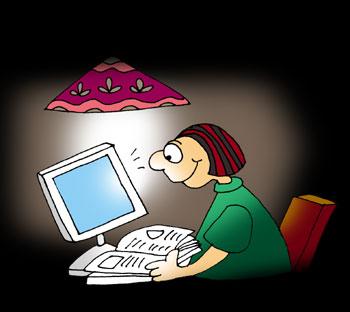 Managing job, college, coaching and self study can be tedious. Tell us your study plan.
Abdullah: Avoiding coaching helped me save my precious time. For eight months, I continuously studied 10 to12 hours every day. To make it easier, I used to break it down into three sessions.
To prevent from preparation boredom, I always combined one theory subject with a practical subject.
Aditya: Initially, I used to find it too hectic to tackle job, graduation and CS exam preparation. Gradually, I exercised my mind to multitask. My college would start at 6 am and end by 10.30 or 11.00 am. That way, I had ample time to focus on studies through the day.
Annapurna: I had to deal with my kid, in-laws, husband and alongside manage my studies and CA job. I maintained a time-table to check on a daily basis to see where I stood.
Self-accountability always made me do better at my work. Everyday I spent eight hours in CS preparation.
I never made any notes but converted the material itself into notes by highlighting keywords in each paragraph. A day before the exam, I just scanned through keywords which got imprinted in my mind.
So rising early, executing plans, self reporting followed by testing helped me gain confidence. And three things are crucial: hard work in the right direction, recollection and presentation in exam. What we present and how we present is all that matters in evaluator's eye.
Tell us about your last minute preparation.
Abdullah: Last minute preparation becomes more intense. Since the CS exams don't allow us the luxury of holidays in between papers, there is no option but to sacrifice on sleep.
During the exam days, I increased the study time to 16 hours and I slept only for 2-3 hours. Everyone should not adopt this technique as each one of us has individual mental capacity.
Aditya: For last moment studies, I had divided each chapter into flowcharts and developed shortcuts for theoretical papers -- it reduced the time for revision and enabled to retain tough theories easily.
All subjects were easy, but I stressed more on technical subjects like taxation and financial management.
Annapurna: I always underline keywords and convert my text into notes. Just before the exam, I quickly glance through keywords and guideline modules.
'Dream about your career and sincerely work towards it'
Last updated on: April 8, 2013 14:25 IST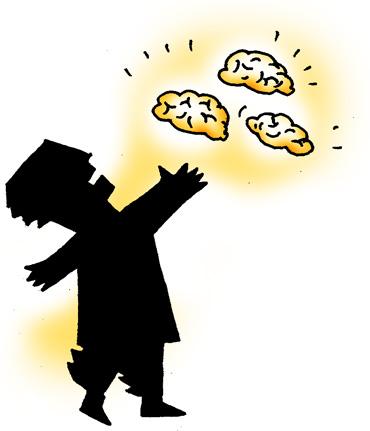 Did you feel the pressure during exams?
Abdullah: No gaps between exams mean tiring schedule. The exam centre was very far from my place -- I used to travel on my bike and that was exhausting since the traffic in Pune is terrible!
My mother, elder brother helped me cope with pressure by relieving me off from all the household work and ensured that the atmosphere at home was conducive to studying.
Aditya: The best way to cope pressure is to deal with the easy subjects early, so that there is enough time to focus on the grey areas in the last minute. I only emphasised on the areas where I thought I was under prepared during those eight days.
Annapurna: I have a habit of doing "Pranayama" for 30 minutes everyday to keep myself healthy and maintain mental stability. This exercise enables me to encounter exams calmly.

What do you do when you are not studying?
Abdullah: I love playing scrabble and I unwind myself by listening to music.
Aditya: I am a big movie buff and don't miss them easily. I listen to songs, read novels and chat with my friends.
Annapurna: In my office, I get a joy indulging myself all sorts of analytical work and report framing. I always think of giving an innovative touch to my work and keep asking this question -- Is there a better and quicker way to finish work, without compromising on quality of work? At home, I play with my son, listen to music and design clothes.

Tell us about the books you referred for preparation.
Abdullah: I only referred to the modules provided by the institute, along with solved scanners (past-years question papers). The institute's guideline answers and suggested answers were also helpful. For FM and tax -- I had also referred Reliance Publications concise concepts.
Aditya: While preparing for the exams I had referred all the study materials provided by my coaching centres and CS institute.
Annapurna: I skimmed through institute materials, guideline answers, scanners and taxs by TN Manoharan.

Can you please share some tips on how to crack such a rigorous exam?
Abdullah: Hard work and dedication is the key! Those preparing for exams must come out of the mental block of clearing the exam and lagging behind in rank. One must overcome from that pressure and just aim to do best.
Aditya: You must dream about your career and sincerely work towards it. So don't lose sight of your target. Keep challenging yourself.
Annapurna: Believe in yourself and think positive. You can only achieve if you discover your true potential – do what you love so that you can love what you do!
Illustration: Dominic Xavier