24 amazing innovations from young Indians
Last updated on: November 23, 2012 19:16 IST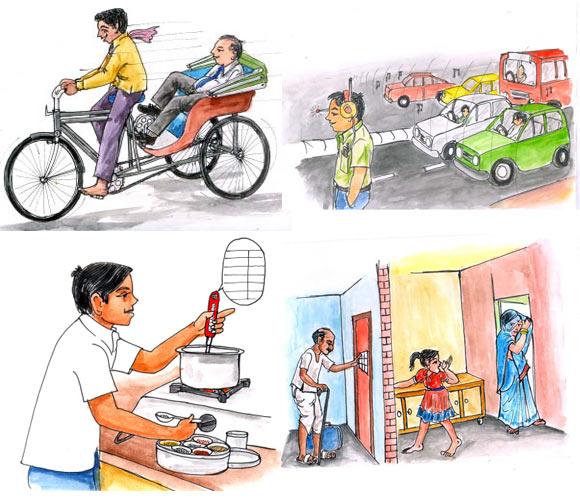 Student winners of IGNITE 2012 share their innovative ideas that aim to make the world a a better place to live in.
The National Innovation Foundation India (NIF), Ahmedabad has announced the names of the 29 award winners of the IGNITE 2012.
The IGNITE -- an annual competition organised by the NIF in association with Central Board of Secondary Education (CBSE), Society for Research and Initiatives in Sustainable Technologies and Institutions (SRISTI), various State Education Boards and other partners.
In the competition, school students shared their innovative ideas and offered solutions on issues local and global.
In the competition that was held between September 11, 2011 and August 31, 2012, it received over 14,889 submissions from students who participated from 282 districts in the country.
In the following pages, we take you through the young ideas that impressed the NIF panel.
Please click NEXT to continue reading...
Spray-on gloves and socks
Last updated on: November 23, 2012 19:16 IST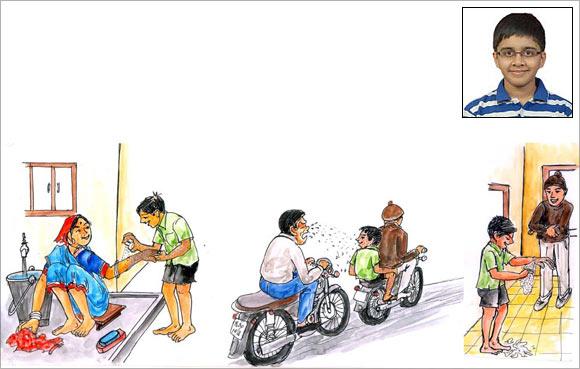 Aditya Joshi
Class 8, Bal Shikshan Mandir, Pune, Maharashtra
A fast-drying, non-abrasive, water-proof solution filled in a spray can. Just spray it on your hands or feet to get snugly-fitted gloves or socks that can be easily peeled-off after use! Aditya's idea does away with problems like a missing sock or glove, or not finding the perfect size.
Since it is water-proof and self-sealing, it provides excellent protection for anyone working with their hands and feet. So it can be used by a factory worker handling dangerous chemicals, or a farmer standing bare-foot in water-filled paddy fields, and so on.
"I had noticed people like garbage collectors, or even farmers, work in unhygienic conditions that made them vulnerable to diseases. It made me think of this idea that gives protection and could be made easily available at an affordable cost," replied Aditya when asked how he came up with the idea.
Preventing driving without a license/valid documents
Last updated on: November 23, 2012 19:16 IST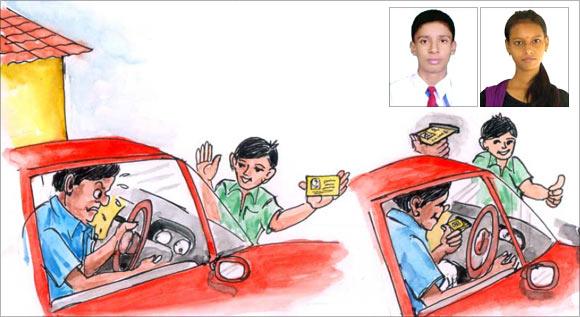 Alarmed with an ever increasing rate of accidents caused by teenage drivers and those without proper training, these children have conceived similar ideas to prevent this.
The basic idea is to prevent a vehicle from being driven if the authorised license is not present, is invalid or has expired. To know how each one of them tried to achieve this, please read on!
Varsha Kumari
Class 10, Indra Prasad Singh Gangstahliya Balika Gyanpith
Patna, Bihar
Varsha proposes a system where the driving license is swiped, like a credit card machine. The vehicle starts only if a pre-authorised license is swiped. This also protects the car against theft.
The idea came to her a friend's car was stolen and never found.
Durgesh Kumar
Class 10, DAV HFC Barauni
Begusarai, Bihar
Durgesh's idea has a mini scanner fixed on the steering wheel to compare the driver's license with an authentic license stored in the scanner's database. The steering wheel is unlocked only if they are correctly matched.
A solution to tackle Illegal drivers
Last updated on: November 23, 2012 19:16 IST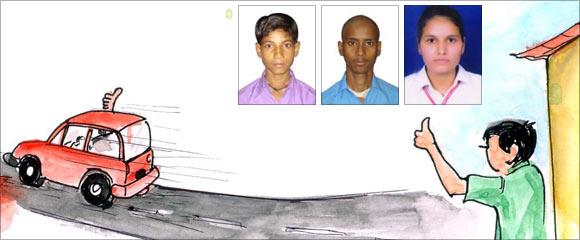 Jyoti Dhillon
Class 10, Shishu Shala School, Rewari, Haryana
Jyoti, who aspires to be a doctor, wants an automatic sensor inside the vehicle that prevents driving without a valid license.
She enjoys math as it keeps her mind fresh but feels bad on coming across a problem that she cannot solve.
Ranjan, Class 8 and Shiv Kumar, Class 6
Gandhi Madhya Vidyalaya, Patna, Bihar
Ravi and Shiv were troubled by daily cases of vehicles getting stolen in their neighbourhood or accidents caused by people without valid licenses.
Working together, they came up with the idea of a slot near the ignition for inserting the driving license.
The onboard system would check the validity of the inserted card and allow the vehicle to move only if everything is in order.
Smart card that drives a car
Last updated on: November 23, 2012 19:16 IST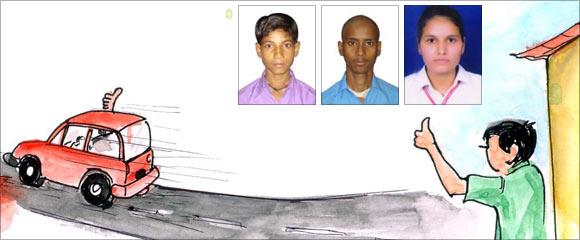 G Krishna Kumar
Class 12, Govt Boys Higher Sec School, Thiruvarur, Tamil Nadu
Krishna suggests using a smart card that contains electronically all the documentation required to drive a vehicle.
A device fitted inside the vehicle will allow it to move only when this smart card is inserted. It also makes it easy for the police to trace missing vehicles.
This idea came to him during discussions at school on traffic regulations.
He feels, "Many people forget the license at home. So there should be some system to make it mandatory that without license, the vehicle will not start."

Headphones with sensors to detect external sounds
Last updated on: November 23, 2012 19:16 IST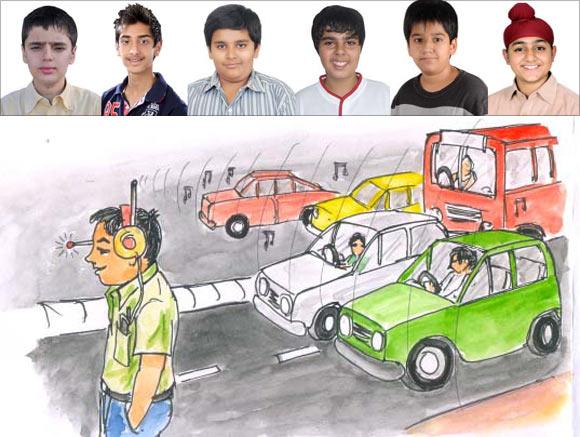 Lakshya Kaura, Naman Jain, Manav Mitra, Utkarsh Hora, Amrit Dang and Sehaj Kataria
Class 8, Vasant Valley School, New Delhi
Most people take off their headphones while on road to avoid accidents. But one young boy loved his music too much to part from it.
He wanted to listen to it while walking on the road, but not at the cost of safety. He shared his anguish with his friends and all six of them put their heads together to come up with an innovative solution: headphones fitted with sensors to pick up external sounds.
So, if a vehicle honks within 10 metres, the headphones automatically stop playing and sound an alert.
Preventing mobile usage while driving and unique doorbell to identify visitors
Last updated on: November 23, 2012 19:16 IST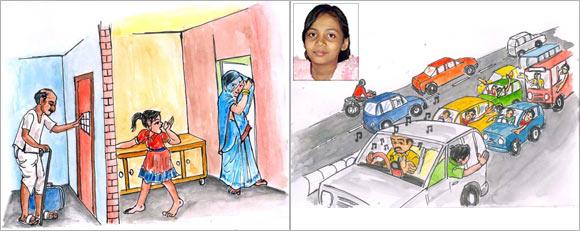 Rajashree Choudhury
Class 5, Little Flower School, Jamshedpur, Jharkhand
What's the Idea?
Well, there are two!
The first idea can stop people from using a mobile when driving.
How? It is a device with a place for inserting a mobile, and it is fixed on the car dashboard or handle of a two-wheeler. The vehicle moves forward only if the mobile is inserted into this device.
In other words, the driver can't talk on the phone while driving.
Her next idea is to have personalised doorbell ringtones so you know who is at the door beforehand. The doorbell has unique codes assigned to different individuals. So when a guest presses their code, the doorbell rings with a specific sound.

Wind-operated ceiling fan
Last updated on: November 23, 2012 19:16 IST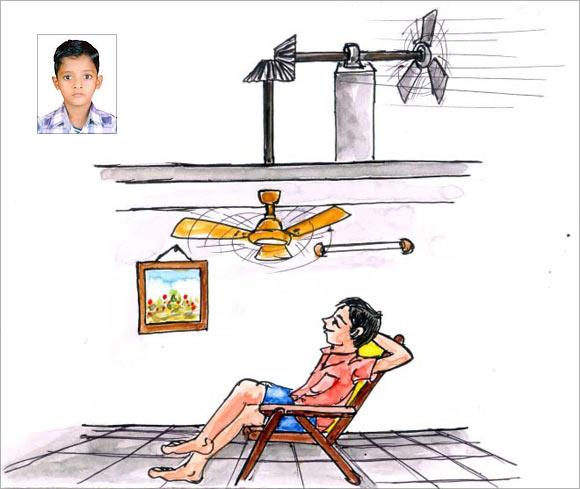 Md. Usman Hanif Patel
Class 2, Tapti Public School, Jalgaon, Maharashtra
What's the Idea?
Ceiling fan inside the house mechanically powered by a wind-mill on the roof.
Once travelling towards Nandurbar, looking out the window of a moving train, 6-year-old Usman saw some windmills zipping by.
His father explained that a windmill turns using wind energy and as the blades move on top, the bottom attachments also move.
One day, staring at the ceiling fan during a power cut, Usman wondered what would happen if the ceiling fan could be connected to a fan placed on the roof. That way, when the wind moves the fan outside, the ceiling fan would move in synergy.

Hand pumps that rise automatically in flood affected areas
Last updated on: November 23, 2012 19:16 IST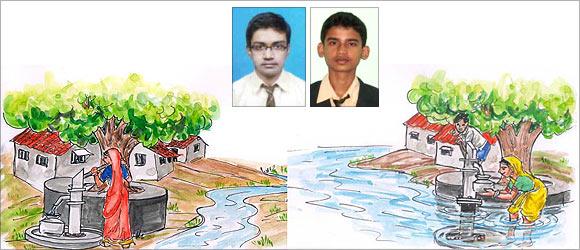 Kripesh Swain and Kumar Biswajeet
Class 8, DAV Public School, Bhubaneshwar, Odisha
Kripesh and Biswajeet were very irked by the fact that during the monsoons, especially in flood affected areas, muddy water would gush into the bore wells from the top, rendering the once fresh water unusable.
To prevent this problem from recurring, they designed a hand pump such that it can go up with the rising water level, so that it remains usable.
"We couldn't tolerate the extent of suffering in different parts of Odisha. Everybody deserves pure water," they said.
Movable road dividers
Last updated on: November 23, 2012 19:16 IST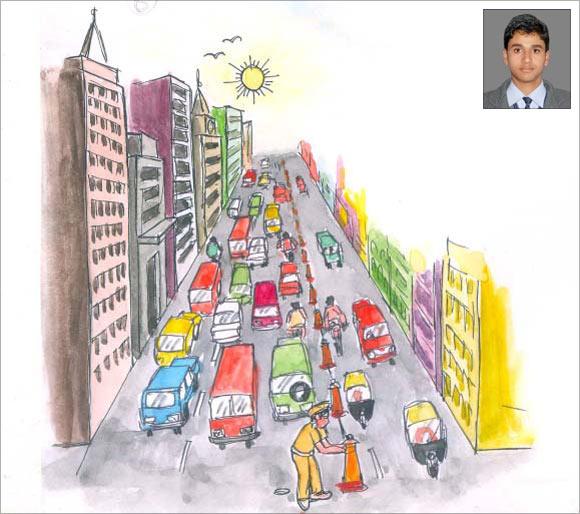 Sidharth Pal
Class 11, Sai Grace Academy
Dehradun, Uttarakhand
All of us may have observed that vehicular traffic load on either side of the divider at different times during the day (specially during peak hours) varies.
The children suggest having movable road dividers, which can be shifted to the left or right depending upon the incoming traffic from a particular side thereby easing congestion on roads.
Sitting inside a vehicle surrounded by loud honks while stuck in a traffic jam is a daily irritant for most commuters.
Sidharth used to get annoyed when he would get delayed while on the way to an important class. He put on his thinking cap and came up with a simple but effective solution -- movable road dividers.
Solution for traffic congestion
Last updated on: November 23, 2012 19:16 IST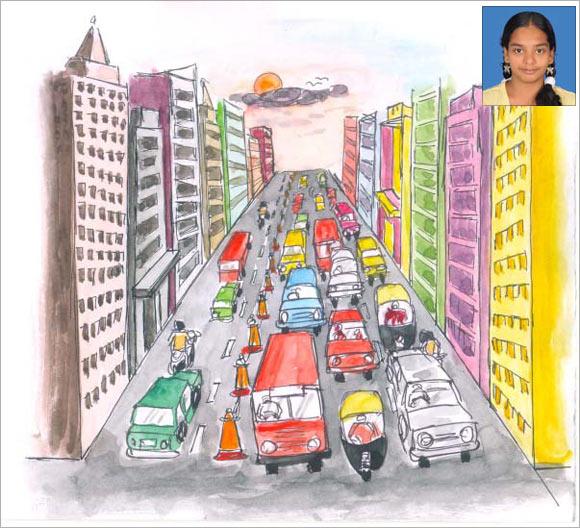 S Charishma
Class 8, Bhartiya Vidya Bhavan, Hyderabad, Andhra Pradesh
Getting stuck in traffic is the worst way to start the day but it is something experienced by mostly everyone, whether it is a kid going to school or a clerk going to his office. Charishma found an innovative solution to this problem.
She noticed patterns in movements of vehicles.
One side of the road has more traffic in the morning, which shifts to the other side in the evening. So she proposed a simple, but very creative solution: why not use movable dividers?
Depending upon the incoming traffic from a particular direction, the dividers can be shifted to increase lane size.
This would considerably ease traffic congestion, as there would soon be a balance between the lesser-used lanes and the more congested lanes.

Artificial assistance for blind people
Last updated on: November 23, 2012 19:16 IST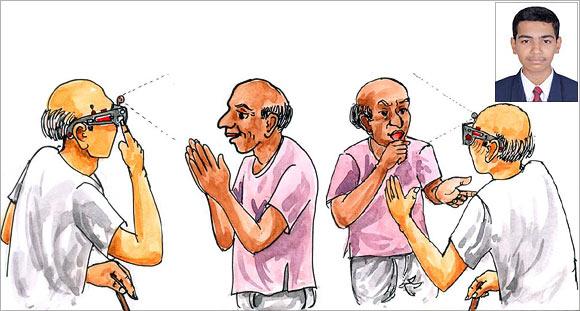 B Survesh
Class 10, The Hindu Colony Chellammal Vidyalaya SSS, Chennai, Tamil Nadu
With a blind granduncle and grandaunt, Survesh has seen first-hand problems faced by the blind.
Therefore, he thought of creating sunglasses that could help them recognise people and objects independently. The sunglass has an inbuilt camera to record the image and the name of a person met for the first time.
When the person is met the next time, the image processing software recognises and speaks out his/her name to the blind person. It can also search online to identify objects.

Cushioned-helmets for labourers
Last updated on: November 23, 2012 19:16 IST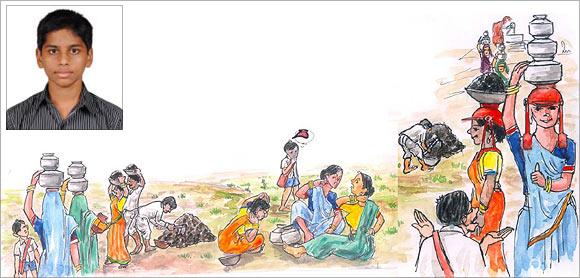 G Jeevan Sidharth
Class 9, Shrishti Vidyashram, Vellore, Tamil Nadu
"While going to school, I often observed construction workers carrying bricks and cement on their head. I wanted something that would protect the head, reduce pressure and help to balance load. Just like how a helmet gives safety
while riding, why can't a helmet protect these workers?"
He thus went on to design a helmet to provide safety to workers at construction sites. It is fitted inside with a cushion that gives protection while the outer surface has a slight inward curve for easy balancing.

Device to monitor mental stress in students and others
Last updated on: November 23, 2012 19:16 IST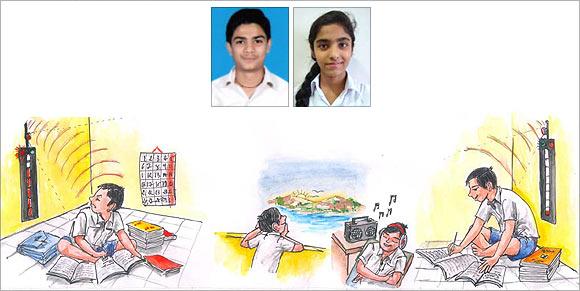 Himanshu Jiteshbhai Parmar
Class 10, Pandit Nehru Vidya Vihar, Ahmedabad, Gujarat
It disturbed 15 year-old Himanshu to see parent's single-minded focus on their child's studies. The catchphrase "padh, beta padh" (Study, child, study!), though well-intentioned, builds up pressure on the child.
"I remember reading a news paper story about students who committed suicide because of failure in their class 10 board exams," he shares.
This made him to think of a system to measure tension/mental stress. It would tell the degree of stress and if found high, students can unwind before going back to their studies.
Ankita Arora
Class 10, Police DAV Public School, Jalandhar, Punjab
Ankita was distressed to see her mother struggling with acute back pain that confined her to bed for over a year. Her mother's agony gave her the idea of creating a device for detecting and monitoring levels of mental stress in an individual.
This can alert patients and their families dealing with mental stress to take corrective steps.


Mobile to mobile charging
Last updated on: November 23, 2012 19:16 IST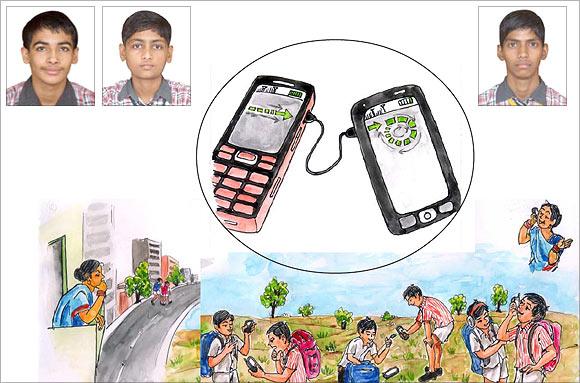 Ravi Duhan, Sanjay Raghav and Manoj Kumar
Class 9, SD SSS, Rewari, Haryana
This group of three friends had seen files shared between mobiles through Bluetooth.
Extending this further, they wondered why a mobile cannot be used to charge another mobile.
Brainstorming this further, they came up with possibly two ways of doing this -- wired or wireless way of charge transfer from one mobile to another.
The idea is especially relevant for rural areas with its erratic power supply.
Retractable toilet pot with cleaning system
Last updated on: November 23, 2012 19:16 IST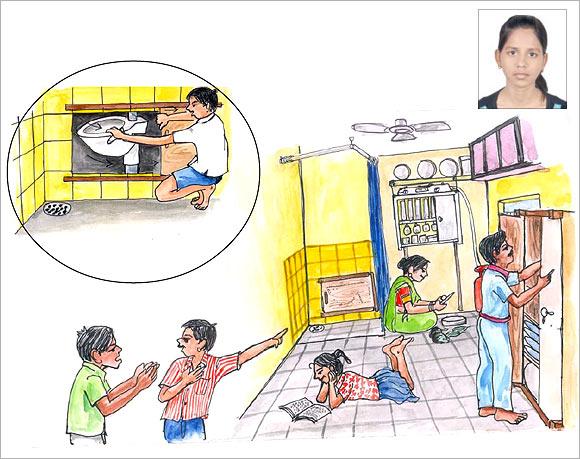 Shweta Verma
Class 9, Gyan Sthali Public School, Jhansi, Uttar Pradesh
Retractable toilet fitted with sensors -- the pot can be pulled inside the wall after use and taken out when needed.
Shweta believes, "This will help people who have small homes with little space. It can also be used in other places where space is a constraint."
Modified painting brush
Last updated on: November 23, 2012 19:16 IST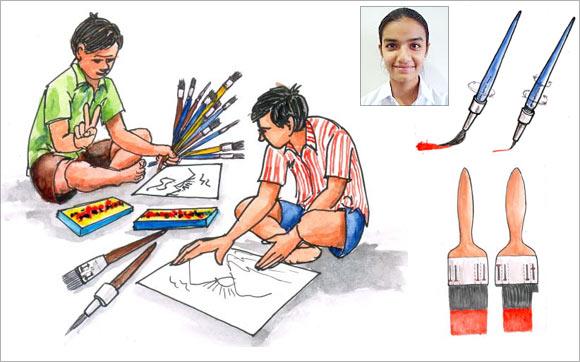 Ektapreet Kaur
Class 9, Police DAV School, Jalandhar, Punjab
Even though Ektapreet has never been too fond of art and painting, she doesn't miss her fine arts class, which is twice a week.
She observed how different paintbrushes were required for different kinds of strokes and paintings.
"What a waste of money and how tiring to keep alternating from one brush to the other!" she thought.
This inspired her to think of a single paintbrush, which could accommodate varying sizes, just like a pen can have refills of many colours.

Multi-purpose tent and load-lifting device
Last updated on: November 23, 2012 19:16 IST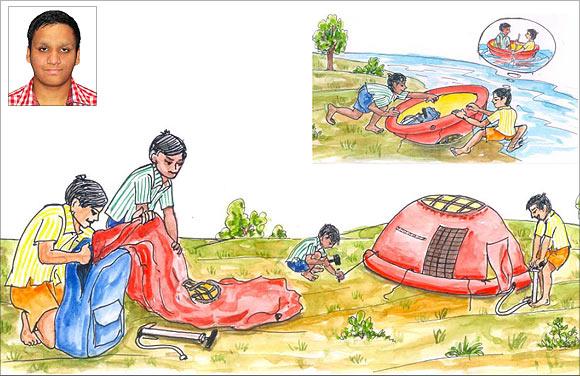 Rishab Gupta, Jammu
Class 10, DPS, Jammu, Jammu & Kashmir
It was in the middle of a mountaineering camp in Mussoorie that an idea to convert a tent into a raft struck Rishab.
Why should more material go into a production of a boat when that used to pitch a tent could be reassembled into a boat?
His tent is creatively planned to be usable during both summer and winter with portable solar panels to provide light after sunset.
The base is proposed to be made of rubberized nylon that can be inflated and the border along the base can be blown up to turn it into a raft.
His next idea is a portable shifter to easily move heavy things. With this device, heavy items like furniture and refrigerators can be comfortably shifted by attaching a set of wheels to slide them from point to point.

User-friendly pedal rickshaw
Last updated on: November 23, 2012 19:16 IST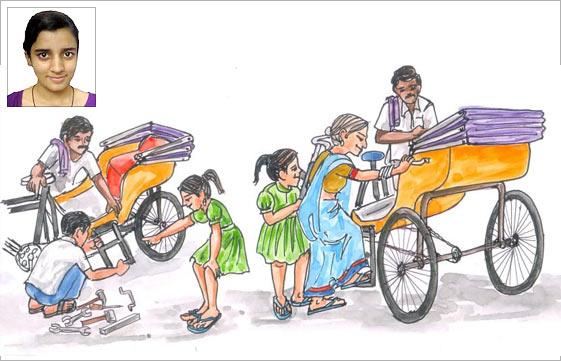 Mansi Priya
Class 11, DAV Kapil Dev, Ranchi, Jharkhand
Watching her grandmother struggle to get down from a pedal rickshaw, got Mansi into thinking.
She suggests addition of small folding stair in the rickshaw, which will help old people to climb a rickshaw with a lot more ease.
Modified cycle rickshaw
Last updated on: November 23, 2012 19:16 IST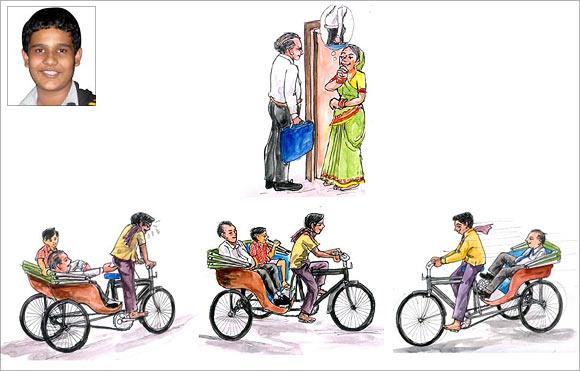 Arnab Chakraborty
Class 12, Future Foundation School, Kolkata, West Bengal
Arnab, who recently moved to Kolkata, was surprised seeing a large number of cyclerickshaws plying on the city roads.
It also disturbed him to see thin, frail men pulling such weight.
So, he thought of a modified cycle rickshaw with extra pedals for passengers who may wish to share the burden and co-pedal the rickshaw.
Charging mobile while talking
Last updated on: November 23, 2012 19:16 IST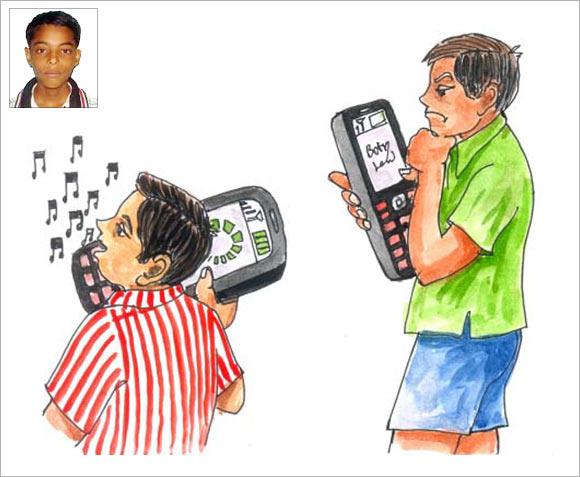 Gautam Kumar
Class 7, Rajkiya Madhya Vidyalaya, Patna, Bihar
It is difficult to keep a mobile charged when living in an area with frequent power cuts.
Gautam faced this problem himself and wondered why our voice (since it is energy -- sound energy) cannot be used to charge the mobile.
He feels, "In most villages, we have problems of power shortage. So it can be useful there."

Machine to suggest what to eat and How to Cook It
Last updated on: November 23, 2012 19:16 IST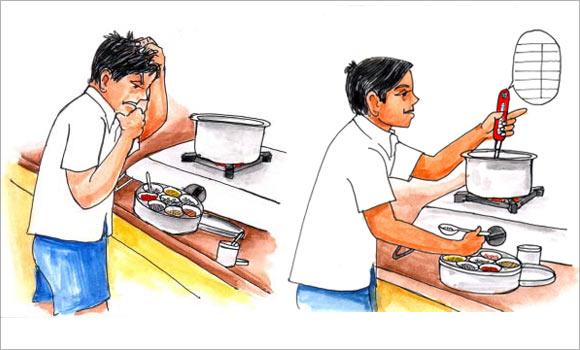 Sharvay Harish Tiwari
Class 5, Shri Shri Ravishankar School, Pune, Maharashtra
Standing in the kitchen and don't know what to cook? Or feeling an urge to eat potatoes, but can't decide whether to eat them boiled or accompanied with some other vegetable?
Sharvay's idea does away with these problems. In his machine, you simply select a particular vegetable, and the monitor displays a list of different ways it can be cooked along with the ingredients required and their quantity.
Asked on how he came up with such an idea, he simply replies, "Because I love food."
His father won the Gandhian Young Technological Innovation Award in 2012 for his project on using engine exhaust for automobile air conditioning. He shares, "Sharvay is innovative and interested in things beyond studies."
Device to relocate clouds
Last updated on: November 23, 2012 19:16 IST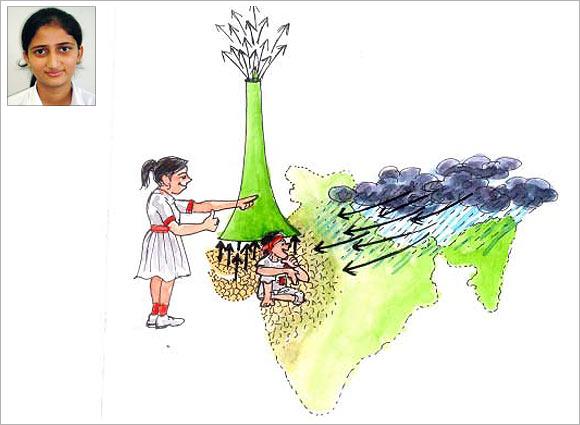 Shweta Sharma
Class 10, Police DAV School, Jalandhar, Punjab
Poor rainfall in Punjab made Shweta experience first-hand the problems caused by water shortage.
At the same time, she read about floods in Assam. It got her thinking that if the clouds over Assam could somehow be sent to Punjab, it would be a 'win-win situation' for both states.
She was hesitant to share this idea as she thought that it might be laughed upon. But she discussed it with her mother who told her the story of the great musician Tansen whose raag Megh Malhar was said to have the power to bring down rain.
Encouraged, Shweta sent her idea reasoning that "if a sweet melodious voice can bring rain, then this is also possib#8804 maybe not today, but tomorrow." She is fond of chemistry and physics and likes looking up new words in the dictionary.

Glove with in-built mobile phone
Last updated on: November 23, 2012 19:16 IST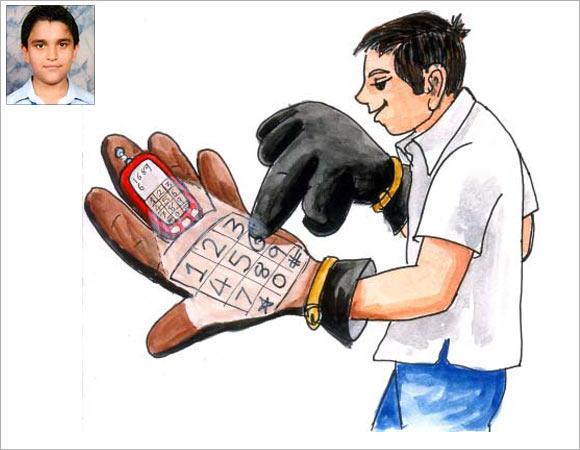 Rohan Jolly
Class 7, Angel School, Delhi
Rohan's grandparents live in Kashmir and he visits them during vacations.
The cold weather made gloves indispensable, but Rohan found it difficult to hold the phone while wearing gloves.
There was another problem as well.
"The mobile sometimes get covered with snow and water entered inside, damaging it," he explains.
He thought of solving these problems by fixing the phone within the gloves, so you can talk comfortably while remaining warm.
Shirt that wakes you up
Last updated on: November 23, 2012 19:16 IST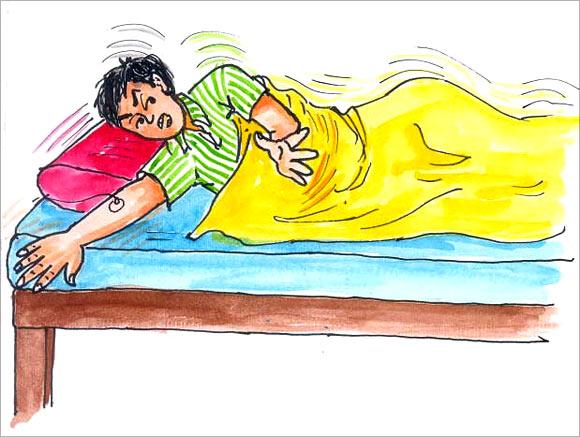 Jatin Kumar Bhoi
Class 9, KK High School, Sundergarh, Odisha
Jatin found it difficult to remain awake while studying.
It landed him in problems, especially during exams.
To overcome this tricky situation, he suggests a special shirt with a mechanism for making sure that the person wearing it remains awake.
He also wants it to have buttons that can tell time.
When probed on how he will make this, he replies, "I don't know right now but will think of something once I grow up."