I am not a superwoman: Author Gajra Kottary
Last updated on: April 20, 2011 18:32 IST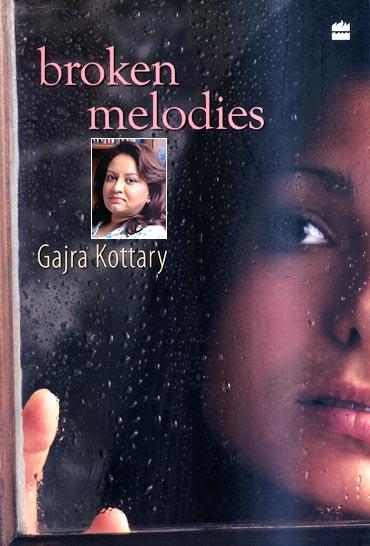 Former journalist and award-winning television scriptwriter Gajra Kottary discusses how she coped with writing her debut novel, Broken Melodies, scripting for the popular soap Balika Vadhu and being a mom.
Her daughter's reaction to her first novel may be Gajra Kottary's biggest compliment. "I realised," says 17-year-old Aastha, "how fortunate I am that I haven't been brought up in a family where I have to see my parents fight so much and just completely hate each other. I think, more than anything, my respect for my mother just grew."
Gajra Kottary's Broken Melodies is life seen through the eyes of its young protagonist, Niyati, a normal child growing up in an abnormal family. Her childhood is tainted by the aspirations of her father, a classical singer, and her mother's struggle to keep the home fires burning.
Broken Melodies is a poignantly written tale that will find resonance in a nation where family dynamics are paramount and where warring parents and broken homes are becoming increasingly familiar.
A former journalist and an award-winning television scriptwriter -- Gajra has popular serials like Balika Vadhu, Jyoti, Godh Bharaai and Astitva to her credit  -- her Broken Melodies is peopled, like her serials, with women of strong character.
Gajra has continued to be actively involved in scripting the daily soap, Balika Vadhu, even as she dealt with the challenge of writing a book that was scheduled to release simultaneously in English and Hindi.
Even as she celebrates the launch of Broken Melodies, Gajra tells Savera R Someshwar that she is looking forward to apply its learning to her next one.
NEXT: Excerpts from the interview
'Husband-wife issues eat away at family structure'
Last updated on: April 20, 2011 18:32 IST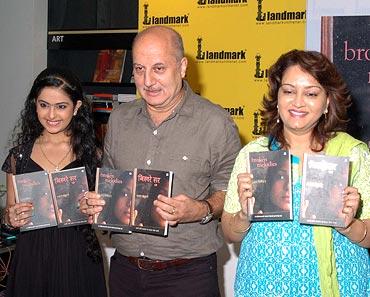 Considering the success you've achieved as a scriptwriter (Gajra co-scripts the hugely popular Balika Vadhu), how different was the experience of writing a book?
There's been lot of spontaneity and complete abandon in the writing of this book. I haven't thought too much about will this work and will that work, which we do quite a bit of in our scriptwriting work. In that sense, it's been very, very gratifying.
Though I've set the book in the seventies and the eighties, I feel some of the questions that bother me and the book tries to raise -- tries to answer also -- are extremely relevant today because we find marriages crumbling everywhere.
Issues between husbands and wives assume such huge proportions that they eat away at the family structure, at all faith and positivity.
Broken Melodies is about what happens to a child during the years when she is still in that environment. Personally, I feel that whatever a child sees of the most primary relationships of her life in the formative years stays with that child for the rest of her life. It impacts him or her for a lifetime.
In the writing of this book, you have dug deep into your personal life, into what you have either seen in your own life or in the lives of people around you...
When you write your first novel or make your first film, there is a lot of the creator that seeps in into that creation. This is what makes it more sincere and helps it reach out better to people.
As a person, how public or private are you?
In terms of the work I do, I'm a very private person. Nobody recognises scriptwriters; nobody would even connect our names until somebody said it in so many words.
I'm happy with the kind of work I do. At the same time, if you are a scriptwriter, you have to be involved with people. You can't be writing in an ivory tower. It's not an extremely quiet activity like writing a short story or a novel.
'I can't say it's been entirely smooth sailing'
Last updated on: April 20, 2011 18:32 IST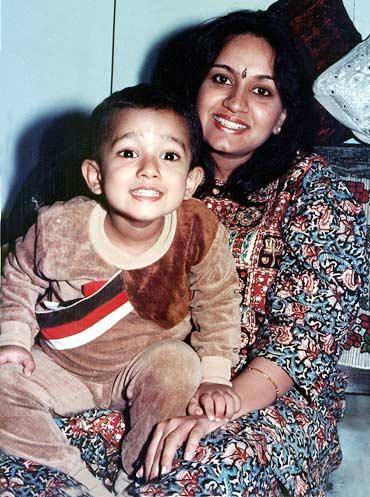 Coming from that environment to writing your first novel where you've put out a lot of yourself for people to consume, interact with, appreciate or hate -- how does that feel?
It feels a little frightening. It also feels like you have graduated. I have to take the responsibility for this one (the book) and how it will be received by the people -- good, bad or indifferent -- square on.
At the same time, it's just such a big relief that I was able to do it. I feel good about it.
My last book of short stories (The Last Laugh) came out eight to nine years ago (Gajra had earlier written another book of short stories, Fragile Victories). I missed that kind of writing. I felt that was also me and I needed to do that kind of thing.
In the three years that you worked on this book, you were also working on Balika Vadhu and being mom and the family's organiser. How did you juggle these various roles and how did each one impact the other? Did they feed off each other or did they battle against each other?
Truthfully speaking, I can't say it's been entirely smooth sailing.
I'm against this imagery we have of being superwomen; I am not a superwoman.
I was doing a lot of television when my kids were at a stage where they actually needed a lot of my time and attention. That requires hard work and creativity, but you just hurtle from one day to another and you don't know how it all works out in the end.
You need to have a different kind of quiet to be able to write short stories a novel is ten times more challenging.
In the last three years, my kids have reached the age when they don't really want you breathing down their necks. It was a good time to go into myself a little more than I have been doing.
Besides, I've never allowed myself to get moody. I have a military-like approach to time. It's like... I have two hours so I am going to write. I am not going to wait for inspiration, mood, leisure or anything else. It does not matter if one paragraph emerges or five pages.
In terms of my work impacting the family, they have definitely adjusted a lot. When kids grow up a little, the father can play a very positive and practical role. In my case, my husband stepped in very graciously to take care of a lot of things when I couldn't.
At times the kids have complained that I haven't given them the kind of time, especially fun times that perhaps other mothers have given their kids.
'The struggle to bring out the first novel teaches you so many things'
Last updated on: April 20, 2011 18:32 IST
Do you see your book becoming a serial?
No. It sounds very ambitious, but I see it becoming a film.
If the Balika Vadhu characters were to read your book, who would love it and who would hate it?
I definitely think Anandi would like my book and perhaps Bhairon would love it. Frankly, I think everyone would love my book.
Would Dadisa like it?
Yeah, why not?
Your book has been released in both English and Hindi. How did that come about?
It was the publishing house's idea to release Broken Melodies simultaneously in English and Hindi. I have overseen the translation; the Hindi version was translated by someone who was appointed by the publishing house.
The strange thing is that we never met; we used to mainly interact by mail. The final approval rested with me and I've contributed quite a bit to the translation.
The translation really works because the book is set in an extremely Indian milieu. There were times when I thought that might be disadvantage in the English version. In fact, in certain parts, the Hindi version reads much more beautifully.
This is a kind of experiment, if you will, by the publishing house. It is an attempt to expand the market, which is not very exciting and needs to be nudged right now.
The translation did delay the release of the book which would have otherwise been out six to eight months earlier. It's early days yet, but Broken Melodies is doing much better than Bikkre Sur, even though the Hindi version has been priced a hundred rupees cheaper.
How did you think of creating an audio-video promotion for this book?
The idea of making the AV is completely Anupam Kher's; he's been a friend for many years and I deeply admire him.
I gave him the manuscript of the book. He really liked it and he felt we should do something unique. He's done everything to make the AV possible.
What next -- any new unexplored frontiers?
I've enjoyed the freedom -- which is a very flat word, but for want of another word -- about writing this novel so much that I would like to write more.
The struggle to bring out the first novel -- the first anything actually -- teaches you so many things, it would be sad not to build further on it. There have been a few mistakes I have made while writing; I have discovered the pitfalls.