He made it to IIM despite cerebral palsy
Last updated on: June 13, 2011 19:19 IST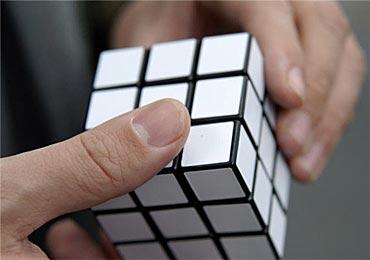 Prem Kumar Ravi was preparing for CAT when a phone call from a freind in November 2008 changed the course of his life. The friend asked him to talk to Sumanth Iyengar who was also preparing for CAT, but suffered from cerebral palsy. The conversation spurred Prem to start Spurthi, an academy that trains students with disabilities and from economically weaker sections to crack CAT and secure admissions to the famed IIMs.
Those who want to be part of Spurthi either as a volunteer or student, you can mail on prem.ravi.kumar@gmail.com.
We usually react in either of the two ways to a physically or mentally challenged person -- sympathise or ignore. Prem Kumar Ravi, presently a second year student at the Indian Institute of Management, Calcutta (IIM-C) reacted differently. He helped. Even while struggling to get into an IIM himself, Prem decided that helping 'others' would probably be as gratifying. And that too not just any 'others' but God's special children -- the physically and mentally challenged.
It all started with a call from a friend on November 15, 2008 who asked him to talk to a special candidate, Sumanth Iyengar, who was to appear for his CAT paper. Sumanth had *cerebral palsy and had attempted CAT thrice without any success. Prem called him, but could not understand a word of what he said on the phone. "His speech was slurred and difficult to understand. I could not comprehend anything. But yes, between the words, his emotions were obvious. So, in a way, I could understand even the unsaid," remembers Prem.
Sumanth told Prem that he and a few of his friends had been getting together to prepare for their MBA entrance exams. Prem sensed that while the preparations were on, the motivation seemed to be failing. "I pictured them studying and felt sad and tears came to my eyes. I spoke to Sumanth for a while and tried to motivate him but frankly, at the end of the conversation, I was the one motivated by seeing the boy's determination."
*According to Kidshealth.Org, Cerebral palsy (CP) is a disorder that affects muscle tone, movement, and motor skills (the ability to move in a coordinated and purposeful way). Cerebral palsy can also lead to other health issues, including vision, hearing, and speech problems, and learning disabilities. CP is usually caused by brain damage that occurs before or during a child's birth, or during the first 3 to 5 years of a child's life. There is no cure for CP, but treatment, therapy, special equipment, and, in some cases, surgery can help a child who is living with the condition.
He made it to IIM despite cerebral palsy
Last updated on: June 13, 2011 19:19 IST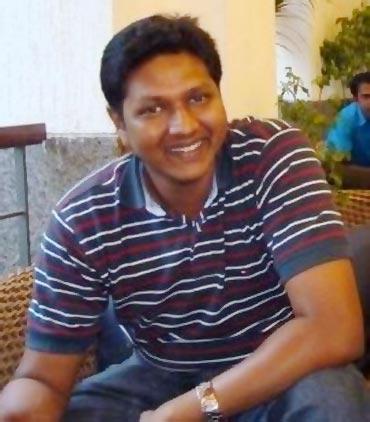 This phone conversation got Prem thinking for hours. "Was talking the only way to help him, I thought. May be I could be of some practical help. As I was preparing for CAT too, why not offer some practical help, I thought."
Prem, who had been involved in training CAT aspirants was the ideal person to whom Sumanth could look up to. Also, the fact that Prem was a four-time CAT taker himself, Sumanth could relate to him.
Thus started a long and hard journey for Prem, who was then in Bangalore, his home town. From hunting a place to conduct classes to making media contacts to advertise the cause -- Prem travelled the length and breadth of Bangalore. He also approached various student community groups for help with CAT preparatory material. An energetic discussion was thrown open on the PaGaLGuY forums as well.
"All of this was happening in November and it was too late to catch that year's CAT exams for Sumanth or any other student who wanted to join, so I decided that we should focus on the following year," said Prem.
Within a few weeks, Prem's dreams started unfolding. A coaching institute gave Prem a class room to function from. Also, a radio station helped them advertise it. In some time Sumanth was joined by two visually-challenged students -- Vishal Jain and Swati in the classroom. The common thread among these students and the teachers was that all dreamed of getting into an IIM someday.
Some of the students had converted calls from other b-schools such as the Tata Institute of Social Sciences (TISS) but getting into an IIM was the ultimate dream.
He made it to IIM despite cerebral palsy
Last updated on: June 13, 2011 19:19 IST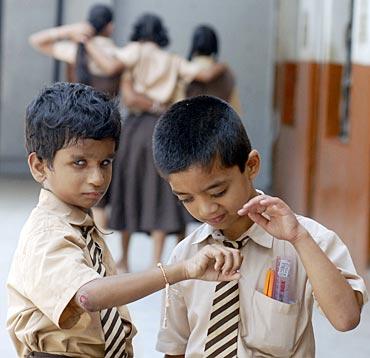 Prem extended the concept and helped the economically-weak students too and thus Spurthi was born. At that time, Prem also got his close friend Abhishek Bhatia and some others to help him run Spurthi.
By early 2009, a proper classroom was in place and also some serious teaching. The visually-challenged students used a software, which Prem had to learn himself and that helped in smoother functioning. Prem and his friends basically began reading out and explaining the concepts to the three students. Sometimes when Maths had to be taught to the visually challenged students, Prem and his team had to explain with colours and different objects. The classes were held mainly on weekends (few hours each on Saturdays and Sundays).
Mid-2010, Prem himself converted his IIM-C call and had to leave Bangalore. That was when others in Prem's network took over. The classes continued and whenever possible Prem helped over the phone or the web cam.
Recalls Prem: "It was difficult at first as it took time for them to pick up the concepts but soon we took to different ways of teaching and it helped them grasp things in a quicker manner. Within the next few months, we were all comfortable with each other and that helped considerably."
Classes were strenuous but also fun as both the instructors and the students knew that the goal ahead, though not easy was certainly attainable. Prem adds that in no time, ample study material had come in and there was a buzz around b-school campuses about the work done.
He made it to IIM despite cerebral palsy
Last updated on: June 13, 2011 19:19 IST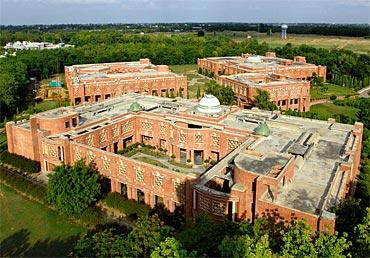 A year went by. Vishal had appeared for CAT in 2009 and had converted an IIM Lucknow call. A year later, Sumanth and Swati appeared for CAT 2010 and converted their IIM calls. Sumanth got into IIM Indore, and Swati chose IIM Bangalore after converting Ahmedabad, Bangalore, Calcutta, Indore, Kozhikode and Lucknow.
For Prem, it was a 100% conversion for Spurthi's first batch. Not only for the students but for Prem too, it was a huge high -- it should be for a person who has a signature line that reads 2007: IIMA reject 2008: XLRI (GMP) reject 2009: IIM-L reject, XLRI (GMP) convert 2010: IIM-A reject, IIM-C, IIM-L converts.
This year, Prem and his team plan to upgrade the mode of instruction to video and PowerPoint presentations and through web cams.
NEXT : Sumanth's Story
He made it to IIM despite cerebral palsy
Last updated on: June 13, 2011 19:19 IST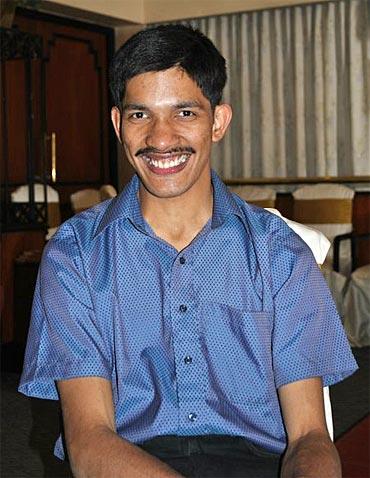 Sumanth's story
Sumanth is presently working for Thomson Reuters as a market analyst but is leaving shortly for IIM Indore to follow his dream. Speaking to PaGaLGuY, he says, "Getting into an IIM was always my goal and today I have attained it -- it seems unbelievable. Having cerebral palsy since birth, studying has always been a challenge for me and to think that I always aspired to get into an IIM was as challenging a thought to live with. I attempted CAT four times and even got into the Tata Institute of Social Sciences but my aim remained getting into an IIM. Prem helped me realise my dream and I got what it took to crack CAT from Prem. The constant teaching and guidance from people who also shared a dream of getting into an IIM made my journey even more fruitful. Last year, after Prem got into IIM-C, I got help and support from the director of a coaching institute who asked his faculty to pay special attention to me. Prem helped in motivating me throughout my effort. It was not easy for me to study and work like others but now that I had got the opportunity, I was going to make full use of it and shine. Finally, I want to start my own company, not sure what kind but one that has data entry jobs -- so that others who are physically challenged can benefit."

"PaGaLGuY.com is India's biggest and most trusted MBA preparatory resources website, using technology, community and high quality content to empower the MBA aspirant community."