He battled 95% burns, coma and 54 surgeries to get his MBA
Last updated on: July 10, 2012 18:17 IST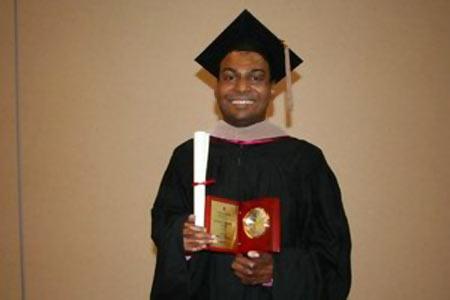 Manoj Rana who went to the US on an exchange programme was a victim of a fire accident in 2005. However, the determined young man survived the extreme situations in his life to chase his dream and is finally an MBA today. This is his story.
Uttar Pradesh born Manoj Rana is not the predictable computer engineer who ended up doing an MBA.
His reasons were slightly different.
A dreadful fire in 2005 had rendered both of Manoj's hands and his upper extremities severely contracted. Today, after suffering 95 per cent burns, undergoing 54 surgeries, he's already spent over 3 years in the hospital which includes four months of being comatose, Manoj Rana remembers how he was allowed to leave the hospital on a 6-hour pass only to take the GMAT exam.
The feeling is obviously exhilarating for Manoj who got his MBA diploma only a few days ago.

And all this happened in the United States after Manoj went there in 2004 as part of an exchange programme that his engineering college (Galgotia College of Engineering and Technology, Greater Noida) had with Purdue University Calumet, Hammond. Manoj grew up in Noida in a joint family and with 19 cousins and two of his siblings. He was the brightest of the lot and a school topper in Class 12.
"I wanted to be a doctor but my dad didnt have enough money, so I decided to go for computer engineering," Manoj told PaGaLGuY on the phone from the US.
Please click NEXT to continue reading

'I became unconscious and woke up after 4 months of induced coma'
Last updated on: July 10, 2012 18:17 IST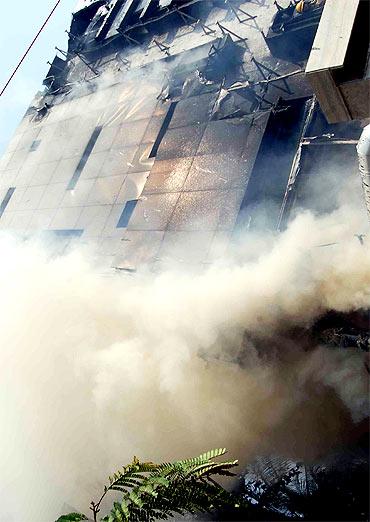 In 2004, Manoj landed in the US as part of the exchange programme where he had to do 38 credit hours as his 90 credit hours were transferred from his college in India.
It was only a few days before graduation that the tragedy struck Manoj in the apartment which he shared with a roommate. His apartment was on the third floor.
A guy living on the first floor who was having marital problems got his wife drunk, locked his two-months-old daughter in a closet and set the apartment on fire.
Manoj and his roommate returned home from a party at 3.00 am and the fire started at 4:30 am.
"By the time, my roommate and I woke up, the whole apartment was on fire. We could not jump out as our balcony and windows were on fire. We called 911. The apartment got hotter and smokier every minute. As my roommate fell unconscious, I started running down the stairs and passed out," recalled Manoj.

As the paramedics were taking Manoj to the University of Chicago Burn Unit, he heard one of them say, "this guy is 95 per cent burned, he doesn't have a chance."
"At that moment, I thought about my family and how I came to the US to get a good education and now I don't even have the chance to live. I became unconscious and woke up in the University of Chicago Burn Unit after four months of induced coma," adds Manoj.
'Even today, I type with one finger'
Last updated on: July 10, 2012 18:17 IST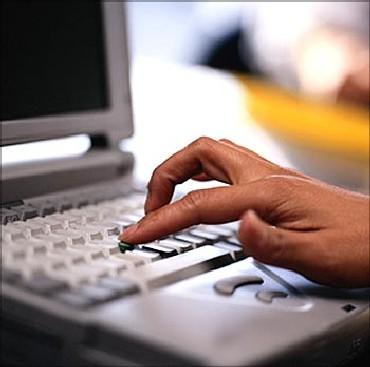 The trial
Thereafter, started Manoj's tribulation.
He had to live in the hospital for three years and got his Computer Engineering degree a year and a half later.
"When I got around to my sense, I realised I did not have any finger movement in my left hand and slightly better movement in my right hand. It is the same even today. I type with one finger. I was not sure whether working in the computer field was feasible for me. I was not able to live independently and I knew it was going to be difficult to get a job. So, I decided to go for an MBA," said Manoj explaining why he opted for an MBA after his computer engineering.

Manoj underwent surgery every three months and an intensive therapy programme.
"Some of the therapy included wearing a face mask for three years, pressure garments to my entire body. I wore dynamic splints to my hands, wrists and elbows to increase range of motion, and underwent daily dressing changes to my wounds and performed hourly exercises to restore function in all of my joints. I used to study in my extra time while I stayed in the nursing home, said the survivor."
Manoj also had to reschedule his GMAT exam thrice because of the surgeries. And every time, he had to start all over again as he would lose a month after the surgery.

The pain and therapy used to be intense and pain medicines made him sleepy and groggy.
Despite all this, Manoj scored 700 in GMAT and got accepted into Kelley School of Business for an evening MBA programme in Indianapolis, US.
"I wanted to pursue a part-time programme as I didn't know how much course load I would be able to take. I got my acceptance letter mailed to the hospital as that was my address then," he adds.
'Post MBA, I have a better realisation of the world around me'
Last updated on: July 10, 2012 18:17 IST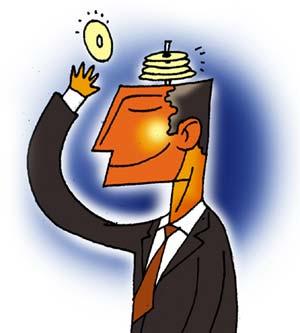 Giving up
After spending a few months in the hospital, Manoj had begun to give up on life.
"I was devastated after the incident. I did not want to live. My dad spent every penny on my education and I did not want to be a burden on my family. I even asked for euthanasia. I told my mother to go back to India as I didn't think I was going to make it."
Throughout, Manoj's mom made him realise that he was not a burden on the family and that she would take care of her son for the whole life if she had to.
"My doctors told me that they will do everything they can to help me live independently. The hope of being independent kept me going. I wanted to give my parents a good life and I used it to motivate myself," he shared.

Meanwhile, Manoj came to know that his roommate perished in the fire and so did other people in the building. In fact, he was the only one who'd survived. Though the memories of the fire do not haunt him, he misses his roommate.
"I have never been angry at the guy who did it. God will deal with him. I can't live my life being bitter and angry at the guy."

How has MBA helped?

"I have a better realisation of the world around me. I now understand the reasons why things happen in a company, in a community, in a country and in a global economy. Instead of making irrational judgments, I understand the reasons behind the economic events," said the MBA graduate who is looking out for a job in the finance sector.
Manoj says his dream job is to pursue investment banking or private equity/venture capital. Besides clearing his CFA level I exam, and preparing for the next level, he's waiting for his green card so that he can provide the necessary work authorisations to his prospective employer.
Illustration: Dominic Xavier
'All this would be impossible without the hard work of my parents, doctors...'
Last updated on: July 10, 2012 18:17 IST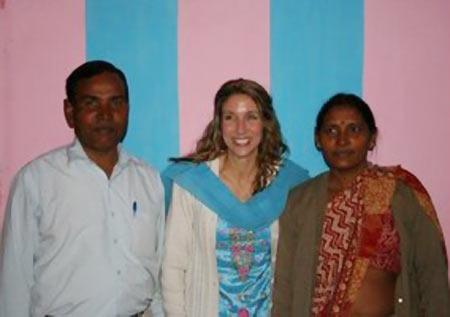 S
urviving in the US
Cruel that it may sound, the fact that Manoj's terrible accident happened in the US was also a blessing, recalls Manoj.
If one were to compare, there are very few cases of people with 95 per cent burns who survive in India. The kind of medical treatment that Manoj received and in quick time made all the difference. Besides, medical expenses were all paid for too.
"The US government has an emergency Medicaid programme that allows foreigners with an emergency to get medical treatment. Some of the treatment was paid for by Medicaid and the rest was written off. I want to thank the government of United States for having such a programme as it saved my life. Several of my surgeries were on a pro-bono basis," informs Manoj.

However, the fire survivor is equally unhappy with the US with regards to their immigration and visa process.
"After the fire, I got a U visa which is given to victims of violent crime. You get a visa for four years and you can stay in the country legally for four years. But the visa also implies that you can't travel outside the United States. You can file for your green card only after holding your U visa for three years," laments Manoj.
Raio Krishnayya, Executive Director, Center for Victim and Human Rights, has been fighting the immigration battle on Manoj's behalf.
"Raio filed for my green card in August 2010 but I still have not received it. I have not been back to India since the fire, which took place seven years ago. I can only visit India after I get a green card. I have only seen my parents, brother, and aunt. My sister was denied a tourist visa several times and a student visa twice.

No way back home

The most ironical part of the entire tragedy is that Manoj is not sure when he can come back to India because of his condition.
"My sweat glands are all burned. My body doesn't regulate temperature normally. Our body releases the heat through sweat. As I don't sweat normally, the heat gets trapped in my body. It gets very hot in India and I can die because of overheating. Trust me, I want to live in India but my body will not allow me. Also, I am at a higher risk for infection. So I have to be in the US," he explained.

Manoj who has numerous plans for himself for the future, professionally and personally is grateful to "all the doctors who donated their services to me for free."
"I know everyone is amazed that I survived this horrific injury and got an MBA, but please keep in my mind all the hard work of my parents, my brother, my sister, my occupational therapist, my doctors and all the caregivers. All this would not have been possible without them."

"PaGaLGuY.com is India's biggest and most trusted MBA preparatory resources website, using technology, community and high quality content to empower the MBA aspirant community."