From cabin to cockpit: How Apurva Gilche became a pilot
Last updated on: October 12, 2013 14:14 IST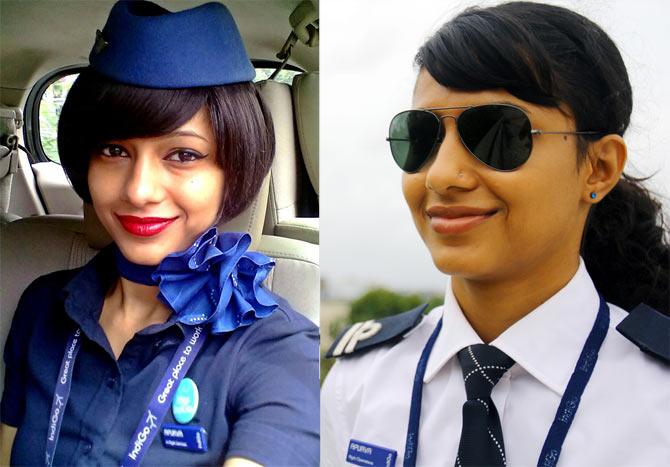 The story of a Pune girl who followed her dreams in the face of overwhelming odds.
A young girl from Pune's Abasaheb Garware College was watching a group of her college mates in the National Cadet Corps parade.
Their uniforms, with their decorative epaulettes, fascinated her. Even more thrilling was learning that these cadets, as part of their NCC training, had learned how to fly, to scuba dive and Para sail.
That very day she enrolled herself at the NCC Air Unit, Pune.
The very thought of getting airborne, defying gravity, doing something different and challenging brightened up her eyes! She wanted to fly!
The NCC personnel enrolling her looked amused. He warned her she would have to undergo rigorous training. ''I knew I wanted to fly. I had never flown in my life before that,'' grins Apurva Gilche, 27.
Thus began Apurva's journey into the world of flying -- a journey that was at times tumultuous and mostly adventurous.
Today life is reasonably stable. As a co-pilot for IndiGo airlines, her life soars high.
But when Apurva came back to India in May 2009 with a commercial pilot license from Australia's Aerospace Aviation it was all pretty uphill.
The tremors of economic meltdown, that shook the US, in October 2008, had hit the Indian shores hard. There was a drought of jobs. More so in the aviation sector.
Muddled aviation policies in India and rising fuel prices had taken its toll on a sector that had initially promised large-scale employment.
"The seniors who had (graduated) before us were still looking for jobs," recalls Apurva of those hard times.
Her father, a government officer (now retired) had spent lakhs of rupees, including on her board, for Apurva to get her commercial pilot license and instrument rating from Australia. This money had been rustled up via a personal and education loan.
"Repaying could have been really difficult but my cousins and father's friends were really helpful. My father spent all his life savings, investments on my education," says Apurva of the hard times the family faced.
Through this crisis her family stood rock solid behind her. Her father, whom Apurva considers her hero, never lost faith in her abilities. Nor did he let his daughter feel the pinch of their economic hardship.
But when her father retired Apurva knew she had to get out and find a job, even if it was not flying a plane.
She had come back to India in May 2009 and there were no jobs till December 2010.
So, when she saw an advertisement for IndiGo's walk-in interview for the post of cabin crew she knew she had to apply.
Though she was trained as a commercial pilot and had dreams of commanding a cockpit one day, Apurva took a cabin crew job to help her family. At least she was flying in an aircraft. It didn't matter then if it was inside the cockpit or beyond it.
She was pretty confident that one day soon she would be able to switch domains. Her father agreed. "At least I got to see the cockpit," she offers spiritedly..
In the interview that follows, Apurva speaks with Rediff.com about how she kept high spirits during her hard times, how she upgraded herself in circumstances where others would have easily given up on their dreams, how IndiGo helped her make the journey from cabin to cockpit and what should others like her, armed with a CPL, or fully-skilled pilots, should do to follow in her footsteps.
'My parents are very happy I finally made it'
Last updated on: October 12, 2013 14:14 IST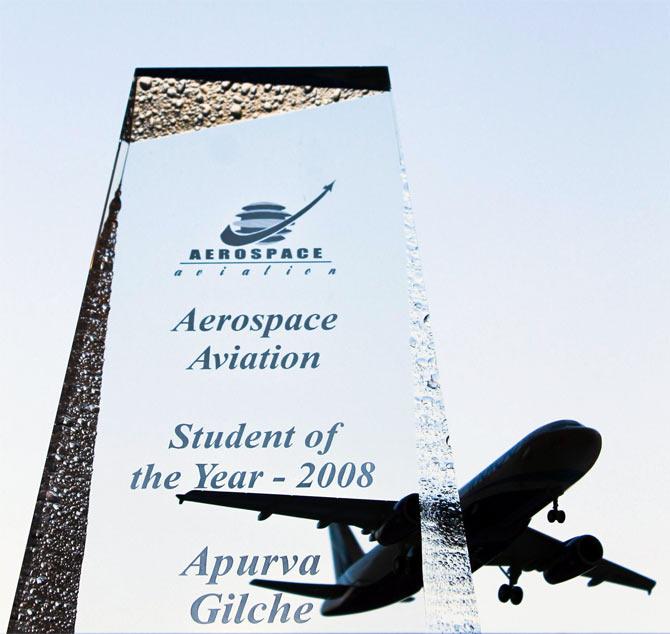 How much did your family spend on your training?
Quite a lot! Quite a lot! The CPL training and instrument rating that I did from Australia cost me lakhs, including hostel and food. And the Airbus Type Rating that I did recently cost lakhs more. Airbus Type Rating is an aircraft-specific training that is given on a simulator.
How did you finance this course?
We took some personal loans initially and then educational loan from banks. My father's best friend and my cousin helped me as well.
When you took those loans were you prepared to repay this huge amount?
The commercial pilot course was assured to be completed within 18 months by the flying school. But it was extended quite a bit due unavoidable circumstances. Due to the boom in aviation the flying school was loaded with students thus delaying the course. Bad weather added to the delay.
Repaying could have been really difficult but my cousins were really helpful. My father spent all his life savings, investments on my education.
But now that I have started flying for the last ten months as a co-pilot things have started falling into place.
How do you your parents feel now?
Oh, they feel amazing. They are very glad that they did all what it took for my CPL training. They are very happy that I finally made it.
What kind of training did you undergo in Australia? How rigorous was it?
We had ground classes for the first two months.
Initially, I started flying with an instructor in good flying conditions, in good weather. Then I got my first solo! This is the first time when you take off and land on your own.
Then I got my General Flying Progress Test (GFPT), Private Pilot Licence (PPL), Commerical Pilot Licence(CPL), and finally multi engine command Instrument rating (MECIR).
I was awarded the best student of the year 2008!
I flew 250 hours in Australia: 150 hours in a single-engine Cessna. The CPL flight test and training for CPL was done in a twin-engine aircraft called (Partenavia) P-68, a six-seater Italian aircraft.
When did you come back to India?
I came back in May 2009. Before landing in India we got to know about the downturn in India, more so in the aviation industry. The seniors who passed out before us were still looking for jobs.
'I always wanted to be around planes because I didn't like the idea of sitting at home, on ground'
Last updated on: October 12, 2013 14:14 IST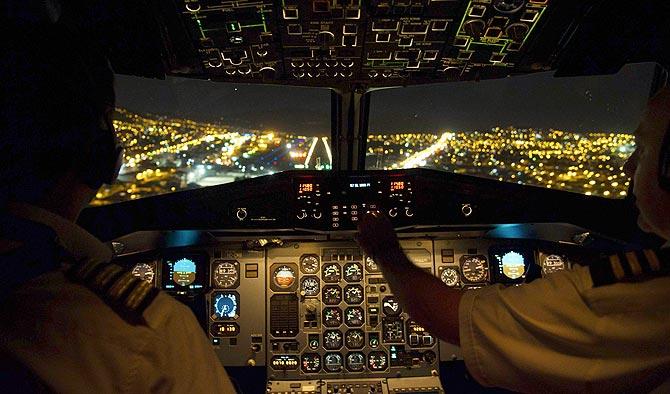 Were you or your parents worried about your career at that point in time?
I was worried initially with the heavy loans on our head. But my dad is very strong. My family believed in me. They had faith I would get through these turbulent times.
What was your first thought when you knew you would be getting your CPL and there was a job crisis in India?
There was positive faith. There was always hope.
I kept waiting and kept preparing proactively for airline entrance exams.
At the same time I was flying Glider's at the Gliding Centre in Pune.
I wanted to get my Glider Pilot License as well. While this is just hobby flying, it helped me stay in touch with my flying skills. A glider does not have engines; so every landing is critical and helps you hone your flying skills.
How did you cope with the situation?
I applied to every airline possible.
In this one year I kept myself occupied. I did a couple of short courses because you are at your worst when your mind is idle.
My dad also retired at the same time and I couldn't just keep waiting on. With his nature, he would never let me feel the pinch.
Then I thought of earning some money instead of doing my GPL. I have a younger brother and sister as well. With every penny being spent on me I couldn't sit back waiting for vacancies. I always wanted to be around planes because I didn't like the idea of sitting at home, on the ground. So when I saw a walk-in interview in a newspaper from IndiGo for cabin crew I went ahead and gave the interview December 2010.
I had come back in May 2009. I gave my written exam for conversion (any person who gets a CPL in a foreign country has to get that license converted after passing a DGCA-conducted exam); I got my (converted) license by December 2010 and a few days later I got a job with IndiGo as cabin crew. I joined the company in January 2011.
How did it feel to work as cabin crew when you had trained yourself for a career in the cockpit?
(Laughs). Initially, it was a little difficult to digest but I was finally flying and that's what I enjoyed the most. At least I got to see the cockpit!
We had to enter the cockpit for serving the cockpit crew and for clearance as well.
I used to enjoy that! That sneak peek was good enough and it kept the passion alive. I always kept telling myself that that (the cockpit) was the place where I have to be. That helped me boost my will power and determination. It made me stronger.
Working as part of the cabin crew helped me grow as a person, managing different situations every day, multi-tasking, situational awareness, being on the toes and mostly crew resource management and working as a team.
I worked with IndiGo as a cabin crew for two years.
'My confidence, my positive attitude towards work were in sync with what IndiGo was looking for'
Last updated on: October 12, 2013 14:14 IST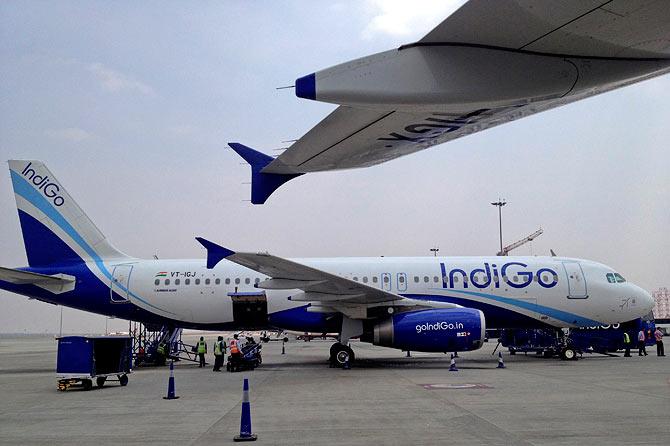 Why did you think IndiGo would hire you as cabin crew knowing you had a CPL license and you could quit and join as a pilot whenever an opportunity arose? What happened at the interview?
IndiGo believes in three pillars -- respect, recognition and reward. The respect for the employees, recognition of their contributions and the suitable rewards made up my mind to work for IndiGo only and convinced them of my integrity, zeal and abilities. After four rigorous rounds, I was hired!
How did you make the switch from cabin to cockpit?
I finally got the call for my written exam (that brings one closer to become a pilot) which I was eagerly waiting for and IndiGo was very helpful in granting me study leave for the same!
How did you prepare for your pilot interview?
I put in very hard work for the technical round of the interview.
I studied as much as I could, going through various books.
I was staying at a girl's PG in Delhi when I was working as cabin crew. A day before my interview I actually asked my roommates to shoot questions at me! I made them sit on four chairs and I wore my blazer, my tie and walked in with my file and we had a mock interview!
I really wanted to give it my best shot. I just couldn't let the opportunity slip away.
What qualities were they looking out for in you as a co-pilot?
One thing that IndiGo looks out for is integrity, zeal to serve passengers and being ever ready to take on various challenges. I think it was my confidence, my positive attitude towards work were in sync with what IndiGo was looking for.
'You have to get up from a fall. You have to keep trying till you reach your goal'
Last updated on: October 12, 2013 14:14 IST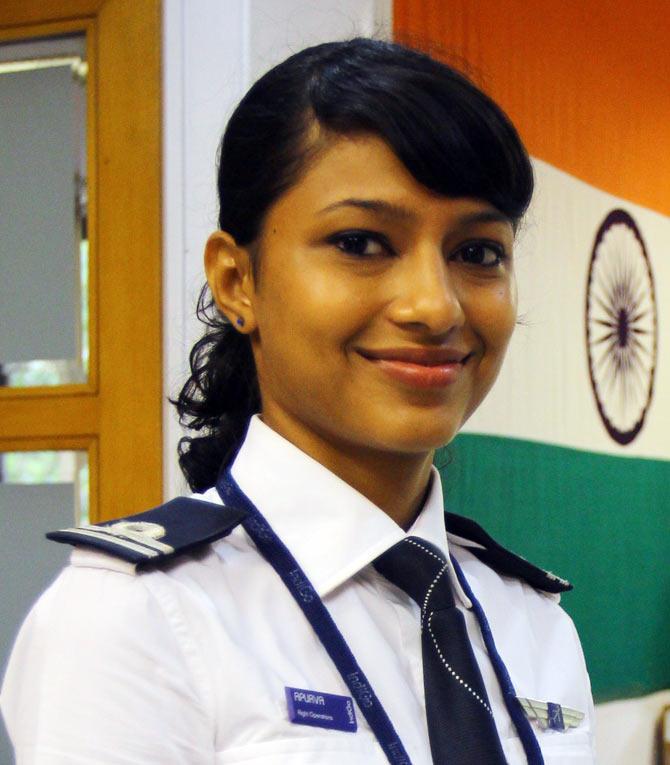 Tell us about the day when you entered the cockpit as a co-pilot...
Oh yes! I remember the date even: 13-12-12. December 13, 2012. That was my first observation flight.
I was super excited! I was released as a fully functional co-pilot a month ago.
Now, that you are a part of the cockpit, how do you look at the world outside the cockpit?
Oh, now I understand them completely. I know for sure what's happening in the cabin. I know when service is on what's the best time to call them for any work. I try my best to minimise their workload.
The fact that I worked as cabin crew for two years really helps me to get into their shoes and understand them.
Tell us what kept you going when you worked as cabin crew instead of being a pilot...
My family kept me going. My dad is my hero. My dad staunchly stood behind me during all the odds and absolutely believed in my abilities. He believed one day I would achieve my dream. Whatever my dad, my mother, sister and brother did for me to reach at this point in my career has always kept inspiring me to do better. They loved and valued me as a person notwithstanding how my career was shaping up. The feeling that I should also do my bit to do something for them keeps me going too. The Captain's guided me and kept motivating me to get to the other side of the aircraft! I am very grateful to all the people who have helped me get this far.
Your advice to people who have a commercial pilot's license but are jobless…
Just keep the fire burning; keep chasing your dreams! That's what I did when I was part of the cabin crew and even when I did not have a job.
Keep revising the subjects.
Remember, there are no shortcuts to success. Wait for opportunities, prepare yourself for that opportunity and don't give up on your dreams.
There are times when you apply but don't get a call. When you get that call, you stumble. But you have to get up from that fall. You have to keep trying till you reach your goal.