Fighting the odds to save the Ganga
Last updated on: July 11, 2013 18:45 IST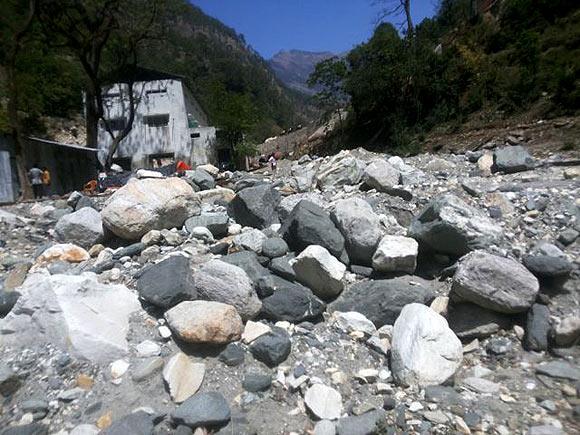 Siblings Marthand Bindana and Valli Bindana are on a mission to save the polluted river through Return of the Ganga Project. The three-part documentary series aims to highlight how redevelopment and power lobbying is causing the river to dry up. This is their story
The longest river of India and the most sacred one for Hindus – The Ganges or Ganga – a lifeline to millions, was once also considered a purifying river for all the impurities of body and soul.
The same purifying water of Ganga has been drying up because of an extensive number of hydo-power projects being built on it.
Even when Ganga was ranked one of the five most polluted rivers in the world, we were not taken aback.
The research, reports, news about the plight of Ganga and projects, plans, preservation measures that follow have been taking up pages of newspapers, special mention in magazines and prime time slots on news channels.
We all – people living by the river, development enthusiasts, politicians, power companies, their lobbies, religious groups, environment analysts, geologists, seismologists – see Ganga with different visions making the plight of Ganga very complex.
The number of dams being built on Ganga are outrageous, polluting agents are innumerable, vested interests in the river are varied and paradoxical corrective measures, often seeing corruption before seeing the light of execution, just perplex us more.
Two siblings, Marthand Bindana and Valli Bindana, who are 'simply madly deeply in love with the river' have taken up the Ganga Project to create awareness of the possible routes that can be taken to help save the river.
While speaking to Valli of the project they have taken up with little experience and money and of which they have no clue on the returns, she says, "Return of the Ganga is a three-part documentary film that explores the recent ongoing chaotic tension between conservation and exploitation of our land, water and people. At the heart of the film is the river Ganga being dammed extensively and dried up. The film explores the options we have to save Ganga from the 600 hydro-power projects being built on her. It also explores our choices against the backdrop of vast sweeping global changes. On how we can get out and get our act together to ensure our continued survival."

Please click NEXT to continue reading...
'The ministries - power, environment and rural development - have been hesitant'
Last updated on: July 11, 2013 18:45 IST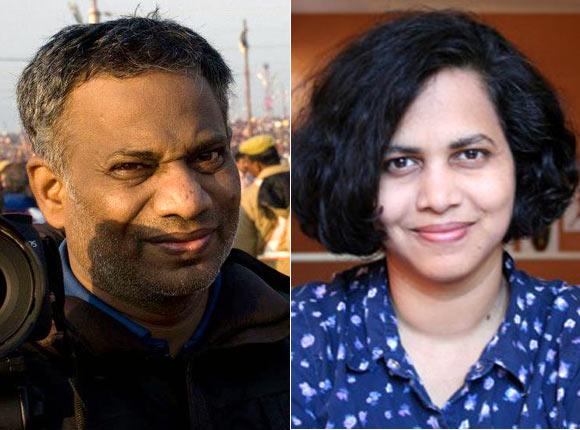 The journey was started in September 2012 and it has been "darkly amusing" for Marthand and Valli.
The team of two researched, wrote the script and is still traveling to shoot, edit and promote the film.
The lack of funds during production made things rough on the way.
Considering the fact that there are hundreds of projects and plans aimed at alleviating the issue but hardly having any substantial impact, one may feel people are not ready to take action but Valli tells a different story.
Return of the Ganga has received tremendous support from conservationists, both Indian and international lately.
Though "the ministries - power, environment and rural development - have been hesitant. We really want them to come over and present their point of view, their vision. But that hasn't happened yet, even as we are trying," says Valli.
Raising funds was a bit of challenge too.
It required time and they wanted the film out during or right after the monsoons as the Srinagar valley was to submerge.
Losing on time and not able to raise the funds needed, after a half hearted crowd funding effort, they took out whatever they could and starting spending time learning about the issue, getting in touch with the people who have been working tirelessly on this for decades and also getting equipment and practicing how to operate it.
With some part of the shoot still left, Valli laughs about being down to less than one lakh.
'It may already be too late but let us not say we didn't try'
Last updated on: July 11, 2013 18:45 IST

Even off the camera, the journey for Marthand and Valli have been one of baffled emotions.
On one hand, they met people who shrugged off the idea saying that it won't make a difference and its just a wastage of time.
On the other hand prominent actors like Naseeruddin Shah, respected as one of the finest Indian actors has lent unconditional support to the project.
Naseeruddin says, "A big fuss should not be made over my tiny bit of participation in the Ganga Project. We only need to look at the havoc in Uttarakhand this year and elsewhere almost yearly to realise that it is our combined responsibility to try and undo or negate the plunder of natural resources by the vampires who de-forest and unscrupulously mine the hills and those who build unnecessary dams. Most of the damage is irreversible but at least we can help bring it into public awareness. It may already be too late but let us not say we didn't try."
On a broader scale, the unfolding story of devastation of any other big river is almost the same, it is not just Ganga.
"We chose Ganga because we think if we all can get together and rescue her, other rivers in India just may have a chance," says Valli.
The duo heartedly appreciates all the help the project has got from everyone and anyone.
They hope to screen the film for the policy makers, to create champions within the government, to make environmental issues part of our daily conversation and action.
They want to sensitise urban people to rural issues and to make people see that there are better choices available and we have to demand change.
If you wish to contribute to the 'Return of the Ganga', click here!