Be it music or golf, she plays for a better tomorrow
June 17, 2014 09:54 IST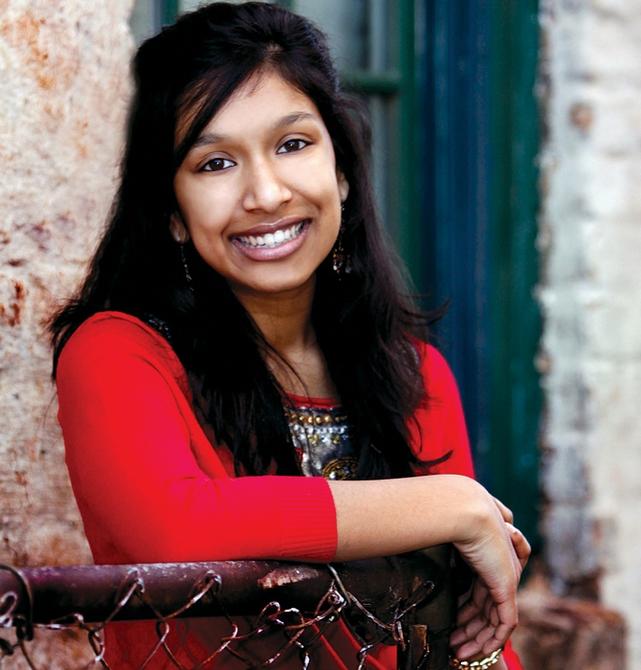 In the ninth part of a series on Presidential Scholars, Arthur J Pais profiles Nina Srivastava who is breaking barriers in the deeply conservative American state of South Carolina.
Nina Srivastava grew up playing golf with her father and two younger brothers.
When she attended a small South Carolina school that only had a boys' golf team, she convinced the authorities to give girls an opportunity to join the team.
She soon became the first girl on the Varsity Boys Golf Team.
"Initially the boys resisted and ridiculed me," Nina said, "but once they realised I was competent and confident, I was accepted.
"It was not easy.
"And now that I think of the fact that I was not only a girl but not also being a white girl in this deeply conservative state might have also upset some."
She is the captain of the team this year.
"More importantly, other girls now enjoy being part of the co-ed team," the Spartanburg Day School student added.
Nina is also a recipient with a state-level certificate of excellence from The 2013 Prudential Spirit of Community Awards program and was nominated by her school, where she is the president of the ASTRA service club, a student-run organisation for girls.
She also helps the local chapter of Big Brothers Big Sisters, which was operating under extreme financial strain.
"I felt their mission to aid under-privileged children through mentorship resonated with our organisation," she said, "so I formed a committee to organise a 5K/1 Mile Fun Run community fundraiser."
In the inaugural year, she and fellow activists raised $9,000 for the BBBS.
"The school community was so proud that I got the go-ahead to make this an annual event," she said.
For the second 5K, each committee member presented a charity they wanted to sponsor, and her group chose SAFE Homes Rape Crisis Coalition.
The second 5K netted over $12,590 initially and totalled $60,000 with matching funds.
Nina plays bassoon in the Carolina Youth Symphony, the Converse College Wind Ensemble, the Spartanburg Community Band, and other community ensembles. She also plays the piano and sings.
"I enjoy music for its inherent beauty," she said, "and I believe that participating in an ensemble is the ultimate team sport, as the success of the group depends on each person's commitment and preparation.
"I became the first all-state musician in my school's history, as well as the first person to be selected as principal chair in the South Carolina All State Concert Band."
'Music has been the ultimate learning experience for me,' Nina wrote in her Presidential Scholarship essay. 'And the dedication with which I approach music has guided me in all other aspects to help me hitting the right note, both on stage and in life.'
Her maternal grandmother Sudesh Arora, who was an adjunct professor of Indian classical music at Brown University and other schools, encouraged her the most when she was a kid.
"Music was at first an emotional relief," Nina said. "But soon I was realising the importance of team spirit and music was also becoming a social outlet, an opportunity to meet with the right-minded people."
Nina, who plans to study medicine at Harvard, is also interested in history, law and public policy.
She was recognised at the South Carolina Bar Association's annual convention for her award-winning essay on the importance of an independent judiciary.
She has said she has a keen interest in history, 'for I firmly believe that understanding history is essential to solving our present and future problems.'
---
Read part one of the series here