At 15, one of India's youngest authors has already written two books on poetry and a novel.
Meet the fascinating Zuni Chopra.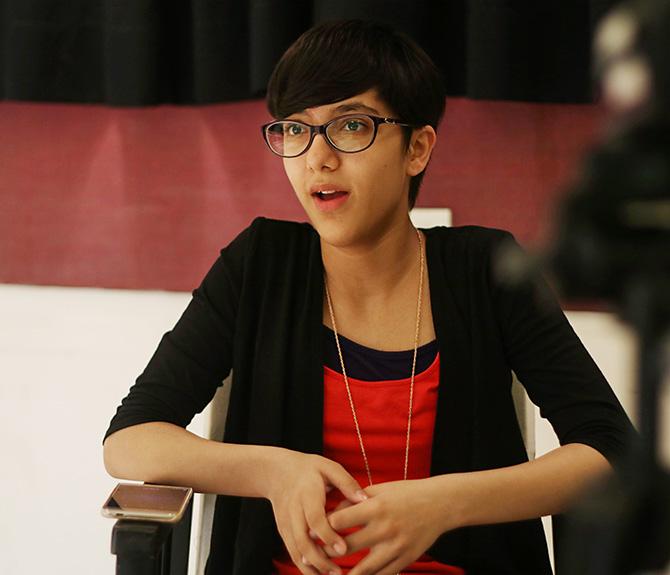 One look at Zuni Chopra in her school uniform and you could easily mistake her for an average 15 year old.
But Zuni has already published two books on poetry and has just published The House That Spoke, her first novel.
Through the book, which is a magical fantasy tale, she has shown that there's more to Kashmir than just turmoil.
The book is about Zoon Razdan, a 14-year-old girl who lives in a magical house in Kashmir. Zoon knows there is something extraordinary about the house, which is what's left of her torn, frayed, family.
She can talk to the things in the house -- the books, the fireplace, etc. When she turns 15, Zoon discovers that she has inherited not just her beloved house's grim secrets, but also a battle with an ancient, deadly, force of darkness.
Zuni tells Rediff.com's Anita Aikara about writing about a magical Kashmir, which has been destroyed by human bitterness and conflict.
Her aim is simple, she says. "After reading the book, if for a second you don't think of its politics, then I have succeeded in what I have wanted to do."
Was Kashmir your first choice?
No. As for the house mentioned in the book, it isn't based on a real house or the homes that I have seen in Kashmir.
Rather I was inspired by a house in London that my friend Shreya told me about.
She is studying in Singapore right now, but loves London. She told me about this house which was so beautiful. Her exact words were: 'It was straight out of a fairy tale.'
So I took that house, set it in Kashmir and then the whole story began to unravel.
What's amazing is that had I seen the house myself, I might have not written the book.
It was the way in which Shreya described it -- it was seeing it through her eyes -- that inspired the story.
What was the research that went into the book?
It is about the Kashmir I have known since childhood when we would go to my father's house there (her father, moviemaker Vidhu Vinod Chopra grew up in Srinagar).
I feel a lot has been abandoned there, and since my book is a fantasy, I have imagined the place as what it could have been without the conflict.
I have tried to capture the Kashmir that my father and uncles grew up in. While researching my book, I would interview them to get the atmosphere right.
For the small details, I watched documentaries -- they showed specific details -- and read books on Kashmir. I needed to study about the place to make my book authentic.
The books were really helpful in terms of human experiences and the history of the place.
I also interviewed my father's side of the family. They grew up there and lived the childhood that I am trying to convey through the story.
Of course, violence has tainted the protagonist Zoon's life, which you will read in the book. But the kind of joy that they found there is what I am trying to introduce in my character.
Visiting Kashmir and memories from my childhood that struck me the most helped get in the little things. I worked on the book for around two years.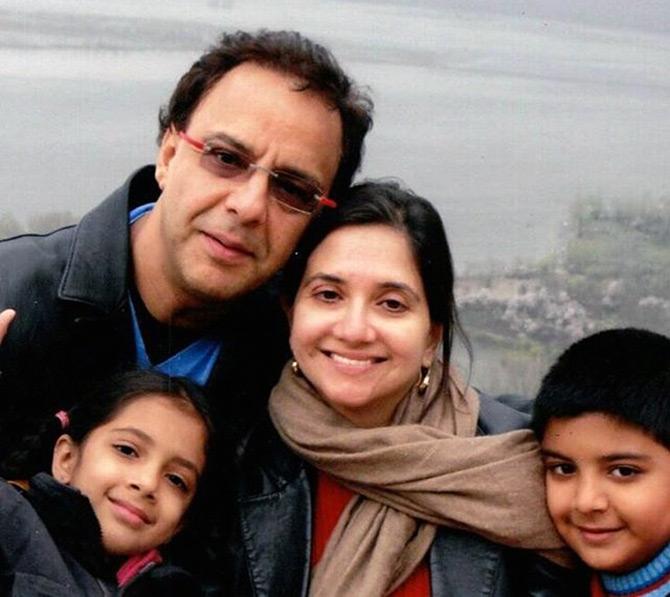 IMAGE: Zuni with her parents Anupama and Vidhu Vinod Chopra and brother Agni.
Photograph: Kind courtesy Zuni Chopra/Instagram
Is there something in common between Zoon and you?
I never wrote her to be me.
Originally, the book was set in London because the house was in London.
Then, of course, I realised that I could not write about London. Because Shreya loved it and I didn't.
So then I moved the story to Kashmir and suddenly there was a new purpose and everything came together.
Initially, the protagonist's name was Lexia and had nothing to do with me.
When the book changed to Kashmir, I had to come up with an Indian name. I like my name and wanted to use it for a character.
But then people suggested not to use my exact name just in case I wanted to write an autobiography later. So I called the character Zoon.
A reason why it was so easy to write about her was because I feel like I'd be really good friends with her, if she was real.
Who inspires you?
I wouldn't say it is one person in particular.
I think anything is inspiration if it draws you -- it could be a person or a thing. I could draw inspiration for a book from this interview.
The inspiration to write comes from reading other great authors and seeing how hard my parents (her mother Anupama Chandra is a well-known film critic) work at their art.
That's where the kind of ambition to write better comes from, particularly when it is in reading amazing authors.
Watch Zuni Chopra and actress Zaira Wasim discuss why writers are important.
What's your earliest memory of writing?
Actually it's more storytelling.
I would buy all the Lego sets I could -- some of those sets are ridiculously expensive. So it required quite a lot of begging on my part.
I would get smaller sets and build them up into something bigger and weave stories around them.
My parents would never get me huge castles unless it was my birthday.
I remember, one birthday they got me a castle and I was in heaven.
It had a little secret trapdoor which you could open with a switch and I made so many stories with that one door.
I would just build these stories and tell them to myself. Later at the age of nine or 10, I started putting pen to paper.
I am really bad at keeping diaries. I try, but I get so bored writing it -- who cares when I brushed my teeth?
Honestly I feel that I have so many thoughts, that by the time I write down one thought, my mind is already on the next one.
I have so many notebooks that are half finished either because I got bored or I didn't like my handwriting.
I literally have a drawer full of diaries and people think that is because I am good at filling them up.
How do you balance school and writing?
I wake up at six in the morning on weekdays to write, so then I get an hour or an hour-and-a-half to write before I go to school.
On weekends, I wake up in the morning and write until my school work allowed me to.
My dad stays up till one in the morning when working on a script.
I prefer to write early in the morning. I feel there is a huge difference to writing with the sun outside and the view of the sea, which I am so privileged to have as opposed to writing with the night lamp on.
I had to prioritise on things too -- one thing that helped me balance everything was that I really cared about everything I was doing.
Writing, even now, has first priority over school work.
I so badly wanted to do well at school, so I ended up working hard for both of them.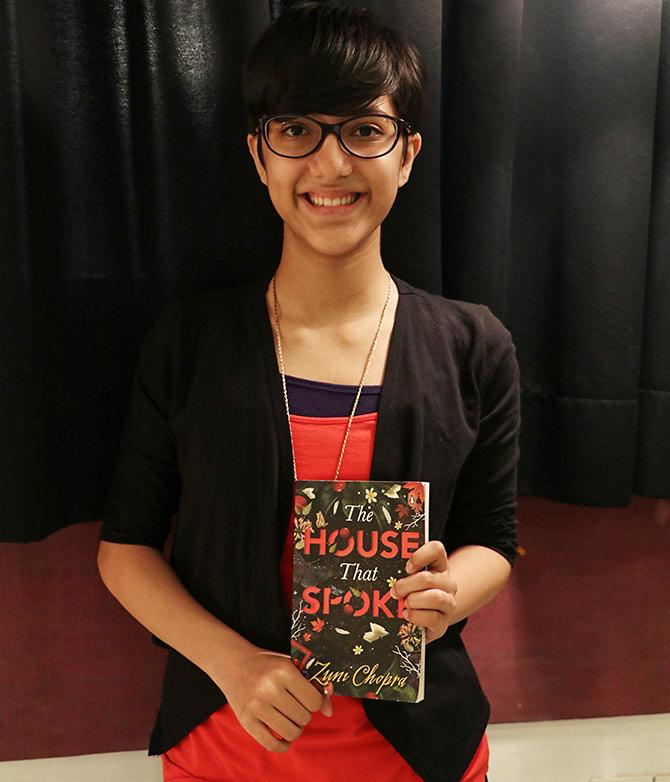 IMAGE: Zuni with the book, The House That Spoke.
Photograph: Hitesh Harisinghani/Rediff.com
Do your classmates share your passion for reading?
I started a book club as a co-curricular in school with four other girls who love books the way I do.
We chat about books. Because it is a student initiative, it is really informal.
We get into major wars in the book club and that is really fun. Every week, someone new gets to pick a book.
However, other than those four girls, there is no one else who likes books that much.
The boys in school are not at all into books.
The weird thing is that two of my best friends who are really close to me don't like books that much.
So I dedicated my book to two of them, Anjali and Esha -- they promised me they will read the book. But I doubt that.
Favourite authors?
Neil Gaiman, Lewis Carroll, T S Eliot and Harper Lee, whose sequel (To Kill A Mockingbird) I am reading right now.
These are the authors who really inspire me to write because their writing is so amazing.
What are you reading right now?
I am in the middle of reading The God of Small Things.
It is a part of the school curriculum, so I thought that I should wait to read it. But then I got bored waiting, so decided to read it anyway.
The descriptions are amazing in the book. Everyone told me that it is outstanding, but somehow I couldn't figure out why until I actually read it myself.
I remember thinking that I hope, someday, I can write like that.
IMAGE: Anupama Chopra, Nita Ambani, Zuni, Zaira Wasim, Dr Firuza Parikh and Vidhu Vinod Chopra at the book launch.
Photograph: Kind courtesy Zuni Chopra/Twitter
What do you do when you're not studying or writing?
Playing with my dogs; we have six of them.
Playing video games with my brother -- he always beats me, but I am getting better.
I love watching Sherlock. I just finished the first episode of Season 4.
The reason I am forced to watch it so slowly is because my family loves watching it together.
No one is allowed to watch until all the members of the family are there.
Do you have a collection of books?
I have an amazing collection of books and there are some books from when I was really young.
I love revisiting them because I always remember the books my mother used to read to me and my brother as bedtime stories.
But my brother went on a completely different track and loves cricket now. I don't understand it and don't support it.
I don't colour code my books and don't buy multiple copies like other people do.
Do you prefer reading a physical copy of a book or reading it on Kindle?
I like the Kindle, but it doesn't have the same feel of a book -- it is not as personalised as a book.
You can't watch the pages get yellow after years and the cover starts to get worn.
The Kindle cannot give you that kind of love for the book.
When you're travelling, the Kindle is amazing. If you love books that much, then you just need to have a copy.
Your prized possession?
A prized possession would be Coraline by Neil Gaiman. The pages feel like they could tear with the wind because I have read it that many times -- I have flipped through it that often.
A copy of the Hobbit too -- it is so perfectly worn. My copy belonged to an elder cousin. He had it since he was six and he gave it to me. He is now in his last year of college now.
What is your take on handling the pressure to excel in school? Is it true that you have written a poem about it too?
I wrote a poem about that titled The Mountain Range. The title is kind of the culmination of the extended metaphor that the poem is for exams.
I had to keep revisiting this one.
It emphasises that there is not one mountain range they have to climb but many, so if you're the one putting pressure on them, it is never going to happen.
Definitely, it was something I wanted to write about.
I am in one of the most high pressure schools in the country.
I am really lucky that my parents don't put pressure on me to get 99 per cent. But I have seen students in my class that face that pressure.
A girl in class studied for the wrong exam and she burst into tears. I think no exam should cause you to burst into tears.
I don't think it (marks/grades) matters as much as people make you believe it matters.
A lot of adults tell students that if you don't make it to the top, you are nothing.
There's more to life than just grades. It is tough to see the big picture when you are a student.
VIDEO: Zuni Chopra reads her poem The Mountain Range.
What about your parents?
They put pressure on me to be disciplined, have ambition and try my best.
But after that, it is an okay.
My dad wanted me to drop out of school to write.
They do definitely encourage ambition. My mother will care to the extent I care.
What are your memories of Kashmir?
It is such a beautiful place!
I have often been asked, 'When do you think we'll revert to the Kashmir you have spoken about in the book?'
I was like I have written about the Kashmir that exists right now. That Kashmir is already there.
Human bitterness has destroyed the beautiful place and the amazing mixture of people that went so beautifully together.
I would never be foolish and arrogant enough to think that I would be able to write about Kashmir the way people have lived there write about their sufferings.
Frankly I have not lived long enough to form an opinion about it.
I wanted to write it in a way that maybe some my age would like -- adding magic to it because magic always makes things better.
VIDEO: Zuni talks of why she chose to set her book in Kashmir
How often do you visit Kashmir?
My family does try to visit Kashmir at least once every year because it is where my dad grew up (we still have friends there because of him).
Last year and this year because there has been so much of conflict there we have not been able to make those annual visits.
What did you hope to achieve writing a book on Kashmir?
Kashmir's history is not its culture and definitely not its identity -- which is what many people tend to forget.
If after reading the book, if for a second you don't think of its politics then I have succeeded in what I have wanted to do.
I didn't want kids younger than me to grow up with an image of Kashmir that we see right now. I wanted to give them a different perspective.
The one thing that I want people to take away from this book is that Kashmir is just a place.
Humans have destroyed it and made it suffer, but it is still a beautiful place where a happy magical story on a beautiful house could be based.
What would you like to change about present day Kashmir?
I hope that everyone who is connected with Kashmir would start viewing it as something other than politics and violence.
Because if you think of it as just violence and politics, that's all it is going to be.
It is more than that with its people, culture, etc.
VIDEO: Watch Zuni talk about visiting her father's home in Kashmir.
Best compliment you have received for your book?
It's when painter Masood Hussain wrote: 'Reading Zuni's book was like experiencing all the seasons of Kashmir in my own home.'