Chartered accountant and Sebi registered investment advisor Harsh Roongta answers your home loan queries.
Have a query regarding your home loan? Drop us a line and our expert Harsh Roongta will answer your questions.
Please write to us at getahead@rediff.co.in with the subject line, 'Question for Harsh Roongta', and he will answer your query.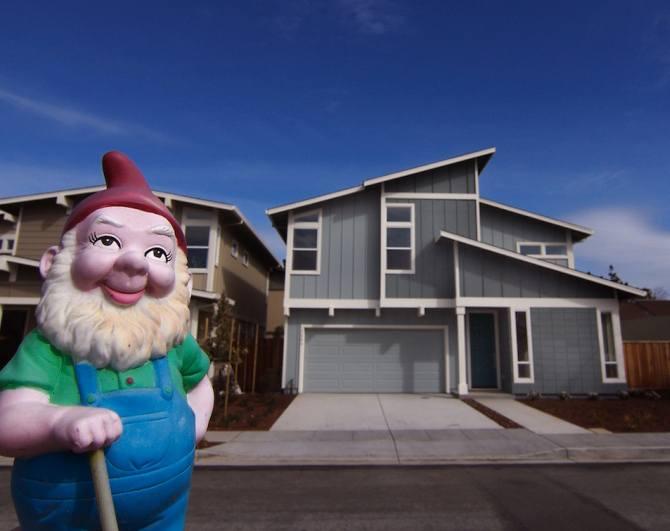 ---
Harish: I have couple of questions regarding home loan.
I took home loan at 9.6 per cent fixed interest for five years from LIC Housing Finance. Is it possible to convert it to the current interest rate which is less? It's around 3 years completed now.
If we make a prepayment amount like Rs 10 lakh, will we get an option to reduce the EMI?
Harsh: There will be no pre-payment charge on the partial pre-payment of Rs 10 lakh being made to LIC Housing Finance as it is not being made by transferring the loan to another lender. Yes, you can request LIC Housing Finance to change the fixed rate to the current floating rate but there can be some charges for such conversion.
---
Prakash: I have availed Rs 23 lakh loan from SBI for 15 years; my EMI is 22350, however, I pay Rs 30,000 every month. Is it correct or should I change my EMI. Please guide me.
Harsh: SBI charges interest on a daily reducing basis so that if you are paying a higher amount than the EMI then you will get credit for it accordingly. Your home loan would get over by 9 years if you pay EMI of 30K. This assumes that the details given by you are correct and that interest rate charged by SBI is 8.25 per cent which appears to be very low.
---
Dipanjan Sarker: I had taken a loan from LIC HFL at a floating rate but for more than a few years now the rate is kept at 9.5 per cent despite reduction in the prime rate. All my mails have fallen on deaf ears. Is there any way I have get them to respond?
Harsh: Welcome to the world of lenders in India where floating rate loans means that rate can only float upwards but seldom downwards in line with movement in market interest rates. Your best bet is to shift your loan to another lender which you can do if you have paid your EMIs on time.
---
Qayyum Gul: I have a home loan with SBI and the outstanding as on date is Rs 11 lakh. The rate of interest is 11.45 per cent. I am presently paying the EMI from the rental income from this house.
Does it make sense to pay off the outstanding by breaking an FD that I presently hold, or should I just continue with the EMIs for the rest of the tenure?
Harsh: No FD can possibly give you an interest rate that will exceed the interest rate you are paying on the home loan. Liquidate the FD and payoff the home loan immediately.
---
Satyanarayana: I have taken a Floating interest home loan of Rs 30 lakh from SBI. The interest rate fixed at that time was 8.4 per cent. Though SBI reduced the rates recently, they have not reduced it for my account. When I called them, they indicated that I may have to pay lumpsum amount to reduce the rates. When interest rates rise, they increase it automatically; when rates come down they do not reduce it in the same way. What should I do to get the latest rates implemented to my loan, without paying any charges?
Harsh: The only way to get reduced rates without paying any charges is to shift your loan to another lender though even that may involve some charges for statutory payments. The next easier way is to pay the around 0.27 per cent charge to SBI and shift to a lower rate in the new external benchmark regime which is very transparent.
---
Pritam Jha: We had applied for a joint home loan to HDFC. The agent and even the local branch manager assured ROI of 8.5 per cent and promised to negotiate for even lower rates. When the final sanction came, the rate of interest quoted was 8.75 per cent. We are in a fix, what to do? Should we apply to other banks which are offering lesser interest rates? No disbursement done as yet.
Harsh: What are you thinking? Apply to another bank and get the loan on the basis of the transparent external benchmark. Borrowing from a housing finance company makes no sense whatsoever given the completely non-transparent way in which their floating rates are fixed as compared to banks.
---
Siva Atidhi: SBI loan amount Rs 52 lakh in the year 08/2018; Tenure 30yrs; EMI 42k; ROI 2018- 8.65 per cent; 2019-8.80 per cent.
My queries: does SBI offer 8.30 per cent to new customers now?
Why are they not reducing my ROI?
Is switching MCLR to EBLR really worthy?
Are charges of 0.5 per cent for switching mandatory?
Harsh: They are not reducing your ROI because the regulations allow them to get away and not reduce the ROI. It's definitely worth paying the 0.59 per cent charges (including GST) to shift to the lower rate EBLR regime which is now even lower than 8.30 per cent mentioned by you.
---
Pavan: I stay in Bharuch, a city in Gujarat. I am planning to book a flat of 2bhk in this city. The apartment is still under construction and I need home loan to buy that home. My queries are:
How much per cent can I get home loan (I require 90 per cent of total cost). So it is possible by any bank?
If the apartment is under construction and I have applied for loan then what will be the EMI condition. Few say till I get possession of house I will be charged only interest as EMI while other says I will be charged EMI with interest and principal amount. So what is correct and best way to me to do?
Presently am staying in a rented house. So if EMI starts I will be in trouble as I need to pay both loan and house rent. So please guide me.
Harsh: If the apartment cost is below 33 lakh then you can get a 90 per cent of the flat cost (not including stamp duty/registration charges) as a loan.
As long as the project is registered with RERA and approved by the concerned lender you will get a choice between paying just interest till possession (called pre-EMI in banking jargon) or starting off the EMI on the disbursed amount. The choice is yours.
During the years in which the property remains under construction no tax benefits are available for any loan payment – whether interest or principal.
Finally, don't buy under-construction flats where delays are rife. Just buy a ready to move in flat.
---
Vishnu Kant: I have booked a flat in Amrapali Dream Valley Noida Extension - Great Noida (West) under 80:10:10 subvention plan (No EMI till possession) in the year March, 2016.

Builder becomes defaulter and stopped the work in 2016 itself and not paying interest EMI to the bank as well.

Bank and its lawyer both issued notices to me to recover all pending money which builder has not paid.

I paid all pending money with all pending interest with penalties to bank and started paying EMI 1.5 years back and the same is paying till date.

The Honourable Supreme Court transferred the same project to NBCC for completion and to be handed over to home buyer according to a scheduled plan.

But till date no development work has started and looks very uncertain that we do not know when we will get the possession? And there is no place where we can know about the development of the project.

Should we continue paying EMI to bank without any surety, whether we will get the flat or not? What would be repercussion, if we stop paying EMI to bank?

Please advise what should I do? Really confused!
Harsh: Please do not stop paying EMI to the bank unless the SC order has allowed you to do so. Your credit history will be spoiled if you stop paying the bank without backing from the court.
---
Binoy Antony: I have taken a home loan from DHFL in 2011 and have been regularly paying my EMIs. Now that RBI has referred DHFL to NCLT for insolvency proceedings, what happens to my home loan account?

Will all my original documents of mortgaged property be safe with DHFL?

Now that DHFL has been referred for insolvency proceedings, will DHFL reduce interest rates as and when RBI cuts rates or should I switch my home loan to any other bank?

Hoping for a response from your end.
Harsh: You need to continue paying the EMI as and when due. It is extremely unlikely that you will ever get any relief in interest rates while DHFL is in insolvency. You are best advised to shift your loan to a bank (and not a HFC) as they lend on the transparent external benchmark basis.
---
Vinod Nair: I am interested in going for a housing loan for purchase of flat. I wanted to know whether repayment of EMI can be done after getting the occupancy certificate or after 2 years which is later.
Harsh: You seem to be buying an under-construction property. If your developer has a scheme in this regard he might be undertaking to pay the interest payable by you to the lender. For any reason if he defaults on paying it you will still be liable to the bank.
As long as you understand that this liability exists and you examine the tripartite agreement between yourself, the developer and the bank carefully for hidden clauses, it should be fine.
---
Anand Menon: I am taking a home loan from HDFC. I wish to do some prepayment from my EPF corpus. I believe we can withdraw up to 90 per cent for home loan repayment. I have been in service for over 12 years. Please advise if I can withdraw over 90 per cent of my corpus from my EPF as I do not want any EMI burden. I already have a PPF account which I contribute to every year.
Harsh: Yes, you can withdraw up to 90 per cent of the corpus provided the house is registered in your name or held jointly. The real question is the advisability of any such move. Please consult your personal financial advisor before you undertake any such withdrawal.
---
Nagesh Kamble: I am working in a proprietorship firm, my monthly salary is Rs 43,000 and I have personal loan of Rs 280,000. Monthly loan EMI which get deducted from my salary is Rs 13000 until now I have paid 10 EMIs without fail. Now I am looking for property in Mahindra Happinext Kalyan which is having Rs 30,00,000 for 1BHK. I will put my personal Rs 5,00,000 to buy this property and also I am ready to foreclose my personal loan before buying this property. Can I get Rs 25,00,000 home loan from bank? Your reply will be highly appreciated.
Harsh: Ideally home loan amount should not be greater than 5 times of annual salary. In your case, eligible home loan amount would be approximately 26 lakh, which is enough for you. Please check that 30 lakh is the all in cost. There are significant costs incurred while moving into a new home for which also you will need to provide for.
---
H S Manohar: I am having a housing loan in Andhra Bank with 9.45 per cent. At the time of issuing loan, the bank had applied for insurance with premium of Rs 1 lakh which was debited in the housing loan itself. My question is: when I transfer the loan to any other lender who is offering little bit lower rate of interest, can I transfer the insurance policy too? If not, whether can I get refund of insurance premium?
Harsh: No, you can't transfer the existing insurance policy. You can examine the terms of the policy to see whether it continues on prepayment of the loan. If it does than you can have the lenders lien removed from the policy and request the insurance company to mark the lien of the new lender.
In case the policy is not continued check if there is any surrender value payable to you.
Photograph: Kevin Fox/Wikimedia Commons
---
Sachin Jadhav: I need some financial advice from you regarding my home. I had purchased a flat in 2014 in under construction; I got possession of the same in 2016. My home loan started in Jan 2015 and till today and I am paying the EMI of Rs 110,000 every month on time.
But since last year my income has dropped down and hence I could not further pay such a huge EMI, I have been paying huge EMI with interest for the past 5 years and have been working very hard only for paying huge EMI. I have also other monthly expenses beside EMI like home expenses, LIC, electricity, kids' school & tuition fees.
Hence I need advice from you that should I sell this flat and clear the bank loan so than I can live without any burden of paying huge EMI every month and I could focus on my work and career and with the balance money buy a small house without any loan. Day by day my stress level is increasing and hence because of this I could not give 100 per cent to my work.
Harsh: I understand your dilemma. In fact there is no law that says that you cannot live in a rented flat. Consider living in a rented flat for a while till your finances take shape.
The rent will be a fraction of the EMI that you will need to pay even for a smaller home. Consult a personal finance advisor if you need to do so.
---
About Harsh Roongta
A chartered accountant and Sebi registered investment advisor Harsh Roongta has over 36 years' experience in financial services and consultancy.
Acknowledged as a retail lending and personal finance expert, his columns appear in various newspapers and he is often invited on television channels and radio shows to share his views.
Harsh's book, The Complete Home Loan Guide -- Where To Go, Whom To Ask, What To Do deals with the entire home loan process and gives step-by-step advice so that you can choose the loan best suited to your needs.