The centuries-old tradition of yoga is looking towards the reality television concept to increase its popularity, says Shakya Mitra.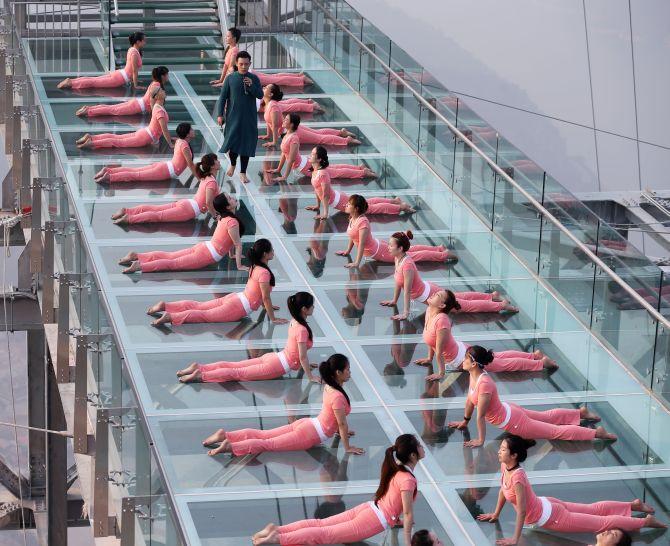 Image: People practise yoga on a glass bridge on the outskirts of Beijing, China. Photograph: China Daily/Reuters.
India has almost "literally" become a haven for sports leagues -- the Indian Premier League launched in 2008, dabbling in the nation's favourite sport, cricket, has been largely successful, leading to the creation of an environment where other leagues have taken shape, such as hockey, kabaddi, badminton, football, tennis and wrestling.
The latest and perhaps most intriguing one that is being sprouted is a Yoga League. Yoga is widely renowned for the positive impact it has on one's mental, physical and spiritual faculties, and is extremely popular in India. In 2015, Yoga was declared a sport by the ministry of youth affairs and sports; from the same year 21st June began to be celebrated as International Yoga Day.
Other yoga tournaments
National Yoga Championship: First held in 1974, it has had 41 editions so far
Asian Yoga Championships: First held in 2011, it has had six editions so far
World Yoga Championships: First held in 1989
Two firms, Baseline Ventures and Republic of Sports, have acquired the rights from the Yoga Federation of India and the Asian Yoga Federation to organise the league, which is tentatively expected to have its inaugural edition some time in the first quarter of 2017.
In terms of crowd attendance, commercial viability and television ratings, most of the Indian leagues have run into rough weather. So why a Yoga League, when the general perception of yoga is nowhere close to "entertaining", in the way sports like cricket, football, badminton may be?
Tuhin Mishra, managing director, Baseline Ventures says, "This is not going to be a franchisee event, the idea will be to project the league as yoga plus entertainment. We are looking at roping in Bollywood and Hollywood celebrities to be a part of this event."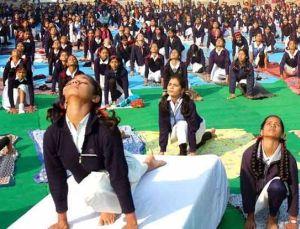 Various types of yoga
Athletic Yoga
Evaluates the perfect execution of asana, the perfect alignment and range of flexibility, strength, balance and resistance
Artistic Yoga
Composed of a series of yoga postures that create an uninterrupted cascade of asana
Rhythmic Yoga
Executed in pairs and trained with the use of a mirror to ensure synchronisation of the postures
Hatha Yoga
A system of physical exercises and breathing control used in yoga
Acro Yoga
A combination of yoga and acrobatics
Given the otherwise demure nature of yoga which emphasises meditation and concentration, there will be asanas performed to the tune of Bollywood songs during this event.
While there have been other yoga competitions like National (India) Yoga Championships, Asian Yoga Championships and the World Yoga Championships, the first mentioned taking place since the 1970s, this Yoga League is clearly unique in its conceptualisation.
"There is a huge novelty factor which we will be banking on," adds Mishra. The organisers are looking to sell the television rights to a general entertainment channel, and are eying a primetime evening slot for its broadcast.
There will be Indian as well as international competitors in the league with auditions taking place across multiple Indian cities. Encouragingly, the event is open to the public, and there is no participation criterion, even though competitive yoga players will obviously carry an edge due to their skills.
"It will be like any reality show audition, if members of the public prove themselves to be good enough, they will be selected in the main event," says Deepak Rathi, co-founder, Republic of Sports.
The concept has certainly excited the Yoga Federation of India.
"We are confident that this new league will encourage youngsters to take up yoga. It will channelise youth energy, but in a twisted way," feels Ashok Aggarwal, president of the federation, who also happens to be the secretary general of the Asian Yoga Federation. "If you look at shows like Dance India Dance, most of the moves have their origins in yoga," adds Aggarwal.
So what is the overall purpose of this league?
"Prime Minister Narendra Modi has been encouraging people to take up yoga, and with this league we hope we can manage to make yoga more popular. It shouldn't be just another activity but a way of life," says Mishra.