Ruchira Gokhale, head, consulting solutions, Interweave Consulting, who has been working out of home since 2014 lists the mistakes professionals make while WFH.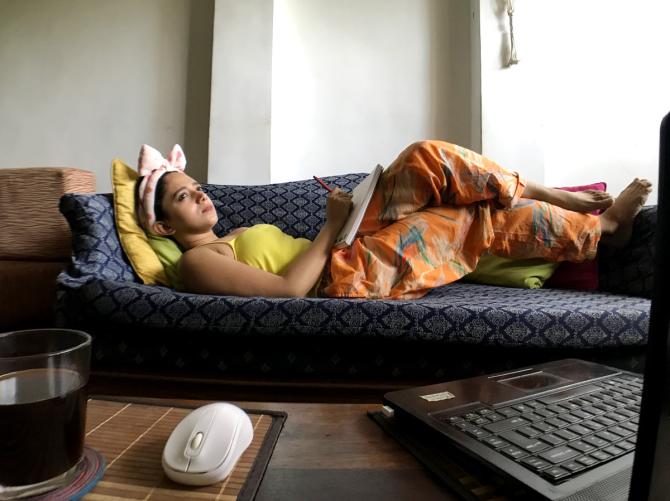 Last year this time we were still grappling with the screeching brakes that had been applied to life as we knew it.
For someone like me -- for whom work meant frequent travel and the sense of fulfilment that came from engaging with diverse groups of people, navigating a complex topic such as diversity, equity and inclusion -- this change, and its impact on my work, was incomprehensible.
But I have come a long way since that April of last year, and so must have all of you reading this. We have experimented and found our feet on these shifting sands of virtual collaboration.
I had an early mover advantage on account of the fact that I had been working from home since 2014.
As a consultant, I went where my work took me, but it did not require me to set up shop in the formal, corporate sense.
So I am going to dig into my earlier as well as my more recent experience of what are the top 10 mistakes to avoid while working from home.
Before I draw up my list, I do want to qualify that 'mistakes' here do not refer to anything punitive, but more in the general scope of inefficiencies, inconveniences and the like.
1. Lack of a professional workspace
Some of us (including me) prefer to have a dedicated workspace, while some of us prefer the myriad options that come in the form of spaces in our homes doubling up as our workspace.
If you belong to the former camp, then you are already bought into the plug-and-play convenience of a dedicated professional workspace.
You can keep all the things you need handy, have restrictions of others encroaching on to that space etc..
But if you identify with the latter, my only submission would be to evaluate the inefficiency that may be stemming from such an arrangement.
A good compromise may be to have a dedicated space that houses all your work essentials and offers a ready workspace if you so choose, but leaving yourself the flexibility to move around.
I also fully recognise that we may not always have the luxury of setting up a professional workspace, given the size of our homes or others vying for a similar arrangement etc., but we can define this workspace in the way that works for each one of us.
A professional workspace in some shape and form is important.
2. Coming across as unorganised
Now that we are well past the initial days of settling into our work-from-home routines, we no more have this as an excuse for being unorganised.
We have all had sufficient time to get our act together.
Make sure that this work arrangement is not leading to any slackening with regards to work planning, timelines or deliverables.
3. Inadequate connectivity
Yes, yes, nothing could be more pertinent than this!
Connectivity, both in terms of adequate internet bandwidth and continuous supply of power, is the bedrock of efficient work-from-home arrangements.
It will always stand you in good stead to have this one sorted out, including an array of back-ups.
There are newer and more efficient options that keep coming up, so keep looking and adapting.
4. Being outdated on enabling technology/tools
Not all of us are blessed with the love for technology, but it is our inescapable destiny.
The earlier we embrace it, the better will be our experience in the virtual collaboration space.
Some of us have more dependency on it, such as for me with all my workshops now being translated to Webinars.
5. Frequent distractions
As a pet parent to three dogs myself, I am well aware of the nuisance they can be when I am on calls or conducting a wWbinar.
We have all experienced a cat walking across a colleague's laptop or a child peeping into the screen etc.
While these are acceptable (often even adorable and refreshing) realities of our home environments, let us not forget that these are distractions all the same.
Keeping a check on these is important.
6. Not staying in sync
This one is an easy one to slip on.
Here, I refer to a sync with colleagues, and importantly your manager, on what the priorities are.
We have been familiar with how the communication channels in the physical workplace play out, but it may not be the same in the virtual environment.
Our miss, is our loss.
Taking the onus of staying on top of relevant information is important, and can be done only by frequent formal or casual sync-ups.
7. Too little or too much personal connect
Establishing and maintaining personal connects is easier for some than others.
That being said, in the virtual environment the need for personal connect gets accentuated.
Limiting interactions with colleagues/stakeholders only to work issues can seem impersonal, given that we all acknowledge the need to keep the emotional and personal connect alive.
On the other hand, too much personal discussion could feel like a violation of personal space.
Finding the right balance for a diverse set of colleagues/stakeholders is important.
8. Not being inclusive
As a DEI (Diversity, Equity, and Inclusion) professional myself, I can't overemphasise the need for this.
Research tells us that crises trigger bias, and the current situation is no less than a crisis.
The virtual environment allows us to surround ourselves with only a few people while conveniently excluding others.
There is an opportunity for us to ensure that we are accessible to everyone, that we are collaborating virtually in ways that allow for diverse people to participate and that we are accommodative of unique situations that may arise on account of care giving responsibilities.
Empathy is a non-negotiable ask.
9. Being a cyberbully
This one most definitely has a punitive nature to it.
Organisations are now very sensitive to online behaviours that could qualify as harassment or bullying, including sexual harassment.
And the zero tolerance stance very much transcends to the virtual workplace as well.
10. Not checking in on ourselves
These are trying times on more fronts than one, and we are all human in our effort to cope with it all.
In that effort, it is important to take care of one's emotional and mental health.
Staying alert to any signs of distress, and seeking timely help can go a long way.
Many organisations have excellent Employee Assistance Programs that go completely unutilised.
Dip into whatever resources or support system at hand, keep your stress busters close and keep marching forth in your best capacity.