We'd asked you, dear readers to tell us about the woman who inspires you the most.
Rediff reader Heera Nawaz, 58, a teacher and poet from Bengaluru talks about her late mother.
I recall my late mother's extreme sacrifices for the family in order to make both ends meet.
The extent she went through to see that we went to school without being affected by lack of sufficient financial backing.
My father, an ambitious man, was adept in staying abroad so that he could pursue his legal academic moorings.
So, without complaining, my mother courageously single-handedly took on caring for us children here in Bengaluru.

My mother was a shrewd, brilliant and capable lawyer. She was also a warm and affectionate family woman.
My mother honed all her talents and multi tasking abilities so that we would never miss father even as the burden fell on her shoulders.
She scrimped and saved every paisa to see us well educated and self-sufficient.
She worked hard, sometimes too hard and made extreme sacrifices -- such as not going for movies or eating out, but instead bringing the family up in a frugal way.
My mother wanted us to excel in studies, but she was more interested that we develop a public relations' and a good attitude.
She used to say that it is more important to have a good shining character, lips that tell the truth and hands that are always helping others.
She inculcated in us good values, morals and principles -- she taught us to tell the truth and not get into cantankerous friendships or relationships.
During her last days she was concerned about our relationships.
Once when I burst into inconsolable tears that I was not able to find a suitable partner, she pacified me by saying these lines:
Somewhere, there's someone who dreams of your smile
And finds in your presence that life is worthwhile
So, when you are lonely
Remember it's true
Somebody somewhere is thinking of you.
Thank you mummy.
You gave me hope and love and taught me to never, ever give up, come what may. May your soul rest in peace.
---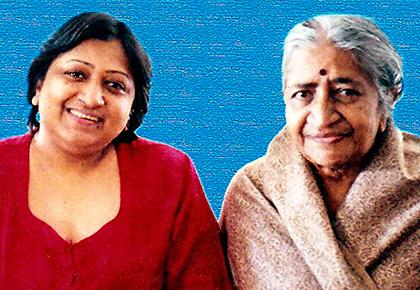 Share a picture of the woman you admire the most.
Tell us what is the best lesson you learned from her and how it helped shape your life.
Write to us at getahead@rediff.co.in (The Woman I Admire) along with your NAME, AGE, LOCATION and a photograph, if possible.
We'll publish the best responses right here on Rediff.com.