The American singer spoke up in defense of her mum, Ellen DeGeneres, Little Mix and all the women out there.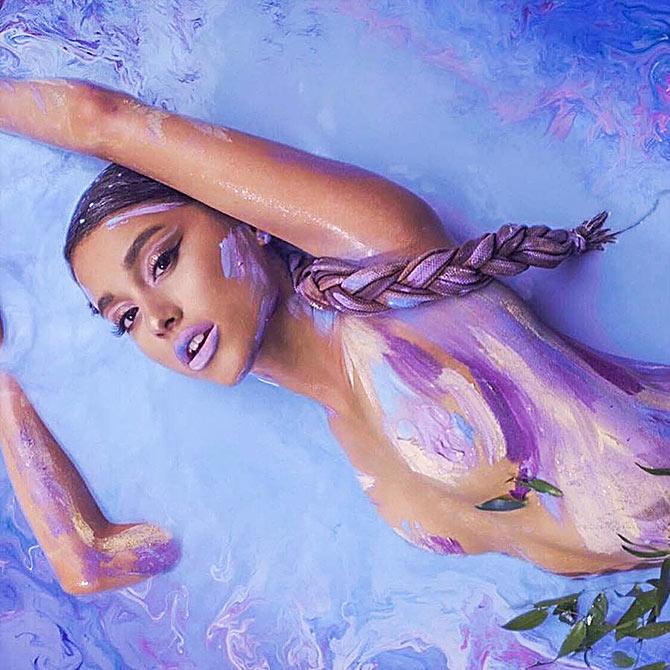 Photograph: Kind courtesy Ariana Grande/Instagram
There are times when some of us secretly wished Piers Morgan just zipped up his mouth.
Remember the time Virender Sehwag shut him up for mocking India's poor Olympic performance?
Well, seems like the Good Morning Britain host isn't learning anything from the past.
On November 19, coincidentally, International Men's Day, the British host decided to pick on comedian Ellen DeGeneres and British girl band Little Mix.
Sharing a picture of Little Mix's latest cover on Twitter, he wrote: 'Hey @LittleMix -- when are you going to admit you stole this idea from @dixiechicks?'
Of course, he didn't agree with The Sun's 'sultry' description of Jesy Nelson from Little Mix.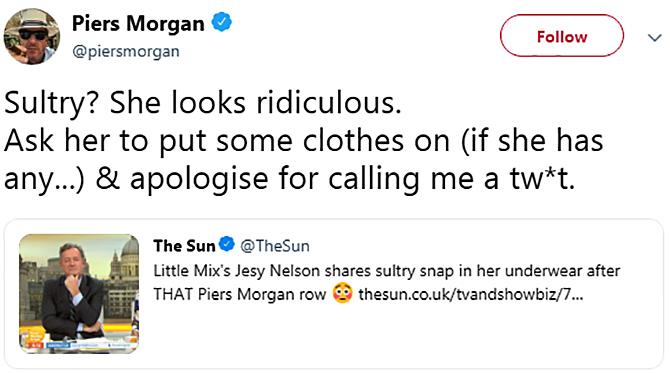 'Ask her to put some clothes on (if she has any...) and apologise for calling me a tw*t,' Morgan tweeted.
To which, Ariana Grande's mother Joan Grande decided to speak up.
'Honestly what is wrong with you @piersmorgan? Didn't your mother ever teach you, if you have nothing nice to say, don't say it! You came for @TheEllenShow yesterday which was disgraceful, she is an angel. @LittleMix today, did you ever hear of paying homage? And..well never mind,' Grande tweeted.
At this point, Morgan called Ellen a 'hypocrite.'
'Hi Joan, my mother taught me to speak my mind and never be afraid to express honestly held opinion. Ellen's a hypocrite -- and as for Little Mix, I'd just prefer they use their talent to sell records rather than their nudity. As your own daughter does,' the 53-year-old wrote in response to Joan Grande.
American singer Ariana Grande, who was recently named Billboard's Woman of the Year obviously stepped up in defense of her mum, Ellen, Little Mix and all the women out there.
'Ellen is an incredible and kind human being.. I use my talent AND my sexuality all the time because I choose to. Women can be sexual AND talented. Naked and dignified. it's OUR choice. And we will keep fighting til people understand. I say this w(ith) all due respect but thank u, next,' the 25-year-old wrote to Piers Morgan.
What followed was an avalanche of tweets. Some samples below: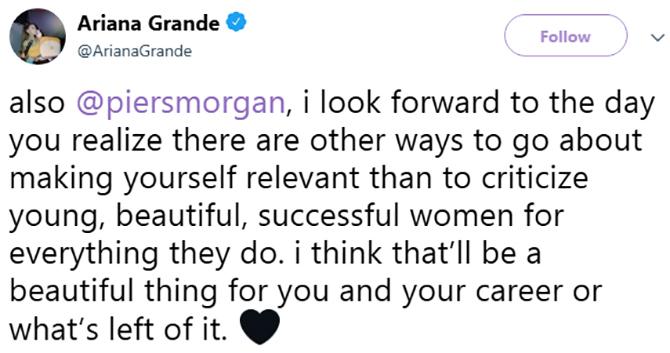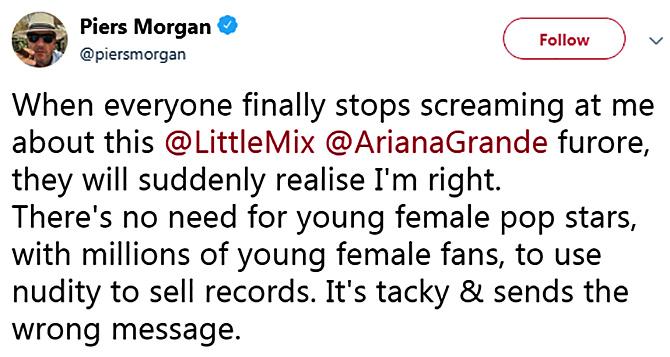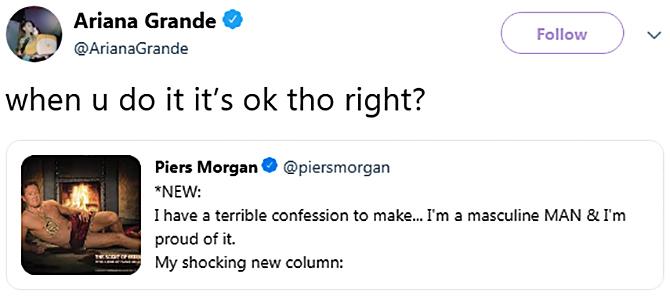 While the war of words haven't seem to end, we hope Piers Morgan watches out who he messes with next.