Winter has set in and it's some for some warm, delicious, food.
Taruna Bakshi shares recipes which have been passed down through generations in her family.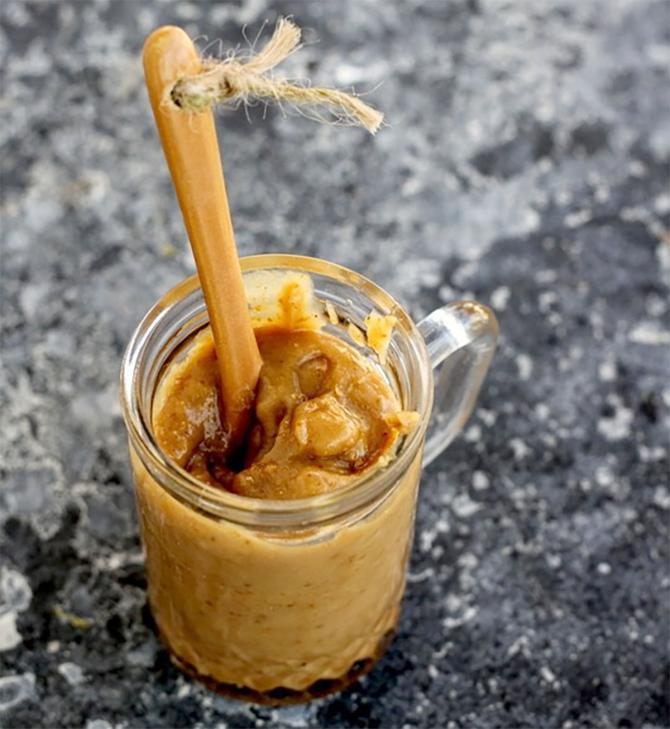 Meethi Sonth (sweet dry ginger in cream)
Ingredients
6 tbsp cream (feel free to use low fat cream)
4-5 tsp ginger powder (adjust as per taste)
5-6 tsp castor sugar (adjust as per taste)
Method
Put all the ingredients in a small pan (better if you have a heavy bottomed one).
Switch on the heat to medium-low.
Keep stirring the contents till they begin to bubble on the edges.
Lower the heat to minimum and cook for approximately a minute (no more than that).
Serve no more than a tsp, warm or at room temperature, once a day with a glass of hot milk.
This keeps well for approximately a week in the refrigerator.
Note: If you wish to serve it hot, just add a few tsp of milk while reheating it.
---
Lup'pi (sweet chickpea soup)
Ingredients
2½ tbsp melted ghee (burnt butter)
4 tbsp besan (chickpea flour)
Sweetener of your liking, to taste
2 cups water
1 tbsp sliced almonds
Method
Place a heavy bottomed pan on heat and add ghee.
Reduce the heat to low and add chickpea flour.
Using a spoon or spatula, roast the flour on low heat till its colour changes to a deeper tone and it emanates a nutty aroma (approximately 10-12 mins) stirring continuously.
Add water while stirring the contents and increase the heat to high.
At this point the soup will look grainy and curdled.
Keep stirring the pot till the contents come to a boil.
Reduce the heat, stir in the sugar and simmer for 30 secs. Switch off the heat.
Pour the contents in serving bowls and serve immediately garnished with almonds.
It tastes best when consumed hot.
Note: It is extremely essential to roast the chickpea flour well to bring out its nuttiness, else the soup will taste very raw and pasty.
Feel free to increase or decrease the amount of ghee and water in the recipe to suit your taste.
You can replace water with milk to make the soup richer.
You need to constantly keep stirring the contents to prevent them from burning.
---
Dear Readers do you have a winter recipe to share?
Send us your favourite winter recipes and we'll publish it on Rediff.com.
Please mail your recipe(s)/video(s) to getahead@rediff.co.in (Subject: Christmas Recipe) along with your name, location and, of course, the recipe(s).
Don't forget to share a pic of the recipe as well.